Chicken tikka biryani, layers of spiced basmati rice, slow-cooked onions & chunks of homemade tikka, the perfect Indian comfort food treat.
The long list of ingredients may scare some, but do not be intimidated, it is surprisingly easy! It is essentially three separate processes that can all be cooked separately and then put together later.
Indian Layered Rice.
Like many people in the UK my first introduction to Indian food was a Chicken Biriyani…
It was a dish I ordered because I was afraid of everything else on the menu! I was young, that's my excuse! In many ways, it is a dish that began my love affair with spicy food.
Now my tastes may have evolved and my site is now littered with dishes like my Lamb Madras, Beef Vindaloo and achar gosht. But my love of a good biryani or biriyani stays strong.
This chicken tikka biryani is definitely a good 'un!
It uses the meat element from my chicken tikka kebabs as the meat base, I always make extra every time I make that recipe. And not because I want to slip it into a chicken tikka masala, because more often than not it ends up in a biryani!
I also do the same recipe with slightly amped-up spicing with my lamb tikka kebabs.
If you want something vegan and or vegetarian, check out my mushroom biryani.
The rice is cooked with spices to make sure that it is not just a passenger in this recipe. Mace, cloves, cardamom, and cinnamon are all present and correct.
The final element is some slowly cooked caramelised onions spiced with cumin, fennel, ajwain and mustard.
If you do not have the time to make a classic biryani but want something similar, check out my keema rice recipe or Indian-inspired baked one pot chicken and rice recipe.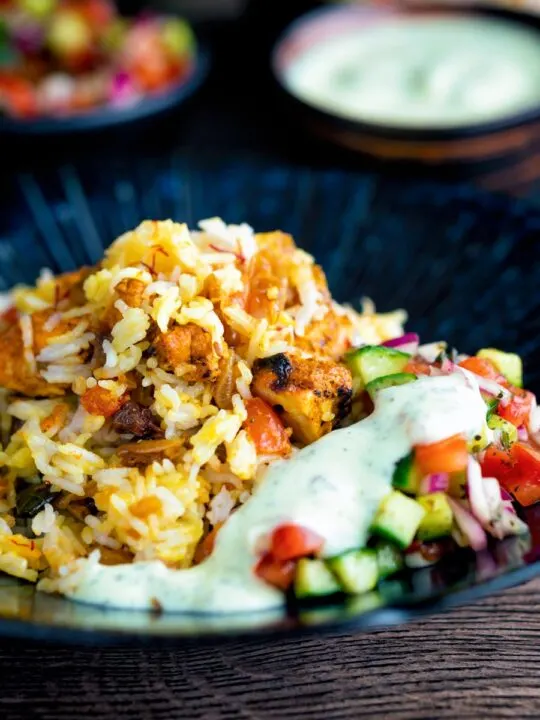 Frequently Asked Questions.
Is the saffron essential?
No not at all, but this chicken tikka biryani is a celebratory dish, biryanis are typically served at weddings, and the saffron adds a sense of bling and majesty. It also tastes wonderful.

But by all means, skip it because it certainly bumps the price of this recipe significantly.
Where do I start?
I'll not pretend that this is a quick biryani, it is my best biryani! A dish that I make because me and the missus are worth a treat occasionally!

Begin with the Tikka marinating overnight really makes a difference, you can cook this in advance and leave it in the fridge for 2-3 days without a problem. It does save a step on the day of cooking

On the day of cooking begin by running the rice under water and allow it to soak.

Then prep the onions and get them onto cook, they will take around 45 minutes.

Now you can slide the chicken tikka onto skewers and pop them under the grill. By now the rice will have soaked for 20 minutes and you can put it onto cook.

Within reason everything should finish cooking at the same time, then you just have to let it cool before building and baking.
Can I build the biryani in advance?
Yes, I will often cook everything in the morning and build my biryani at lunchtime, then pop in the oven for dinner. Just ensure that you keep everything refrigerated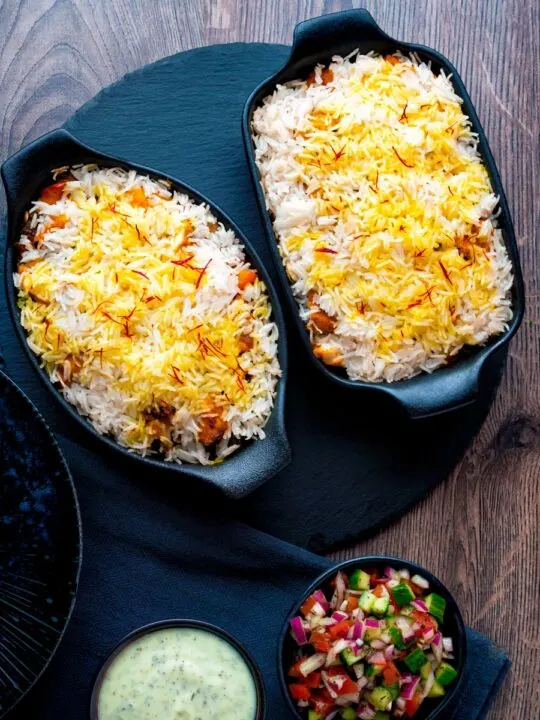 Serving Suggestions.
For me, this chicken tikka biryani is the ultimate one-pot baked rice meal.
But there are a couple of things that I usually add as sides. The first is a kachumber salad and the second is a raita, I usually make my mint and cucumber raita recipe but omit the cucumber.
This dish is also awesome with either lime pickle or mango chutney.
And whilst it is unconventional I kinda dig this with poppadoms too!
But the biryani that was my gateway to Indian food was always served with a vegetable curry in British Indian curry houses.
So you could go British Indian retro and run with my vegetable karahi curry.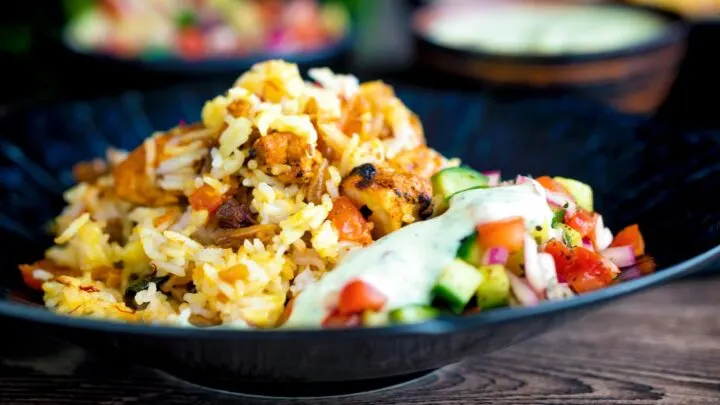 Equipment Used
I only name-check brands of equipment if I think that they make a material difference to a recipe. But if you have any questions feel free to ask them in the comments section below the recipe.
Stovetop.
Oven.
Grill aka broiler.
28cm or 11″ frying pan or skillet, not nonstick if possible.
15cm or 6″ saucepan.
Bag or bowl to marinade the chicken.
Mixing bowls.
Kicthen tongs.
Stirring and serving spoons.
Skewers, I prefer bamboo.
Chopping board.
Kitchen knife.
Grater.
2 x 500-600ml (2-2½ cup) baking dishes or a single 1-1.2 litre (5-6 cups) baking dishes.
Kitchen foil.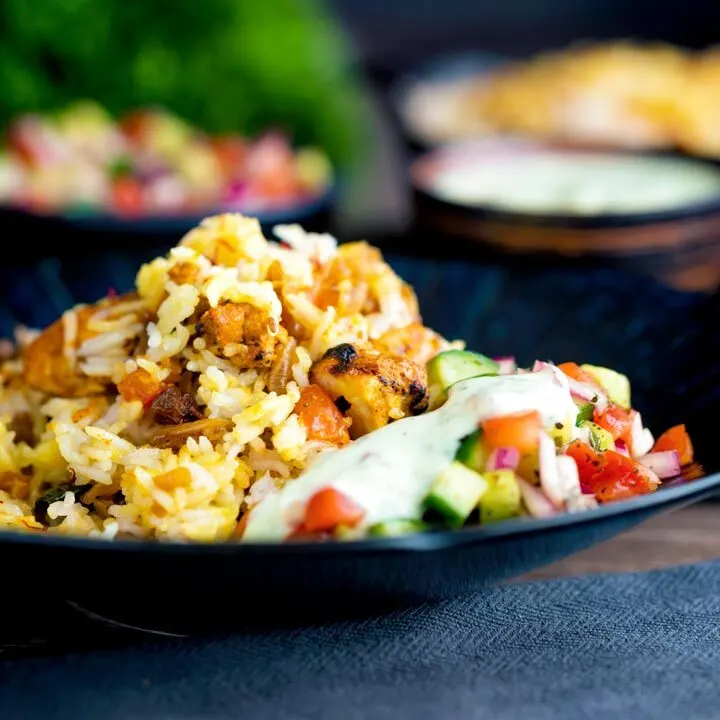 Yield:

2 Servings
Chicken Tikka Biryani Recipe
Cook Time:
2 hours
30 minutes
Total Time:
6 hours
45 minutes
Like all good biriyani, my chicken tikka biryani is a labour of love, set aside a few hours and revel in the rich and deep Indian Spices.
Ingredients
For the Chicken Tikka
300g (10 oz) Chicken Breast
125g (1 Cup) Natural Yoghurt
6 Garlic Cloves
1 Tbsp Grated Ginger
1 Tbsp Kashmiri Chili Powder
1 Tsp Ground Turmeric
1 Tsp Ground Coriander
1 Tsp Ground Cumin
½ Tsp Amchur
½ Tsp Ground Fenugreek
½ Tsp Coarse Sea Salt
For Par Boiled Rice
200g (1 Cup) Basmati Rice
1 Bay Leaf
12 Black Pepper Corns
3 Cracked Green Cardamom Cloves
1 Stick Of Cinnamon
2 Cloves
1 Whole Blade of Mace
450ml (2 Cups less two tablespoons) Cold Water
1/2 Tsp Coarse Sea Salt
For the Onions
4 Cloves Garlic
Ginger Thumb Sized Piece
2 Green Chillies
8 Curry Leaves
½ Tsp Mustard Seeds
½ Tsp Fennel Seeds
½ Tsp Cumin Seeds
½ Tsp Ajwain Seeds
300g (2 Cups) Onion
1 Tsp Ground Turmeric
½ Tsp Ground Coriander
50g (⅓ Cup) Raisins
1 Large Tomato (Approx 175g)
2 Tbsp Cooking Oil
3 Tbsp Milk (optional)
Pinch Saffron (optional)
Instructions
Making the Chicken Tikka
Mix together all of the ingredients for the chicken tikka (apart from the chicken) in a bowl and mix well.
Cut the chicken into a 2cm (¾) dice and add to the marinade and mix well cover and allow to sit for at least 4 hours but overnight is best.
Preheat your grill (broiler in the US) as high as it will go.
Thread the chicken onto skewers.
Cook under the grill for 15 minutes turning to prevent burning, or until the internal temperature reaches 73°C or 165°F.
Set aside and allow to cool.
Prepare the Rice
Wash the basmati rice thoroughly and allow it to soak in cold water for 20 minutes.
Add all of the remaining ingredients for the rice into a pan (15-16cm or 6") with the cold water and bring to a rolling boil.
Reduce the heat to a gentle simmer.
Add the soaked and washed rice to the water and add a lid.
Cook for 9-10 minutes (the rice should be very nearly cooked) then remove from the heat and allow to steam with the lid on for 5 minutes.
Spread the rice on a plate or tray to cool quickly and when cooled keep refrigerated until needed.
Pick out the whole spices when cooled.
Prepare the Onions
Grate the Ginger.
Peel and mash the garlic to a paste.
Slice the green chillies into two pieces lengthways.
Peel the onions then cut them in half then into half-moon shapes around 2-3mm (⅛") thick.
Heat the cooking oil in a heavy-based 28cm or 11" frying pan or skillet over a medium high heat.
Add in the curry leaves, slit green chillies, ajwain, mustard, fennel and cumin seeds then cook for 30 seconds.
Add the garlic and ginger, then cook for another minute.
Throw in the onions and stir, reduce the heat to low-medium and add in the onion and allow to slowly cook until the onions caramelise, this should take between 45 and 60 minutes.
Deseed the tomato and cut the flesh into a 1cm (½") dice (discard the seeds).
Stir in the turmeric, ground coriander, raisins and tomatoes stir and set aside until you are ready to build the biryani.
Building your Biryani.
This will fit neatly into a 1-1.2 litre (4-5 cups) baking dish or two separate 500-600ml (2 cups) baking dishes, I prefer the latter.
Add some (a quarter or half depending on the size of your bowls) onion mix to the base of your bowl, then some chicken tikka followed by some of the rice.
Gently press everything down and then repeat with the remaining ingredients, finally pressing things down gently again.
Cover with foil and place in the oven for 40 minutes at 180°C or 350°F.
If you are using saffron, heat the milk in a small pan and add the pinch of saffron.
Swirl to unlock the colour then drizzle over the top of the rice.
Bake for a final 5 minutes without the foil.
Nutrition Information:
Yield:
2
Serving Size:
1
Amount Per Serving:
Calories:

1135
Total Fat:

26g
Saturated Fat:

4g
Trans Fat:

0g
Unsaturated Fat:

19g
Cholesterol:

133mg
Sodium:

1492mg
Carbohydrates:

166g
Fiber:

16g
Sugar:

35g
Protein:

68g
Calorific details are provided by a third-party application and are to be used as indicative figures only.