Like all good Biriyani or biryani, my Chicken Biriyani is a labour of love, set aside a couple of hours and revel in the rich and deep Indian Spices.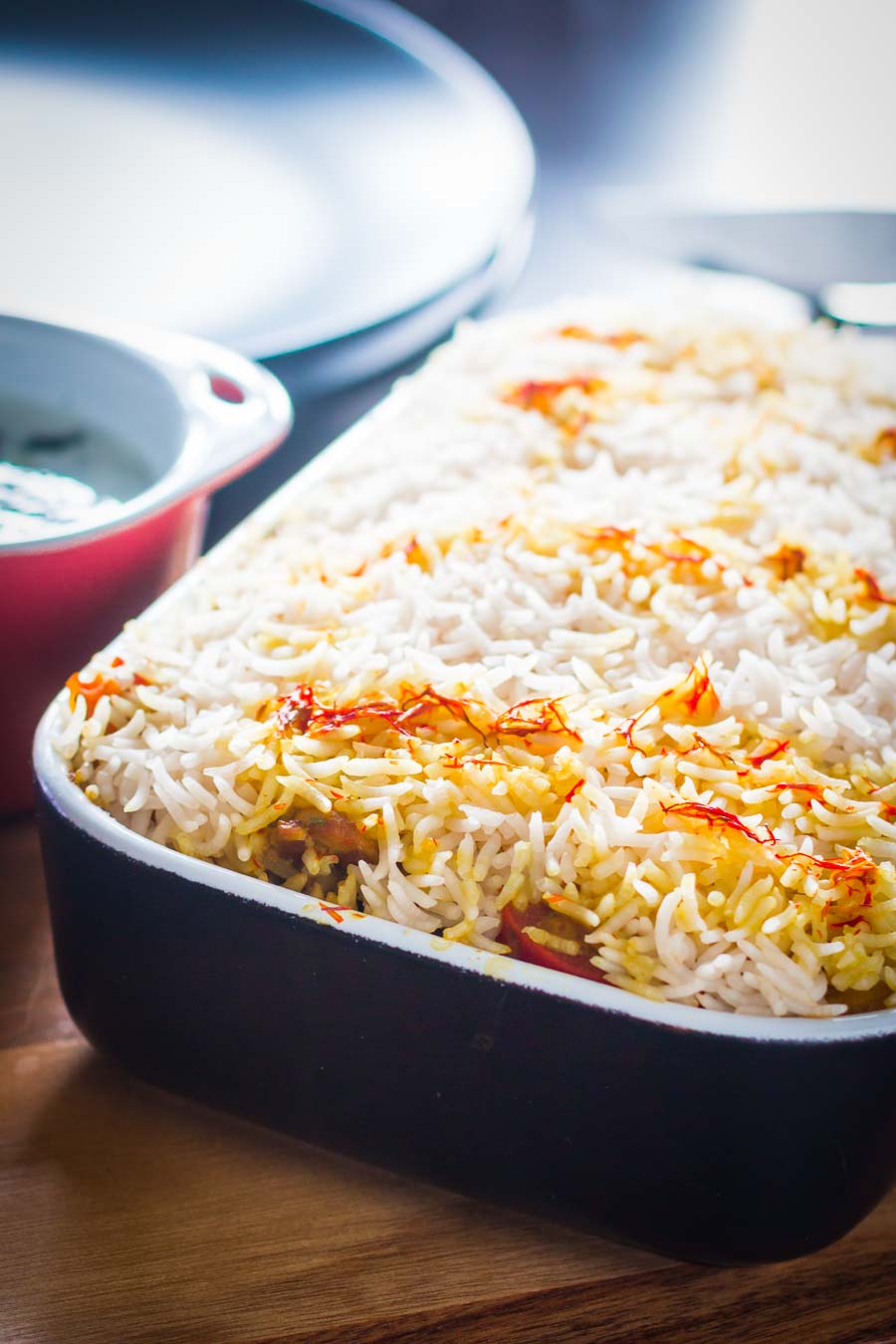 Chicken Biriyani or Chicken Biryani…
Like many people in the UK my first introduction to Indian food was a Chicken Biriyani, or is it Chicken Biryani? It was the introduction to my local Indian Curry house.
In many ways, it is a dish that began my love affair with spicy food.
It is usually not too spicy and not as intimidating as some dishes on a menu, for many years it was my go to Indian food when we went out.
Now my tastes may have moved on and my site is now littered with dishes like my Lamb Madras or Beef Vindaloo. But my love of a good Biriyani, particularly a Chicken Biriyani has not faltered.
I appreciate that the recipe may look intimidating. It is a long list and I will not pretend that it is a quick dish to cook. However, despite the humble looks, it is truly wonderful because there are just layers on layers of flavours.
These complex and rich flavours just cannot be replicated in any other way.
There are hundreds of 'quick Biriyani' recipes all over the web and whilst I have not cooked them all I have ploughed through more than my fair share. Every one of them has in many ways disappointed.
I am a huge advocate of 'slow food', I think it adds flavour that just cannot be created in a rush and for me, Chicken Biriyani or chicken Biryani is the very epitome of that.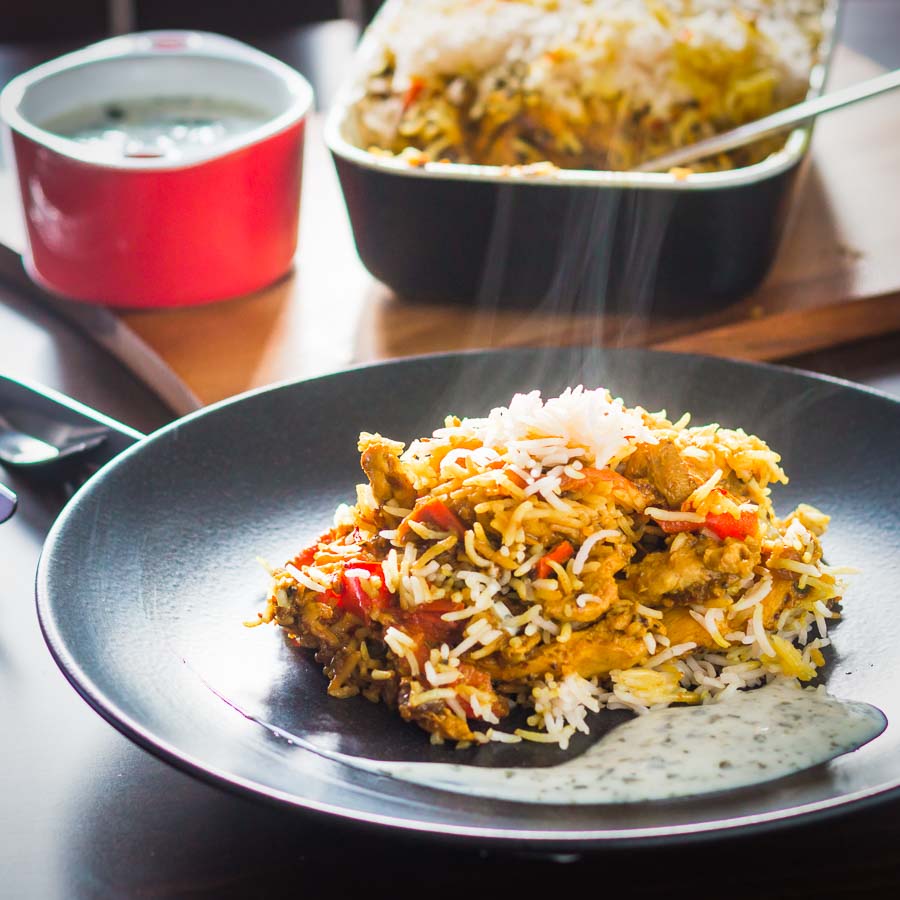 So what is a Biriyani?
Well, that very much depends on where you are from. There are variants ranging from North India all the way through South East Asia and 'Old' Persia.
They all have one thing in common layered rice with a dry curry. Rice provides so many comfort food recipes, from Risotto to Kedgeree and even rice pudding. This Biryani recipe is another step in that direction, celebratory but comforting!
My version is a mix of an Anglo Indian Biriyani that I remember from UK Curry Houses and unbelievable versions that I have eaten at Indian Weddings. Those really blew my mind!
Apparently, it is a common wedding feast dish with many female folk gathering to make the feast. The Biryani is often considered to be the centrepiece of it all.
One of these occasions was the first time I had eaten a Chicken Biriyani without a wet curry. The Chicken was so tender and the rice was unbelievable light with each of the grains beautifully separated.
All served with pickles, chutneys and a yoghurt based mint Raita. This dish chicken Biryani recipe probably represents 10-15 years messing around with ideas, reading books and trawling the internet.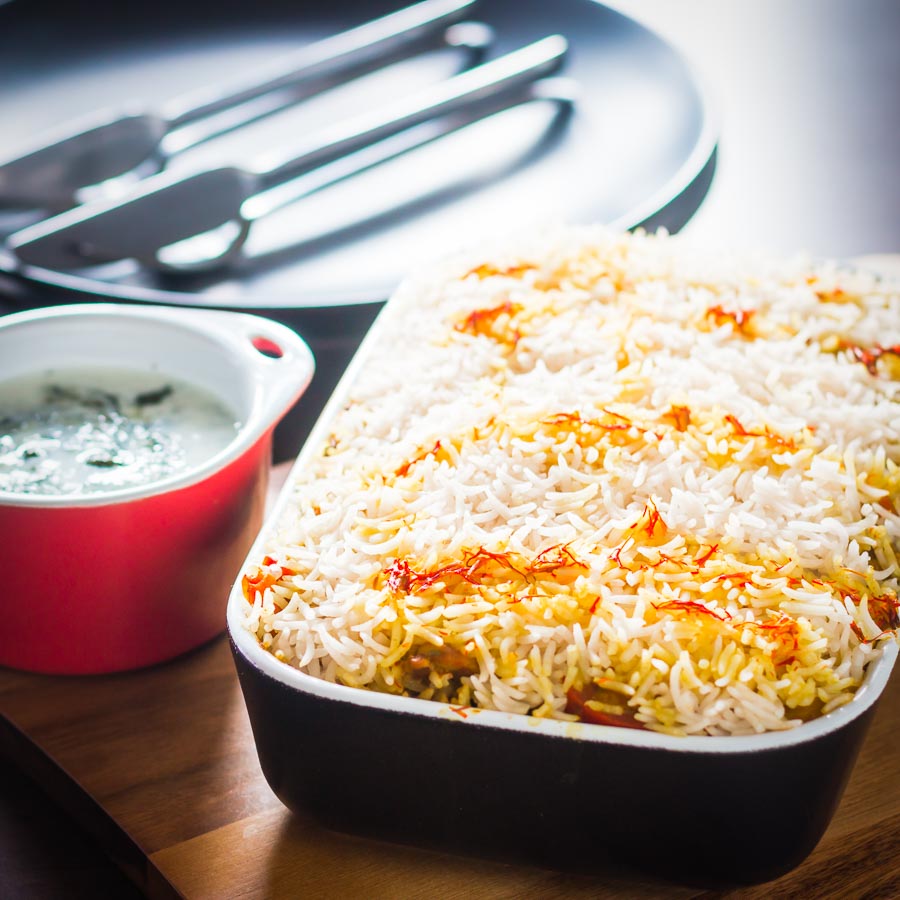 How to Cook A Biriyani/Biryani.
I have mentioned that the methodology and ingredient list for my Chicken Biriyani may seem intimidating. It certainly is time-consuming, but it is in no way shape or form a difficult recipe to cook.
Quite the opposite it is really incredibly simple.
You just gave to work methodically, read everything through and work out in your mind how you wish to work.
I have broken down the recipe in to the individual component parts but I work in the following way:
Put the rice on to soak.
Prepare the chicken thighs and place in the marinade.
Prepare the other ingredients for the chicken curry.
Cook the rice and set aside to cool whilst you work on the curry.
Begin cooking the garlic and onion mix and by the time you have got to this stage your chicken is ready to go straight in.
Layer and chuck in the oven and enjoy.
I love cooking this dish and chose this week to do it to break out of my 'fast' food frenzy.
Everything I have cooked recently has been design to be put on the table very quickly. It feeds the need to have something tasty to eat when we have finished tending our crops.
Yes, quick food is good but for me, there is something special about a meal that has been loved and laboured over. I always find that the effort and time shines through in terms of flavour.
So when I told my wife that I am taking a few hours off to make a Chicken Biriyani she was delighted.
Sure it may not look as blingy and exciting as some of my recipes but this chicken biryani punches well above its weight in the flavour division!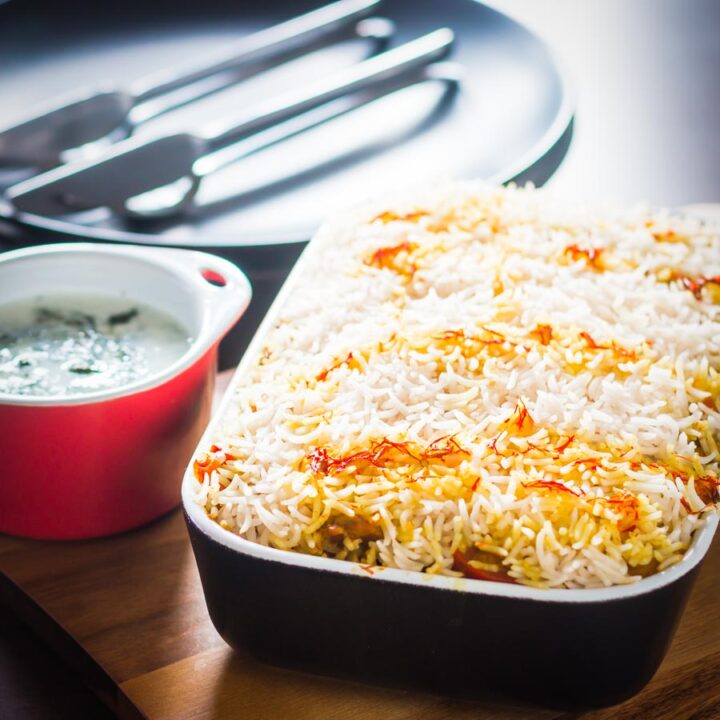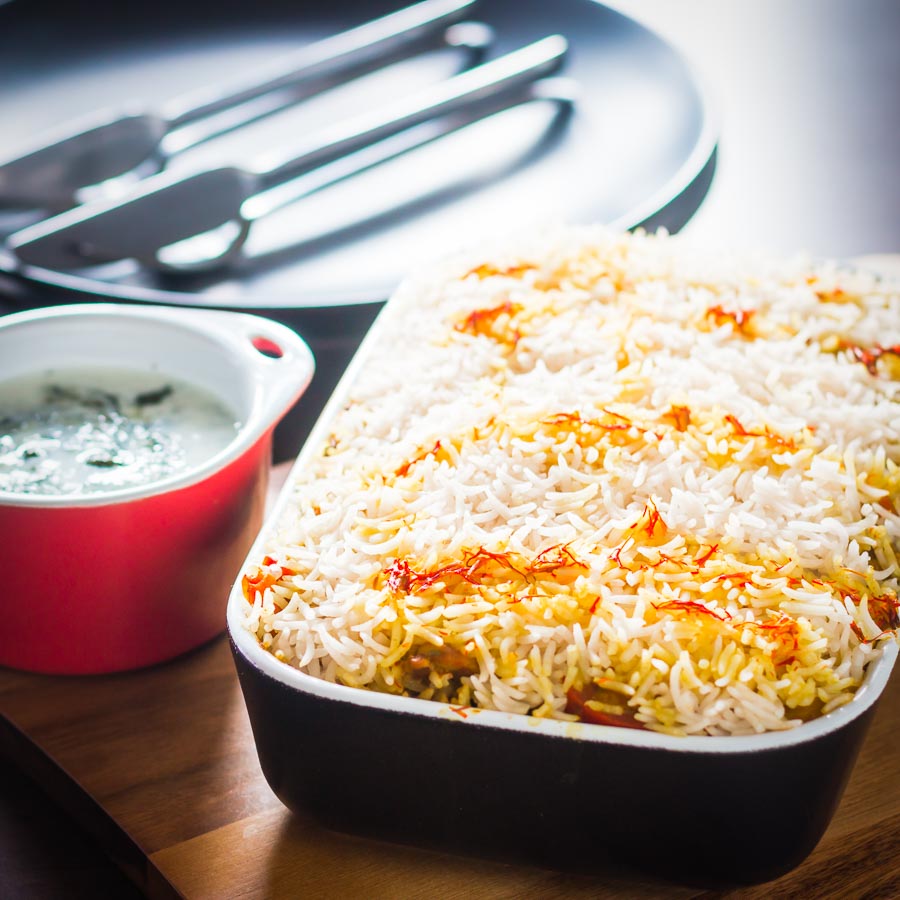 Yield:

2 Servings
Chicken Biriyani
Like all good Biriyani my Chicken Biriyani is a labour of love, set aside a couple of hours and revel in the rich and deep Indian Spices.
Ingredients
Chicken Marinade
500 g Chicken Thighs, Boneless, skinless, cut into 2.5cm chunks
1/8 Tsp Coarse Sea Salt
3 Cloves Garlic, Minced
30 g Ginger, Grated
4 Tbsp Natural Yoghurt
For Par Boiled Rice
200 g Basmati Rice
1 Bay Leaf
5 Black Pepper Corns
3 Green Cardamom Cloves
1 Stick Of Cinnamon
2 Cloves
1 Whole Mace
450 ml Cold Water
1/8 Tsp Coarse Sea Salt
For the Chicken 'Curry'
4 Cloves Garlic
30 g Ginger, Peeled and coarsely chopped
1 Dried Chili
2 Tbsp Cooking Oil, Neutral
2 Bay Leaves
1/2 Tsp Black Mustard Seeds
4 Green Cardamom Seeds, Bruised
1/2 Tsp Black Onion Seeds
1 Onion, Peeled, topped and tailed and sliced into thin half moon shapes
1 Tsp Ground Turmeric
1/2 Tsp Ground Coriander
1/2 Tsp Ground Cumin
3 Tomatoes, Approx 100g each each cut into 8 wedges and deseeded
50 g Raisins, Controversial but I love them so I would say optional 😉
Pinch Saffron, Heated in 50ml milk
Instructions
Marinade the Chicken
Mix together all of the ingredients for the chicken marinade including the chicken and allow to sit at room temperature for at least 1 hour.
Prepare the Rice
Wash the basmati rice thoroughly and allow to soak in cold water for 10 minutes.
Now add all of the ingredients for the par boiled rice into a pan with the cold water and bring to a rolling boil.
When the rice has been soaked, wash it again and place in the bottom of a pan.
Add the salt and spice infused water and bring to a boil then reduce the heat and simmer until the rice is still a little under cooked, this should take approximately 7-8 minutes.
Drain the rice and set aside, reserving the cooking liquid.
Prepare the Chicken Curry
Add the garlic, ginger and chili to a blender and grind into a paste adding a little of the rice cooking liquid if needed.
Heat the cooking oil in a heavy based pan over a medium high heat.
Add in the bay leaves, Cardamom pod, black mustard seeds and black onion seeds.
The mustard seeds should begin to pop almost immediately, as soon as this happens stir in the garlic and ginger paste and stir until fragrant.
Reduce the heat to low-medium and add in the onion and allow to slowly cook until the onions caramalise, this should take approximately 45 minutes.
Stir in the turmeric, cumin, coriander and tomatoes and then add the chicken that has been marinading and cook until the chicken is nearly cooked, this should take about 30 minutes over a low-medium heat.
You want the curry mix to be fairly dry to prevent the rice from becoming sticky.
Stir in the 'controversial' raisins and begin to build your biriyani.
Building your Biriyani
Preheat your oven to 180 C.
Layer half of the chicken curry in the bottom of a 20cm x 15cm x 5cm oven proof bowl and compress.
Then add half of the rice and cover the curry, compress again.
Then the other half of the curry and compress.
Finally add on the remaining rice, cover with tin foil and place in the oven for 25 minutes.
If you are adding the Saffron heat 25ml milk in a microwave and add in saffron and allow to steep. Then remove the biriyani from the oven sprinkle over the safron and milk mix and return to the oven for 5 minutes.
Notes
In the UK a Biriyani is usually served with a wet curry but I believe traditionally it is served with mint Raita and Indian pickles, I personally prefer just a mint Raita.
This should serve 2 with left overs but we never seem to have any leftovers, it is a properly piggy dinner 😉
Nutrition Information:
Yield:
2
Serving Size:
1
Amount Per Serving:
Calories:

1341
Total Fat:

70g
Saturated Fat:

18g
Trans Fat:

0g
Unsaturated Fat:

46g
Cholesterol:

374mg
Sodium:

1769mg
Carbohydrates:

102g
Fiber:

10g
Sugar:

26g
Protein:

88g