One pot baked chicken and rice gets an Indian-influenced makeover with spicy marinated legs cooked in spiced rice with chilli & fenugreek.
This is a wonderfully easy dish to cook, throw a simple marinade on the chicken whilst you cut veggies, then saute them and throw it all in the oven for 35 minutes and dinner is served.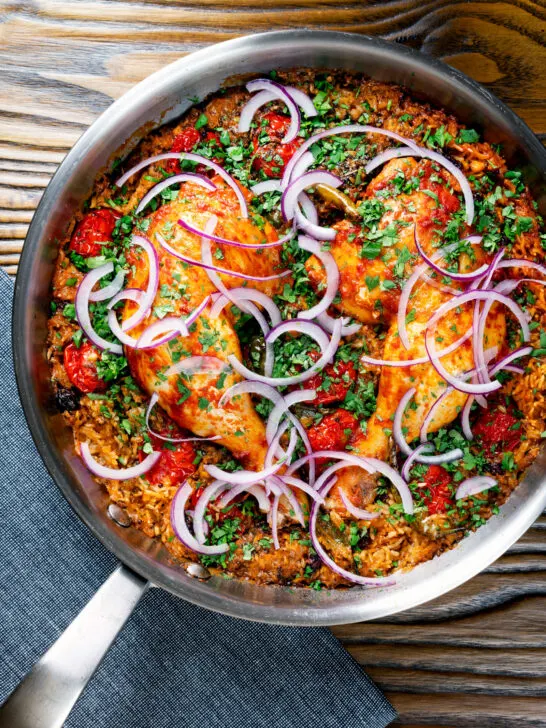 Baked Indian Chicken and Rice
I like to think of this recipe as a bit of a lazy take on a chicken biriyani.
That dish is a labour of love, this recipe involves around 10 minutes of tinkering in the kitchen then you throw it in the oven and wait for dinner to be ready.
It was born of some wifely nagging, and after much badgering, I agreed to do some work on a one pot baked chicken and rice recipe.
I only wished I had done it earlier, this recipe has rapidly become a firm favourite for us.
The chicken legs get a very similar marinade to my Indian roast chicken legs.
The rice gets flavoured by some whole toasted spices and whole fresh chillies it is lightened by cherry tomatoes and gets a sweetness from raisins.
Yes, you read that correctly, they are delicious and they make this dish for me!
I like to make it really quite spicy but you can scale that back by changing the amount of chilli pepper in the marinade and scaling back the chillies in the rice.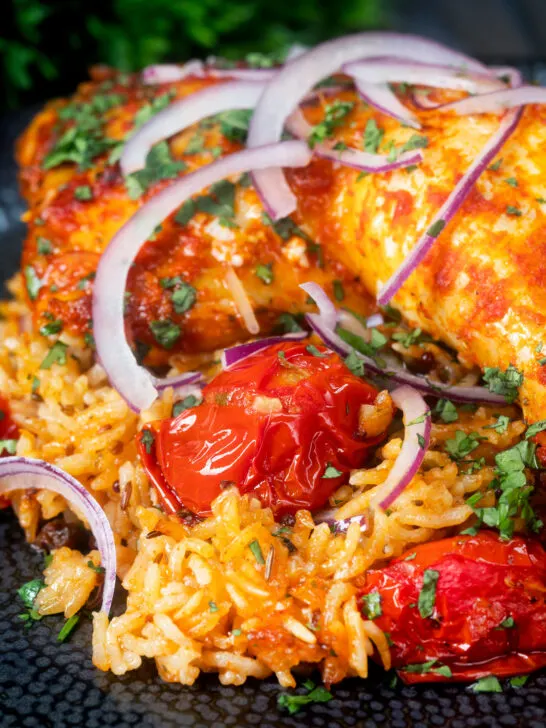 Frequently Asked Questions
Can I remove the skin from the chicken?
If you wish, the nature of the marinade and the fact that the chicken cooks under a lid for some time prevents the chicken skin from crisping up.
That is not to everyone's taste, so you should feel free to remove it if you like.
Can I use chicken thighs or drumsticks?
Yes, of course. Chicken thighs will take around the same time to cook as my recipe, thighs will likely take 3 or 4 minutes less.
Can I use boneless chicken?
In theory, yes, but the timing will be very different and the chicken will be a lot less juicy than using bone-in chicken.
Is the marinade time important?
Yes and no, obviously the longer you leave the chicken legs in the marinade the more flavour they will take on.
But I have done this from scratch and cooked it without any real marinating time and it is still delicious!
Can I use onions rather than shallots?
Yes, I choose to use shallots because they are a little sweeter but also because it is much easier to dice them really finely.
Can I use prepared garlic and ginger?
Yes, it works fine in this recipe, I personally find it a bit sharp as a result of the preserving liquid, but if that is not an issue for you, then fill your boots!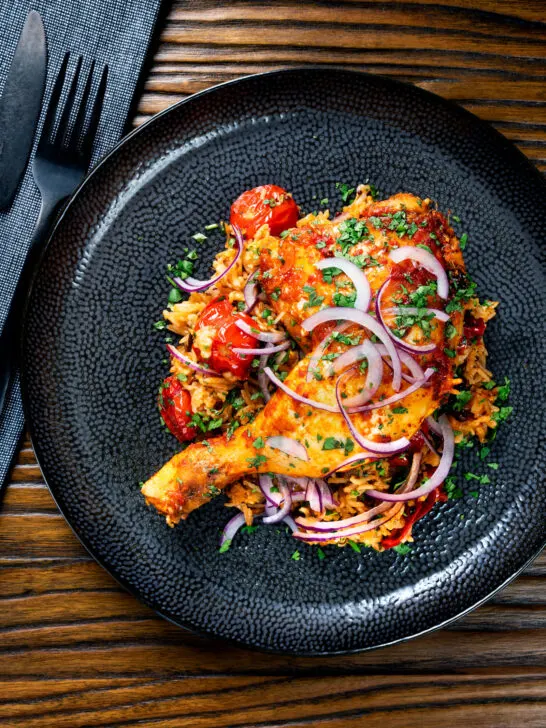 Serving Suggestions
I consider this one pot baked chicken and rice to be an all-in-one meal and generally speaking it does not need a side.
However, that does not mean I only ever serve it on its own!
If you want a sauce with this consider either a mint and cucumber raita or date and tamarind chutney.
It's also particularly good served with a few chapatis or roti!
I like to garnish with thinly sliced red onions and lots of fresh coriander.
You could also consider this as a leaping-off point for variants!
Other flavour combinations that would work really well are:
North African: Think of rose harissa as a marinade on the chicken and preserved lemon and chilli in the rice.
Thai: Go with a red or yellow Thai curry paste mixed with coconut milk as a marinade on the chicken. Galangal, coriander and lemongrass in the rice.
Italian: A sun-dried tomato paste as a marinade on the chicken and herby rice with some roasted red peppers or maybe artichokes.
These are just a few ideas that have sprung to mind. Let's see how many of them turn into recipe links in the near future!
Equipment Used
I only name-check brands of equipment if I think that they make a material difference to a recipe. But if you have any questions feel free to ask them in the comments section below the recipe.
Stovetop.
Oven.
28cm or 11″ frying pan or skillet with a lid. You can improvise a lid with tin foil if you need to.
Chopping board.
Kitchen knife.
Stirring and serving spoons.
Weighing scales and or measuring jug, cups and spoons.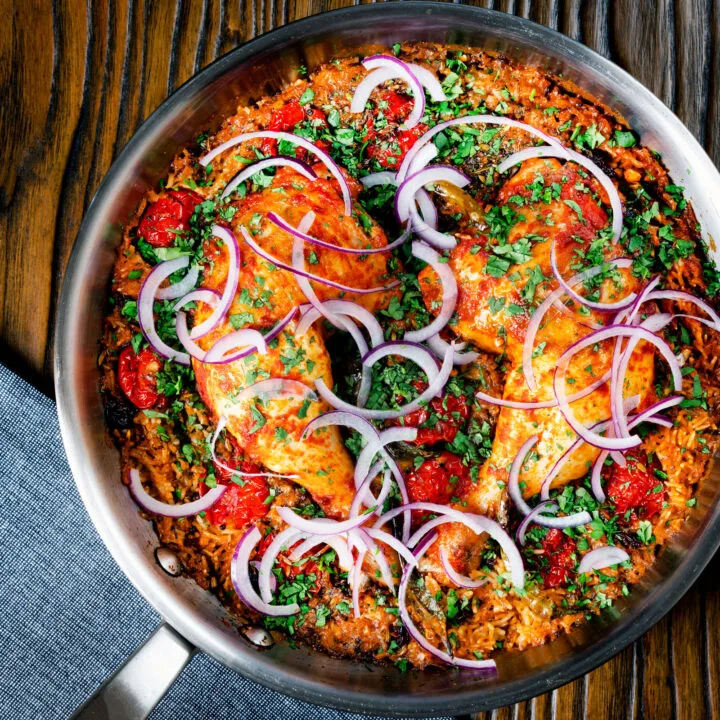 Yield:

2 Servings
Indian One Pot Chicken and Rice
Baked one pot chicken and rice is a supremely simple midweek meal, my version leans on Indian flavours and is rich with fenugreek and spicy with chilli... I like to think of it as a lazy biriyani!
Ingredients
2 Chicken Legs
2 Tbsp Ground Nut Oil
1 Tbsp Lime Juice
1 Tbsp Kashmiri Chilli Powder
½ Tsp Ground Coriander
½ Tsp Ground Cumin
¼ Tsp Ground Turmeric
1 Tsp Salt
150g (¾) Cup Basmati Rice
70g (2 Medium) Banana Shallots
3 Green Chilli Peppers
4 Garlic Cloves
35g (Thumb sized piece) Ginger
12 Cherry Tomatoes
35g (¼ Cup) Raisins
1 Tsp Cumin Seeds
1 Tsp Fennel Seeds
½ Tsp Ajwain Seeds
½ Brown Mustard Seeds
2 Tsp Dried Fenugreek Leaves
375ml (1½ Cup) Chicken Stock
1 Tbsp Ghee
Instructions
Combine the ground nut oil with the lime juice, Kashmiri chilli powder, ground coriander, ground cumin, and turmeric then massage this into the chicken and set it aside to marinade. You can do this for up to 24 hours, the longer the better.
Wash the basmati rice in cold water until the water stops running cloudy.
Cut the shallots in half, peel them and then dice them as finely as you can.
Cut the green chillies in half lengthways.
Peel the garlic cloves and dice them as finely as you can.
Peel and grate the ginger
Gently crush the cherry tomatoes with the side of a knife to break them open a little.
Heat a 28cm or 11" oven-proof frying pan or skillet with a lid over a medium-high heat and add the ghee.
When the ghee has melted add the cumin, fennel, ajwain and brown mustard seeds along with the slit chilli peppers and cook for 30 seconds.
Add the diced shallots and cook for 2 minutes
Throw in the garlic, grated ginger and squished cherry tomatoes and cook for 2-3 minutes stirring constantly.
Add the washed rice and raisins and stir to get everything mixed well together.
Pour in the chicken stock, then knock any excess marinade off the chicken legs and add it to the pan with the rice, then crush the fenugreek leaves between your palms into the pan and then stir everything to combine.
Nestle the chicken legs into the pan, add a lid and transfer to the oven, cooking at 180°C or 350°F for 20 minutes.
Remove the lid, turn the heat up to 200°C or 400°F and flip the oven over to fan mode then cook for a final 10-13 minutes or until the chicken legs reach 73°C or 165°F in a quick read meat thermometer. If your oven does not have fan mode turn it up to 230°C or 450°F.
Nutrition Information:
Yield:
2
Serving Size:
1
Amount Per Serving:
Calories:

908
Total Fat:

41g
Saturated Fat:

11g
Trans Fat:

0g
Unsaturated Fat:

26g
Cholesterol:

276mg
Sodium:

1809mg
Carbohydrates:

77g
Fiber:

9g
Sugar:

27g
Protein:

63g
Calorific details are provided by a third-party application and are to be used as indicative figures only.