A beef stir fry with noodles is hard to beat, this one is spiced with fresh chilli and sweet chilli sauce and it cooks in just 15 minutes!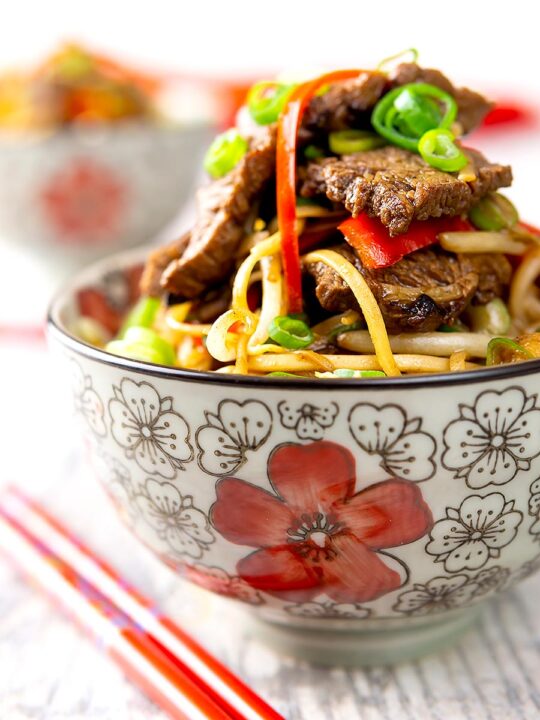 Noodle Stir Fry.
If I need a quick meal there are two styles of dish that first spring to mind, the first is pasta, the second is a stir fry.
I usually opt for the second!
Beef is a great meat to use in a stir fry, it has a big flavour and as a result is stands up to big flavours. It also means that you need less of it to get a real meaty hit.
This recipe uses just 200g (7oz) of beef for two people and it still tastes very meaty.
The noodles offer a great vehicle to spread that flavour out at a relatively minimal cost. So it kinda feels a little indulgent whilst being really rather frugal.
I take a similar approach with many of my noodle stir fry recipes. Everything from my beef chow mein fakeaway, Szechuan beef stir fry and Chinese beef with shiitake mushroom to my hoisin pork stir fry recipes.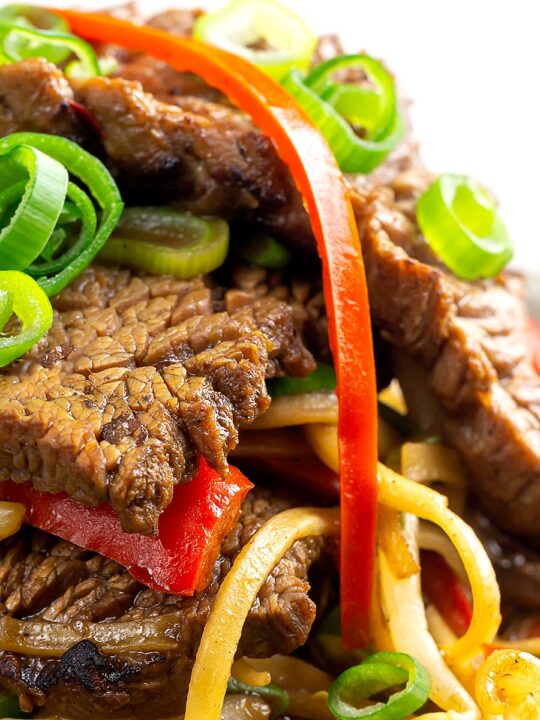 Ingredient Advice.
Let's start with the beef, I call for Sirloin steak for this recipe.
I think it has the perfect balance between flavour, tenderness and affordability. I use it in recipes as diverse as my crispy chilli beef to my beef stroganoff.
But there are other cuts that you can use, rump, skirt and flank are probably the choice of them. I use rump steak in my beef in oyster sauce recipe.
You do have to ensure that you cut across the grain, they are less tender than sirloin, but have a little more flavour.
Avoid stuff like fillet, it has the least amount of flavour and can get lost among the other flavours. It also costs way too much money!
Next up chillies, the aim here is not to blow your head off, but to get a lot of chilli flavours.
I use two large mild/medium heat chillies and one hot chilli. I typically use fresh cayenne as the hot chilli, but use chillies that you can comfortably eat.
The same goes for sweet chilli sauce, I make my own but use a brand that you like.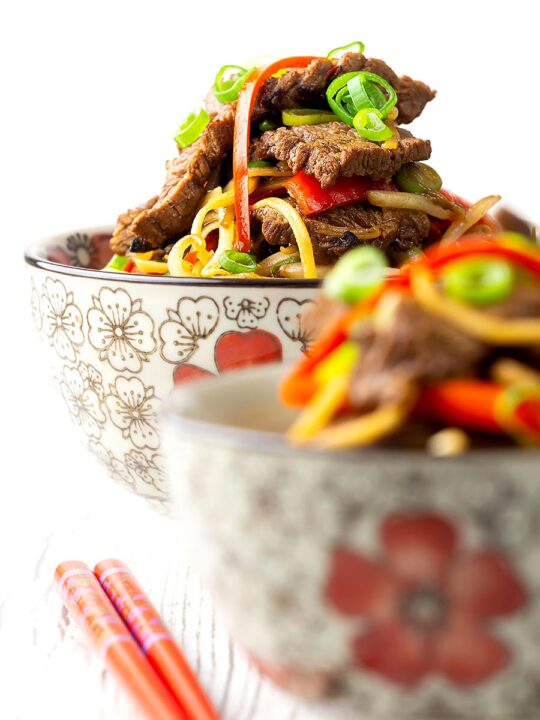 Cooking Hints and Tips.
There are two things that you must do when you are cooking a stir fry.
The first is to make sure that your prep is done, this recipe cooks in 5-7 minutes and contains 12 ingredients.
You have no time to dig through cupboards, mix sauces or chop meat or vegetables!
Prepare everything first, place it in bowls and then and only then turn the heat on under your wok.
And that leads neatly to the second thing. Get your wok hot, far hotter than you think!
How hot? Dip your fingers in some water and splash them in the pan, the water should boil and dance across the base immediately!
The pan should be shimmering almost smoking. Then off you go, add your ingredients and keep them moving all of the time!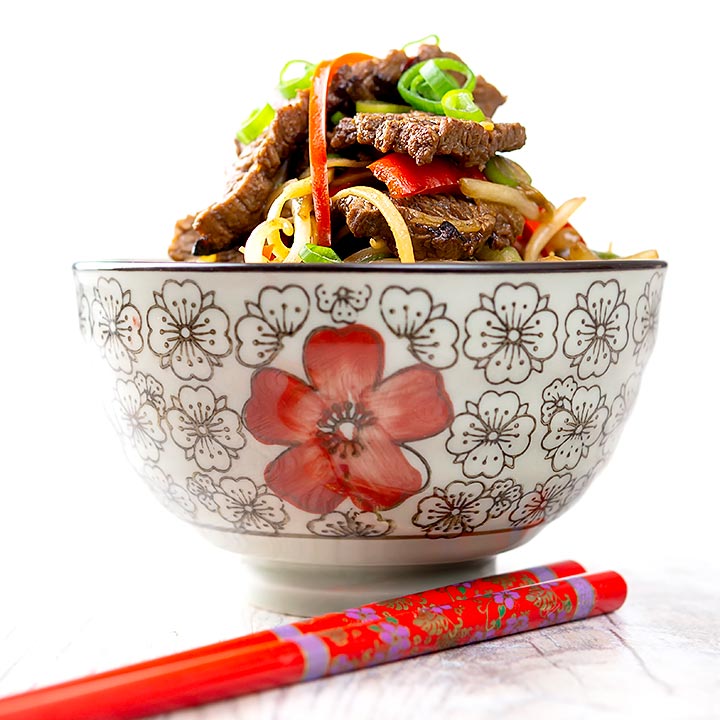 Yield:

2 Servings
Beef Stir Fry with Noodles Recipe
It's hard to get more classic than beef stir fry with noodles... This version goes spicy with a sweet chilli sauce based recipe that tastes divine and cooks in just 15 minutes!
Ingredients
250g (9oz) Sirloin Steak
125g (2 Nests) Dried Egg Noodles
3 Medium Red Chilli Peppers
5 Thin Spring Onions
2 Cloves Garlic
30g (Thumb Sized Piece) Ginger
150g (2 Cups) Bean Sprouts
3 Tbsp Light Soy Sauce
2 Tbsp Sweet Chili Sauce
1 Tbsp Rice Vinegar
1 Tbsp Cooking Oil
1 Tbsp Sesame Oil (Optional)
Instructions
Cook the egg noodles as per the instructions and then refresh in ice-cold water.
Slice the beef across the grain around 2-3mm thick.
Peel and cut the ginger into batons as thinly as you can.
Peel and slice the garlic as thinly as you can.
Cut the top off the chillis, then slice them in half. Remove the seeds and then cut them into batons approximately 2mm thick.
Cut the spring onions into rounds around 2mm thick.
Mix together the sweet chilli sauce, soy sauce and rice vinegar.
Heat a wok over a fierce heat and when it is shimmering add the cooking oil.
Add the beef and stir fry for 2-3 minutes.
Throw in the chopped chillies, garlic and ginger and stir fry for 60 seconds.
Add the noodles and bean sprouts and stir fry for another 60 seconds.
Pour in the soy and sweet chilli sauce mix and stir to coat.
Finally, throw in the spring onions and mix well.
Serve drizzled with the sesame oil.
Nutrition Information:
Yield:
2
Serving Size:
1
Amount Per Serving:
Calories:

632
Total Fat:

34g
Saturated Fat:

9g
Trans Fat:

0g
Unsaturated Fat:

21g
Cholesterol:

133mg
Sodium:

1732mg
Carbohydrates:

41g
Fiber:

4g
Sugar:

16g
Protein:

42g
Calorific details are provided by a third-party application and are to be used as indicative figures only.