This beef and noodles recipe features some classic drag race style cooking! All of the work is in the methodical preparation and when you start cooking it is all about head down speed. This amazing stir fry cooks in just 10 minutes.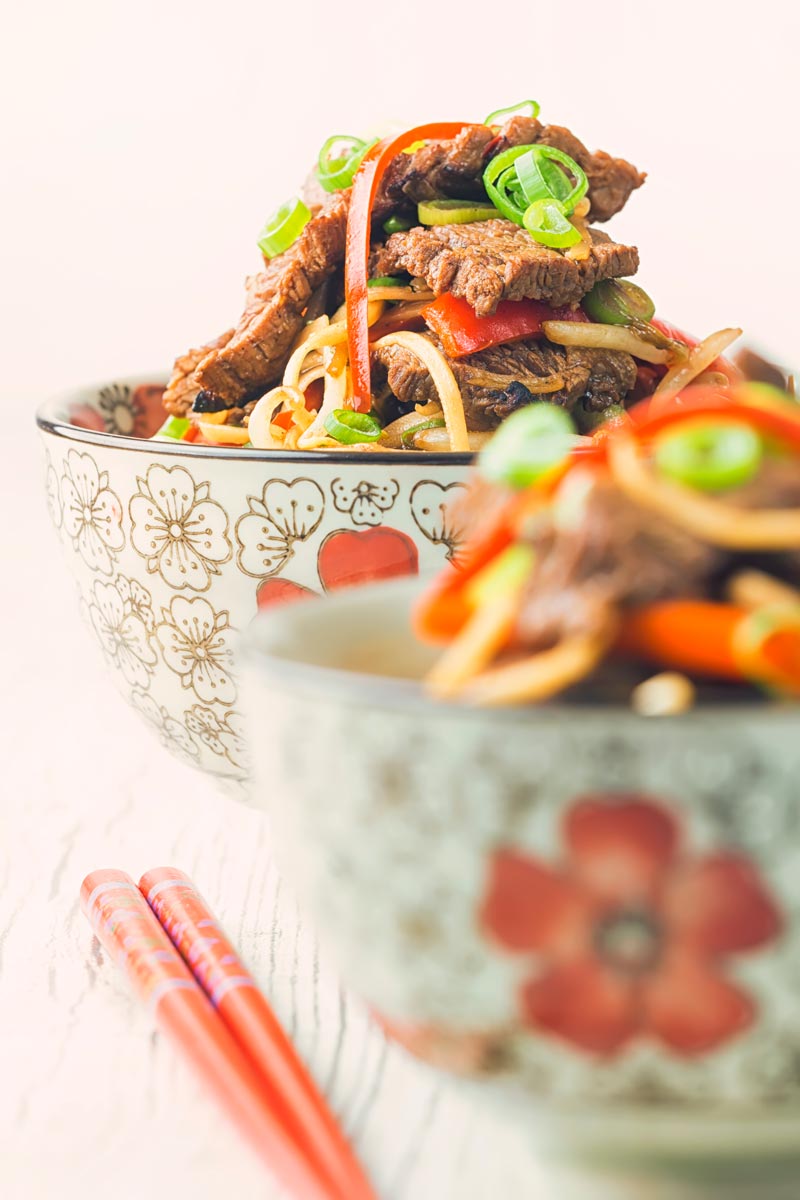 Stir-Fried Chili Beef and Noodles.
This stir-fried beef recipe is very much a simplified and lightened version of my sticky chili beef recipe.
That one is a recipe that you need to lie down after. This is very different, it is light and breezy but does not lack for flavour.
Cooked in the main with store cupboard ingredients this recipe is one that also requires little planning.
It is also a rocket ship in the cooking department too. It takes just 20 minutes start to finish and only 10 minutes of that is cooking.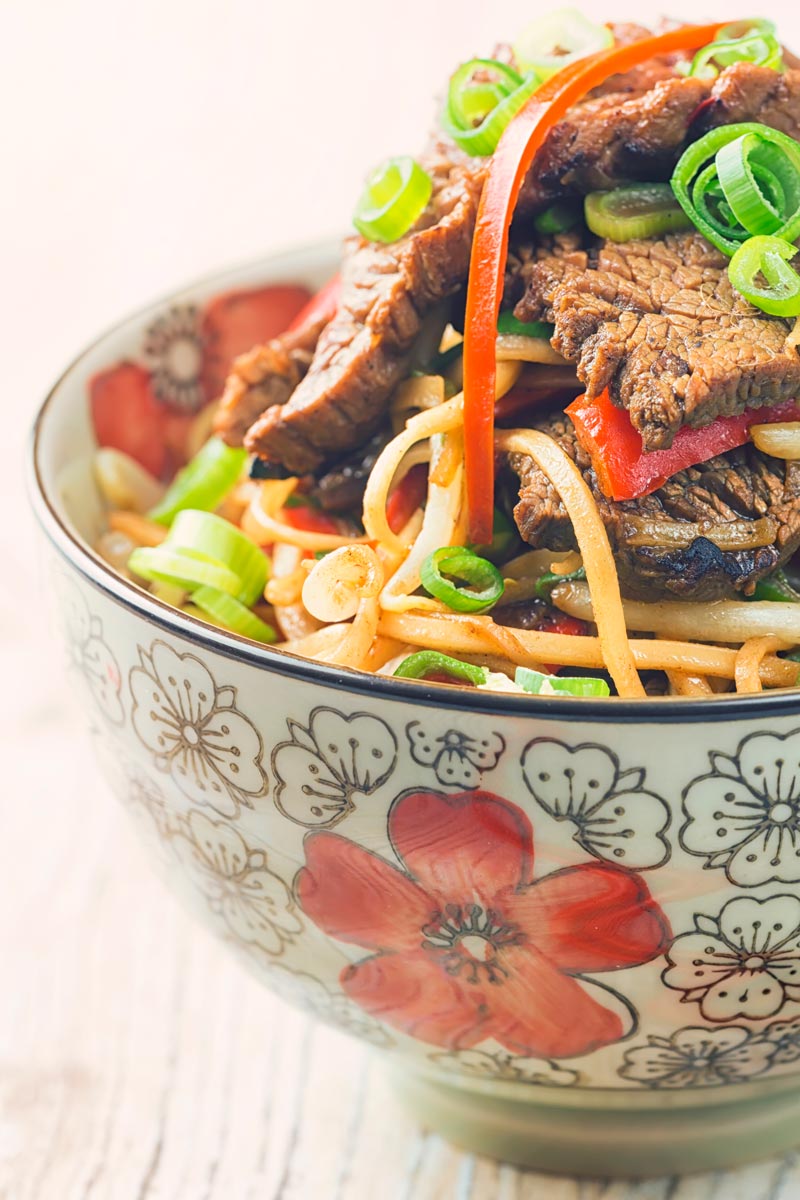 What Beef to Use?
I personally favour sirloin steak in this beef and noodles recipe. In fact, I prefer it in all of my beef stir fry recipes.
It cooks plenty quick enough, it is a tender cut of meat but it also has great flavour.
You can also use something like skirt or flank steak. Flank is less tough but does not have as much flavour as skirt.
Whatever beef you use make sure you cut it across the grain. I talk about that a little more in this beef stir fry with shiitake mushroom recipe, so I will not repeat myself.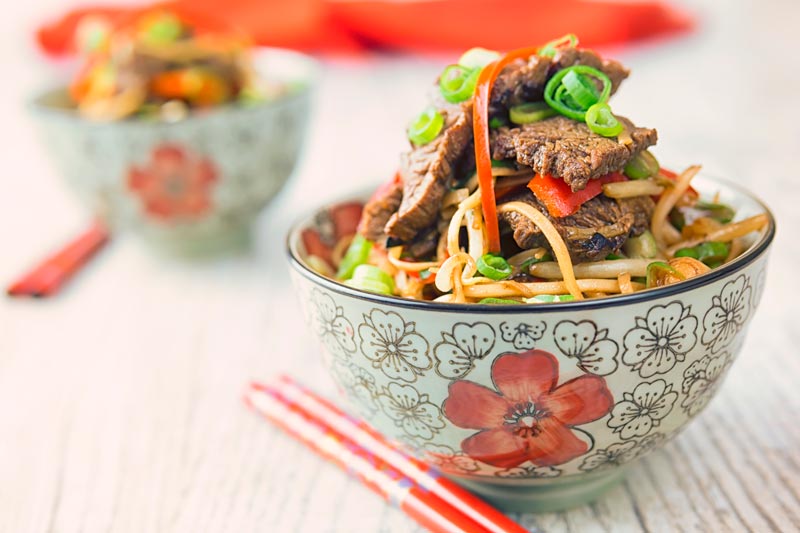 Egg Noodles vs Rice Noodles.
I always use egg noodles in my noodle recipes. That does not mean that you cannot swap the two of them out if you wish.
The difference between egg noodles and rice noodles is what they are made of… Stating the obvious hey!
Anyway, rice noodles are made of rice and water, egg noodles are made from egg and wheat flour.
I personally prefer egg noodles as I find the texture more pleasing to eat. The gluten in the wheat flour gives them a bit more of a 'bite' texture.
Egg noodles just need soaking in boiling water until al dente. When using them in a stir fry I do this in advance and then refresh in cold water before stir frying.
For a salad like this Asian smoked mackerel noodle salad, you can either serve cold or reheat in hot water.
Rice noodles need soaking in cold water until they soften and then need plunging in boiling water for seconds to heat them up.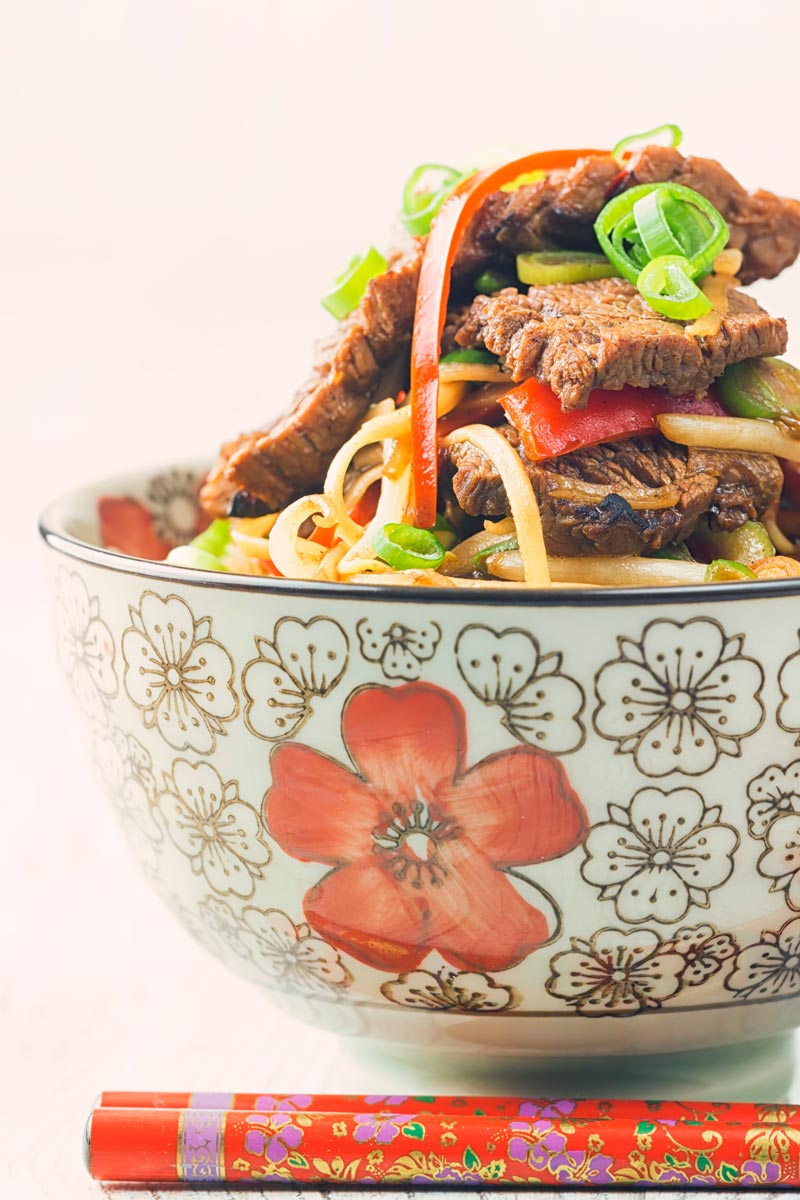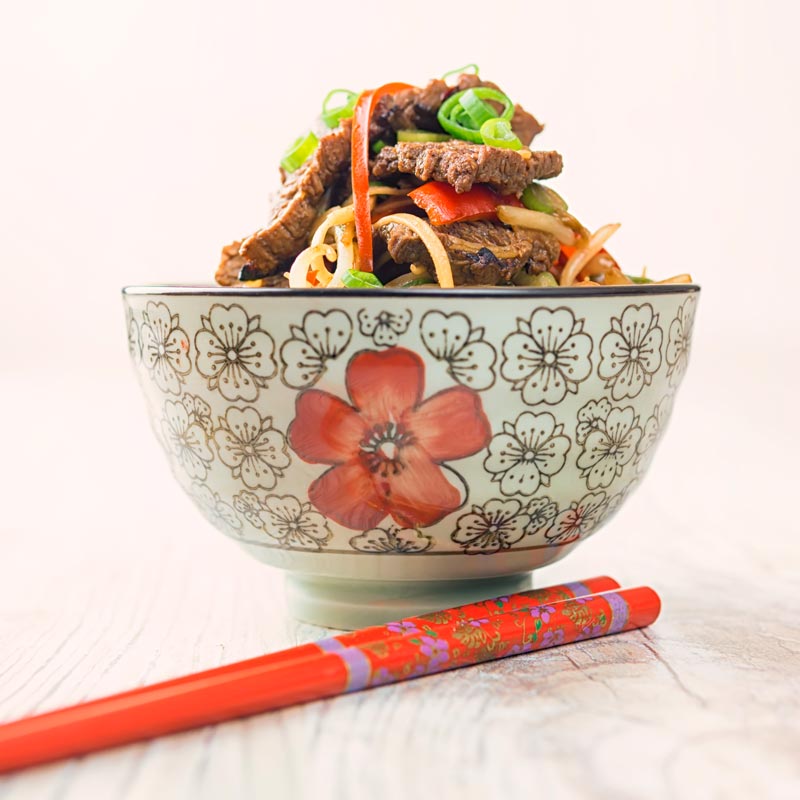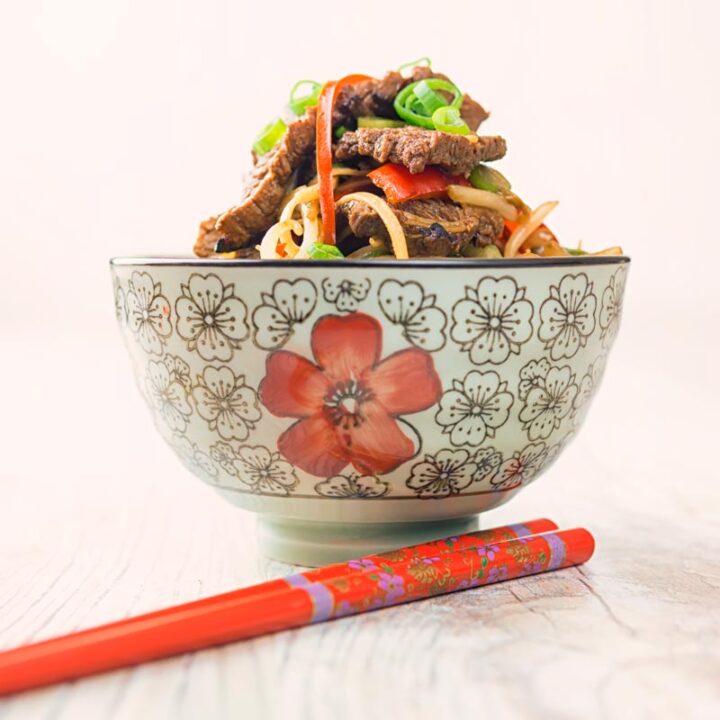 Chili Beef and Noodles
It's hard to get more classic stir fry fakeaway than beef and noodles... This version goes spicy with a sweet chili sauce based recipe that tastes divine and cooks in less than 20 minutes!
Ingredients
200 g Sirloin Steak
75 g Egg Noodles
2 Chili Peppers
75 g Hot Red Peppers
50 g Spring Onions
2 Cloves Garlic
20 g Ginger
100 g Bean Sprouts
1 Tbsp Light Soy Sauce
1 Tbsp Sweet Chili Sauce
1 Tbsp Cooking Oil
1 Tbsp Sesame Oil (optional)
Instructions
Cook the egg noodles as per the instructions and then refresh in ice cold water.
Thinly slice the beef across the grain.
Thinly slice the garlic and cut the ginger into batons.
Mix together the sweet chili sauce, soy sauce and the ginger and garlic.
Add the beef to this mix and then allow it to marinade whilst you prepare the remaining ingredients and deal with the noodles.
Slice the chili peppers into thin strands.
Slice the pepper into strips 1 cm wide and 4 cm long.
Take the spring onions and slice the white parts into 1cm lengths and the green part finely.
Heat a wok over a fierce heat and when shimmering add the oil.
Then in with the beef and stir fry for 3-4 minutes.
Throw in the red pepper, chili and white bits of the spring onion and stir fry for 1 minute.
Next up are the noodles in they go and stir fry for 30-45 seconds.
Finally in we go with the bean sprouts and most of the green parts of the spring onion, reserve a couple of tablespoons to garnish.
Serve in bowls with the remaining spring onions and an optional drizzle of toasted sesame oil.
Notes
Don't get your hot red chili peppers confused with your red hot chili peppers, it would be a real 'flea' in the ointment!
Nutrition Information:
Yield:

2
Serving Size:

1
Amount Per Serving:
Calories:

498
Total Fat:

29g
Saturated Fat:

7g
Trans Fat:

0g
Unsaturated Fat:

19g
Cholesterol:

103mg
Sodium:

620mg
Carbohydrates:

27g
Fiber:

3g
Sugar:

11g
Protein:

32g
Calorific details are provided by a third-party application and are to be used as indicative figures only.