Aloo paneer or chanar dalna is a Bengali influenced recipe of fresh fried cheese balls and potatoes served in a gently spiced gravy.
This delicious and unusual "curry" from Bangladesh cooks in a shade under an hour and that includes making the paneer from scratch!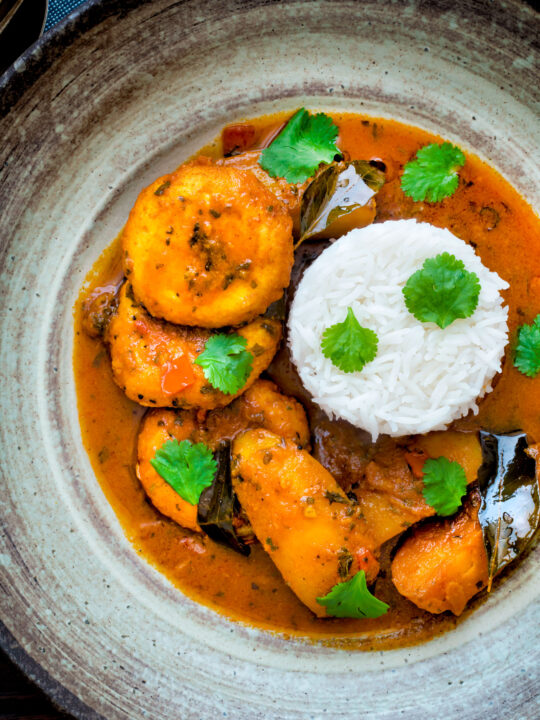 Chanar Dalna Paneer and Potato Curry
I have a few paneer curry recipes here already, classics like palak paneer and matar paneer are quite well known. I even have a paneer tikka masala that absolutely rocks, but my latest recipe is less well known outside of its homeland.
Chanar dalna is a recipe from Bangladesh and it is a bit of a stunner. It is essentially a paneer and potato or aloo paneer curry.
But it uses really fresh paneer or chanar or chhena in Bengali. This is really crumbly and it is mixed with some light spices and flour to bind.

This mix is then formed into paneer balls and fried.
These fried balls are joined by fried potatoes and then finished in a tomato sauce or broth.
This take on an aloo paneer curry is incredibly tasty, the potatoes help thicken the sauce a little and the soft texture of the paneer balls is heavenly.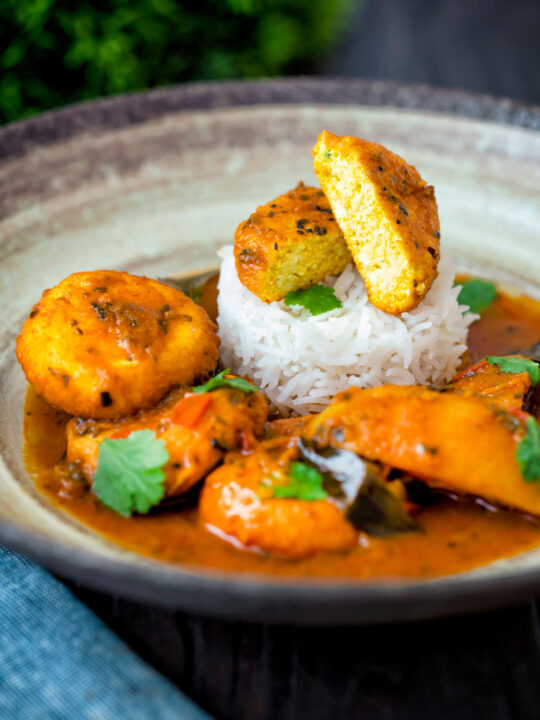 Frequently Asked Questions
Can I use store-bought paneer?
No store-bought paneer is too firm. As a result, you really must make your own paneer for this aloo paneer recipe!

But do not worry it is really easy, a large pan, a bit of vinegar and you are done and the recipe still cooks in under an hour.
What type of potatoes should I use?
You can take your pick, it does not matter.

Waxy potatoes will offer a more textural eating experience, whereas floury or mealy potatoes will thicken the broth and be much fluffier. I personally prefer the latter, but either way, you are good.
Do I have to pass the broth through a sieve?
No, not at all. You can have a chunky sauce with your aloo paneer if you prefer.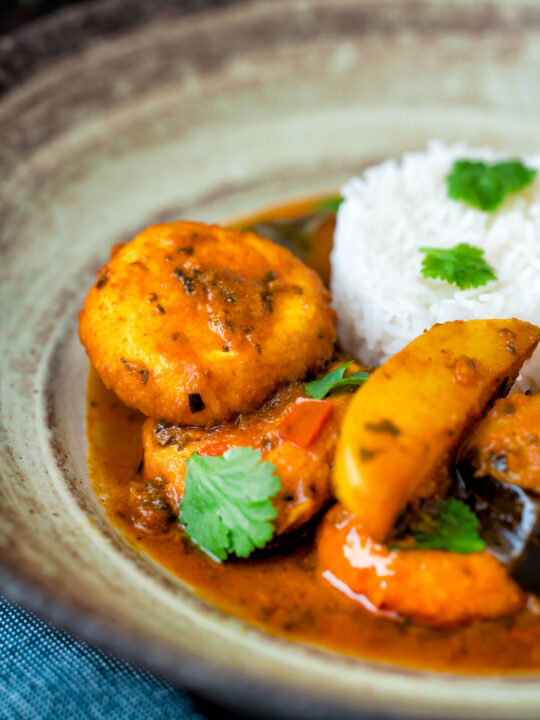 Serving Suggestions
I serve this aloo paneer or chanar dalna recipe in the photographs with some simply boiled basmati rice.
It is equally as special with flatbread, either chapati or tandoori style naan bread will see you right.
However, it really would be exceptional with some green vegetables.
Something like beans poriyal or some lightly spiced roasted broccoli would be perfect.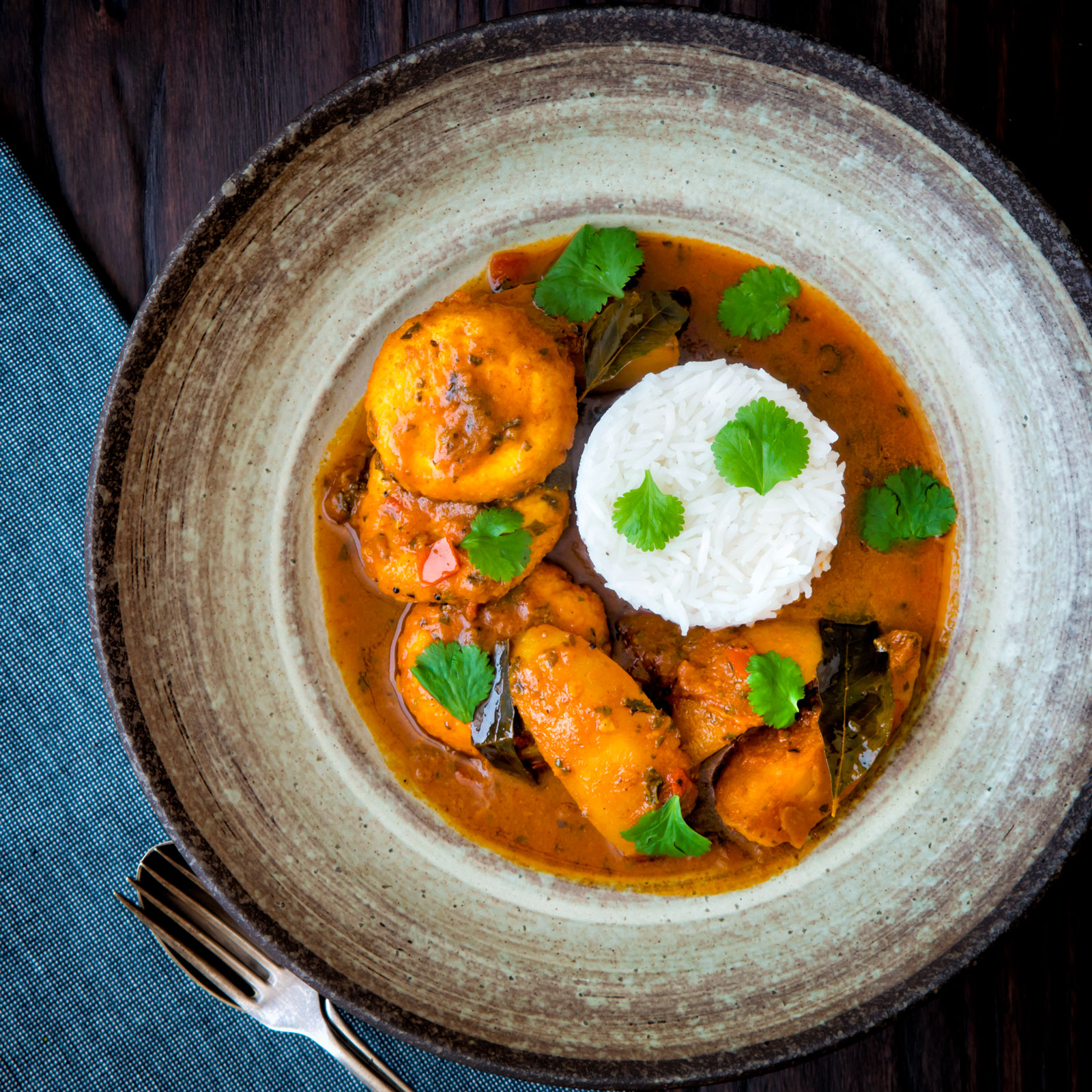 Yield:

2 Servings
Aloo Paneer Recipe
Aloo paneer, a delicious potato and fresh cheese curry featuring fried paneer balls and potatoes in a simply spiced gravy. A recipe based on Bengali chanar dalna.
Ingredients
For the Paneer Balls:
1¼ Litres (~5 Cups) Whole Milk
2 Tbsp White Vinegar
1 Green Chilli Pepper
½ Tsp Salt
½ Tsp Turmeric
½ Tsp Ground Coriander
1 Tbsp Flour
For the Potatoes:
300g (3 x100g) (~2 Cups) Potatoes
1 Tsp Mustard Seeds
1 Tsp Ajwain Seeds
1 Tsp Cumin Seeds
4 Tbsp Cooking Oil
½ Tsp Turmeric
For the Gravy:
1 Tbsp Ghee
35g (Thumb Sized Piece) Ginger
1 Large Tomato
3 Green Cardamom Pods
12 Curry Leaves
¼ Tsp Asafoetida
6 Dried Kashmiri Chilli Peppers
2 Tbsp Tomato Paste
1 Tsp Ground Turmeric
1 Tsp Garam Masala
1 Tbsp Dried Fenugreek
½ Tsp Salt
1 Tsp Honey
500ml (~2 Cups) Water
Instructions
Heat the milk in a pan to just below boiling point, the milk will start to firm skin and small bubbles will appear around the sides as an indicator.
Remove the milk from the heat and add the vinegar, the milk will curdle and separate into solids (curds) and liquids (whey).
Pour the milk through a cheesecloth discarding the liquid content.
Run the curds under cold water to get rid of any lingering vinegar taste and then squeeze out any moisture and form a ball.
Leave this paneer wrapped in the cheesecloth and transfer it to the fridge whilst we make the gravy.
Peel the potatoes and cut each of them into 4 wedges.
Heat the oil for the potatoes in a small (24cm frying pan) over a medium heat.
When the oil is hot add the mustard, cumin and ajwain seeds followed by the potato wedges and cook or 12-15 minutes stirring regularly.
Peel and grate the ginger for the gravy.
Deseed the tomato and cut the flesh into a 5-7mm dice, discarding the seeds.
Place a medium saucepan (24cm) over a high heat and when hot add the ghee for the gravy.
When the ghee melts add the asafoetida, dried Kashmiri chillis, cardamom pods and curry leaves, then stir until the curry leaves begin to spit.
Add the tomato puree and grated ginger and stir for a minute.
Throw in the diced tomato, turmeric, garam masala, fenugreek, salt, honey and then cook for 2 minutes stirring occasionally.
Pour in the water for the gravy, reduce the heat to medium and simmer gently whilst we continue with the potatoes and paneer balls.
Crumble the paneer into a bowl.
Chop the green chilli pepper as finely as you can and add it to the paneer.
Add the salt, flour, turmeric and coriander to the paneer and knead until it comes together.
Form the paneer mix into 6 roughly 40g balls and then compress between the palms of your hands to form a "flying saucer" shape about 1cm thick and 5cm in diameter.
By now the potatoes should have had enough cooking time and should be almost cooked, sprinkle in the turmeric and fry for another minute.
Remove the potatoes with a slotted spoon, drain any excess oil on kitchen paper.
Top up the oil in the frying pan so that it is around 4-7mm thick in the base of the frying pan and heat until it reaches around 170°C or 340°F.
When the oil is hot fry the paneer "balls" for 2 minutes on each side before removing and draining and excess oil on kitchen paper.
I like to pass the gravy at this point through a fine-mesh sieve pressing firmly to extract all of the flavours. This step is optional
Add the paneer balls and potatoes to the gravy and simmer on low for a final 3-4 minutes.
Nutrition Information:
Yield:
2
Serving Size:
1
Amount Per Serving:
Calories:

695
Total Fat:

28g
Saturated Fat:

13g
Trans Fat:

1g
Unsaturated Fat:

14g
Cholesterol:

68mg
Sodium:

1515mg
Carbohydrates:

86g
Fiber:

9g
Sugar:

43g
Protein:

30g
Calorific details are provided by a third-party application and are to be used as indicative figures only.