Beef Rendang is an Indonesian dish that I consider a curry, although it is not thought of that way in Indonesia. My version is a little wetter and closer to a Kalio but keeps all the delicious hot and sour flavour!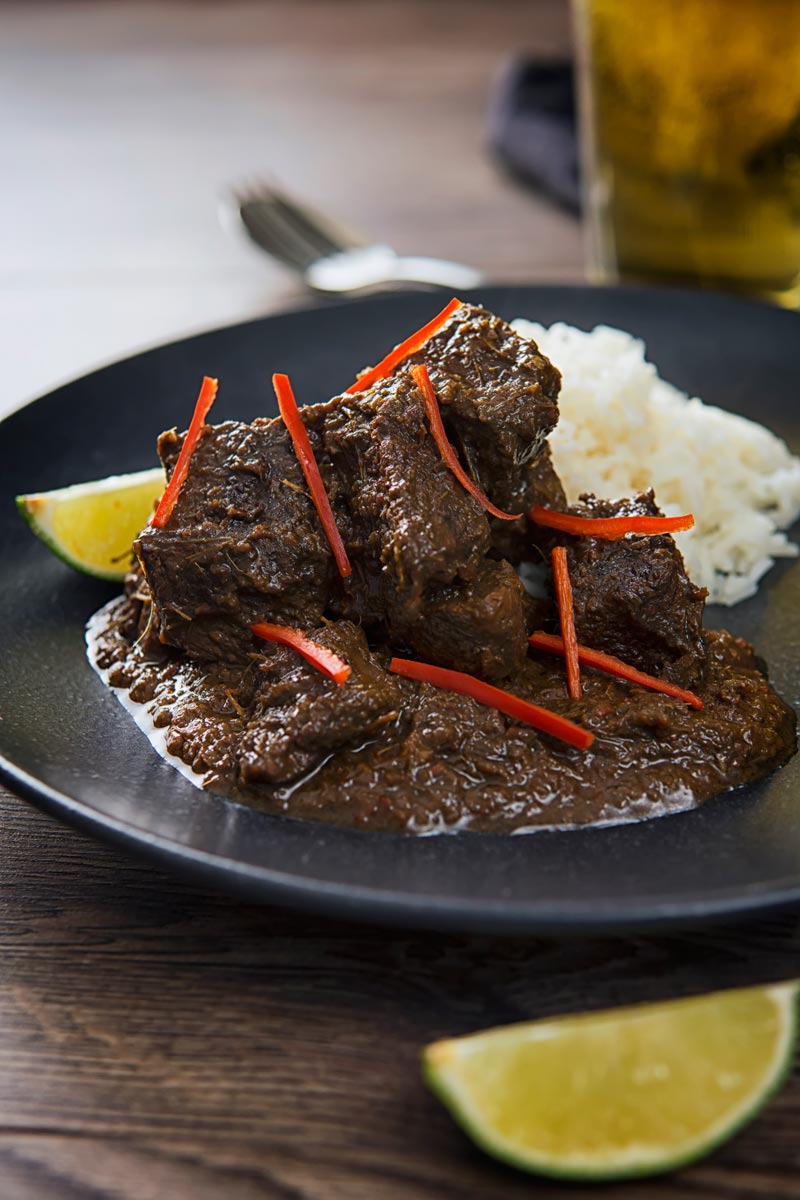 Spicy Beef Rendang Recipe.
This recipe is typified by the hot and sour flavour that typifies beef rendang.
That sourness comes from tamarind an ingredient I adore. It has the most incredible earthy rich sour flavour and I use it to provide the sour element for dishes like my Chicken Pathia recipe and in my slow roast duck legs.
That sourness is given another boost with fresh lime juice at the end.
Then, of course, we have the heat… That unsurprisingly comes from chili.
Is beef rendang hot? Yes… Well, it should be!
You can push the amount of chili up and down depending on your tastes but this recipe should leave you perspiring a little.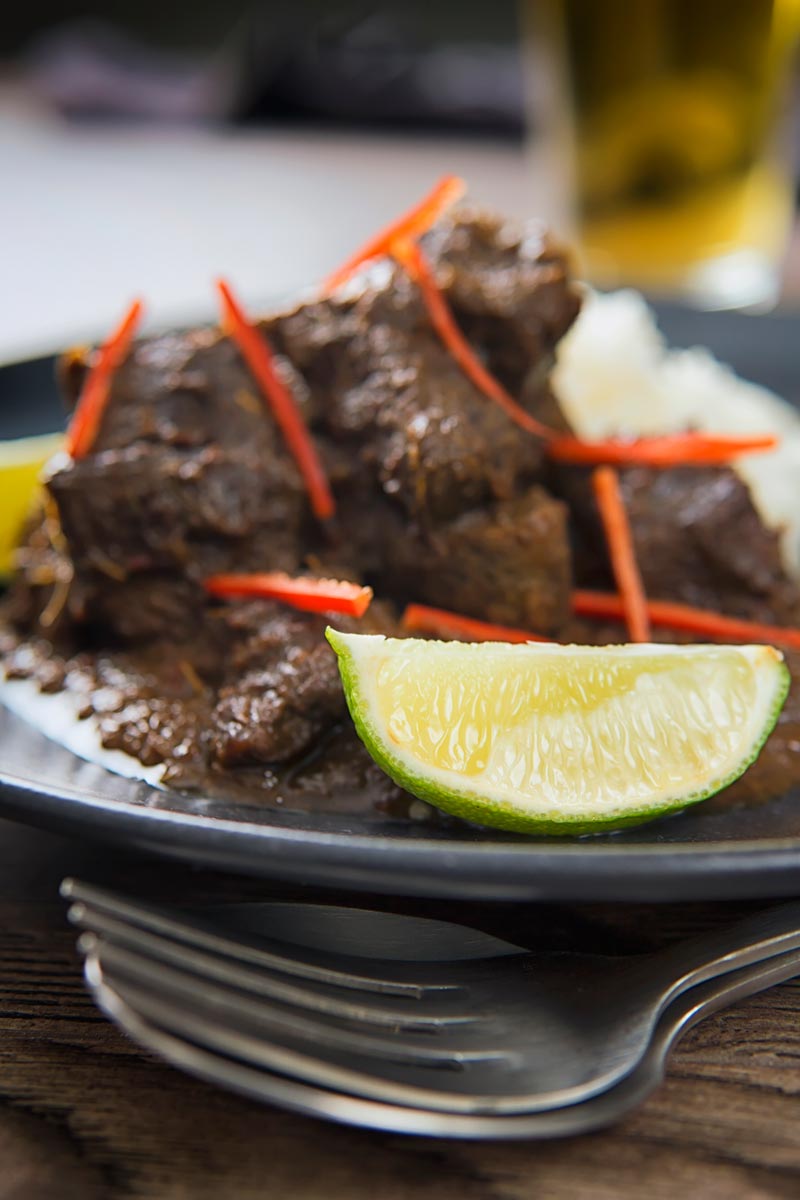 What is a Kalio Rendang?
I mentioned that my rendang recipe contains a little more sauce than a tradition beef rendang recipe.
Why? Well because I am a saucy kinda chap!
This is strictly speaking called a kalio. It contains the same ingredients but is cooked in less time and not reduced as far.
The long slow cooking and the intense reduction of a dry rendang would initially of helped its shelf life.
There are reports of it lasting a month without spoiling in the refrigerator. Not something I would want to try to be honest!
I suppose in many ways that is a similar idea to the sour agents used on an Indian Chicken Pickle recipe.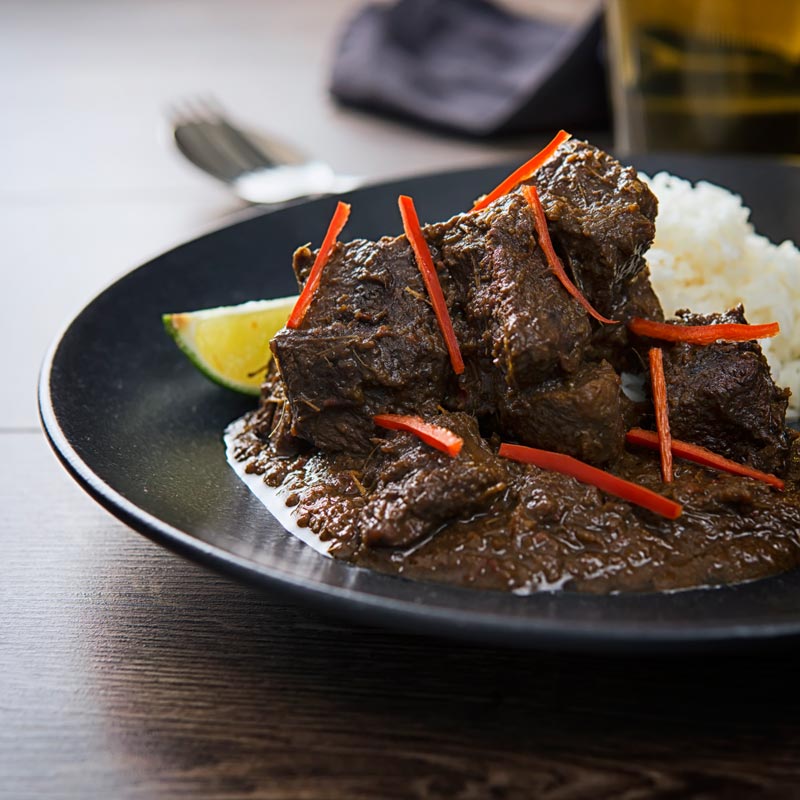 How to Cook a Beef Rendang.
The cooking technique is simple it is cooked low and slow and then reduced.
There is nothing difficult in this process and it is a recipe that even the most novice of cooks can cook simply.
You do have to be careful at the end of the cooking process though.
Initially, it may seem as though the reduction process will take forever.
But the final period of reduction happens in the blink of an eye.
If you are not careful you can burn your dinner, just be vigilant, keep stirring and remove from the heat when you are happy with the texture.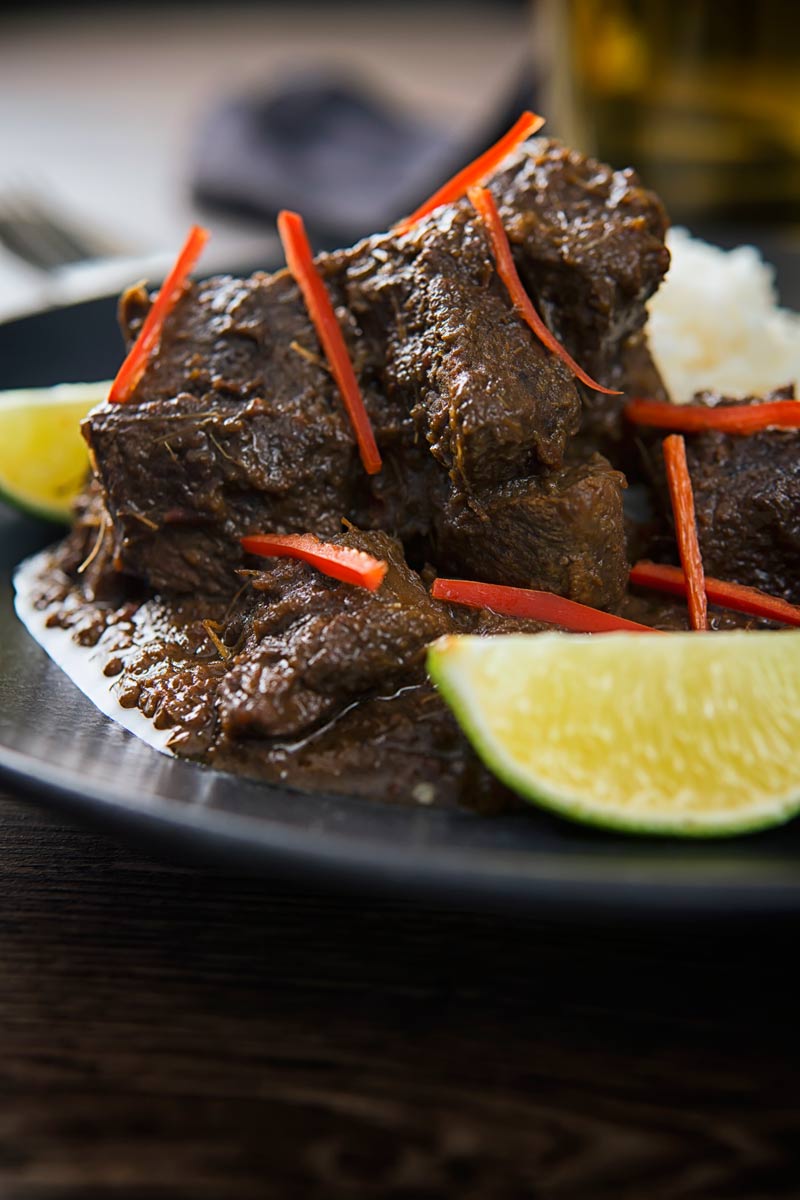 Side Dishes and Serving Suggestions.
Personally speaking, I usually serve this recipe with some simply cooked rice.
I find rice is a great side for spicy recipes, it is a neutral flavour that is great for calming chili burn if it all gets too much!
But I have heard of it being served with noodle salads and pickled salads.
Then I demonstrate my true heathen nature. I consider this beef rendang recipe to be a curry and a curry needs beer as far as I am concerned!
Of course, if you struggle with chili heat then avoid the beer and get a cream or yoghurt based drink.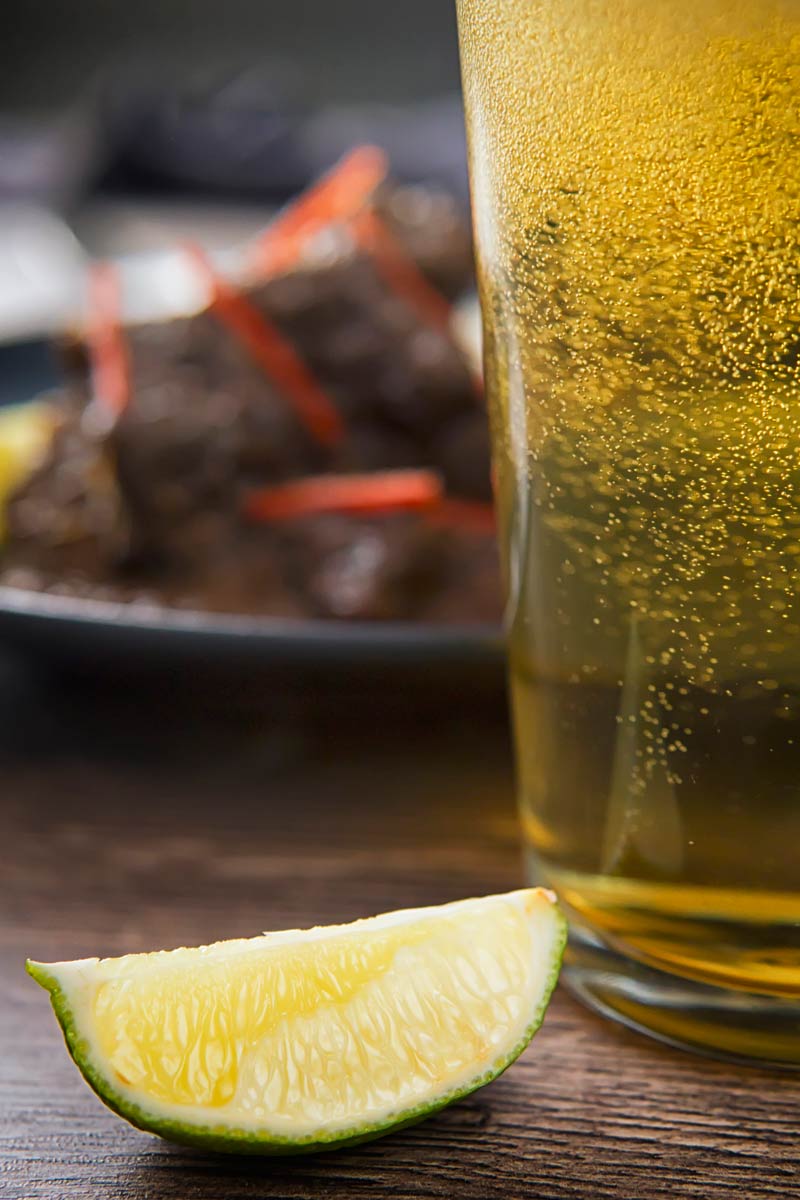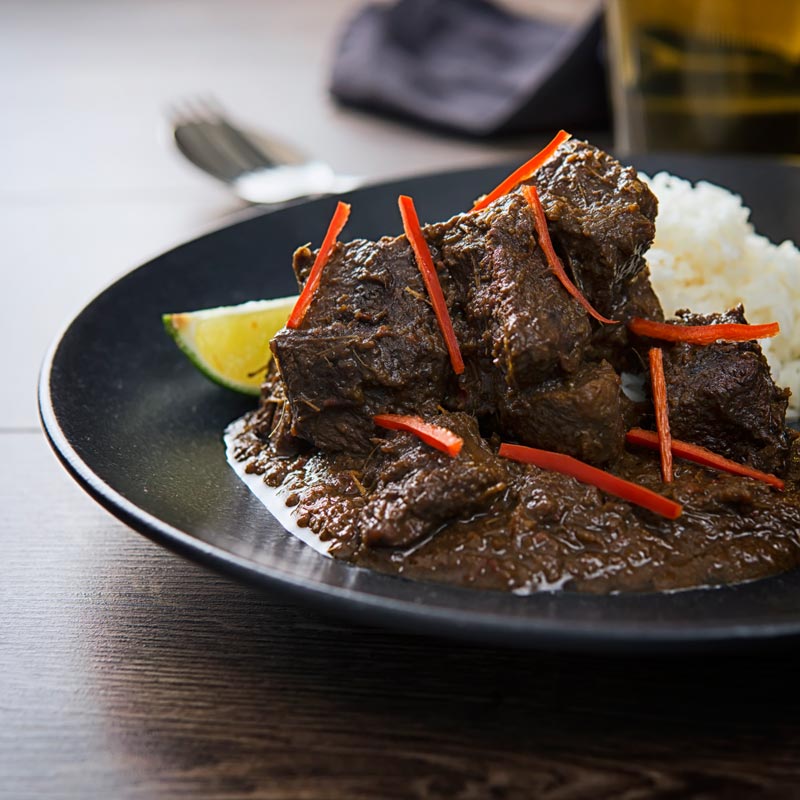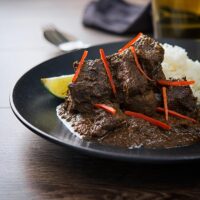 Spicy Beef Rendang
Total Time:
11 hours
15 minutes
Beef rendang is a spicy hot stew or curry type of dish from Indonesia, typified by a hot and sour flavour my version is a closer to a kalio or a 'wet' rendang. This means we get a little more sauce than traditional rendang which is cooked on even longer.
Ingredients
500 g Beef
50 g Ginger
75 g Shallot
1 Lemongrass Stalk
6 Cloves Garlic
4 Hot Red Chili Peppers
75 ml Water
1 Tbsp Oil
3 Cardamom Pods
1 Cinnamon Stick
2 Star Anise
2 Dried Red Chili Peppers
1 Tsp Grounds Cumin
1 Tsp Ground Coriander
100 ml Beef Stock
150 ml Coconut Milk
1 Tbsp Fish Sauce
1 Tbsp Brown Sugar
50 ml Tamarind Paste
1 Lime
Instructions
Cut the beef into 2.5-3cm cubes.
Take the ginger, shallot, lemongrass, garlic, red chili peppers and place them in a blender.
Add the water and blend to a paste, add to the beef stir and allow to marinade over night.
Pour the oil to a hot heavy based pan.
Add in the dried chili, star anise, cinnamon and cardamom and cook for 2 minutes.
Add the beef followed by the ground cumin and coriander and cook for 5 minutes.
Now add the stock, coconut milk, tamarind paste, brown sugar and fish sauce.
Stir, add a lid and cook on a low temperature for 2 hours.
Remove the lid and then simmer on for a further hour.
Stir as you go for this last process and keep and eye on the rendang.
You can stop cooking when you are happy with the texture, I like to leave a little sauce.
Serve with lime wedges.
Notes
Note we use 4 Hot Red Chili Peppers, not 4 Red Hot Chili Peppers, which is entirely different funk altogether!
Nutrition Information:
Yield:

2
Serving Size:

1
Amount Per Serving:
Calories:

1161
Total Fat:

73g
Saturated Fat:

34g
Trans Fat:

0g
Unsaturated Fat:

31g
Cholesterol:

218mg
Sodium:

1007mg
Carbohydrates:

56g
Fiber:

6g
Sugar:

22g
Protein:

75g
Calorific details are provided by a third-party application and are to be used as indicative figures only.