French food is not all picky and fancy, this beef bourguignon or beef burgundy is a French classic featuring a cheaper cut of meat braised in red wine.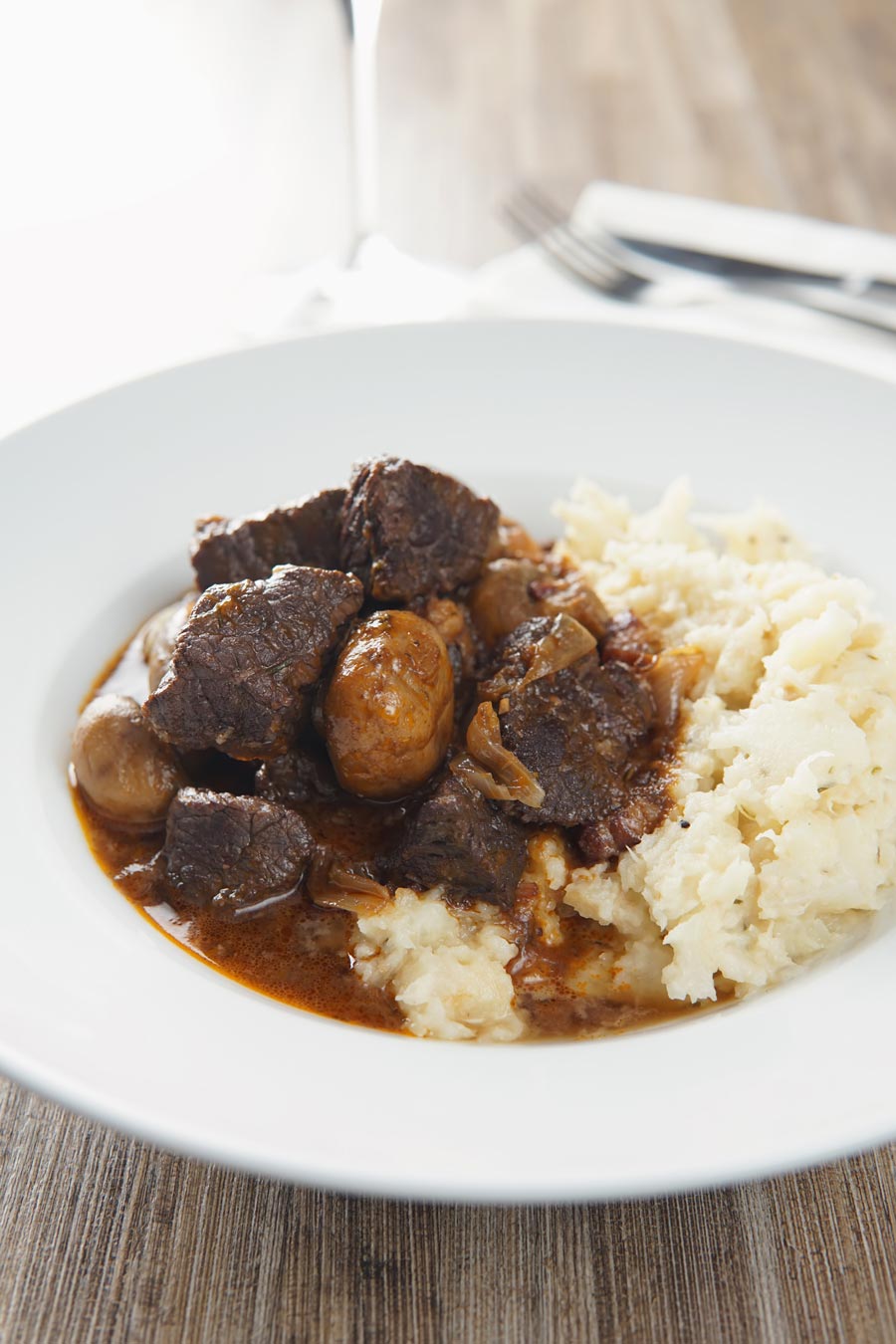 Instant Pot Beef Bourguignon.
It is definitely stew season so I broke out my Instant Pot to work on a new beef bourguignon recipe and this bad boy is great…
This cooks in around an hour rather than the several hours it would normally take.
It uses probably a cheaper cut of beef which is wonderfully tasty if looked after. This really is in the wheel arch of the Instant Pot and other pressure cookers.
Beef bourguignon or beef burgundy as it is often known is nothing more than beef braised in red wine.
In much the same a coq au vin is chicken in red wine and it is as big and bold as that sounds. In many ways, it is very similar to Daube of Beef, although the French would argue to the contrary!
Just a few additions like bacon, shallots and mushrooms add to the depth of flavour in the sauce.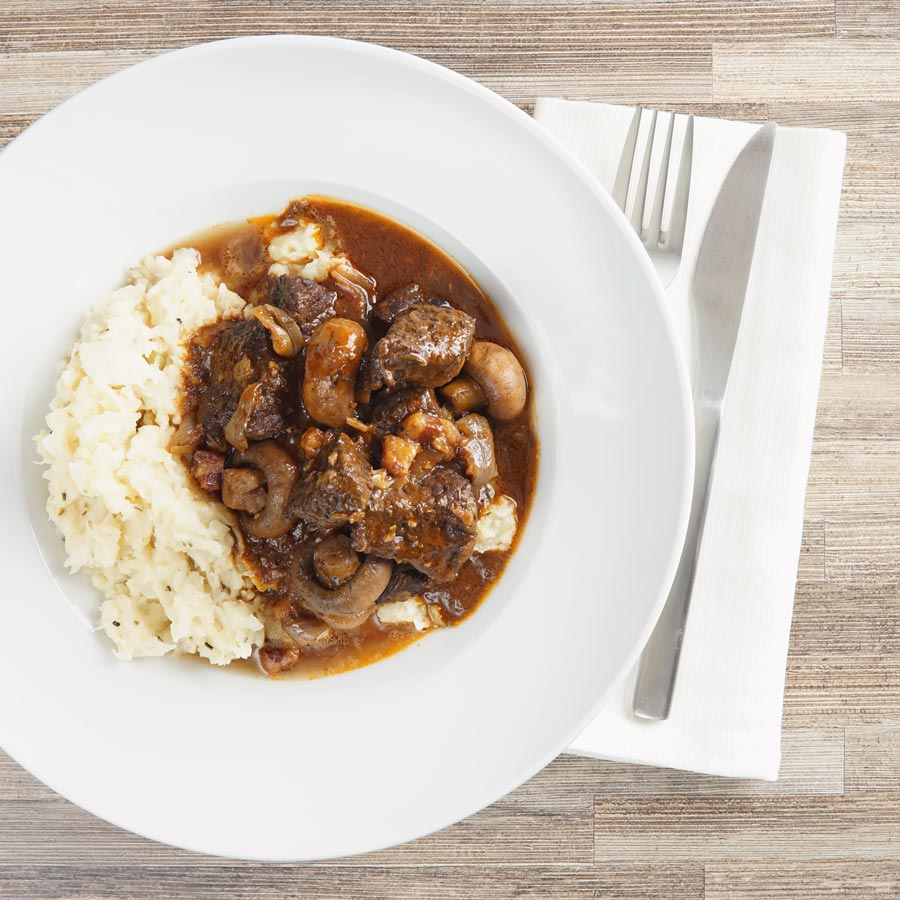 What Beef To Use.
I use beef chuck here in this recipe but any stewing beef would work really well.
Choose something like brisket or shin, and it will work out wonderfully. You could even use beef cheeks, but they have sadly rocketed in price in recent years.
That cost for me changes the very essence of this cheap and simple peasant dish.
So that is the beef covered, what about the wine?
As far as I am concerned when cooking with wine there is one rule. If you won't drink it, then do not cook with it!
I think a full-bodied wone works well in this recipe, like a merlot or syrah. But it is traditionally made with a medium bodied burgundy.
To be perfectly honest I usually make it with my own homebrew red wine which is pretty light.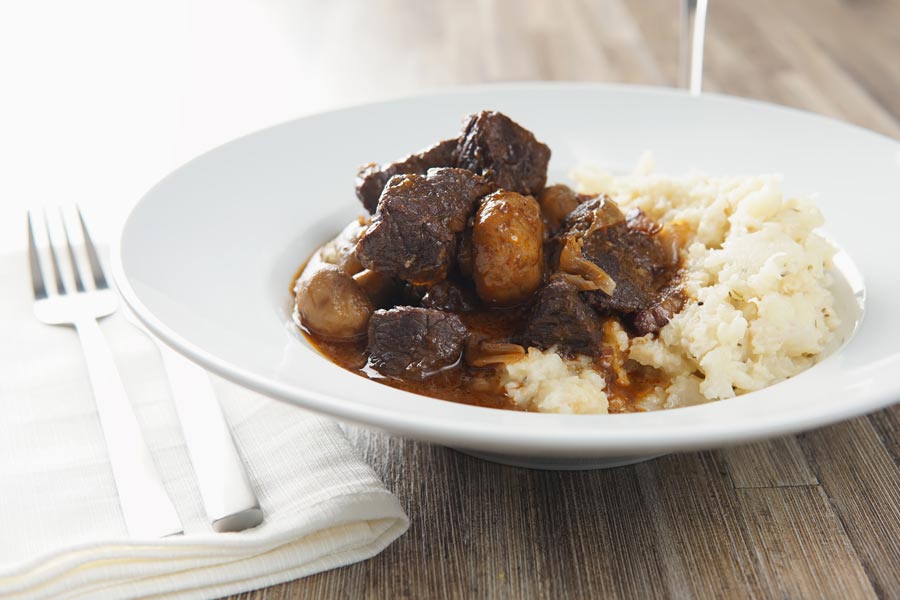 Perfect Instant Pot Sauces.
The instant pot is a wet cooking environment, there is no evaporation during the cooking process. This means that there is still work to do on your sauce when your meat is cooked.
As you can see from the video of this beef bourguignon recipe, the sauce is watery thin when the IP has done its work. Many advocate adding a thickening 'conduit' like cornflower or beurre manié but that does not cut it for me.
Traditional cooking will typically result in your sauce reducing intensifying the flavour in that sauce and I champion that method too!
So you should strain out the solids and set them aside for 5-10 minutes and hard boil your sauce and reduce it right down.
This removes water from the sauce leaving all the tasty stuff behind meaning a much more intense sauce! The same process goes for anything you want with a thick rich sauce, including curries like my beef vindaloo recipe.
Use your cooks instinct, aka taste as you go get it so you like it.
Add salt and pepper as needed and maybe some butter to enrich before adding back the solids.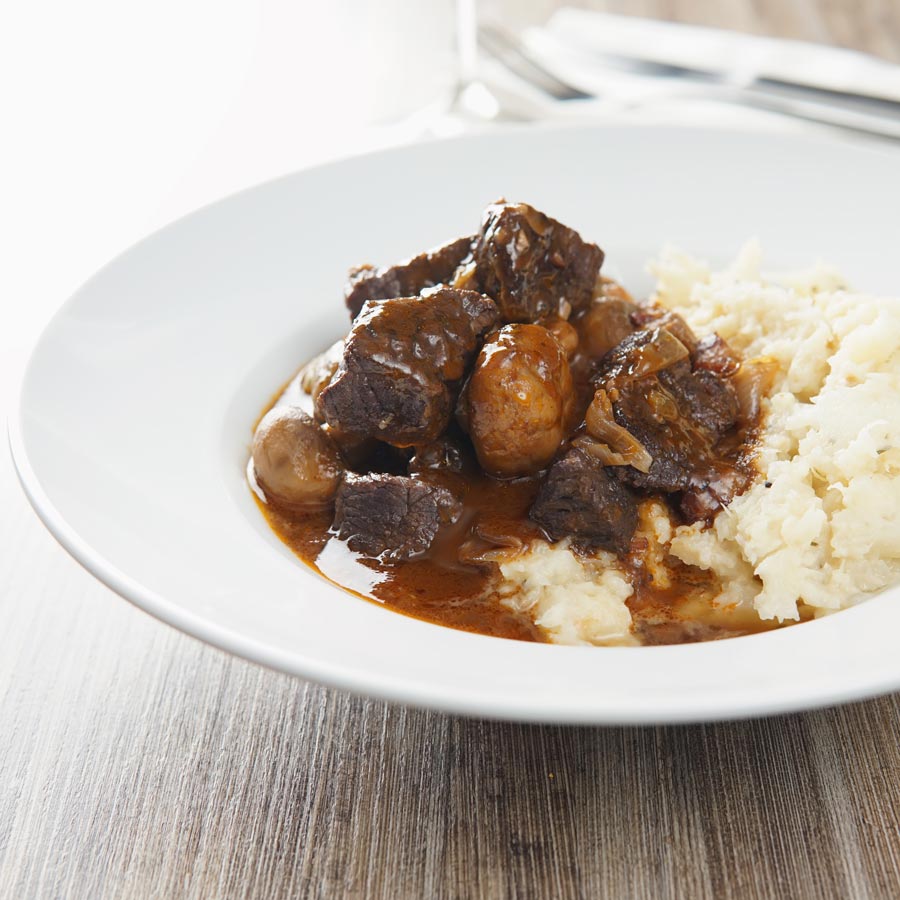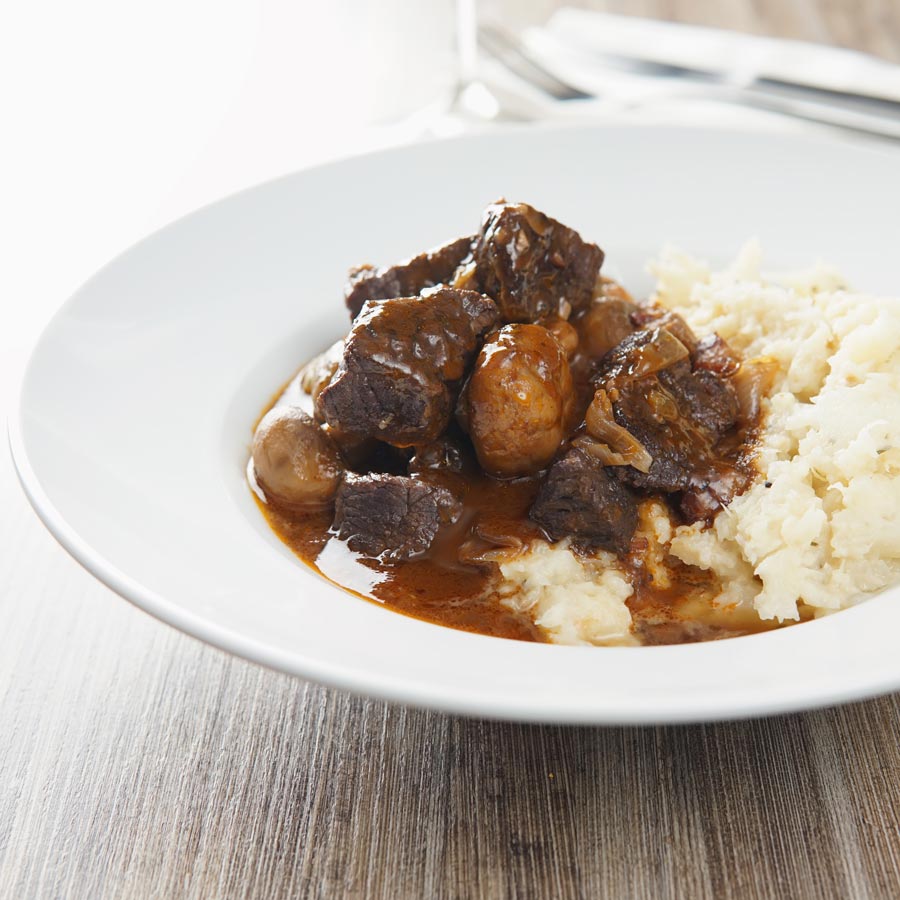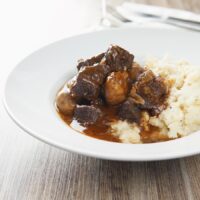 Instant Pot Beef Bourguignon with Celeriac Mash
French food is not all picky and fancy, this beef bourguignon or beef burgundy is a French classic featuring a cheaper cut of meat braised in red wine.
Ingredients
For the Beef Bourguinon:
450 g Beef Chuck
2 Tbsp Goose Fat, Use a cooking oil if you must
150 g Shallots, Peeled and cut in half
2 Cloves Garlic, Finely sliced
125 g Button Mushrooms, Left whole if they are small enough
75 g Smoked Streaky Bacon, Diced
1 Tbsp Tomato Puree
500 ml Red Wine, Traditionally Burgundy but I use my own homebrew
2 Bay Leaves
1/2 Tsp Dried Thyme
1/2 Tsp Dried Rosemary
Salt
Pepper
For the Celeriac Mash:
450 g Celeriac, Peeled and cut into 2cm cubes
1/2 Tbsp Dried Rosemary
50 g Butter
Salt
Pepper
Instructions
Set your Instant Pot to saute mode (high) and when hot add the goose fat.
Generously season the beef with salt and pepper and then cook to get a nice colour.
When you have a nice colour on your beef, remove with a slotted spoon and sit in a colander over a bowl to collect the juices.
Now throw in the bacon, shallots, garlic and mushrooms and saute once again to get a nice colour.
Once you have a nice colour return the beef to the pot along with any cooking juices and add the red wine and tomato puree stirring to scrape any bits from the base of the pan.
Cook on high pressure manual mode for 20 minutes and then natural pressure release for 10 minutes.
When the pot seals it is time to start the celeriac mash.
Heat 2 tbsp of oil in a pan over a medium high heat.
Fry the celeriac in the oil until golden, seasoning well with salt and pepper.
When golden reduce the heat to low pour over enough water to cover and add the rosemary and cook until soft, this should be right around when the beef is ready to be released.
Release the pot and then remove all of the solids from the sauce and set to saute mode and reduce the sauce until thick and rich.
Whilst the sauce is reducing mash the celeriac with the butter adding salt and pepper as required.
Finally return the beef to the sauce and serve over the mash.
Nutrition Information:
Yield:

2
Serving Size:

1
Amount Per Serving:
Calories:

1235
Total Fat:

59g
Saturated Fat:

25g
Trans Fat:

2g
Unsaturated Fat:

31g
Cholesterol:

322mg
Sodium:

1692mg
Carbohydrates:

41g
Fiber:

8g
Sugar:

9g
Protein:

94g
Calorific details are provided by a third-party application and are to be used as indicative figures only.