Salt and Pepper Squid is one of those dishes that sounds intimidating and complex… It isn't, it is lightning quick and stupidly easy!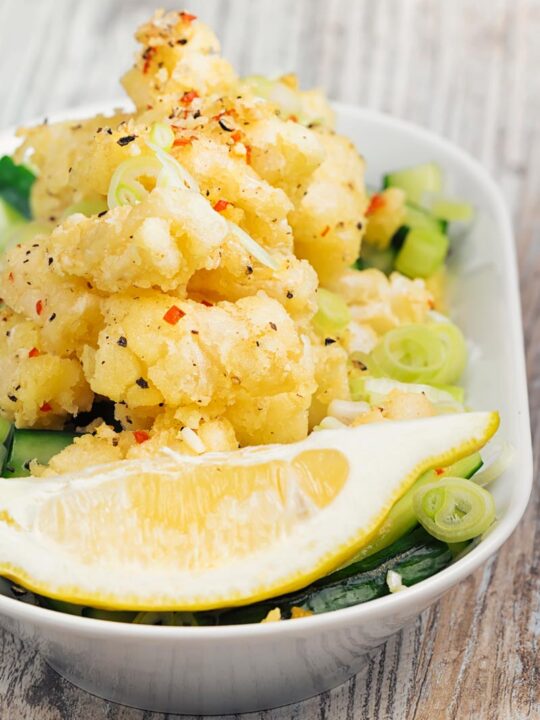 Crispy Salt and Pepper Squid.
I have been cooking with some frozen squid for a while, it is convenient and simple and takes away the difficult aspect of cleaning squid.
Now I am not a convenience freak, I love spending time in the kitchen. However, I cannot buy fresh whole squid in landlocked Hungary.
As a result, this recipe uses just the squid tubes, I do miss the tentacles but they can be a bit off-putting to some.
It is quickly fried in just a couple of minutes and then tossed in a mix of salt, pepper, chilli and garlic.
This makes for a lovely change from calamari rings, which is probably the most common way to see squid served!
This recipe uses a similar technique to the one used in my recent crispy fried tofu recipe. It is the safest and simplest way to "deep" fry in a wok on a stove.
It has a wonderful light and crispy crumb that is perfect alongside the pickled cucumbers.
I also have a salt and pepper chicken recipe with a slightly bolder set of flavours and salt and pepper tofu with a dipping sauce.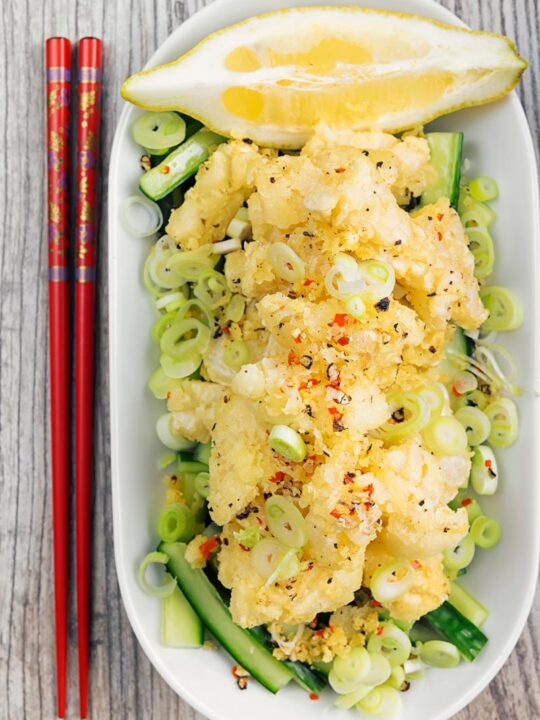 Quick Pickled Cucumbers.
The perfect accompaniment to this simple squid recipe is a light pickled or soused cucumber.
It is light and fresh and I love the hot and "cold" contrast.
I use quick pickles all of the time in my meals, with ingredients as diverse as fennel getting the treatment in this Pan Fried Salmon recipe and peaches in this ham and cheese salad recipe.
These are just as simple to make as the squid and can be knocked up in advance.
I personally think that leaving them more than a couple of hours in the pickling liquid imparts too much flavour.
But if you are in a rush then a 20-minute pickle is more than enough to get a good flavour.
I loke to serve my squid on the pickles, this makes the bottom layer go chewy with the sour salty flavour. This is not for everyone, so if you want to keep things crispy then keep the two items separate.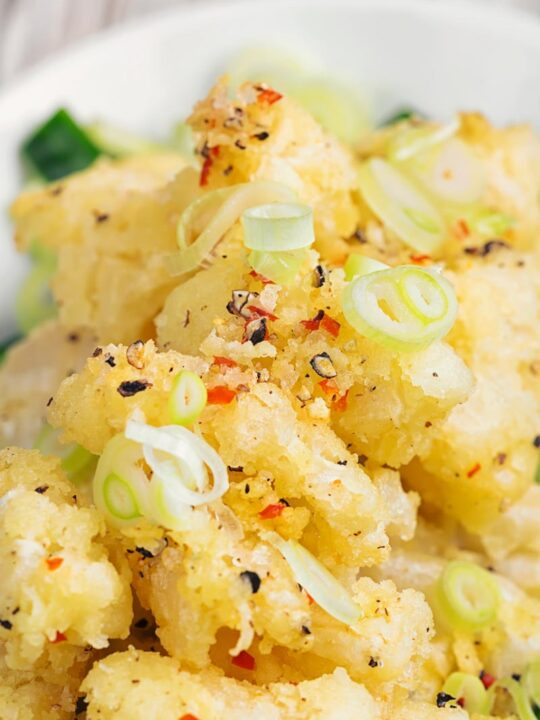 The Magic of Cornflour.
This secret to this crispy squid is cornflour or cornstarch for my US readers.
It is often closely associated with thickening sauces or stabilising baked goods.
However, it is an indispensable ingredient for crispy fried foods.
This is because it is pretty much a pure starch, that is what goes crispy when food is fried.
Everything else you add to the cornstarch reduces the crunch. In most cases, we add more stuff for flavour, it is a compromise!
Great examples of this are my crispy fried chicken wings, Chinese crispy lemon chicken and my chip shop fish and chips.
We want a very pure flavour with this squid recipe, so we go with straight cornflour and maximum crunch!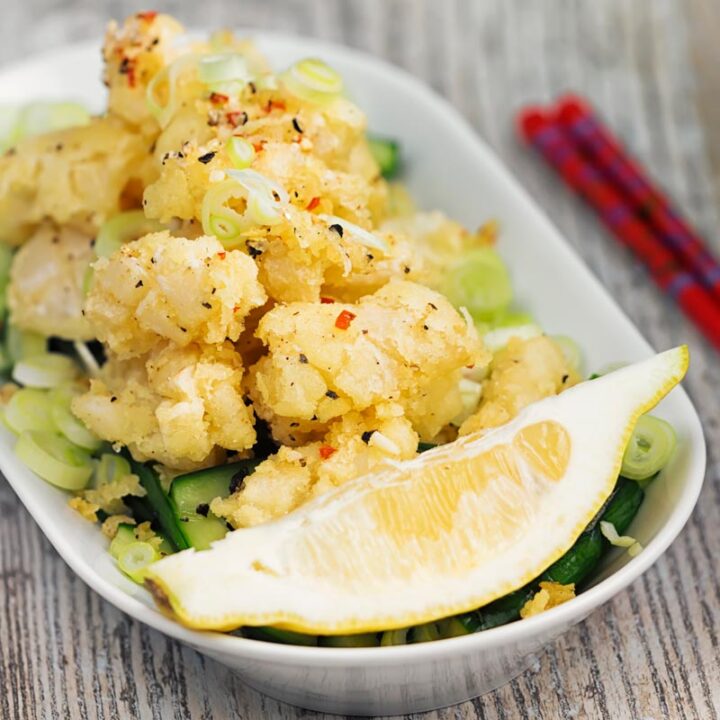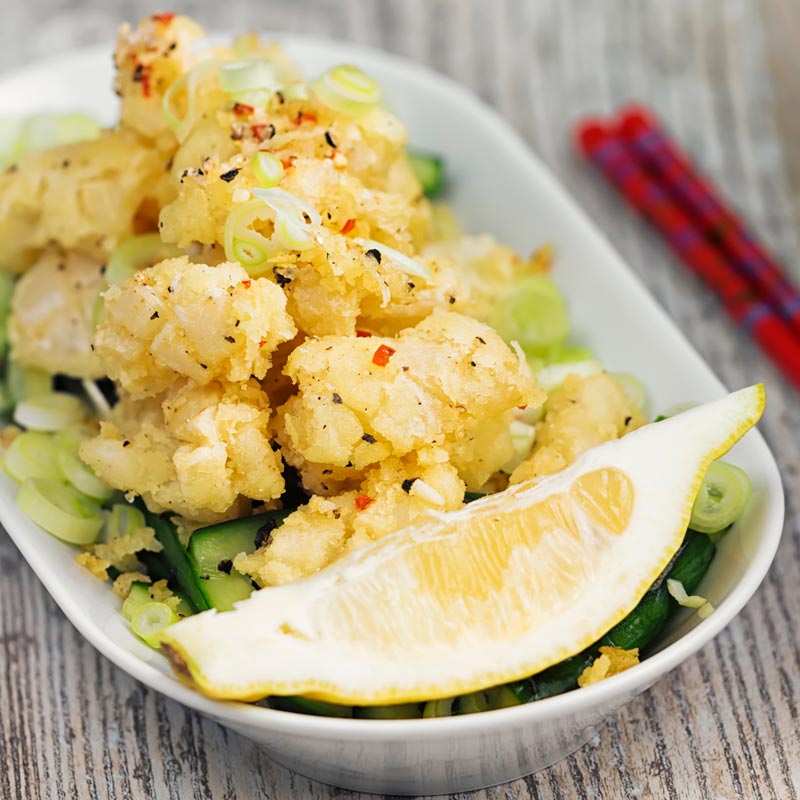 Yield:

2 Servings
Quick and Easy Salt and Pepper Squid With Pickled Cucumber
My salt and pepper squid comes with a wee sprinkling of fresh chilli to add a punch of heat. The pickled cucumber is the perfect sweet and sour accompaniment.
Ingredients
350 g Squid Tubes
1 Tsp Sea Salt
1 Tsp Black Pepper
1 Garlic Clove
1 Chilli Pepper
2 Spring Onions
75 g Cornflour
Oil for Frying
For the Pickled Cucumber:
1 Cucumber
250 ml Water
75 ml Rice Wine
2 Tbsp Sugar
1 Tsp Salt
Instructions
Begin by topping and tailing the cucumber, cutting it in half lengthways and removing the seeds.
Cut the remaining cucumber into long thin ribbons around 5cm long.
Mix together the remaining ingredients for the pickles and until the sugar has completely dissolved.
Pour over the cucumber ribbons and place in the refrigerator.
Take the squid tubes and clean off any residue and then slice and open up.
Trim the top and bottom edge if required.
Cut a 5-6mm crosshatch pattern on the inside face of the squid ensuring that you do not cut all of the way through.
Once scored cut the squid into 3cm squares.
Dry the squid thoroughly and place in a bowl with the cornflower.
Finely dice the chilli and garlic and slice the spring onions.
The last step before cooking is to measure out the sea salt and black pepper into a bowl.
Heat 3-4cm of oil in a wok to 180°C or 350°F.
Pat the excess cornflour from the squid and deep fry for 2-3 mins. This is best done in two batches.
Drain on kitchen towel.
Pour the hot oil into a separate pan with the exception of a scant coating.
Add the salt, pepper, garlic and chilli stir fry for 10 seconds then add the squid, toss to coat and then serve with lemon wedges.
Notes
You can make the cucumbers up a couple of hours in advance if you want. But they are good to go and have enough flavour in the 20 minutes to prep the rest of the meal.
Nutrition Information:
Yield:
2
Serving Size:
1
Amount Per Serving:
Calories:

590
Total Fat:

27g
Saturated Fat:

7g
Trans Fat:

0g
Unsaturated Fat:

15g
Cholesterol:

458mg
Sodium:

3400mg
Carbohydrates:

39g
Fiber:

3g
Sugar:

17g
Protein:

47g
Calorific details are provided by a third-party application and are to be used as indicative figures only.