Easy slow cooker lamb shanks cooked all day long in a big bold red wine which is then reduced down to create a rich sauce!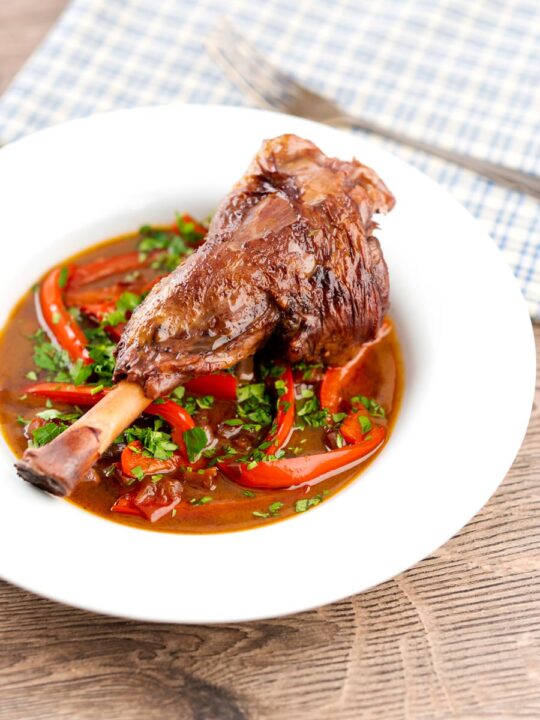 Red Wine Lamb Shank Recipe.
Someone once described my food as 'dude food', I think that is a bit of a generalisation. But let's face it this beast of a hunk of meat is pure caveman fodder!
Lamb is a meat that just begs for big flavours, the rich oily meat can stand up to so much flavour and still shine through… This recipe takes advantage of that fact!
It is great in spicy dishes like my lamb rogan josh or in a nice Moroccan lamb tagine. However, here it is very much rooted in simple European cooking, in much the same way as my Barnsley chop recipe.
We begin this lamb shank recipe by browning the meat and softening and browning our vegetables.
This colouration adds so much flavour to the final recipe then we braise them in red wine.
Red peppers are added close to the end of cooking so that they keep their structure rather than melting into the sauce.
Finally, we finish off our sauce with a heavy reduction to turn that flavour up to 11. This is in much the same way as I finish my beef bourguignon in the instant pot.
This recipe is full-on Mediterranean comfort food and is very different from the sort of lamb recipes I was raised on.
This Crockpot affair could not be further removed from my lamb hotpot or shepherds pie recipes if it tried.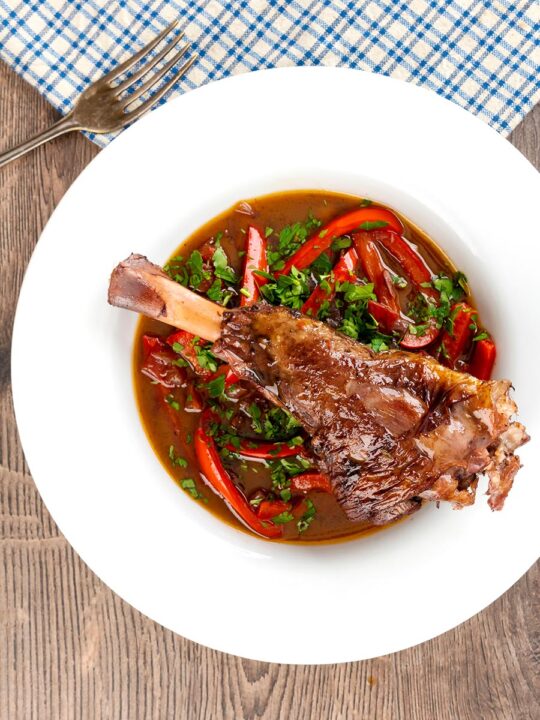 Recipe Notes, Hints and Tips.
When I say that these slow cooked lamb shanks are fall off the bone I mean it.
If you want to serve them on the bone as I do in this recipe then take care when removing them. Use a large slotted spoon and gently ease it out of the slow cooker.
You can, of course, cook this conventionally if you don't want to use a slow cooker. Simply cook in a dutch oven in the oven at 150°C or 350°F for 4-5 hours.
On the herb front, I use a combination of fresh rosemary and thyme. You can use dried herbs if you want, add a teaspoon of each to the slow cooker.
Finally, do not skip the reduction process with the sauce, failure to do so will disappoint.
These Crockpot lamb shanks are large and I do not think that they need a side dish.
However, if you could take them off the bone and serve them for four.
I would then add a mash, mashed potatoes would be wonderful! But something like celeriac mash or swede and carrot mash would also work really well.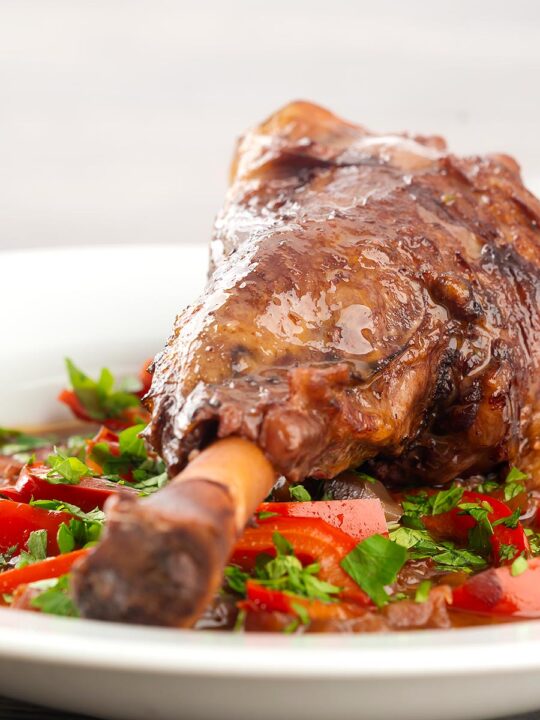 What Wine to Use for This Recipe?
I am completely on board with Keith Floyd's thoughts on cooking with wine… If you ain't prepared to drink it then don't cook with it!
This recipe calls for a big and bold wine, but also something a little fruity.
I used a Hungarian Red called Egri Bikaver, a much famed Hungarian wine that is made about an hour from home.
But something like a merlot, syrah or even a chianti would work just as well.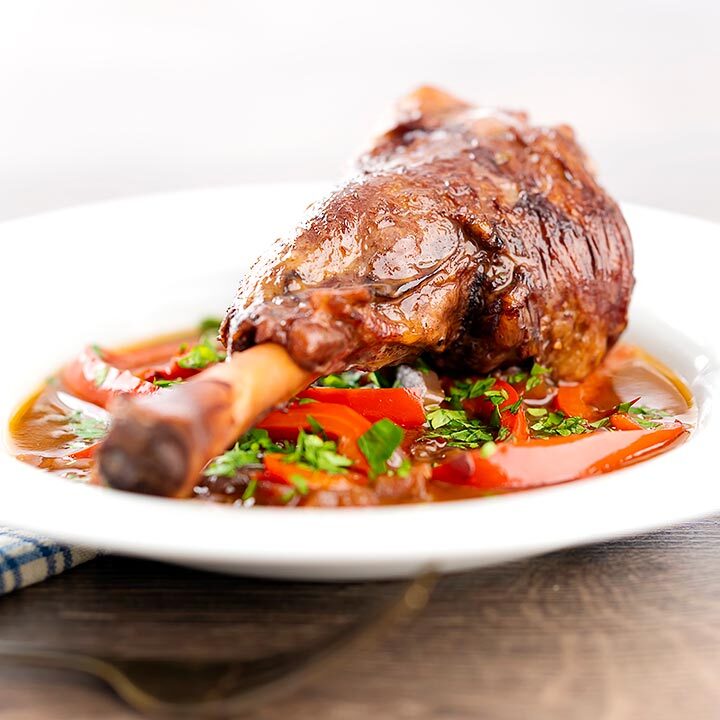 Yield:

2 Servings
Slow Cooker Lamb Shanks Recipe
Total Time:
6 hours
30 minutes
These Slow Cooker Lamb Shanks are simply braised for 8 hours in wine. We reduce down the braising liquid to a rich fully flavoured sauce to serve with the soft and tender lamb.
Ingredients
2 Lamb Shanks
1/2 Tsp Salt
1/2 Tsp Black Pepper
2 Tbsp Olive Oil
200 g (1 1/3 Cups) Onion
10 Garlic Cloves
75g (3/4 Cup) Celery
400 g (3 Medium-Large) Tomatoes
750ml (1 Bottle) Red Wine
4 Sprigs Rosemary
4 Sprigs Thyme
250 ml (1 Cup) Lamb or Beef Stock
1 Red Pepper
50 g (3 Tbsp +1 Tsp) Butter
Handful Chopped Parsley
Instructions
Heat the olive oil in a pan over a medium high heat.
Season the lamb shanks with the salt and pepper.
When hot brown the lamb all over and set aside.
Cut the onion into 5mm wide half/moon shapes.
Finely slice the garlic and celery.
Add the onions and celery to the pan we cooked the lamb in and cook for 10 minutes on medium high.
Roughly chop the tomatoes.
When the onions have started to brown add the sliced garlic and cook for another 1 minute.
Pour over the wine and reduce it by a third.
Pour the reduced mix into the slow cooker.
Add the tomatoes, stock, thyme, and rosemary, and then stir.
Drop in the lamb shanks and push to submerge.
Taste and add salt if required and cook for 6 hours on low or 4 hours on high.
An hour before the lamb is done slice the red pepper and throw it into the slow cooker and push it down to moisten.
After the cooking time is complete carefully remove the shanks and tent with foil.
Skim the fat from the top of the cooking liquid, there will likely be around 5-10mm.
Remove the solids from the braising liquid discarding the stems from the herbs and set aside.
Strain the remaining cooking liquid into a wide-based pan over a high heat.
Reduce this by two thirds to create a rich sauce.
Whisk in the butter to enrich the sauce.
Return the vegetables to the sauce and reheat before serving as a base to the shanks.
Notes
This recipe is designed for a 3.5 litre slow cooker.
Nutrition Information:
Yield:
2
Serving Size:
1
Amount Per Serving:
Calories:

890
Total Fat:

27g
Saturated Fat:

7g
Trans Fat:

0g
Unsaturated Fat:

18g
Cholesterol:

90mg
Sodium:

1545mg
Carbohydrates:

62g
Fiber:

8g
Sugar:

17g
Protein:

35g
Calorific details are provided by a third-party application and are to be used as indicative figures only.