Salt and pepper tofu, a vegan take on an ever popular Chinese takeaway favourite, my version comes with a dark soy and chilli dipping sauce.
The dipping sauce takes just 10-15 minutes to make and requires no cooking, the tofu cooks in two batches, each taking just 90 seconds. Which makes this delicious fakeaway a lightning quick meal!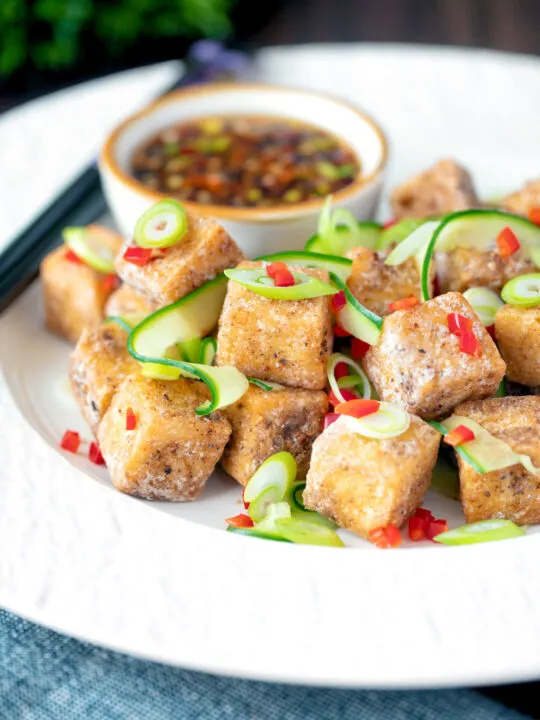 Fried Spicy Tofu
Salt and pepper anything is definitely my kinda mojo. This salt and pepper tofu joins a couple of other variants here.
I have salt and pepper squid, salt and pepper chicken, salt and pepper prawns and salt and chilli chicken as options too if this is your thing. I am also kinda holding a candle for salt and pepper chips at the moment too!
If you dig back far enough in my archives you will no doubt find a few instances where I have been jolly rude about tofu!
But it really has become a much-loved part of our diet in recent years. I love the texture, particularly when it is fried as it is here or in my Vietnamese influenced fried tofu.
It is true that it is not blessed with much flavour, but let's face it, neither is commercially produced chicken!
But it is great at being a vehicle for flavour! Whether it is my gochujang tofu stew, tofu satay, tofu noodle salad or sticky teriyaki tofu, it just works!
Here we have chilli, loads of pepper and plenty of salt and that is before you dive into the wonderful dipping sauce.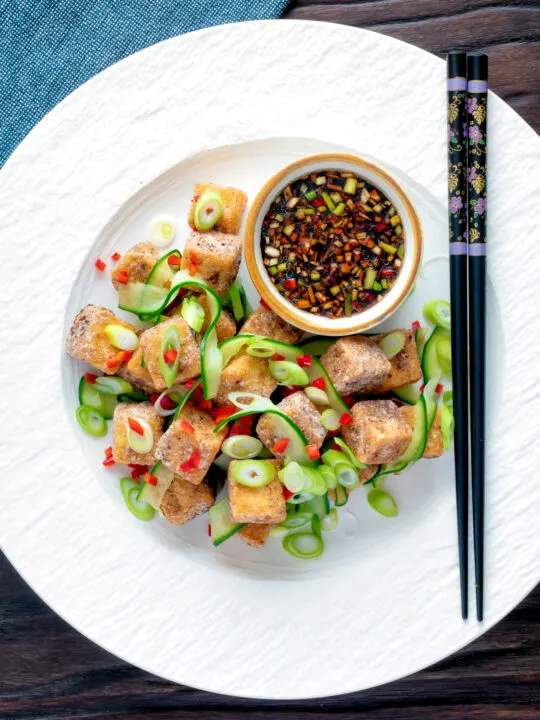 Frequently Asked Questions
Do I have to press the tofu?
This will really depend on the brand that you use. I find that extra firm tofu does not need pressing for this recipe.

But if yours is particularly moist then wrap it in kitchen paper and press it between two small chopping boards for 10-30 minutes.
Do I have to toast the Szechuan pepper?
Yes, the heat makes it more brittle which makes all the difference when crushing it.
Do I have to fry the tofu?
No, but I find that it is the best way to cook salt and pepper tofu.

You can cook it in an air fryer at a high heat (200°C or 400°F) for 10-12 minutes. Although you will need to spray it with oil before cooking.

You can also cook it in an oven at the same temperature for 15-20 minutes at the same high heat. Again sprat it with oil before cooking.
What chillies should I use?
I try not to make this dish too spicy, and as a result, I use quite a mild pepper and remove the seeds. But you can use anything that you like and can tolerate the heat!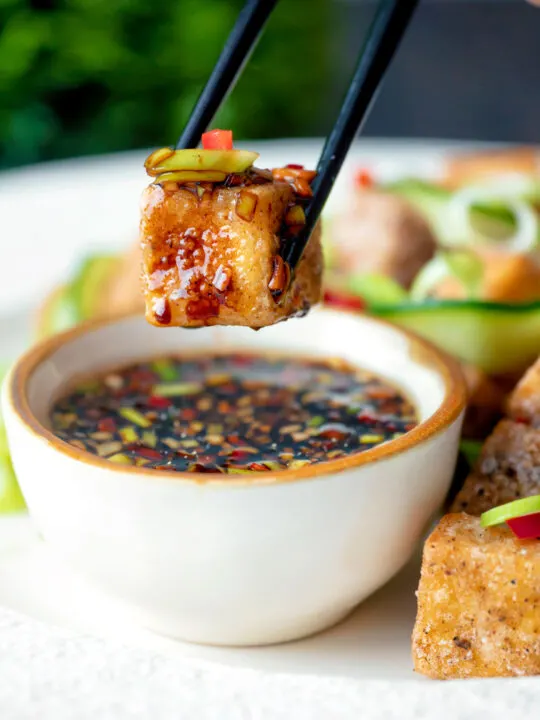 Serving Suggestions
If you have seen any of my other salt and pepper dishes, you will know that I am fond of serving them with pickles.
This crispy salt and pepper tofu recipe is no different, this is shown served here with my pickled cucumber. It would be equally good served with pickled daikon!
Of course, you could serve this with rice, it is particularly good with egg fried rice.
Noodles also make an excellent accompaniment. Whether you want something spicy like my sweet and sour noodles or something vegan like these Singapore noodles or my soba noodle salad you are good to go.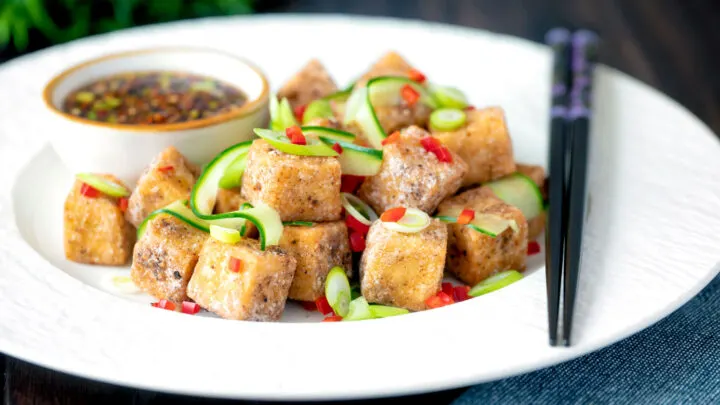 Equipment Used
I only name-check brands of equipment if I think using them makes a material difference to a recipe. If you have any questions feel free to ask them in the comments section below the recipe.
Stovetop.
Wok, I use a large carbon steel wok.
Chopping board.
Kitchen knife.
Weighing scales and or measuring cups and spoons.
Thermometer to measure oil temperature, I use a sugar thermometer.
Plates or small baking sheets to place coating for the tofu.
Mixing/prep bowls.
Slotted spoon.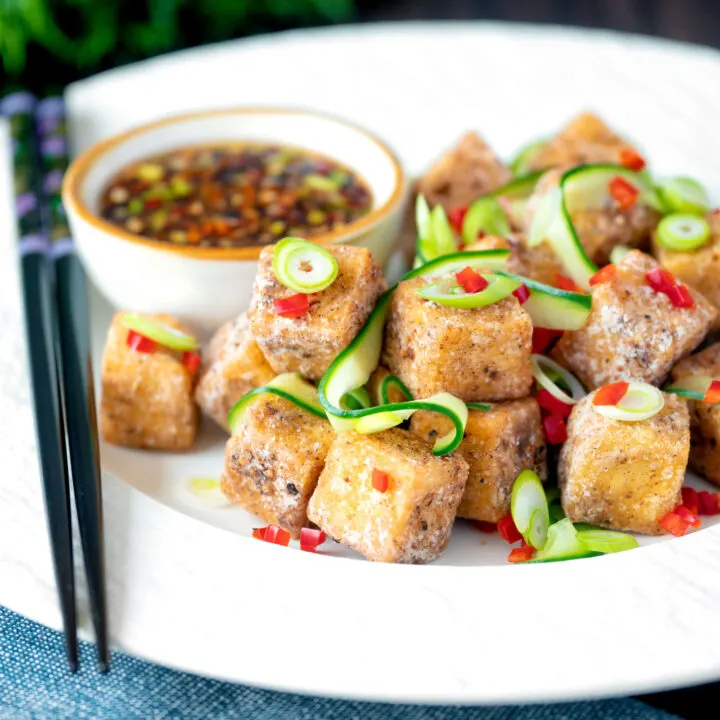 Yield:

2 Servings
Salt and Pepper Tofu Recipe
Crispy fried salt and pepper tofu, a deliciously simple anglo Chinese takeaway with a vegan tilt!
Ingredients
For the Tofu:
300g (10oz) Extra Firm Tofu
50g (⅓-½ Cup) Cornflour
2 Tbsp Fresh Ground Black Pepper
1 Tsp Coarse Sea Salt
1 Tsp Chinese Five Spice
2 Tsp Szechuan Peppercorns
1 Medium Hot Red Chilli Pepper
3 Spring Onions
Plus Oil for Frying
For the Dipping Sauce:
3 Tbsp Dark Soy Sauce
1 Tbsp Rice Vinegar
1-2 Tsp Sugar
1 Tsp Sesame Oil
1 Medium Hot Red Chilli Pepper
1 Spring Onion
1 Garlic Clove
Instructions
Dice the chilli peppers as finely as you can for both the dipping sauce and the garnish for the tofu. I like to remove the seeds for both presentation and to cool down the chillies a little.
Dice the single spring onion for the dipping sauce as finely as you can.
Slice the remaining 3 spring onions into rings at a 45° angle and set them aside.
Mince the garlic clove.
Place the diced chilli for the dipping sauce, the minced garlic and finely diced spring onion in a bowl with the dark soy sauce, rice vinegar and sesame oil, then give it a good stir.
Have a taste of the dipping sauce and add sugar to taste, start with one teaspoon first then add more after.
Heat a wok over a high heat and when it is hot add the Szechuan peppercorns and toast them for 60 seconds keeping them moving all of the time. Then transfer them to a grinder or pestle and mortar and finely crush them.
Combine the cornflour with the salt, pepper, Szechuan pepper, Chinese five-spice on a flat plate and mix well.
Cut the tofu into 2cm (¾") cubes and then pat the dry on some kitchen paper.
Heat some oil (3-4cm or 1¼-1½" deep) in a wok until it reaches 170°C or 340°F.
Place the tofu on the plate with the cornflour mix and roll to coat.
Fry the tofu in the oil in two batches. Move the tofu constantly and cook each batch for 90 seconds or until golden.
Drain any excess oil on kitchen paper before serving.
Serve sprinkled with the sliced spring onion and remaining diced chilli pepper.
Nutrition Information:
Yield:
2
Serving Size:
1
Amount Per Serving:
Calories:

523
Total Fat:

36g
Saturated Fat:

4g
Trans Fat:

0g
Unsaturated Fat:

30g
Cholesterol:

0mg
Sodium:

2500mg
Carbohydrates:

38g
Fiber:

8g
Sugar:

7g
Protein:

21g
Calorific details are provided by a third-party application and are to be used as indicative figures only.