Tofu satay, a delicious and quick vegan dish with a superb peanut dipping sauce that is easy to cook both in the kitchen or even on the BBQ.
It is a dish that can be prepared up to a day in advance, the prep takes around 10 minutes and then it cooks in just 10 minutes!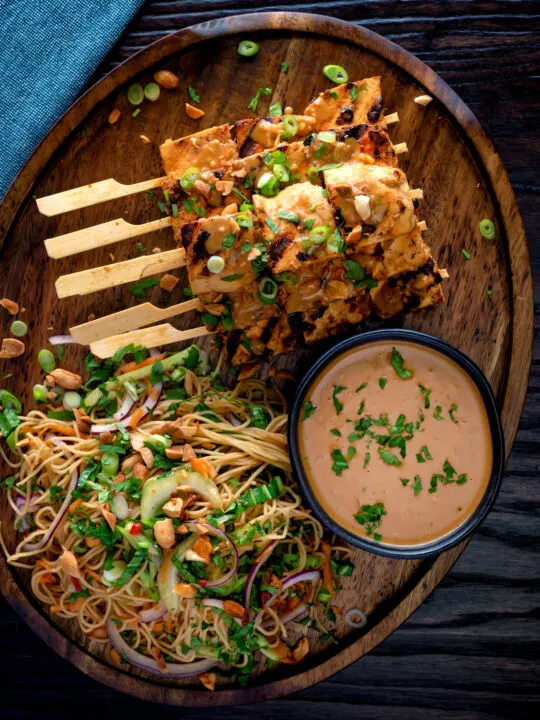 Veggie Satay
Tofu gets a bit of stick, and not least from me in the past, but I love the stuff now.
It is endlessly versatile and whilst it may not be blessed with great flavour, it is a great vehicle for flavour and I genuinely enjoy the texture!
I use it in everything from this Korean-inspired gochujang tofu stew, and a tofu noodle salad to tofu katsu curry with Japanese leanings. I've even got a very European tofu pasta recipe.
It also lasts longer in the fridge than meat so long as you keep it in its original packaging. As a result, I've almost always got a block in the fridge and I transfer it to the freezer if it gets close to the use-by date.
These tofu satay skewers tweak the ingredients in my pork satay recipe a little to create a vegetarian and vegan version of this South-East Asian inspired dish.
Just like most of my tofu recipes, this dish uses ingredients that I consider to be store cupboard ingredients.
This makes this recipe a perfect meal to cook when I have got nothing planned for dinner.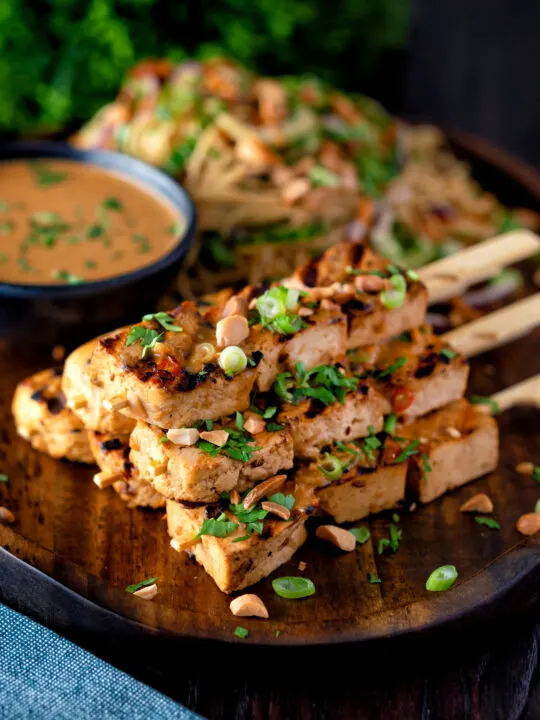 Frequently Asked Questions
Do I have to press the tofu?
I've never felt the need to do so for this particular recipe, however, that will very much depend on the tofu you use.

If your tofu seems particularly wet, wrap it in some kitchen paper and press it under a weight for an hour or two.
Do I have to marinate the tofu?
Yes, and the longer you leave it the better the flavour of the dish.
Do I have to use the spice?
Nope, I love a bit of chilli heat, but this recipe is great served without them!
Can I use crunchy peanut butter?
Yes, of course!
One final suggestion!
If you are not keeping this dish vegan make then substitute the light soy sauce for fish sauce. It adds a remarkable amount of flavour.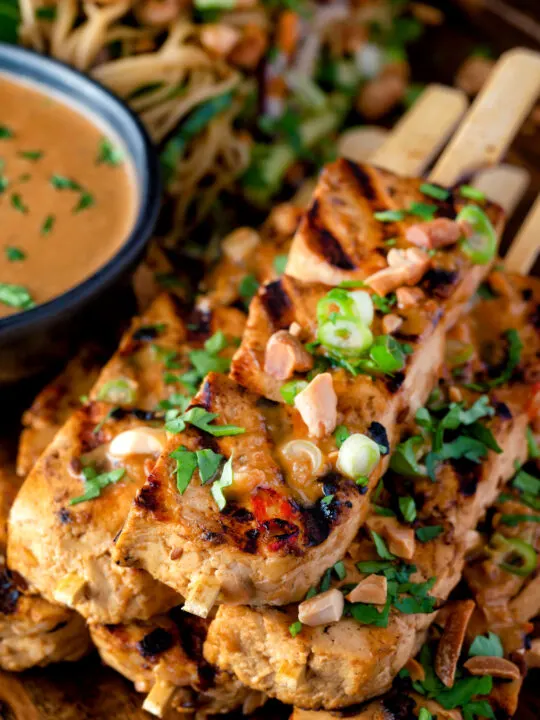 Serving Suggestions
These tofu satay skewers are pictured here with a simple egg noodle salad and some toasted peanuts. You could of course rustle up a rice noodle salad or soba noodle salad too!
I also like to serve satay with my lightly "pickled" cucumber salad. The flavours work really well as a contrast to the peanut dipping sauce.
As I have mentioned pickles, they work really well too, you could serve them with either pickled daikon or pickled cucumber.
Returning to noodles, because I think they work particularly well. I have a recipe for sweet and sour noodles that is also great with these vegan tofu skewers!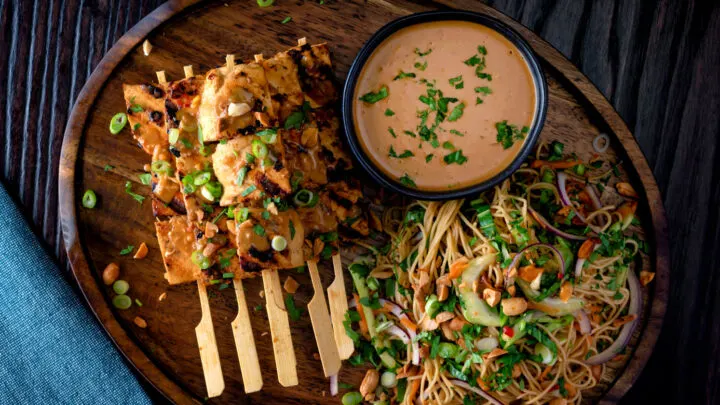 Equipment Used
I do not recommend specific brands of equipment unless I believe that it makes a material difference to a recipe. If you have any questions feel free to shout up.
Stovetop.
Griddle pan, although this will cook just as well on a BBQ.
Measuring scales and or measuring cups and spoons.
Mixing bowls.
Skewers, I use bamboo skewers but metal skewers are fine. Try not to use skewers with a round profile because food tends to spin on them and be more difficult to turn in the pan.
Sharp kitchen knife.
Chopping board.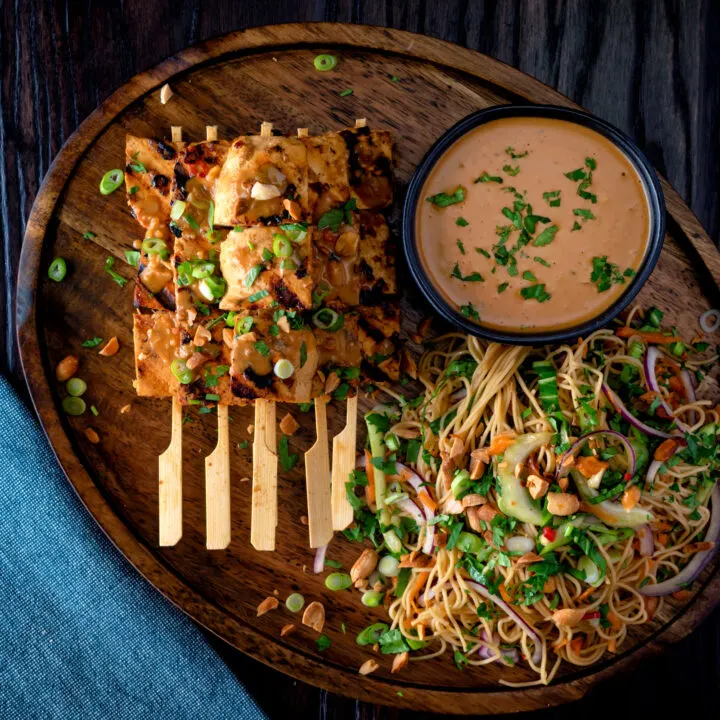 Yield:

2 Servings
Tofu Satay & Peanut Dipping Sauce Recipe
A quick and easy tofu satay served with the simplest of peanut dipping sauces, a wonderful veggie and vegan dinner that takes bean curd to a new level!
Ingredients
For the Tofu:
350g (12 oz) Extra Firm Tofu
1 (35g) Shallot
15g (Half of a Thumb Sized Piece) Ginger
1-2 Thai Red Chilli Peppers
2 Tsp Lemon Grass Paste
1 Tsp Cumin Seeds
1 Tbsp Light Soy Sauce
½ Tbsp Dark Soy Sauce
½ Tbsp Light Brown Sugar
1 Tbsp Lime Juice
75ml (3 Tbsp + 1 Tsp) Coconut Milk
For the Peanut Sauce:
125ml (½ Cup) Coconut Milk
3 Tbsp Smooth Peanut Butter
2 Tsp Brown Sugar
1 Tbsp Dark Soy Sauce
1 Tbsp Light Soy Sauce
1 Tbsp Lime Juice
¼ Tsp Tabasco Sauce
Instructions
Dry the tofu on kitchen paper, then cut it into cubes around 30-35mm (1½) square and 20mm (¾") thick and place it in a bowl.
Grate the ginger and add it a medium mixing bowl.
Peel and dice the shallot as finely as you can and add it to ginger.
Cut the red chillies into rounds as thinly as you can and add them to the shallot and ginger mix.
Throw the remaining ingredients for the tofu into the bowl with the ginger and mix them all together.
Pour the mix over the tofu and allow it to marinate for at least 1 hour and up to 24 hours.
Mix together all of the ingredients for the sauce and set aside.
If you are using bamboo skewers soak them for 30 minutes before cooking.
Thread the tofu onto the skewers and scrape any leftover marinade into the sauce and mix.
Heat a griddle pan as hot as you can and when it is hot, brush with some neutral oil.
Sear the tofu skewers for 5 minutes on each side and serve immediately.
Nutrition Information:
Yield:
2
Serving Size:
1
Amount Per Serving:
Calories:

664
Total Fat:

55g
Saturated Fat:

34g
Trans Fat:

0g
Unsaturated Fat:

17g
Cholesterol:

0mg
Sodium:

2237mg
Carbohydrates:

27g
Fiber:

4g
Sugar:

12g
Protein:

29g
Calorific details are provided by a third-party application and are to be used as indicative figures only.