Gochujang tofu stew is a quick and simple stew that rocks complex sweet, sour, spicy and sour flavours and features kimchi pickled cabbage.
This dish is a perfect mid-week vegan stew that takes less than half an hour to cook, although you must check the labels on the kimchi to ensure that it is vegan.
Spicy Tofu Stew with Kimchi
I spent many years being a bit rude about tofu… to be fair I had scarcely tried it and probably fell into the same trap as many carnivores.
However, of late I have been experimenting a lot with tofu and I am definitely a convert.
This gochujang tofu stew joins a slew of recipes that rely on tofus ability to soak up flavour like a sponge.
I have sweet and sour tofu and teriyaki tofu, Thai-influenced tofu satay, Japanese influenced tofu katsu curry as well as a stunning Vietnamese fried tofu with tomato sauce.
It's not just Asian flavours either, I have a wonderful crumbled tofu pasta in a tomato sauce.
This recipe is loosely based on a Korean side dish. A dish where tofu is stewed in onions, garlic and gochujang.
My recipe fries the tofu first to add a different texture. It is a similar approach to the one I use in my vegan tofu massaman curry.
I also add kimchi to the stew, which is definitely a nod to a Hungarian dish called Székelygulyás, it is a glorious pork goulash that features pickled cabbage.
I love mixing different cultural norms in recipes and the kimchi here works wonderfully.
My kimchi chicken leg bake takes a similar approach too.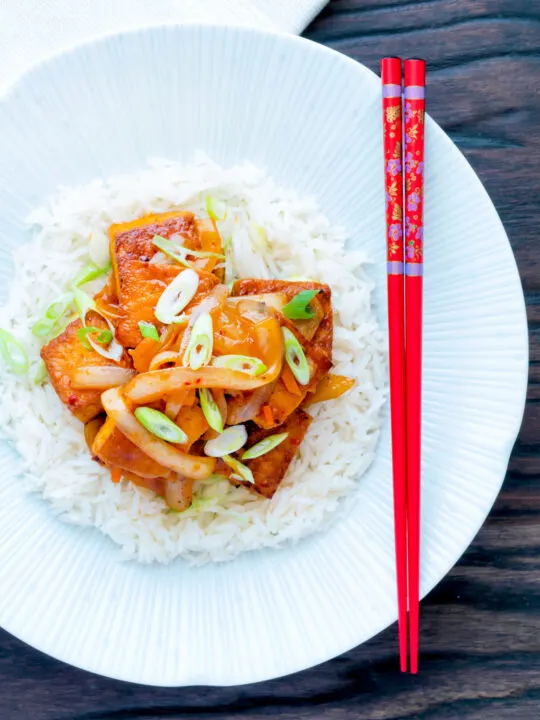 Frequently Asked Questions
Is kimchi vegan?
It really does depend on the brand, often fish sauce or shrimp paste is added.

However vegan kimchi is readily available and you can of course make your own kimchi at home.
Is gochujang vegan?
Most brands tend to be vegan! However, that does not mean that you should not check the ingrediuents on the packet.
Do I need to press the tofu?
It really does depend on the brand. Quite often you can get away with drying with kitchen paper but sometimes pressing really does help.
Wrap in kitchen paper and then place a plate on the top and bottom and add some weight.
Can I use flavoured tofu?
I tried this recipe with a few types of tofu and in the main, they did not add anything.

The only one that worked really well was smoked tofu. As ever if you find something that works drop a note in the comments section, I would love to hear from you.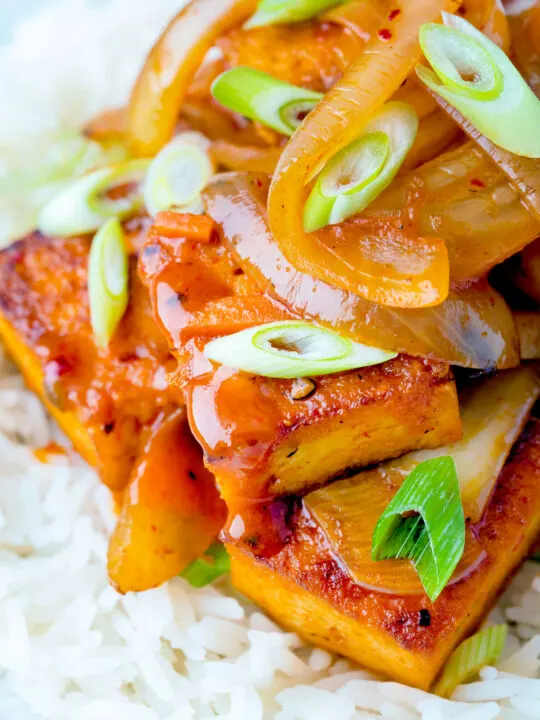 Serving Suggestions
I serve this gochujang tofu stew recipe with simply boiled rice here in these pictures. It is equally as good with egg fried rice if you have some cooked rice to fry up.
But it is a delightfully versatile recipe that works very well with a host of side dishes.
First of all some green vegetables, both my stir fried asparagus and broccoli stir fry are delicious with this spicy stew.
It is also wonderful with noodles, I personally favour egg noodles but this glass noodle salad would be superb too.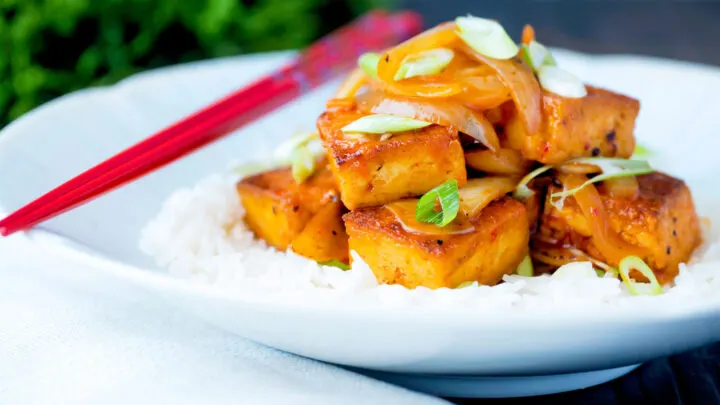 Equipment Used
I only mention specific brands of equipment if I think they make a material difference to a recipe. If you have any questions feel free to ask them in the comments section below the recipe.
Stovetop.
Wok, I use a large carbon steel wok.
Mixing bowls.
Kitchen paper and weights to press the tofu. This may not be required.
Kitchen knife.
Chopping board.
Weighing scales and or measuring cups and spoons.
Stirring and serving spoons.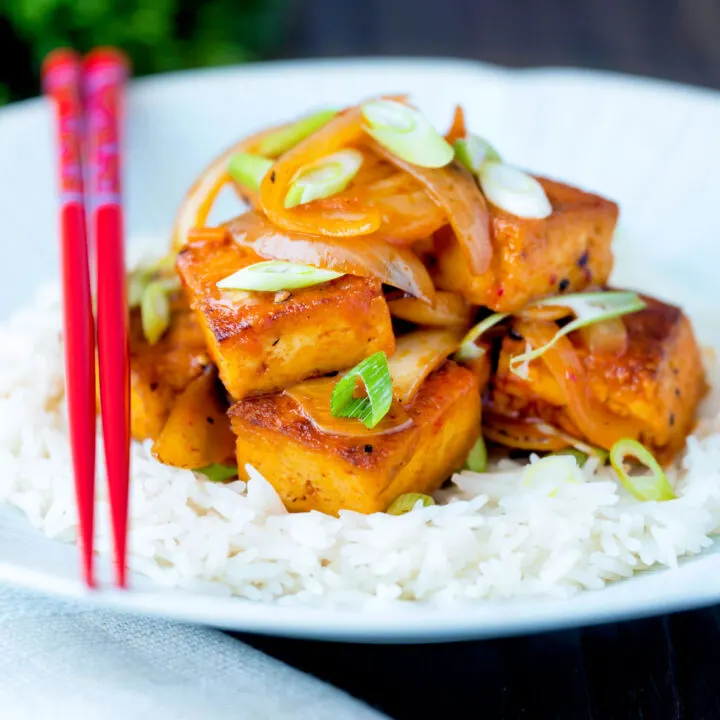 Yield:

2 Servings
Gochujang Tofu Recipe
This simple stew is a gloriously spicy sweet and sour recipe featuring Korean influenced gochujang tofu cooked with kimchi.
Ingredients
400g (14oz) Extra Firm Tofu
2 Tbsp Gochujang Paste
2 Tbsp Light Soy Sauce
125ml (½ Cup) Water
1 Tsp Sesame Oil
½ Tsp Cornflour (Cornstarch)
1 (~175g) Onion
2 Spring Onions
2 Garlic Cloves
200g (½ Cup) Kimchi
2 Tbsp Cooking Oil
½ Tsp Salt
½ Tsp Black Pepper
Instructions
Remove the tofu from the packet and wrap in kitchen paper to remove any excess moisture. You may need to press under a weight depending on the producer.
Mix together the gochujang paste, soy sauce, water, cornstarch and sesame oil and set aside.
Top and tail the onion then peel off the skin before cutting it in half and slicing it into 5-7mm thick slices from top to bottom.
Peel the garlic cloves and slice them as finely as you can.
Slice the spring onions 3mm thick at a 45° angle to the main shaft.
Cut the tofu into slices 1cm thick and 2.5cm in profile.
Heat the wok over a high heat and when it is hot add the cooking oil.
Season the sliced tofu with salt and pepper and add to the wok.
Fry the tofu for 5-6 minutes flipping over halfway through, being careful not to break up.
Once the tofu is golden remove it and set aside on some kitchen paper.
Return the wok to the heat and add the onion and stir fry for 2-3 minutes.
Add the garlic and cook for 60 seconds.
Return the tofu and pour in the gochujang sauce from step 2 and cook for 5 minutes on a medium heat.
Add the kimchi and cook for a final minute.
Serve sprinkled with the spring onions.
Nutrition Information:
Yield:
2
Serving Size:
1
Amount Per Serving:
Calories:

421
Total Fat:

28g
Saturated Fat:

3g
Trans Fat:

0g
Unsaturated Fat:

23g
Cholesterol:

0mg
Sodium:

3078mg
Carbohydrates:

26g
Fiber:

5g
Sugar:

15g
Protein:

24g
Calorific details are provided by a third-party application and are to be used as indicative figures only.