Kimchi chicken a delicious & easy bake of Korean fermented cabbage with carrots & potatoes with chicken legs glazed with honey & gochujang.
Whilst cooking this deliciously spicy dish takes around an hour it is stupidly simple and only involves spending around 20 minutes in the kitchen.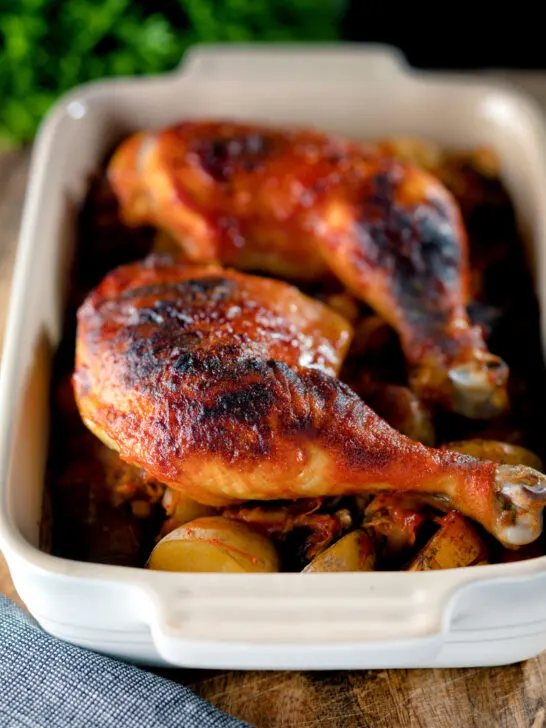 Chicken Leg Stew with Korean Flavours
I love this delicious kimchi chicken leg recipe, it is so simple and packed with huge amounts of flavour.
Whilst the ingredients are all very Korean the techniques and approaches are very much European.
It is a bit of a mish-mash of ideas that were taken from dishes like rakott kaposzta from Hungary and Polish bigos.
Both of those dishes use sauerkraut, but this dish runs with Korean kimchi, which is delicious.
It features here in my gochujang tofu stew and this Korean fried chicken burger as well as a dressing for my steamed gochujang chicken breast.
Speaking of gochujang, it also gets a look in here in as the glaze for the chicken legs!
You will love this dish, it is boldly flavoured, unusual but also comfortingly familiar too.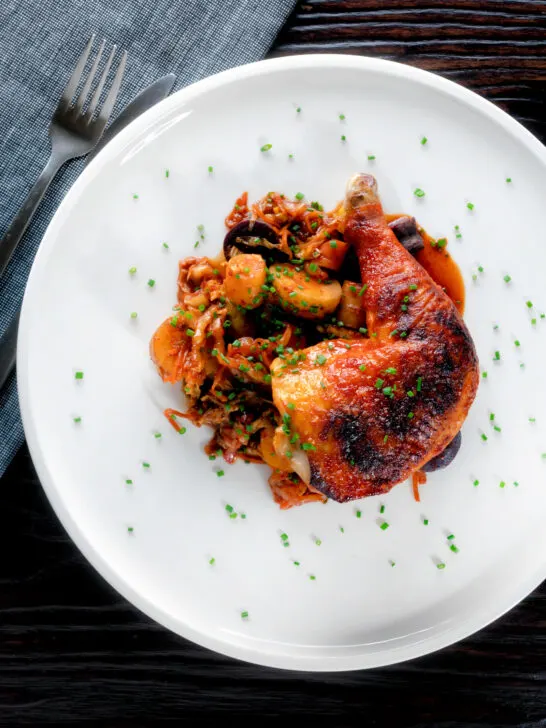 Frequently Asked Questions
Can I do something with the drained Kimichi liquid?
Yup, I use it in the glaze for my awesome Korean-influenced chicken wings.
Can I use chicken breasts rather than legs?
Yes, but they take less time to cook, maybe 20-25 minutes, as a result, you will want to parboil the potatoes and carrots for 5 minutes longer.
Do I have to use a meat thermometer?
No, many people go through their lives perfectly well without using one. However, I believe that they are the most efficient and consistent way to ensure that meat is cooked perfectly.
What is the difference between light soy sauce and dark soy sauce?
Dark soy sauce is a little sweeter and slightly less salty than light soy sauce. The dark variant is commonly used in dipping sauces, however, I love to cook with the stuff.

In this recipe, it's main aim is to prevent the dish from becoming too salty.
Do I have to use new potatoes?
No, but they do hold together much nicer than a floury potato, but they will work and the flavour will still be great.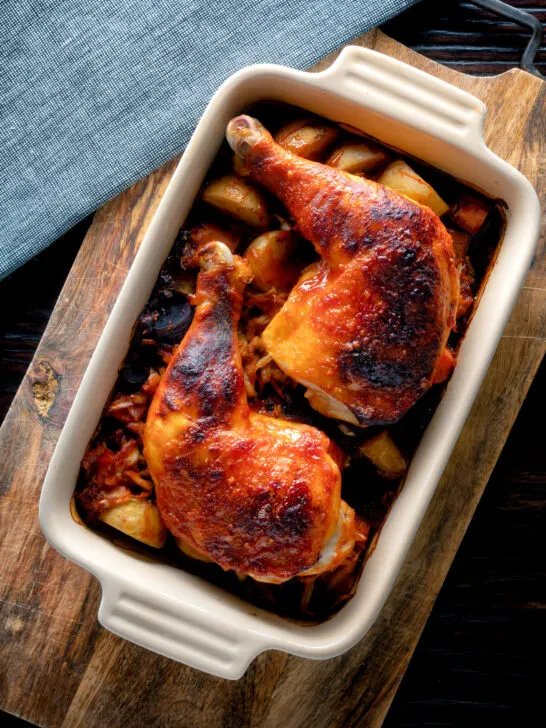 Alternative Ingredients
I consider this kimchi chicken leg stew or bake to be a complete one-pot meal, as a result, I have no serving suggestions.
I do however have lots of alternative suggestions for the veggies to add to the kimchi.
The first thing I should mention is that cooking with fermented or pickled cabbage like this is an acquired taste.
It is very punchy, if you are worried about that much kimchi you could use half kimchi and half shredded cabbage. This is an approach sometimes used in Polish lazanki or bigos!
I use new potatoes and carrots in this recipe, but this is just as good with a host of root vegetables. Everything from swede and turnip to celeriac and parsnip can be used as a direct swap, they will need peeling though!
You can also use softer vegetables, they will change the texture of the dish and make it a much "wetter" bake or stew. But Aubergine, courgette and peppers can all be thrown in.
You could also throw in cauliflower, broccoli or my favourite sprouting broccoli, however, I would do this with about 15 minutes left of the cooking time.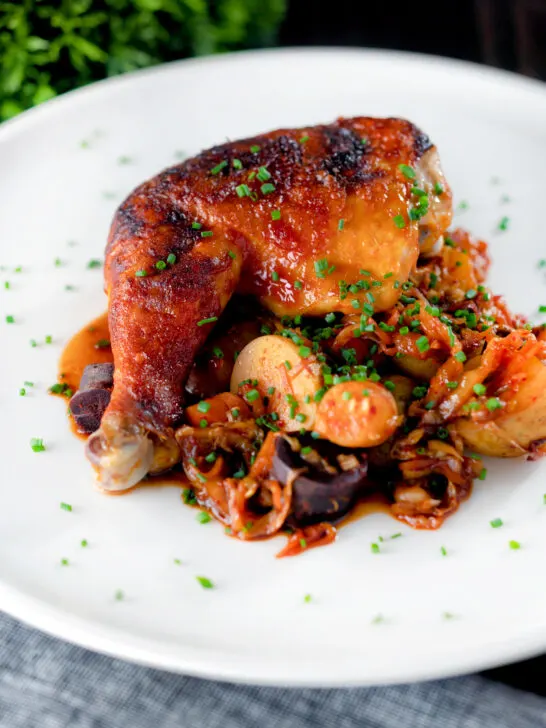 Equipment Used
I only recommend brands of equipment if I think that they make a material difference to a recipe. If you have any questions feel free to ask them in the comments section below the recipe.
Oven.
Stovetop.
Medium saucepan, anything around 20cm or 8″ is fine.
Small casserole/baking dish, mine is 25x17x5cm or 10x7x2″.
Sieve.
Chopping board.
Kitchen knife.
Weighing scales and or measuring cups and spoons.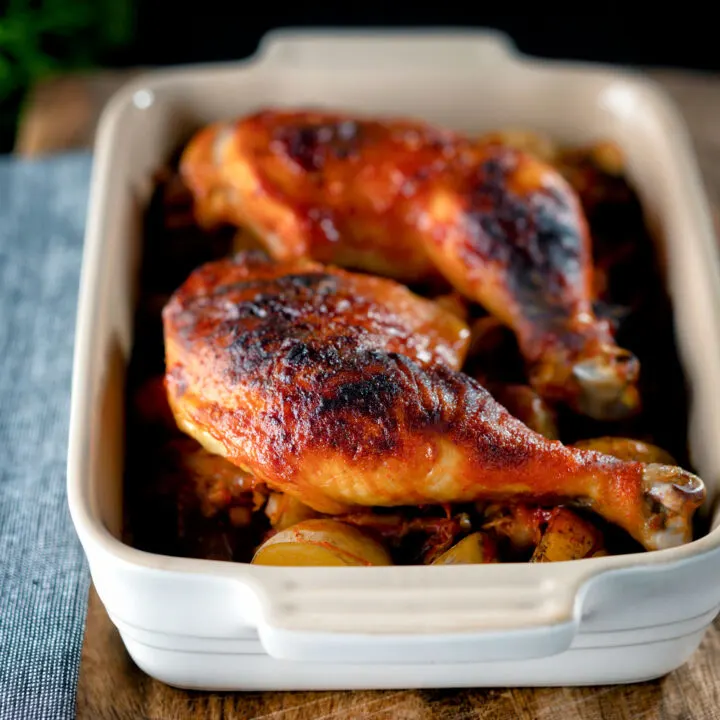 Yield:

2 Servings
Kimchi Chicken Bake or Stew Recipe
This delicious kimchi chicken leg bake/stew combines Korean fermented cabbage with soy sauce, potatoes and carrots and roasts it all with chicken legs coated in a gochujang glaze.
Ingredients
2 Chicken Legs
2 Tbsp Gochujang
1 Tbsp (20g) Honey
200g (1½-2 Cups) New Potatoes
200g (1½-2 Cups) Carrots
400g (1½ Cups) Kimchi
1 Tbsp Light Soy Sauce
2 Tbsp Dark Soy Sauce
75ml (⅓ Cup) Water
1½ Tsp Coarse Sea Salt
Instructions
Bring a small-medium (20cm or 8") pan of water to a boil and season with 1 teaspoon of salt.
Cut the potatoes into 2-2.5cm (1") pieces (in half if you are using baby new potatoes).
Cut the carrots into 1-2cm (½-¾") long rings.
Drop the potatoes and carrots into the boiling water and parboil them for 15 minutes.
Mix together the gochujang and honey.
Season the chicken legs with ½ teaspoon of coarse sea salt then coat them in the gochujang and honey mix.
Drain the kimchi well, place it in the bottom of a casserole dish (25x17x5cm or 10x7x2"), then add the light and dark soy sauces and water.
Drain the potatoes and carrots and add them to the kimchi and mix it all together.
Add the chicken legs and then transfer to the oven and cook at 180°C or 350°F for 25 minutes.
Flip the oven over to fan mode and turn it up to 200°C or 400°F for the final 7-10 minutes.
Nutrition Information:
Yield:
2
Serving Size:
1
Amount Per Serving:
Calories:

750
Total Fat:

25g
Saturated Fat:

7g
Trans Fat:

0g
Unsaturated Fat:

15g
Cholesterol:

328mg
Sodium:

3748mg
Carbohydrates:

61g
Fiber:

9g
Sugar:

26g
Protein:

71g
Calorific details are provided by a third-party application and are to be used as indicative figures only.