This steamed chicken breast has a Korean influence with a honey & spicy gochujang paste marinade and it cooks in less than 30 minutes.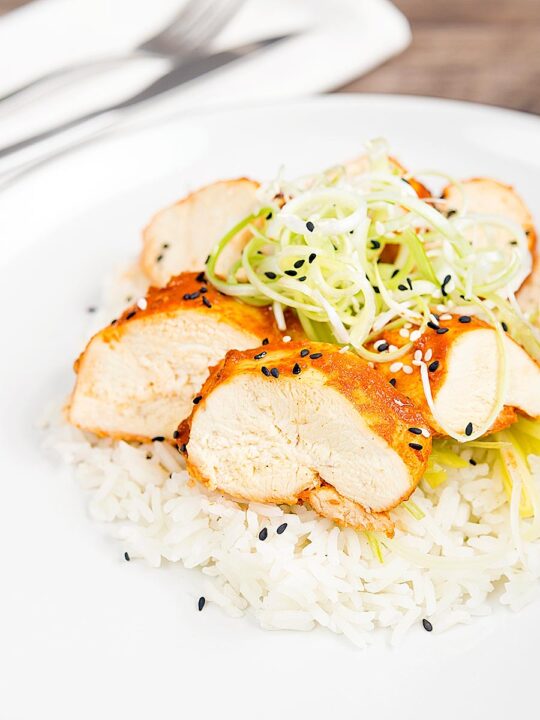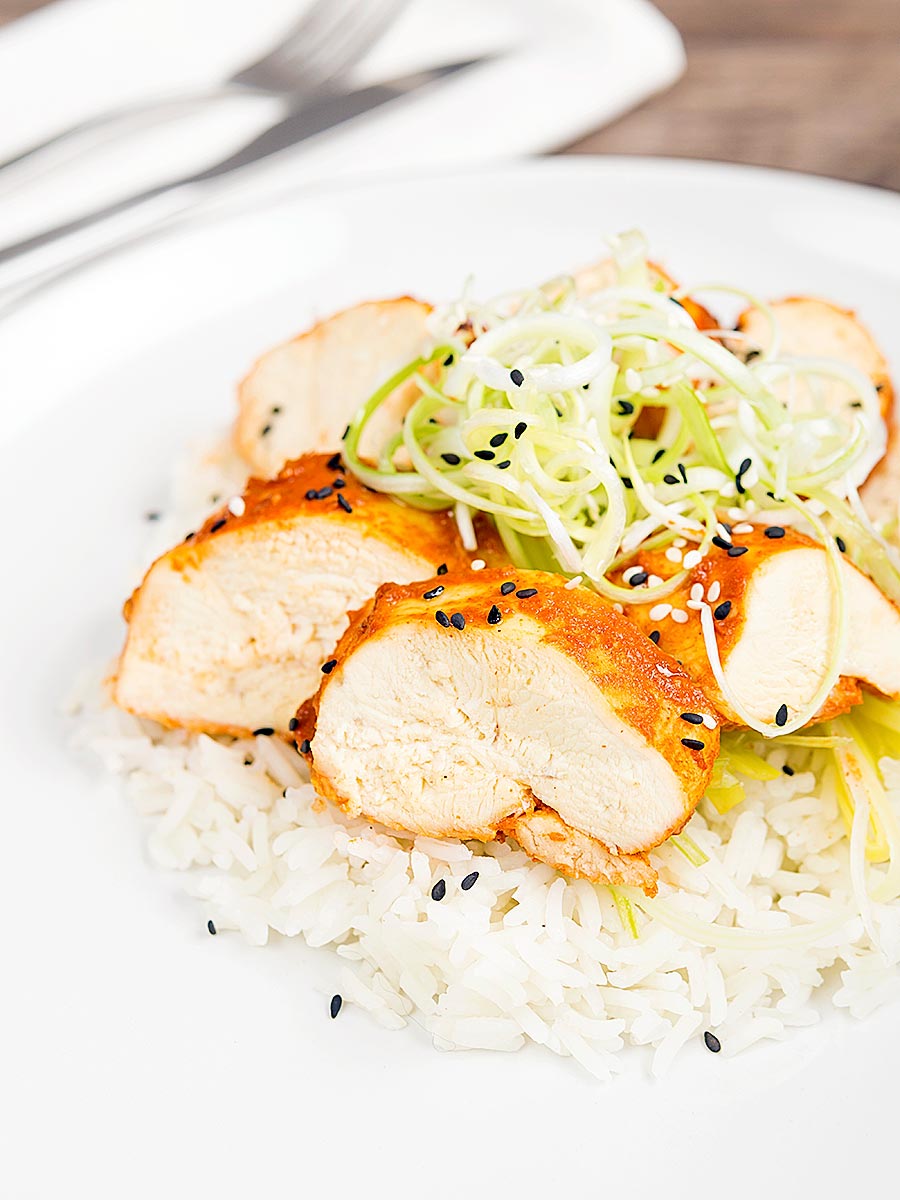 Korean Chicken.
People often associate gently cooked food with slow cooking… This is not always the case, this the chicken in this recipe spends just 20 minutes steaming.
Steaming a chicken breast also leaves you with the most wonderfully moist meat in much the same way as poaching chicken.
This recipe pairs the simplicity of steamed chicken with a fantastic spicy Korean gochujang marinade with a good kick of heat.
I round it out with some crunchy spring onions.
It is a light, nutritious and really simple centre-piece for a meal that is quick to cook and tastes fantastic.
And if you are counting the calories, then this recipe helps out on that front too! It is certainly one of my least "indulgent" dishes although you would never know that from the flaovur!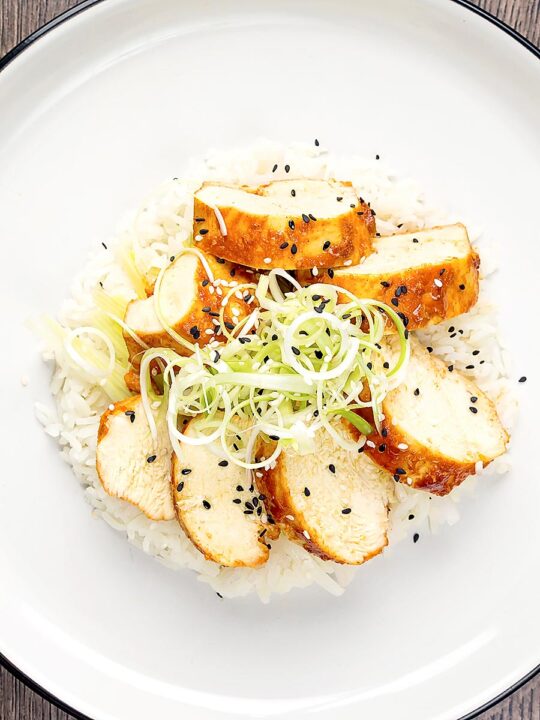 What is Gochujang?
I'm a sucker for new ingredients and have spent some time coveting Korean ideas but have sadly been unable to find ingredients.
So when I found Gochujang a month or so ago I bought loads to play with!
It is a chilli paste using glutinous rice and fermented soya beans among other ingredients.
Flavour-wise it has a sweet earthiness that I have quickly fallen in love with so expect to see it popping up fairly frequently!
It is probably most well known for its use in Bibimbap, a Korean rice dish that in many ways is similar to the Japanese Donburi. I also use it in my Korean influenced gochujang tofu stew with kimchi.
They are both dishes that contain rice and then a collection of vegetables and occasionally meat.
Although it also has a strong association with many Korean chicken recipes, I love using it on pork too!
Gochujang comes in various shades of "hot"… Mild Hot, Slight Hot, Medium Hot, Very Hot and Extreme Hot.
It is impossible for me to guess what you can tolerate, I got medium hot as a test first time round. To me it is spicy but very tolerably and pleasantly so I have now stepped up to very hot.
Both work well in this dish!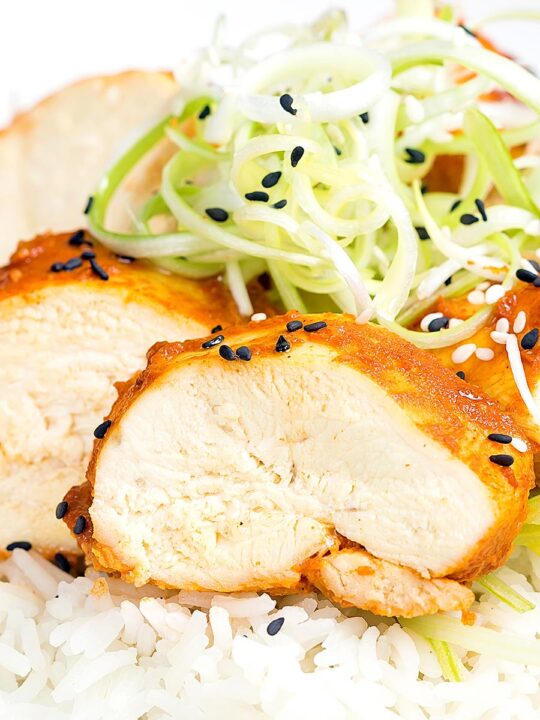 Serving & Cooking Suggestions.
First of all you need no expensive kit to cook this spicy Korean influenced steamed chicken recipe!
I use one of those little flower-shaped metal steamers that cost just a few pounds or dollars. They fit inside a saucepan and you drop 1-1.5cm of water below.
I usually add some leeks to a sieve and then placed in the top of the pan and then you just need to cover with foil.
But if you have bamboo steamers you can use them. Just add a little baking parchment cut to the size of the chicken to protect the steamer basket.
If you have fancier steamer kit, then you got this!
As for sides, I keep it simple with plain boiled rice. I serve the rice followed by the leeks and then the sliced chicken.
Top with some crunchy spring onions and you are good to go.
If you wanted something a little different then pickles would be great, this pickled daikon would be perfect.
If you wanted greens then this stir fry broccoli or asparagus stir fry would be marvellous!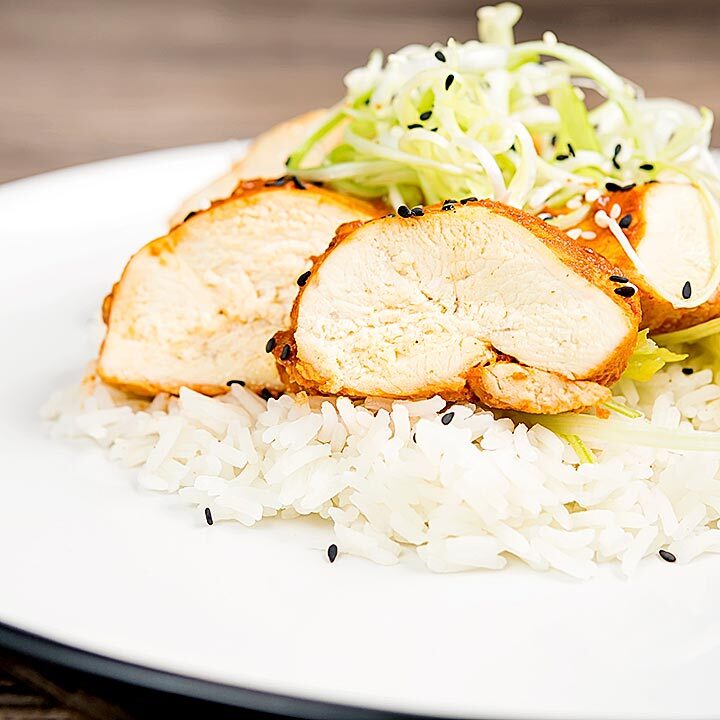 Yield:

2 Servings
Steamed Chicken Breast Recipe with Spicy Korean Gochujang Marinade
Gentle cooking is often associated with slow cooking but this simply steamed chicken breast in Korean Gojhujang glaze cooks in less than 20 minutes and tastes sublime.
Ingredients
2 Skinless Chicken Breasts
50 g (3 Tbsp) Gochujang Paste
10 g (1/2 Tbsp) Honey
1 Tbsp Fish Sauce
1/2 Tsp Ginger powder
125 g (1 1/4 - 1 1/2 Cups) Leek
2 Spring Onions
1 Tsp Toasted Sesame Oil
Instructions
Mix together the gochujang paste, honey, fish sauce and ginger powder.
Add the chicken to this mix.
Rub the sauce all over the breasts.
Remove the tough outer leaves of the leek and cut into half of the length.
Then cut the leek into half lengthways so they are half-moon shaped and then finely shred.
If you are using a two layer steamer place the leeks in the top part of the steamer and the chicken in the lower part.
If you are using a steel/aluminium steamer insert, spray this with a little release spray and add the chicken.
Place the leeks in a sieve or colander above this.
Cover the steam over boiling water for 15-18 minutes or until the chicken reaches 73ºC or 165ºF internally.
Now is the perfect time to cook some rice if you are serving it with rice!
Shred the spring onions in the same way we did the leeks and place into ice cold water.
When cooked dress the steamed leeks in sesame oil
I like to serve on a bed of rice with the leeks under the sliced chicken, then topped with the spring onions.
Notes
Serve with simply cooked rice and sprinkle with toasted sesame seeds.
Nutrition Information:
Yield:
2
Serving Size:
1
Amount Per Serving:
Calories:

302
Total Fat:

7g
Saturated Fat:

2g
Trans Fat:

0g
Unsaturated Fat:

4g
Cholesterol:

102mg
Sodium:

1340mg
Carbohydrates:

20g
Fiber:

1g
Sugar:

13g
Protein:

39g
Calorific details are provided by a third-party application and are to be used as indicative figures only.