Vegan massaman curry, a delicious dish with Thai influences featuring potatoes, tofu and beans in an earthy, hot, sweet and sour sauce.
Thai Massaman curries are known for the flavour of mace, cardamom, and cloves and they sing through in this version too.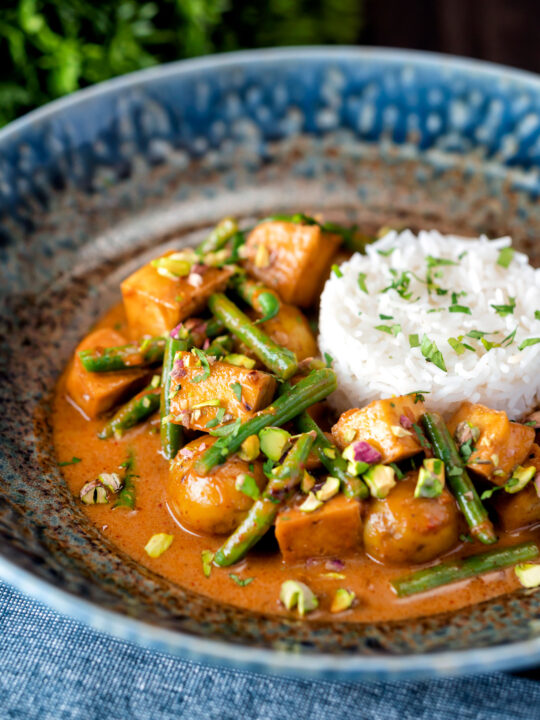 Vegan Thai Tofu Curry
I've been cooking curries for nigh on 30 years but Thai curries are relative newbies to my repertoire! When I say new, I've been playing with Thai flavours for around 10 years.
My main Thai curry crush is the massaman curry and this vegan tofu offering is the latest in my crosshairs. It joins the likes of a classic beef massaman curry and a slightly less than normal prawn massaman curry.
Like all good massaman curries, it features the atypical Thai flavours of cardamom, mace and cloves.
They add a beautiful fragrance and earthiness to the dish.
Couple this with the earthy sourness of tamarind balanced with coconut milk and you have a delicious hot sweet, sour and salty curry.
Massaman curries usually contain toasted peanuts, but I have opted for pistachio nuts to top my vegan massaman curry.
They have a sweeter flavour, a beautiful colour and a truly fantastic texture.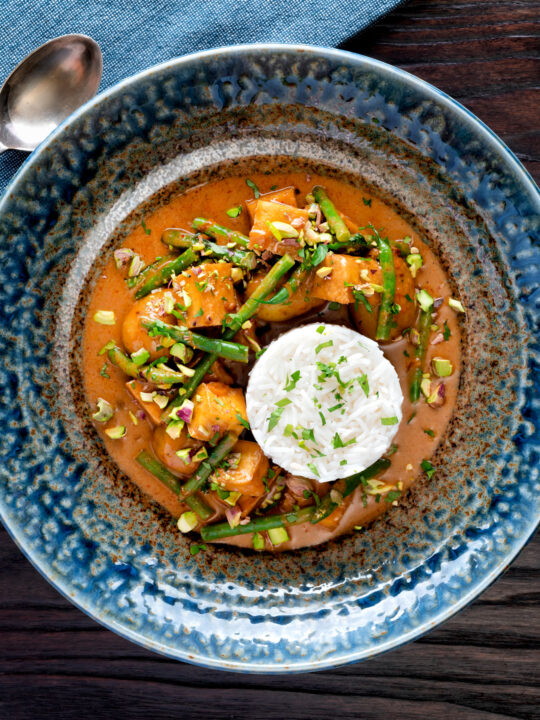 Frequently Asked Questions
Are all massaman curry pastes vegan?
No, you will need to read the packet! I use Maesri paste and whilst it does not claim to be vegan friendly it contains no animal products on the label.

If you want to be 100% sure then you can make a homemade vegan massaman curry paste. It only takes about 15 minutes and it can be frozen for later use.
Do I need to press the tofu?
I find that it is not required in this dish, but you do need to blot any excess moisture from the surface.
Do I have to roast the tofu?
No, you can just poach it in the sauce if you wish.

However, it does firm it up beautifully and adding the garlic salt adds both seasoning and another layer of flavour.
It also takes around the same amount of time as boiling the potatoes, so it adds no extra time to the cooking process.
Can I use other nuts?
Yes, toasted peanuts or cashew nuts both work really well.
Can I use Tamarind concentrate?
Yes, but you will need to read the instructions and work out how much to add. All manufacturers are slightly different.

I would add half a teaspoon, have a taste and then add more as required.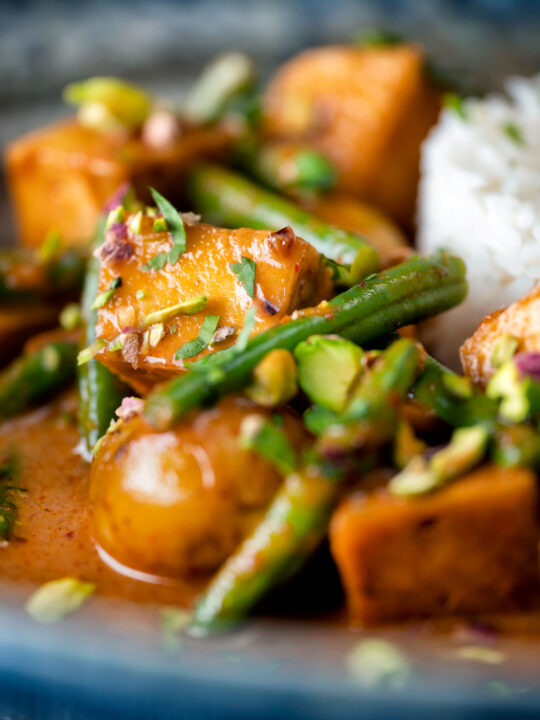 Serving Suggestions
For me this tofu massaman curry just needs rice.
Ordinarily, I am perfectly happy with some steamed jasmine rice, if you wanted something a little more "showy" then you could add some Thai coconut rice.
If you do not want to add rice, you could increase the veggie count in this recipe really easily.
Adding some tenderstem broccoli or cauliflower to the sauce works really well. It will just need poaching in the curry sauce for 5 or 6 minutes to have that perfectly al dente bite.
Another nice option would be some garlic and chilli pak choi.
Crispy fried onions also add a wonderful sweet textural crunch that mirrors the pistachio nuts beautifully.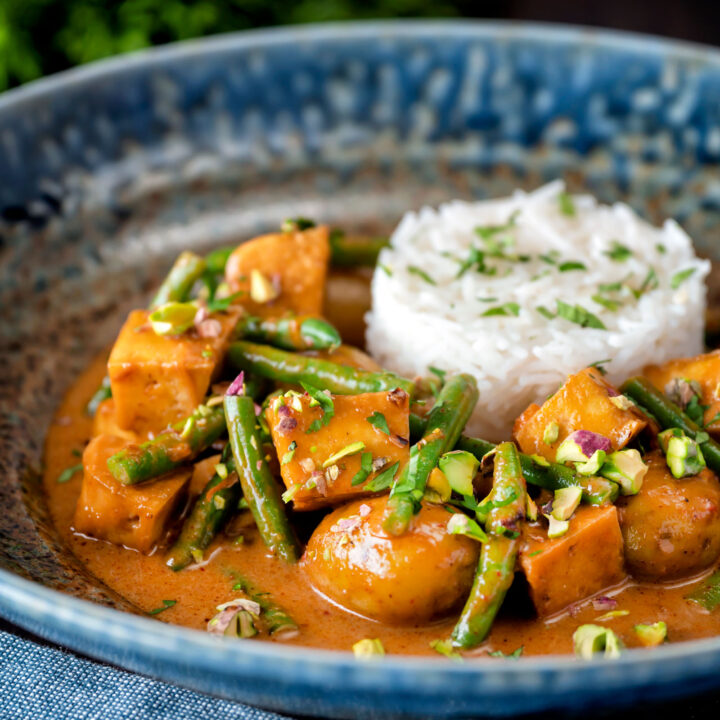 Yield:

2 Servings
Vegan Massaman Curry Recipe
Thai influences are front and centre in this vegan massaman curry that is packed with flavour as well as tofu, potatoes and green beans!
Ingredients
250g (9 oz) Tofu
50g (35mm Cube) Tamarind Pulp
50ml (3 Tbsp + 1 Tsp) Boilng Water
175g (Around 10) New Potatoes
½ Tsp Garlic Salt
1 (35g) Shallot
100g (⅔ Cup) Green Beans
1 Blade of Mace
4 Cardamom Pods
3 Cloves
1 Star Anise
2 Tbsp Cooking Oil
2 Tbsp Massaman Curry Paste
200ml (⅔ Cup + 3 Tbsp) Coconut Milk
250ml (1 Cup) Vegetable Stock
1 Tbsp Brown Sugar
1 Tbsp Light Soy Sauce (Optional)
1 Lime
15g (2 Tbsp) Pistachio Nuts
Instructions
Remove the tofu from the packet and wrap it in kitchen paper to soak up excess moisture.
Pour the boiling water over the tamarind pulp, lightly mash with a fork and allow it to sit for 15 minutes, then mash again and pass it through a sieve.
Bring a small pan of well-salted water to the boil and add the new potatoes and boil them for 15-20 minutes or until they are almost cooked. Then drain and set aside.
Cut the tofu into 25mm (1") cubes and sprinkle it with the garlic salt, then place it in the oven and cook it at 180C or 350F for 15 minutes.
Cut the shallots in half, peel them then cut them into half-moon shapes 1-2mm thick.
Top and tail the green beans then cut them into 3-4cm lengths.
Crush the cardamom pods with the side of a knife to crack them open a little.
Heat a wok over medium-high heat and add the star anise, blade of mace, cloves and cardamom pods, then toast for 60 seconds.
Pour in the cooking oil and add the sliced shallot and stir fry for 1-2 minutes.
Add the massaman curry paste and cook for 60 seconds stirring constantly.
Pour in the coconut milk and vegetable stock and stir.
Have a taste and add the brown sugar, tamarind and juice from the lime to your taste.
Cook the sauce for 2-3 minutes.
Add the tofu and potatoes and cook for a further 2 minutes.
Throw in the green beans and cook for a final 1-2 minutes.
Serve sprinkled with chopped pistachio nuts.
Notes
Remember to remove the mace, cloves, star anise and cardamom pods before serving
Nutrition Information:
Yield:
2
Serving Size:
1
Amount Per Serving:
Calories:

702
Total Fat:

46g
Saturated Fat:

22g
Trans Fat:

0g
Unsaturated Fat:

22g
Cholesterol:

6mg
Sodium:

1427mg
Carbohydrates:

61g
Fiber:

9g
Sugar:

23g
Protein:

23g
Calorific details are provided by a third-party application and are to be used as indicative figures only.