Lamb shepherds pie, potato topped minced lamb with hints of mint sauce baked until crispy and golden, my idea of comfort food heaven!
It is the perfect make-ahead dinner as you can put it all together up to 2 or 3 days in advance and refrigerate and throw it in the oven for half an hour before dinner.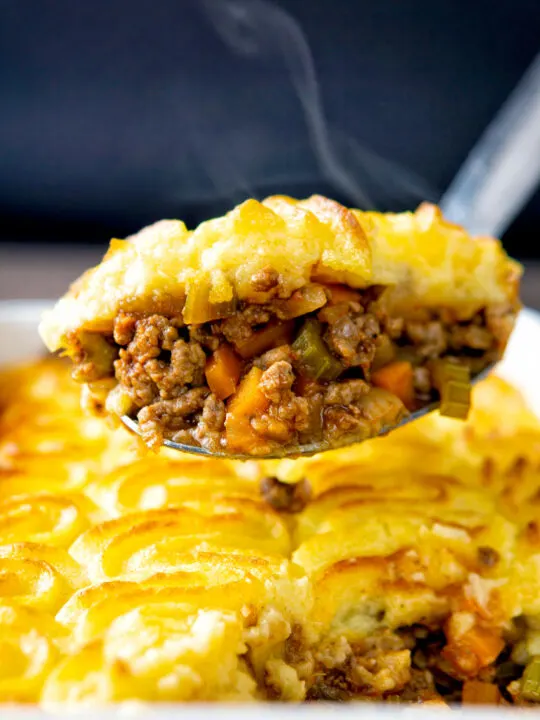 The Classic Potato Topped Pie!
I'm a pluralist when it comes to food, if it tastes good then it is good as far as I am concerned.
I do have one irrational foible though, it must be lamb shepherds pie, No other meat will do!
If it is made with beef then it is cottage pie, although I do have a beef sausage and mash pie that you must check out!
If it is vegetarian then it is shepherdess pie and if it is made with chicken or turkey then it is a Poulterers pie!
It is the hill I have chosen to plant my food flag on… although the presence of a fish finger pie should indicate I'm not all that serious about it!
All of the dishes share a common theme. A meat or vegetable ragu or stew topped with mash and then baked in the oven until golden and crispy.
As with so many of my lamb dishes, my lamb ragu is flavoured with mint sauce.
Lamb and mint is a classic combination that I am obsessed with. It features in everything from my minted lamb shanks to the garnish for my Lamb tikka masala.
As for the mash… No cheese, please! Just butter, an obscene amount of butter and a couple of egg yolks to give the mash a beautiful golden glaze.
Incidentally, cheesy mash on a Shepherd's pie turns it into a Cumberland pie according to my very specific hill!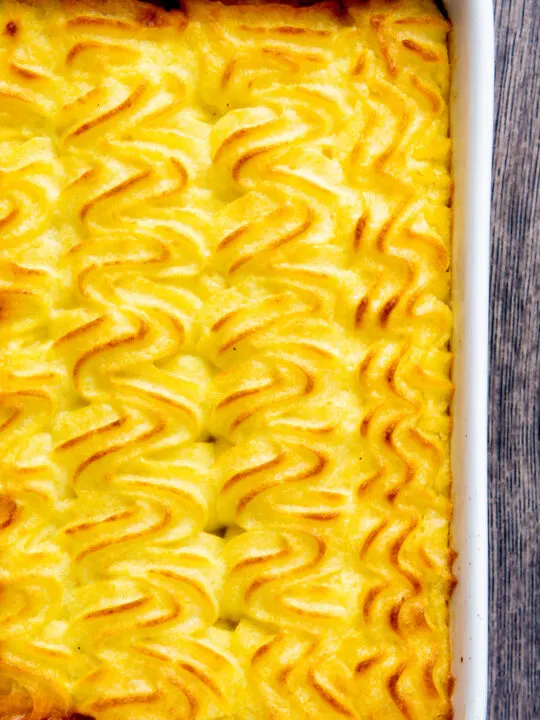 Frequently Asked Questions.
What type of potatoes should I use?
I have a lengthy post on mashed potatoes, so I will not rehash, see what I did there, that.

Needless to say, your potatoes need to be floury or mealy. Something like a King Edwards or Maris Piper in the UK or a Russet in the US.

If your potatoes are labelled with the awful A, B or C system then you want potatoes that are type C.
Do I really need the egg yolks in the mash?
No, you can omit them. But give it a try they really do make the mash extra special.

Likewise, with the butter. This is a special dish for me and needs to be indulgent and as such, I use a mountain of butter!
Do I need to pipe on the mashed potato?
No, not at all, you can dollop the mash on with a spoon and then spread it out.

It is however really important to "scuff" up the surface of the mash because shepherds pie without crispy bits ain't right!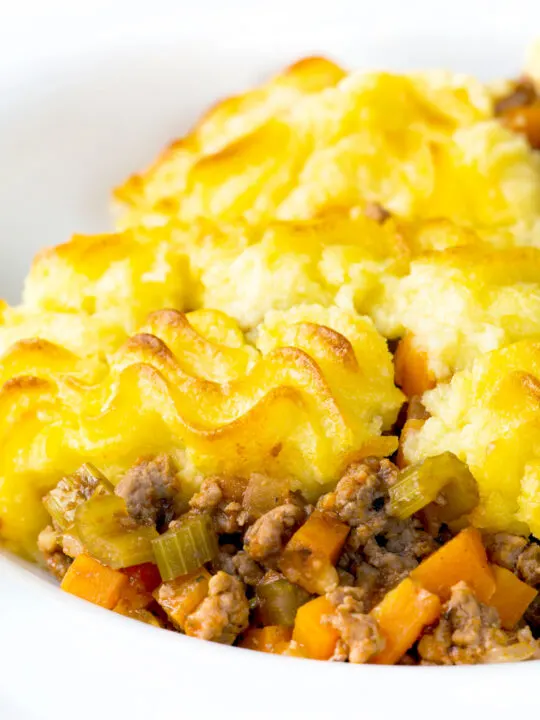 Serving Suggestions.
I usually sit down with a big bowl of this lambs shepherd's pie and call it dinner!
But if you want to you can add lamb gravy if you like your pie a little wetter.
As for sides, then some green vegetables are a great addition. I'd usually go for some frozen peas if I were honest.
But things like roasted tenderstem broccoli or my garlic green beans are great accompaniments.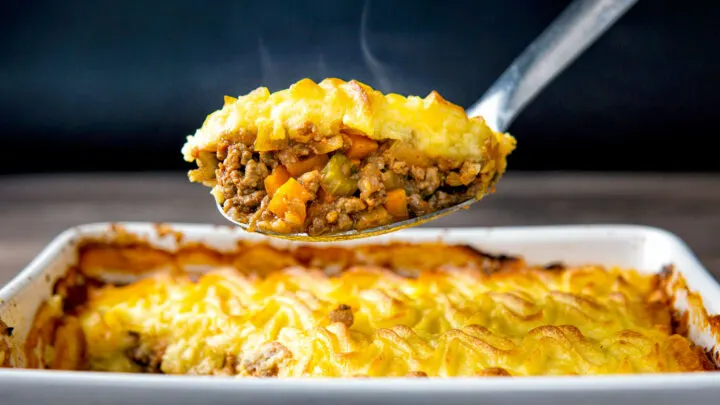 Equipment Used
I only mention specific brands of equipment if I think they make a material difference to a recipe. If you have any questions feel free to ask them in the comments section below the recipe.
Stovetop.
Oven.
Chopping board.
Kitchen knife.
Weighing scales and or measuring cups and or spoons.
Potato ricer, you can mash the potatoes by hand if you prefer.
28cm or 11″ frying pan or skillet, not nonstick if possible.
20cm or 8″ saucepan.
15cm x 20cm or 6″x8″ ovenproof casserole dish.
Piping bag with a star nozzle. This is optional you can spoon on the potato and rough it up if you like.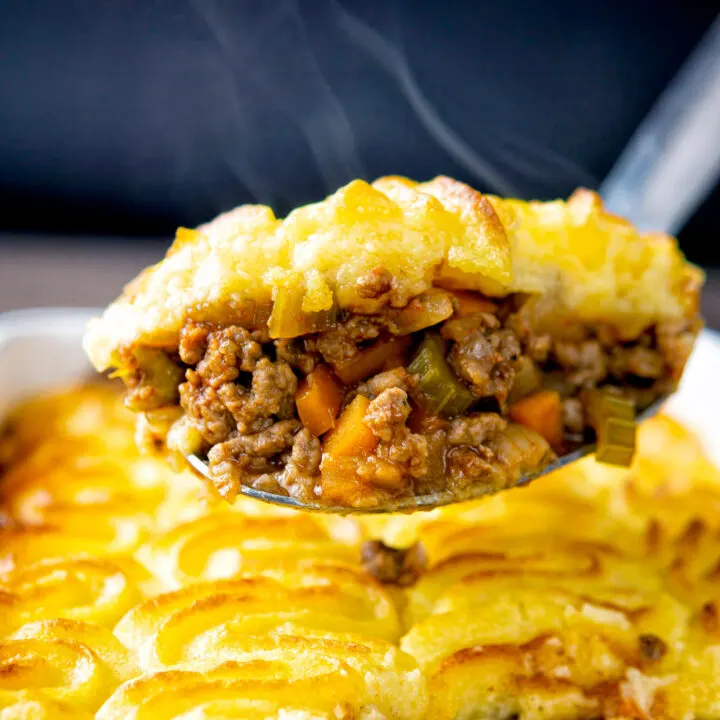 Yield:

3 Servings
Lamb Shepherds Pie Recipe
Cook Time:
1 hour
15 minutes
Total Time:
1 hour
25 minutes
A classic Minced Lamb Shepherd's pie recipe is a simple affair of a meat "ragu" cooked under a rich mashed potato lid. It is homely, simple and requires zero chefy skills just solid home cooking!
Ingredients
350g (12oz) Minced Lamb
175g (1⅓ Cup) Carrot
175g (1¼ Cup) Onion
75 g (½ Cup) Celery
250ml (½ Cup) Lamb Stock
½ Tsp Salt (Plus extra for boiling potatoes)
½ Tsp Ground Black Pepper
2 Tbsp Tomato Puree
2 Tbsp Mint Sauce
1 Tbsp Worcestershire Sauce
400g (2½-3 Cups) Potatoes
100g (7 Tbsp) Butter
2 Egg Yolks
Instructions
Bring a 20cm or 8" saucepan of generously salted water (1 teaspoon for a pan this size) to a boil.
Peel and cut the potatoes into evenly sized cubes and boil until cooked. This will take between 15 and 25 mins depending on how large you cut your potatoes.
Heat a dry (not non-stick) frying pan (28cm or 11") over a medium-high heat and when hot add the lamb.
Cook until well browned then season with the salt and pepper.
Dice the carrot, onion and celery into a 4-5mm dice.
Add the chopped carrot, onion and celery to the mix along with the stock.
Reduce the heat to medium and simmer for 15 minutes.
By now your potatoes should be ready to drain, then either mash them or push them through a potato ricer.
Add the butter and mix before allowing it to cool for 10 minutes.
Add the tomato puree, mint sauce, Worcestershire sauce and pepper to the lamb mixture.
Stir, taste and add more salt if required and cook for another 10 minutes.
Transfer the lamb mixture to a 15cm x 20cm (6"x8") ovenproof dish.
Mix the egg yolks with the mashed potato.
Pipe the potato over the lamb using a star-shaped nozzle or spread it over the top and then rough up with a fork.
Bake in the oven at 200°C or 400°F for 30 minutes or until the top goes golden.
Nutrition Information:
Yield:
3
Serving Size:
1
Amount Per Serving:
Calories:

844
Total Fat:

56g
Saturated Fat:

29g
Trans Fat:

1g
Unsaturated Fat:

23g
Cholesterol:

310mg
Sodium:

554mg
Carbohydrates:

48g
Fiber:

6g
Sugar:

12g
Protein:

38g
Calorific details are provided by a third-party application and are to be used as indicative figures only.