A shepherds pie is a delightfully old fashioned comfort food recipe that is fortunately as popular today as it ever was. It is often tweaked and played with, but my version remains mainly traditional featuring lamb mince, lots of vegetables and the richest of mashed potatoes as a topping.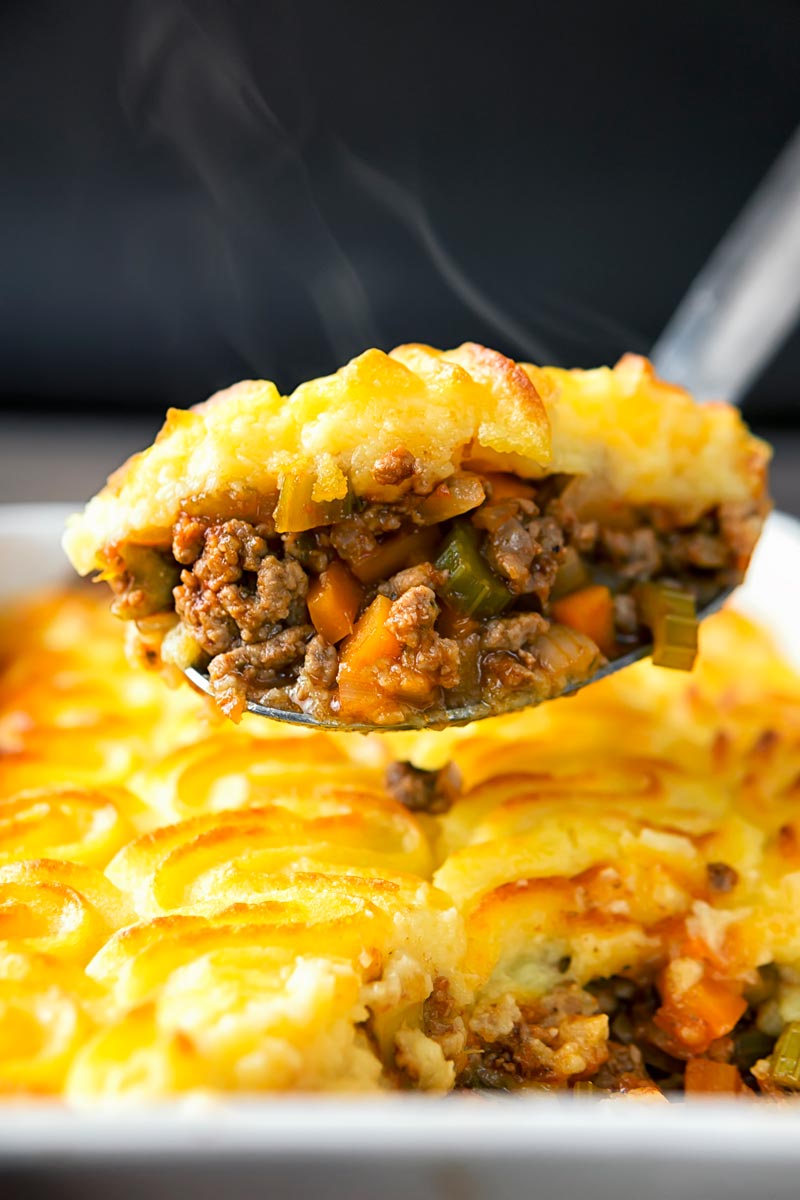 What is a shepherds pie?
The first point to labour is that it is definitively not a cottage pie. For 4-5 generations in the UK a cottage pie contains ground beef, the shepherd's pie variant contains lamb mince.
In many ways, it is similar to a lamb hotpot or beef hotpot, although they have a sliced potato toppings and use diced meat.
Originally it would have been a leftover pie and I would still do so if I was the sort of cook that roasted large hunks of meat.
Across the Atlantic, the name seems to be used in a much more fluid way.
However, making a shepherd's pie with lamb really does open it up to a whole new type of flavouring.
A flavour profile that I love, let's face it beef and lamb are very distinct ingredients and thrive with different flavours.
My recipe in the main is one that my Gran & Grandad would recognise from their childhood in the 1920's.
Although I may have gotten a clip round the ear'ole for messing about with a piping bag.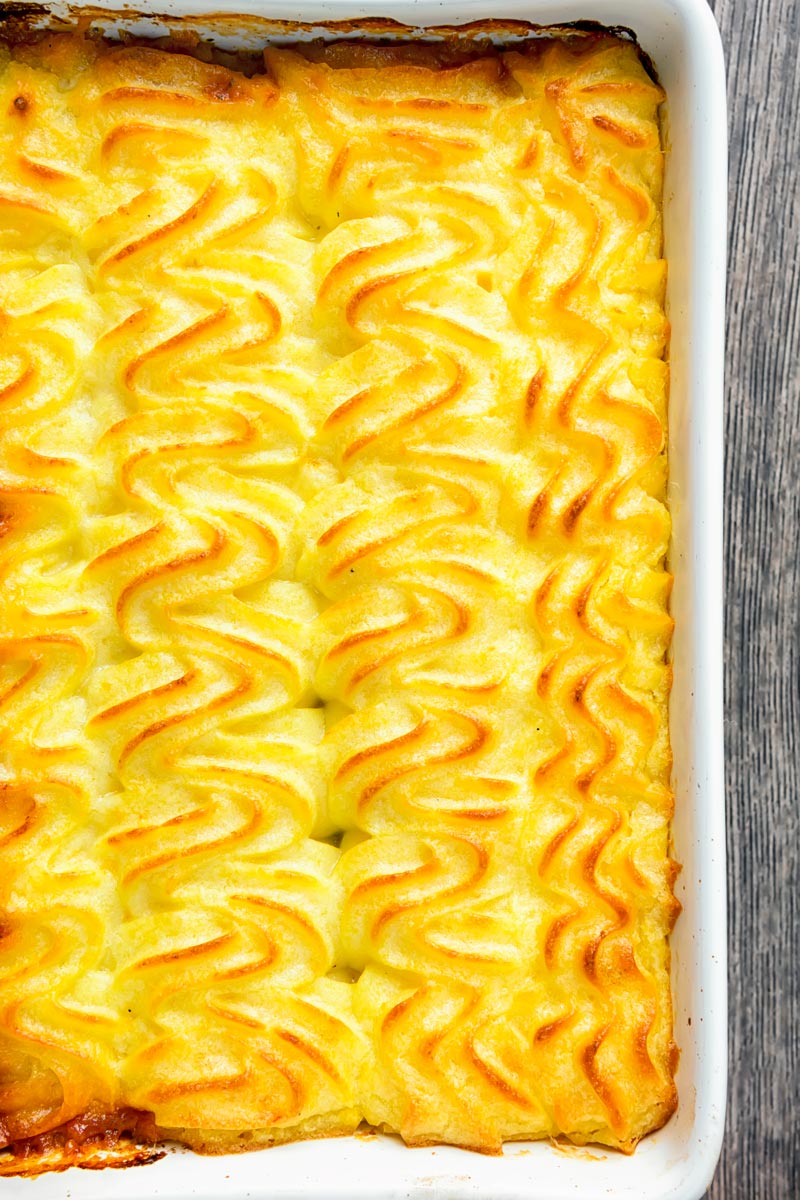 The Ingredients.
Of course, the key ingredients here are lamb mince and potatoes, I use shoulder, this is because it has the ideal fat ratio for this recipe.
The potatoes are a floury variety and this recipe uses a rich butter-based mashed potato.
I'll not go into detail on mash here as I have a lengthy guide to mashed potatoes that does the topic much more justice.
Growing up my Mum and both of my Grandparents would have used tomato ketchup in their shepherd's pie.
I have moved on from this as eliminating the sugar in the ketchup makes room for mint sauce.
If you are not from the UK mint sauce may be new to you… It is essentially mint, malt vinegar and sugar and it is AWESOME with lamb! You can get the ratios for the ingredients in this Roast Leg of Lamb recipe.
I add the tomato flavour back in with tomato puree.
The pie filling is rounded out with lots of vegetables, lamb is both expensive and flavoursome. As a result, you can add lots of veggies and still get all of the flavour from the meat.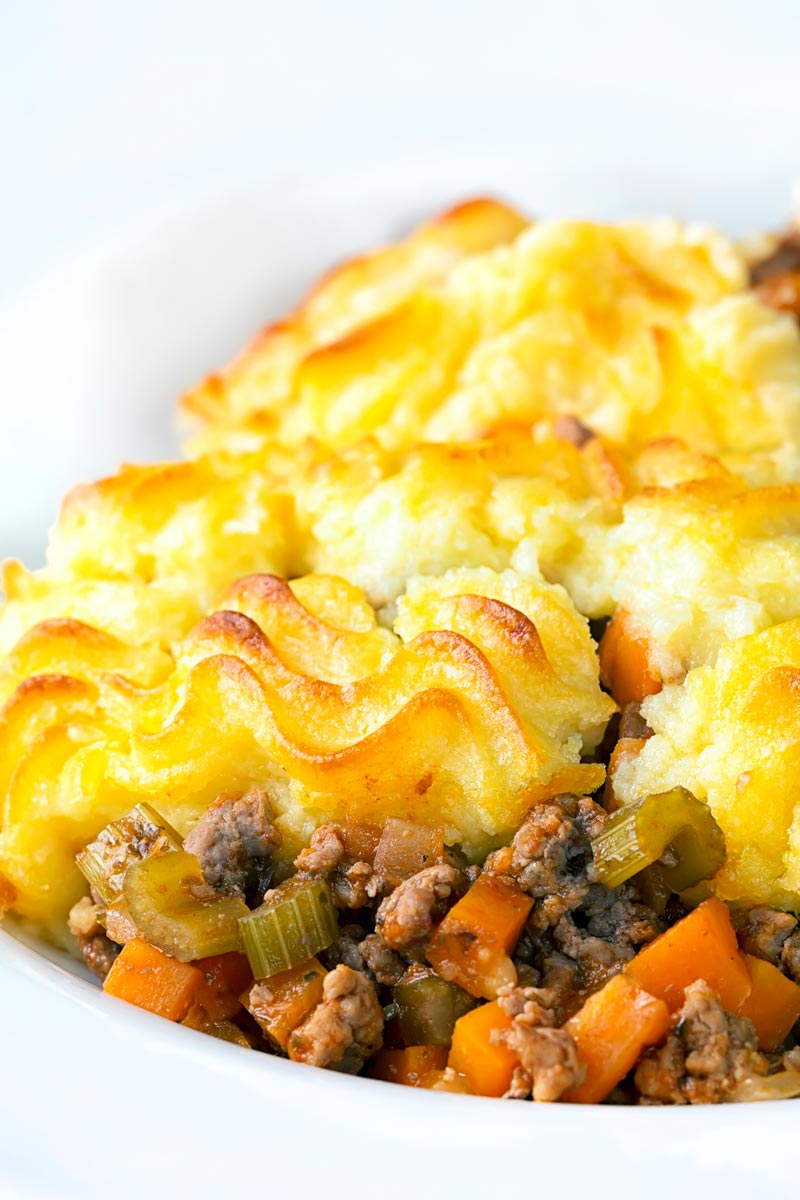 Piping Potatoes.
In short, you do not have to pipe your potatoes on to the top of this pie.
You can dollop them on, you can put them on with a spatula or the back of a spoon.
However, the one thing that you must do is "rough" them up a little. The uneven surface allows the potatoes to get little crispy edges.
You should also make sure that there are some gaps in the topping. This allows the gravy to bubble up and caramelise on the edges of the potato.
I'll gladly fight anyone for all of these bits… Well everyone but my wife, she'll kick my butt!
The golden glazed colour on the mash is thanks to a couple of egg yolks.
Yes, egg yolk enriched mash is a thing. It has always been a thing and I would urge you not to skip this ingredient.
Finally, if you are wondering about the serving size of "3"… I make it this way because leftover shepherd's pie for lunch the following day is my idea of heaven!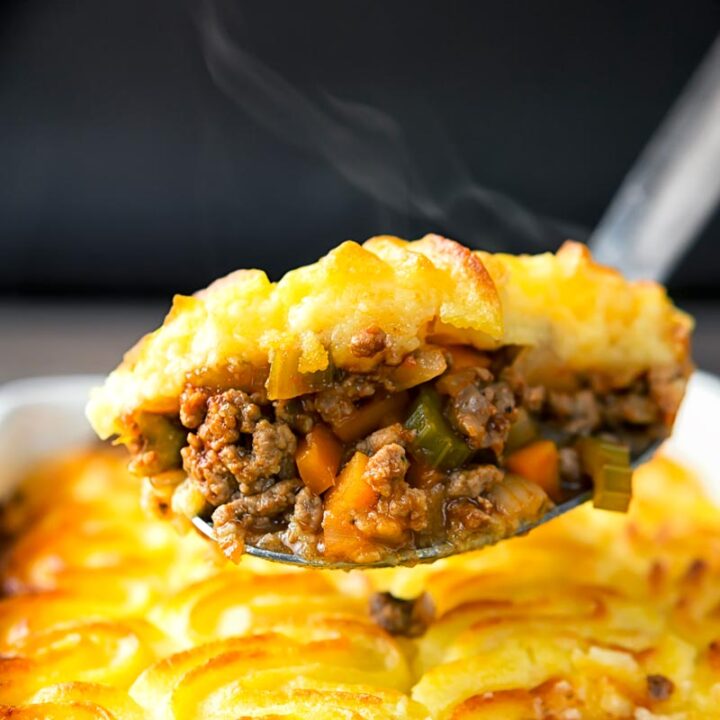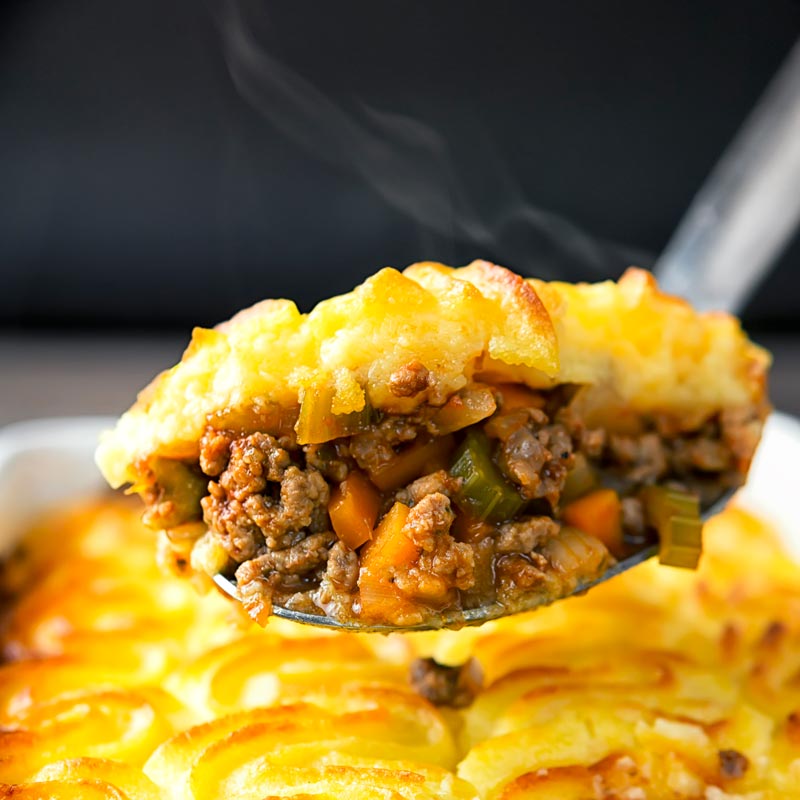 Yield:

3 Servings
Old School Classic Shepherds Pie Recipe
Cook Time:
1 hour
15 minutes
Total Time:
1 hour
25 minutes
A classic Shepherd's pie recipe is a simple affair of Minced Lamb cooked under a rich mashed potato lid. It is homely, simple and requires zero chefy skills just solid home cooking!
Ingredients
350 g Minced Lamb
175 g Carrot
175 g Onion
75 g Celery
200 ml Lamb Stock
1/2 Tsp Ground Black Pepper
2 Tbsp Tomato Puree
2 Tbsp Mint Sauce
1 Tbsp Worcestershire Sauce
400 g Potatoes
100 g Butter
2 Egg Yolks
Instructions
Bring a pan of generously salted water to boil
Peel and cut the potatoes into evenly sized cubes and boil until cooked. This will take between 15 and 25 mins depending on how large you cut your potatoes.
Heat a dry pan over a medium-high heat and when hot add the lamb.
Cook until well browned all over then season with salt.
Dice the carrot, onion and celery into a medium 4-5mm dice.
Add the chopped carrot, onion and celery to the mix along with the stock.
Reduce the heat to medium and simmer for 15 minutes.
By now your potatoes should be ready to drain.
Either mash them or push them through a potato ricer.
Add the butter and mix before allowing to cool for 10 minutes.
Add the tomato puree, mint sauce, Worcestershire sauce and pepper to the lamb mixture.
Stir, taste test and add salt as required and cook for another 10 minutes.
Transfer the lamb mixture to a 15cm x 20cm ovenproof dish.
Mix the egg yolks with the mashed potato.
Pipe the potato over the lamb using a star-shaped nozzle or spread and then rough up with a fork.
Bake in the oven at 200°C or 400°F for 30 minutes or until the top goes golden.
Nutrition Information:
Yield:
3
Serving Size:
1
Amount Per Serving:
Calories:

1031
Total Fat:

69g
Saturated Fat:

35g
Trans Fat:

1g
Unsaturated Fat:

29g
Cholesterol:

372mg
Sodium:

596mg
Carbohydrates:

48g
Fiber:

6g
Sugar:

12g
Protein:

53g
Calorific details are provided by a third-party application and are to be used as indicative figures only.