Cumberland pie is a variant on a classic shepherd's pie featuring a minced beef base with leeks and cheesy mash and breadcrumb topping.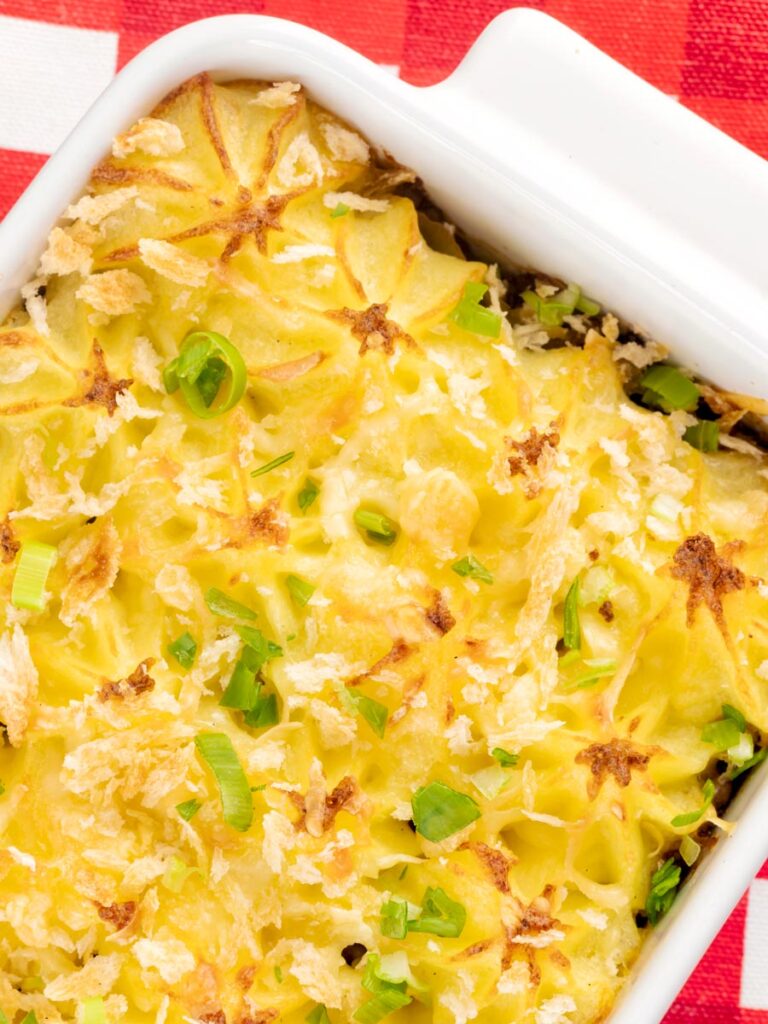 Another Shepherds Pie Variant.
I've often alluded to, and mocked, our irrational desires to "own" food and food names.
But there is one that I always fall into and it is the Shepherds pie. There are many variants and for some reason food writers want to refer to them all as the same thing.
This cheesy, almost traditional or "new traditional", cheesy Cumberland pie recipe is my 4th variant of the idea of a mashed potato topped pie.
Aside from Shepherd's pie, which is made with lamb, I also have a cottage pie which is made with beef, and a shepherdess pie, which by necessity is meat free.
The name dates back to medieval times old recipes refer to it as a "game pie" that often contained fruit.
The variant that I cook dates back to the early 20th century. I do incorporate some sweetness into the meat as a nod to the fruit.
But I use ketchup, sacrilege to some, but my Mom always added ketchup and I love it! We then have a cheesy mash topping, of course that cheese is sharp mature cheddar cheese.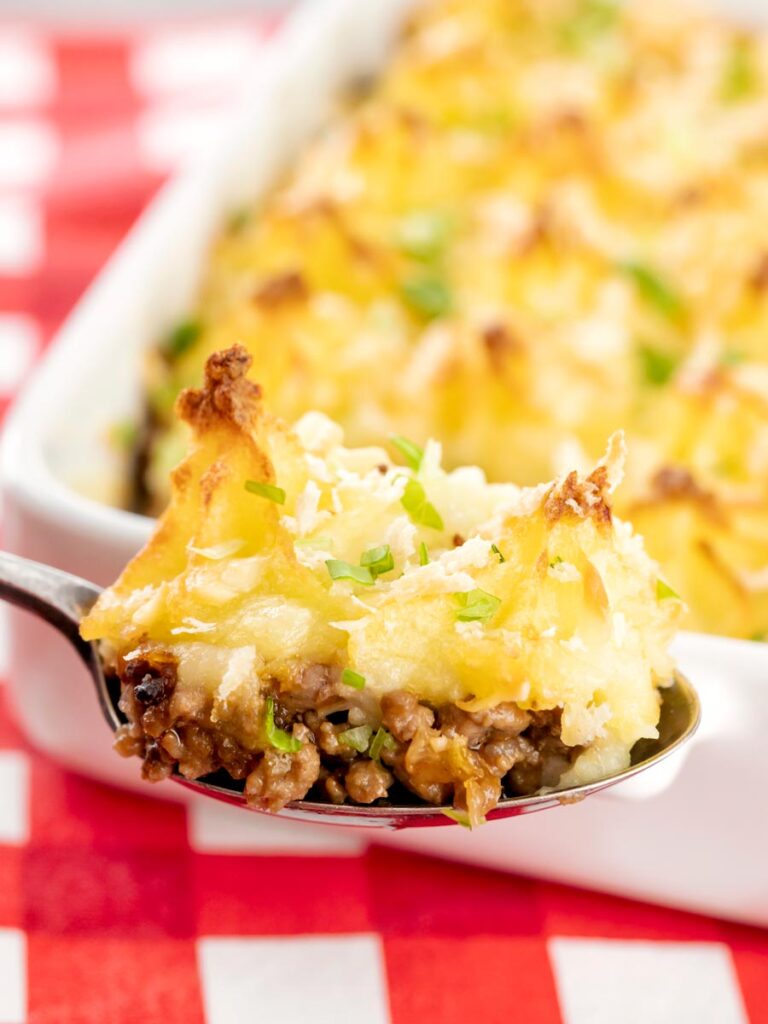 Frequently Asked Questions.
What potatoes to use?
This recipe relies on a good quality mashed potato and as a result, you want a nice floury or mealy potato. The fololowing are all varietes worth considering:
King Edwards, Maris Piper, Estima, Russet, Idaho, Desiree (at a push).
Can I use a different cheese?
Yes, but you want something with a decent kick of flavour. Younger cheeses like Wensleydale or Cheshire have a more "acidic" flavours. More mature cheeses like mature cheddar or something like Lincolnshire pack a saltier kick.
Avoid mild "stretchy" cheeses like Gouda, Emmental or heaven forbid Edam.
Can I make Cumberland pie in advance?
This is the ultimate make-ahead dinner. You can prepare 2-3 days in advance and just throw it in the oven until piping hot.
Simply wrap in cling film a store in the fridge, just sprinkle over the breadcrumbs before baking at 200°C or 400°F for 25-30 minutes.
Cover with foil it is begins to colour too much.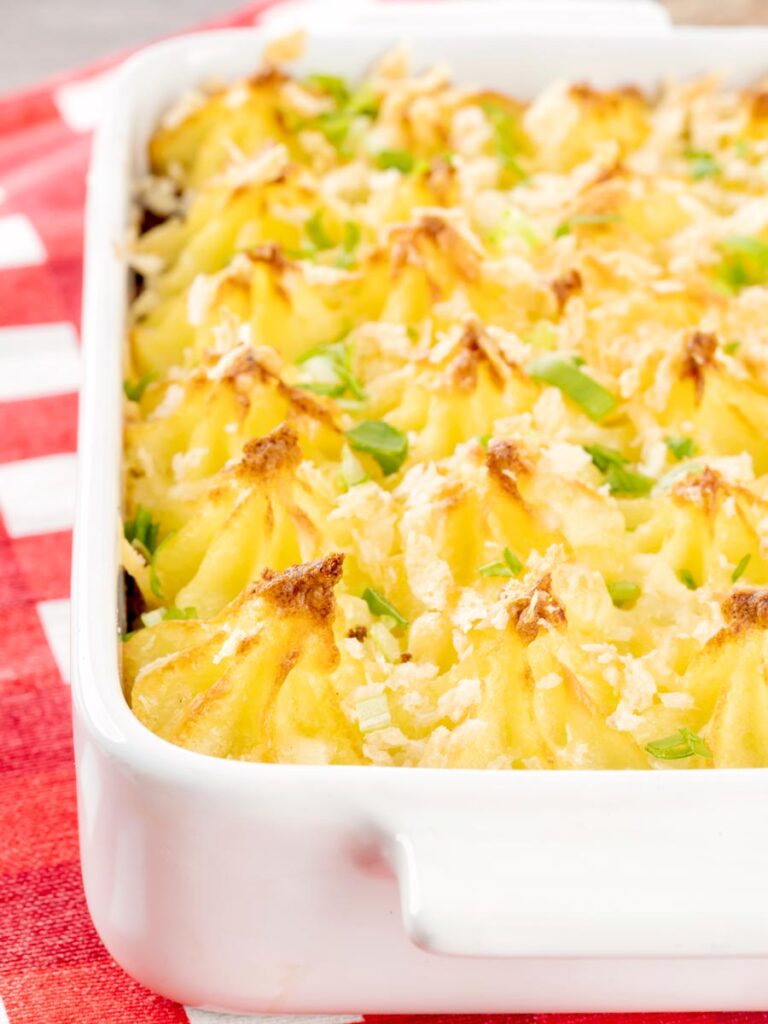 Cooking in a Single Dish.
I have a thing about single serving pies because something just feels special about a whole pie to yourself.
Whether it be this Cumberland pie, my beef and ale pie or even my lemon meringue pie I love it!
But you can scale this pie up and bake in a single dish if you like.
Use a single 25cm by 15cm dish that is 4-5cm deep, or 10″ x 6″ x 2″ for those that use imperial.
Or a single 15cm or 6″ diameter dish that is 4-5cm (2″) deep.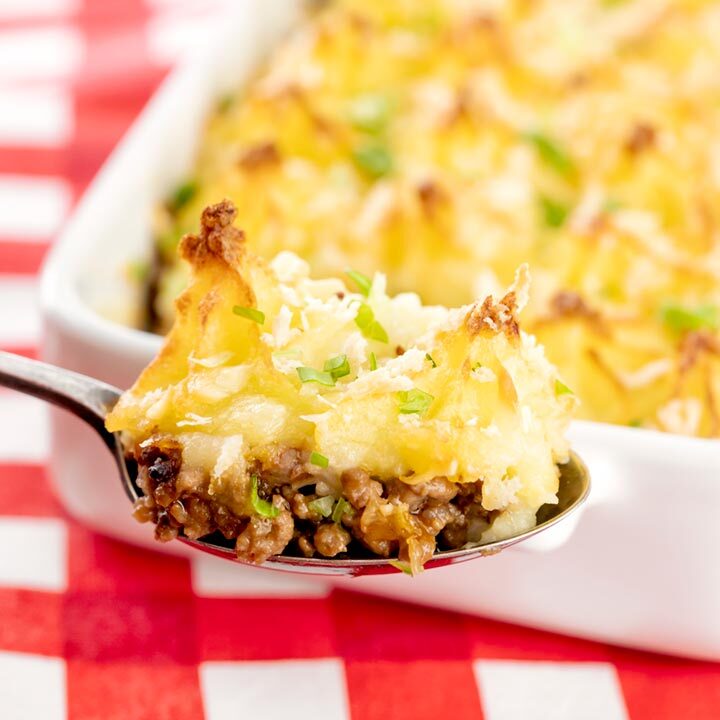 Yield:

2 Servings
Cheesy Cumberland Pie Recipe
Cook Time:
1 hour
15 minutes
Total Time:
1 hour
25 minutes
A traditional Cumberland pie is similar to a shepherd's pie but it features a cheesy mash with breadcrumbs over a minced meat base. Mine uses beef and leeks with a good whack of Worcestershire sauce.
Ingredients
350 g (12oz) Minced Beef
75 g (1/2 Cup) Onion
75 g (1/2 Cup) Leek
2 Garlic Cloves
1 Tbsp Oil
50 ml (3 Tbsp + 1 Tsp) Worcestershire Sauce
50 ml (3 Tbsp + 1 Tsp) Tomato Ketchup
50 ml (3 Tbsp + 1 Tsp) Water
400 g (2 2/3 Cup) Potatoes
75 g (2/3 Stick) Butter
Salt to Taste
100 g (1 Cup) Grated Sharp Cheddar Cheese
4 Tbsp Breadcrumbs
Spring Onions for Garnish
Instructions
Cut the onion into a 2-3mm dice.
Slice the leek into 3mm thick coins.
Slice the garlic as finely as you can.
Heat a frying pan over a medium-high heat and when hot add the oil.
Add the onion and leek and cook for 3-4 minutes until they begin to color up.
Throw in the garlic and cook for a minute.
Add in the minced beef and season with 1/4 tsp salt, then cook until well browned (10 minutes or so).
Push the meat to the side of the pan and turn the heat up to high.
Pour in the Worcestershire sauce and allow it to bubble for 30 seconds then stir the meat into the reduced sauce.
Add the tomato ketchup and water reduce the heat to medium and cook until almost all of the liquid has disappeared.
Turn off and allow to cool whilst you cook the potatoes.
Peel the potatoes and cut them into 2-2.5cm cubes
Boil the potatoes for 20 minutes in well-salted water until they give to the tip of a sharp knife.
Mash the potatoes or push them through a potato ricer.
Add the butter and 75g (3/4 Cup) of the sharp cheddar and mix.
Separate the meat mix into two 15 x 10cm (6 x 4") gratin dishes.
Pipe over the potato (piping is optional you can spread it any way you like).
Sprinkle over the remaining cheese and sprinkle over the breadcrumbs.
Bake in the oven for 20 minutes at 200°C or 400°F.
Allow to cool for 5 minutes before serving sprinkled with finely chopped spring onions.
Nutrition Information:
Yield:
2
Serving Size:
1
Amount Per Serving:
Calories:

1336
Total Fat:

86g
Saturated Fat:

41g
Trans Fat:

3g
Unsaturated Fat:

35g
Cholesterol:

286mg
Sodium:

1668mg
Carbohydrates:

74g
Fiber:

6g
Sugar:

15g
Protein:

68g
Calorific details are provided by a third-party application and are to be used as indicative figures only.