A Traditional Cottage Pie is a homely British recipe of braised ground beef and root vegetables in gravy topped with a crispy potato topping.
The Classic British Cottage Pie
This recipe is one of the most enduring food memories from my childhood. Not just from home but at my grandparents' house, school dinners, friend houses.
It is essentially a really simple dish of beef mince, vegetables in a gravy all topped with mashed potato. Then baked in the oven to crisp up the mash.
References to it date back to the 18th Century but they have always been rustic dishes.
Traditionally they were a way to use up leftover roasted meat, but have become a frugal recipe using minced meat.
Whilst it passes a resemblance to the much more famous Shepherds Pie, there is a difference!
For most Brits, a Cottage Pie contains beef, a Shepherd's pie contains lamb. As a result, the sauce and consequently the flavours are often fundamentally different!
This is a rare recipe for 4, I always make two as this saves fantastically.
You can cover and freeze for up to 3 months, or just store in the fridge and cook up to 5 days later.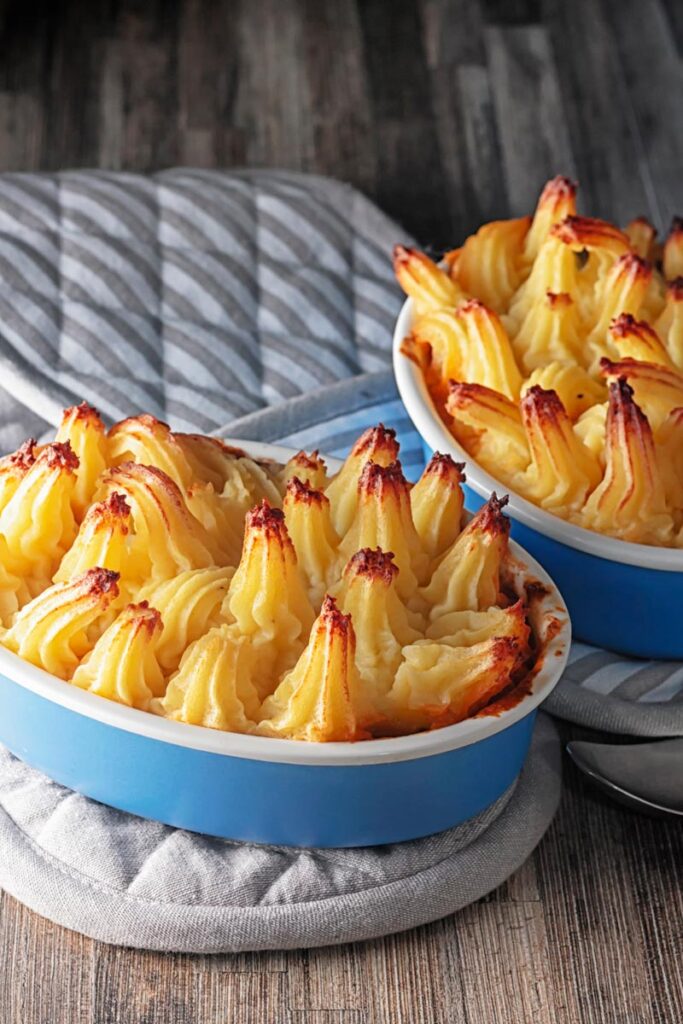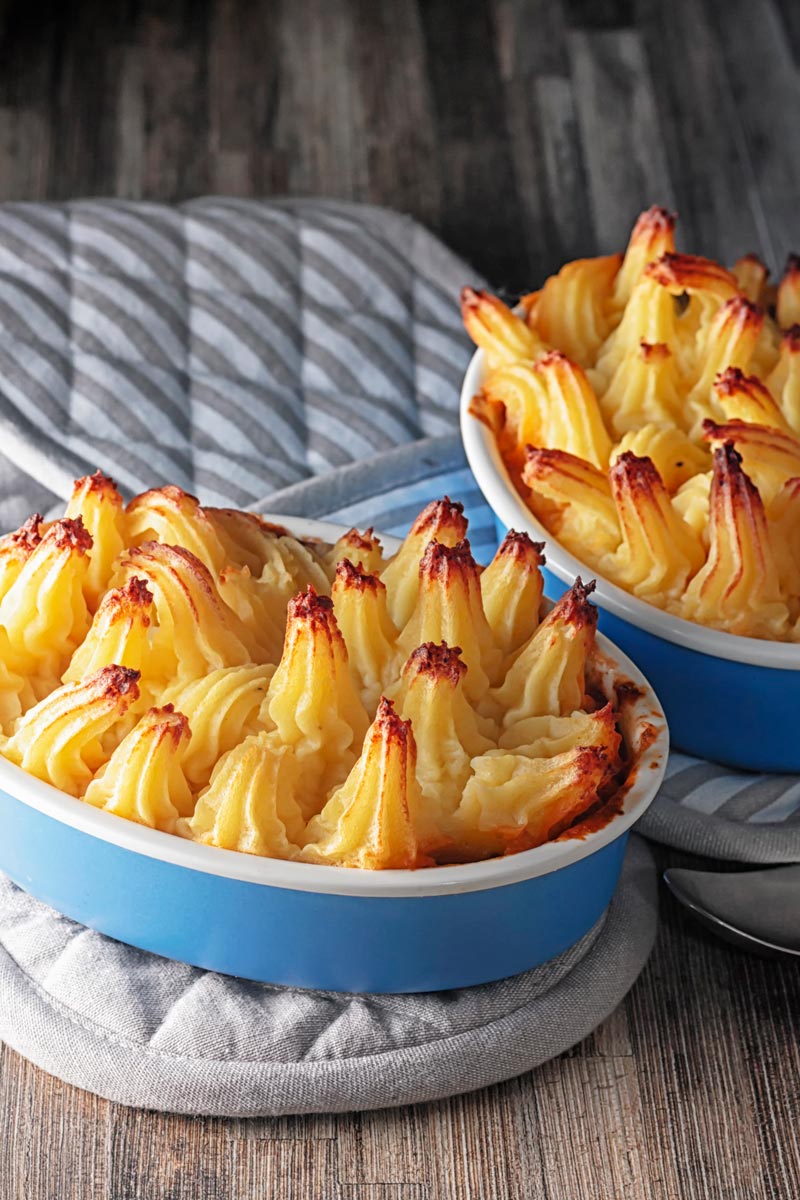 The Perfect Mashed Potato Topping.
The perfect mashed potato topping for a cottage pie recipe should be just that, mashed potato.
It is important that the topping has some structure and should not be 'pureed' potatoes.
The addition of an egg yolk lends the most beautiful colour and silkiness too.
I'm very much an advocate of using a potato ricer for mashing potatoes you eliminate all lumps. As for cooking, either boil or bake your potatoes I switch freely between the two.
I promise you I am not being all pretentious by piping on my mashed potato.
I am certainly not a dab hand with a piping bag as you can probably tell, but I love a nice crispy topping on my pie.
Piping the potato on means more edges, the edges go crispy when baked, the crispy bits are the best bits.
That means if you pipe big tall potato, you get more best bits which surely must equal a better pie!
As for cheese in the mash, that ain't for me, cheese and gravy are not a good mix as far as I am concerned.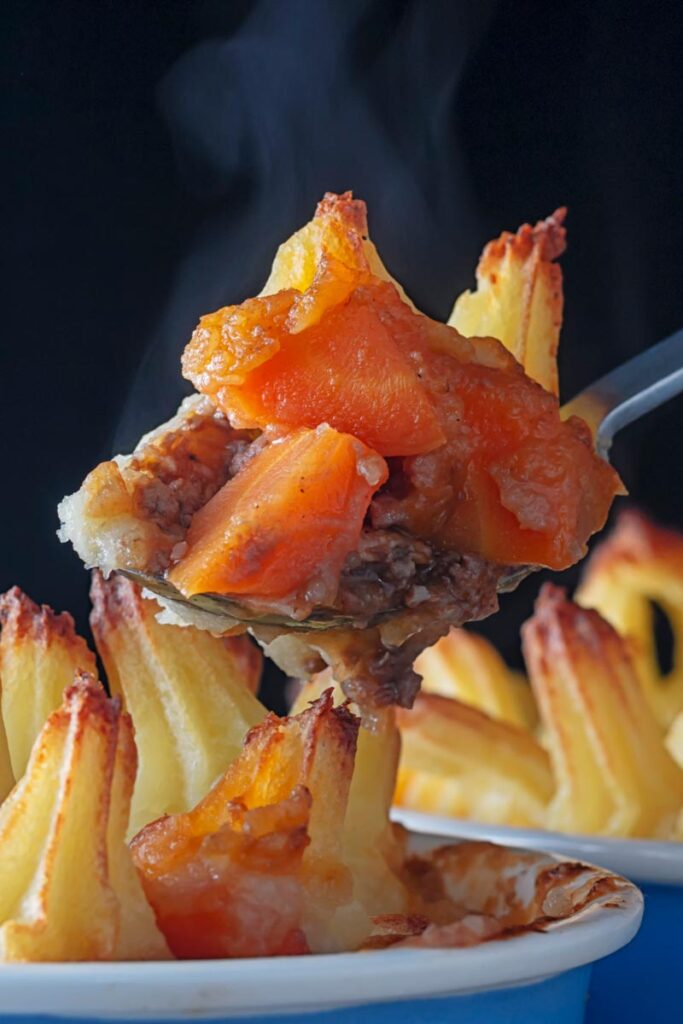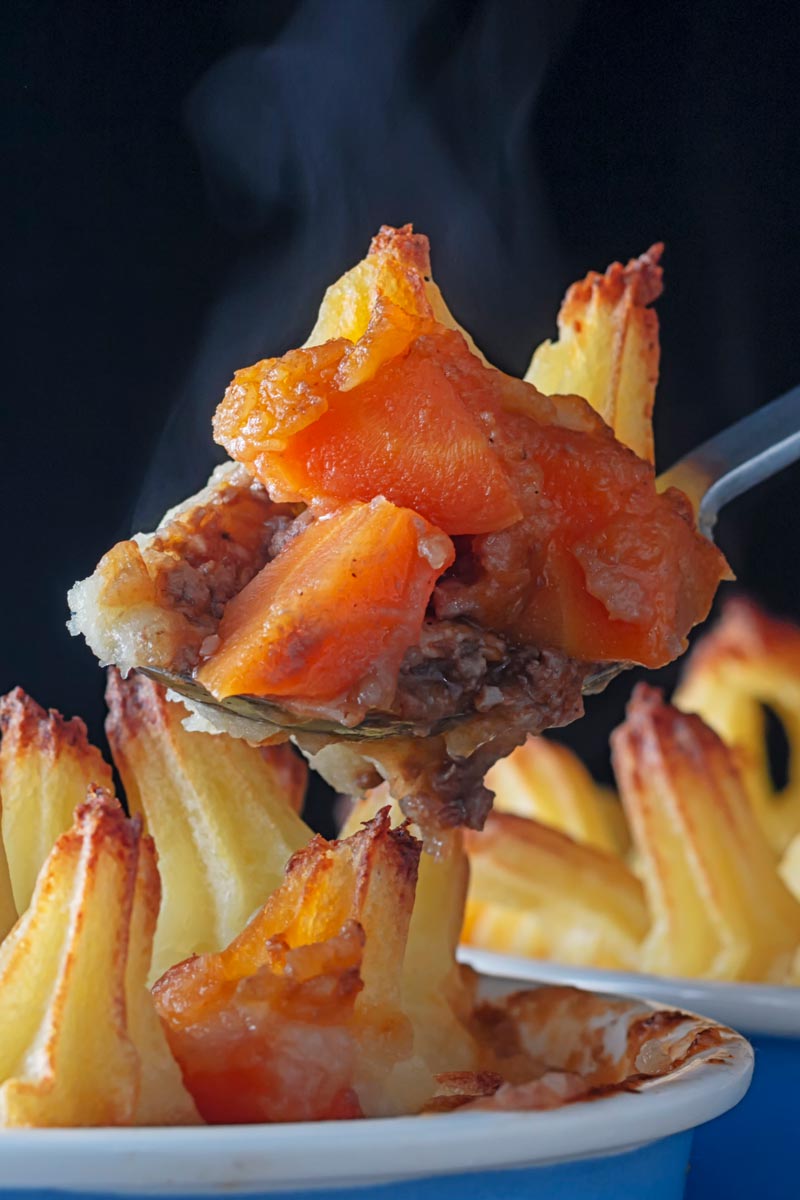 Ingredient Guide.
I have made one significant shift from the dish my Mum cooked and my grandparents cooked.
That derivation is red wine in the gravy, growing up both would have used an Oxo cube!
But times change, and red wine adds a wonderful richness to the gravy and a depth of flavour that I adore.
You can skip this and just increase the beef stock, or even swap for beer which is something I often do!
As for the root vegetables, knock yourself out. You can swap in ingredients like swede, turnip, celeriac or go crazy with Jerusalem artichokes or sweet potato!
Many people add peas, I am less keen on this as I find that they overcook. I prefer to serve this with a big pile of steaming garden peas and nothing else!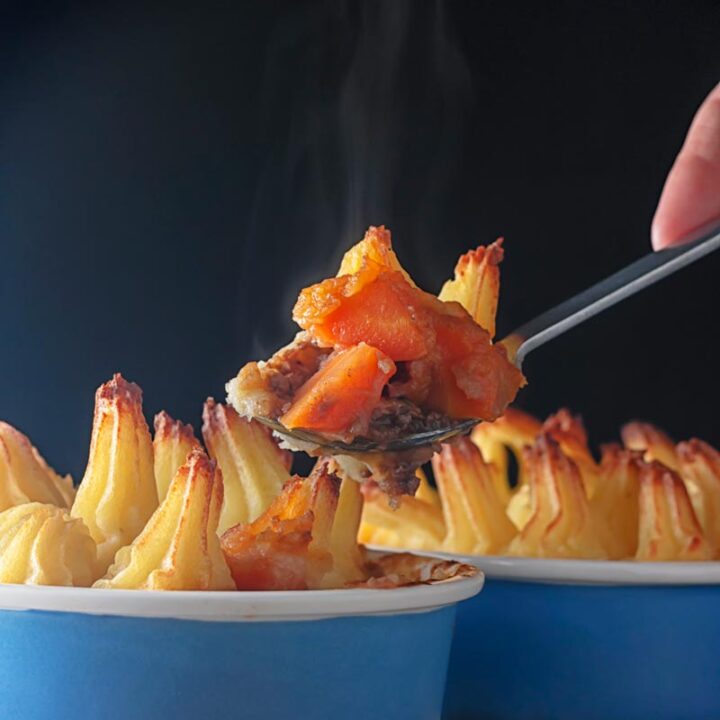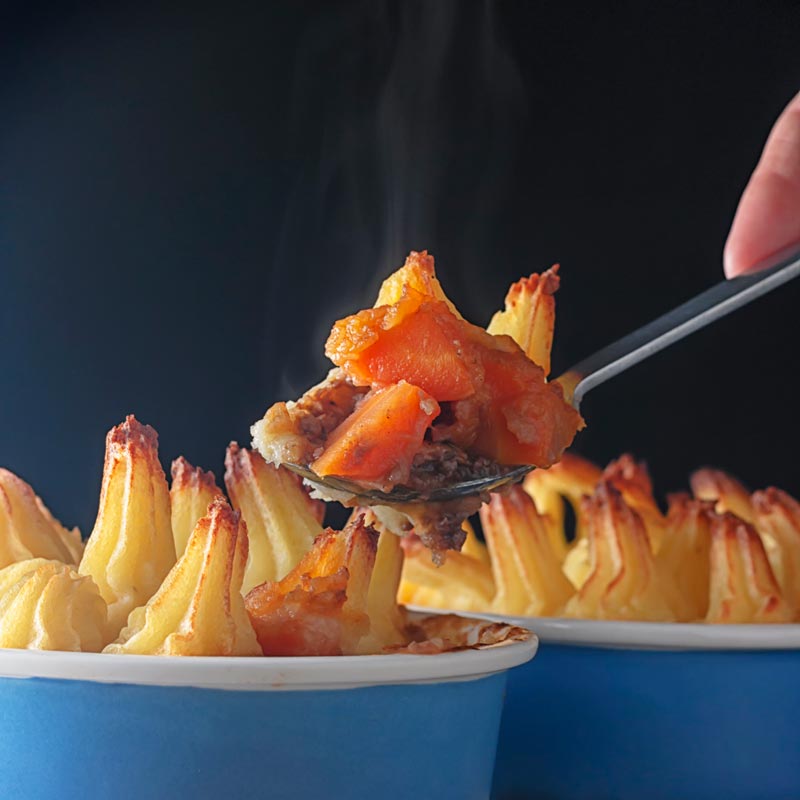 Yield:

4 Servings
Traditional British Cottage Pie Recipe
Cook Time:
1 hour
15 minutes
Total Time:
1 hour
25 minutes
Traditional cottage pies contain minced beef and root vegetables in a gravy and they are then topped with mashed potatoes before being baked until they are crispy.
Ingredients
1 kg (6-7 Cups) Potatoes
1 Egg Yolk
100 g (1/2 Cup) Butter
75 g (1/2 Cup) Onion
2 Cloves Garlic
450 g (1 lb) Minced Beef
100 g (1 Cup) Carrot
100 g (1 Cup) Parsnip
1 Tsp Dried Thyme
175 ml (3/4 Cup) Red Wine
175 ml (3/4 Cup) Tomato Passata
250 ml (1 Cup) Beef Stock
1 Tbsp Worcestershire Sauce
Salt to Taste
Black Pepper to Taste
Instructions
Peel and chop the potatoes roughly to the size of a golf ball.
Boil the potatoes in well salted water until soft drain and allow to dry,
Mash adding in the butter, set aside until you are ready to build the pie, ensure you check for seasoning and add salt as required.
Cut the onion into a medium dice and thinly slice the garlic.
Roughly chop the carrots and parsnip.
Cook the onion in a frying pan over a medium high heat for 5 minutes with a splash of oil.
Add in the garlic and cook for 1 minute.
Turn the heat up to high, add the minced beef and fry for 5 minutes.
Preheat your oven to 180°C or 350°F.
Add in the carrot and parsnip, dried thyme, season with salt and black pepper and then pour in the red wine and allow to reduce until almost dry about 15 minutes.
Add in the tomato passata and beef stock and reduce by half.
Remove from the heat and then add in the Worcestershire sauce, check the seasoning and add salt and pepper to taste and layer into your serving bowl or bowls.
Stir in the egg yolk to the mashed potato until thoroughly combined.
Pipe on your mashed potato (you can layer it on any other way you like).
Place in the oven and bake for 30 minutes.
Notes
Use Lea and Perrins Worcestershire Sauce, everything else is a poor imitation!
You don't have to pipe the potatoes if you do not wish, I like to as it means I get lots of peaks on the mashed potato to go crispy.
Nutrition Information:
Yield:
4
Serving Size:
1
Amount Per Serving:
Calories:

869
Total Fat:

44g
Saturated Fat:

22g
Trans Fat:

2g
Unsaturated Fat:

17g
Cholesterol:

211mg
Sodium:

635mg
Carbohydrates:

67g
Fiber:

8g
Sugar:

9g
Protein:

44g
Calorific details are provided by a third-party application and are to be used as indicative figures only.