Cottage pie, a traditional British mashed potato topped dish featuring mince beef, I make mine as single-serving pies for the smaller family.
My version creates a sauce from beer and tinned tomatoes to produce a rich and thick gravy to coat the minced beef.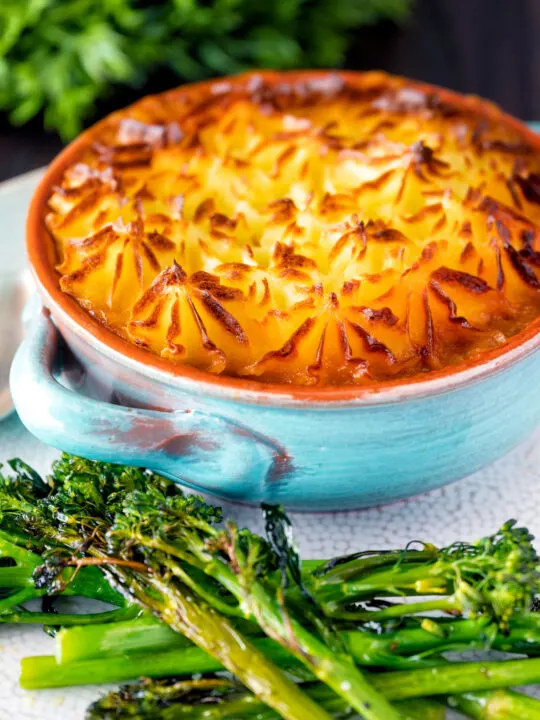 The Classic British Cottage Pie
There are more than a few recipes floating around on my website that screams about my food childhood.
This cottage pie is definitely one of them and not just from home but at my grandparents' house, school dinners and dinners at my mate's homes. And guess what, all of them were different and all of them were glorious!
You may look at this and think that it is a Shepherd's pie… well it ain't I tell ya.
I have very few hills that I am prepared to die on when it comes to food. But I do have an irrational and quite silly thing from the "proper" etymology for potato topped pies.
Shepherd's pie contains lamb, cottage pie contains beef and if there is no meat involved then it becomes a Shepherdess pie.
But my obsession runs deeper, no cheese in the mash, lest you want to call it a Cumberland pie. Like I say, it's silly and I know it is but hey, my site my rules.
That does not mean that there is no room for playing with these ideas, I also have a glorious sausage and mash pie and a wonderful fish finger pie!
This is my ultimate cottage pie and I love this and I hope that you will too!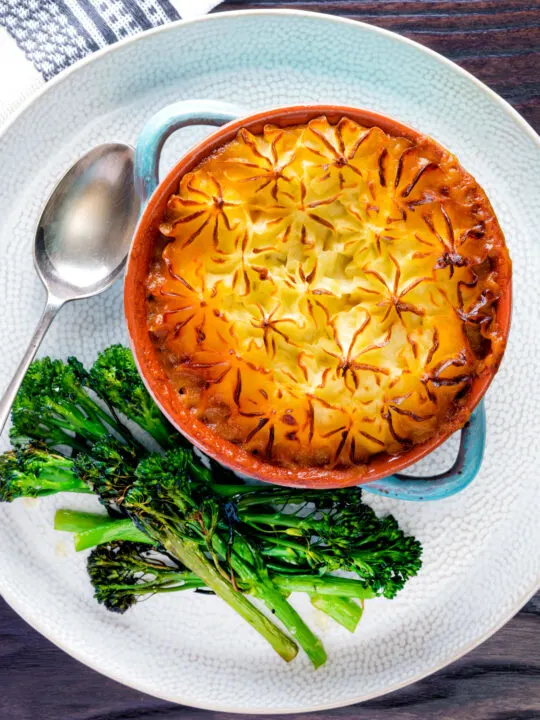 Frequently Asked Questions
What type of potatoes should I use?
The perfect mashed potato topping for a cottage pie recipe needs floury or mealy potatoes.

I use either Maris Piper or King Edwards potatoes, if you are in the US, look for something like a russet potato.
Do I have to pipe the potatoes on?
No, the reason for piping is to maximise the "sharp edges" on the mashed potato. You can spread the mash and then use a fork to create some texture.

The texture on the top of the potato gives lots of crispy edges to the topping and to my mind they are an essential part of a cottage pie.

I am certainly no piping savant, you don't need to be it is super simple to do.
Can I make this in advance?
Yes, the meat filling will be fine in the fridge for 3-4 days and can be frozen for up to 3 months.

I prefer the mashed potatoes to be made on the day of cooking or the day before at most. You can create the complete pie and then pop it in the fridge for a day or two.
What is an OXO cube?
It is the brand name of a British stock cube. It is mentioned by name as it specifically requires just 190ml of water.
If you use another brand of stock cube check how much stock it makes, if it is 500ml just use one third to half of the stock cube. Using more will result in a very salty cottage pie.
What beer should I use?
Go for anything you like, I have been making this of late with Newcastle Brown Ale. But it works with anything from a pale ale through to Guinness and all of them give a slightly different flavour to this recipe.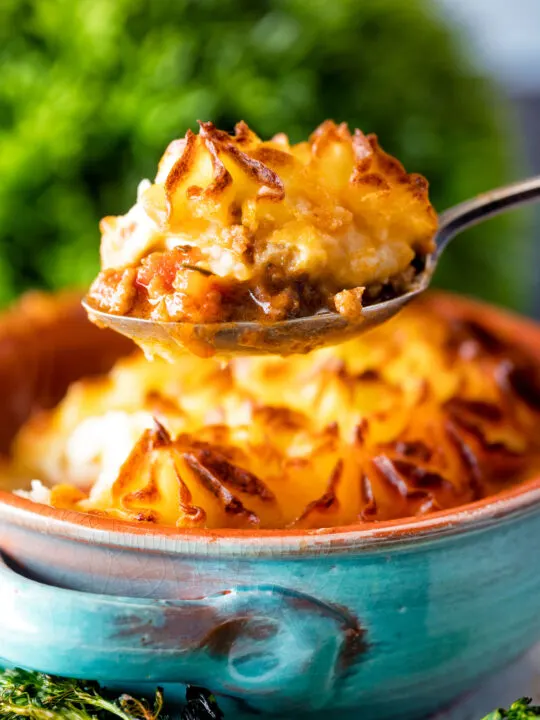 Serving Suggestions
All a good cottage pie needs as a side is some veggies as far as I am concerned.
Here they are served with some simply roasted tenderstem broccoli. I eat this stuff all of the time, it is so simple to chuck in the oven with the pies.
You could serve it with this simple grilled broccoli or even some simply cooked cauliflower.
It would be equally good with some air fryer asparagus or even roasted cabbage.
You could also serve it with this braised cavolo nero kale if you wanted something a little different.
Equipment Used
I only name-check brands of equipment if I think they make a material difference to a recipe. If you have any questions feel free to ask them ion the comments section below the recipe.
Stovetop.
Oven.
20cm or 8″ saucepan.
18cm or 7″ saucepan.
15cm or 6″ saucepan.
2 x baking dishes that hold around 375ml (1½-1⅔ cups) 12.5cm in diameter by 5cm deep (5″ by 2″).
Weighing scales and or measuring cups and spoons.
Chopping board.
Kitchen knife.
Vegetable masher or potato ricer (that latter is my preference).
Piping bag and large star nozzle (optional).
Sieve or colander.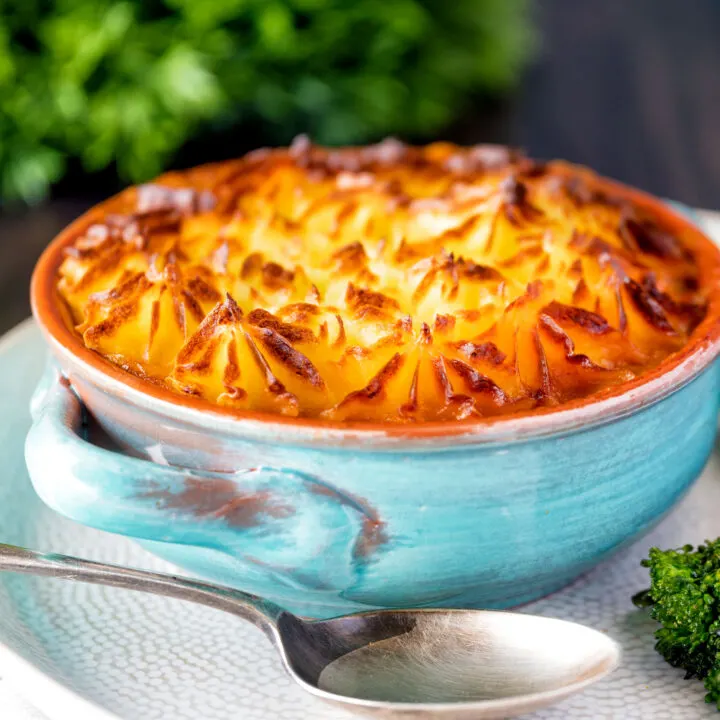 Yield:

2 Servings
Traditional British Cottage Pie Recipe
Cook Time:
1 hour
15 minutes
Total Time:
1 hour
25 minutes
A traditional British cottage pies contain minced beef and root vegetables in a gravy and they are then topped with mashed potatoes before being baked until they are crispy.
Ingredients
75g (½ Cup) Onion
75g (½ Cup) Carrot
50g (⅓ Cup) Celery
1 Tbsp Cooking Oil
300g (10oz) Minced Beef
250ml (1 Cup) Beer
1 Tbsp Tomato Puree
1 Tbsp Worcestershire Sauce
225g (7oz) Tin of Tomatoes
¼ Tsp Dark Brown Sugar
½ Tsp Dried Thyme
½ Tsp Black Pepper
1 OXO Beef Stock Cube *See note in frequently asked questions*
400g (3 Cups) Potatoes
75ml (⅓ Cup) Milk
75g (5 Tbsp) Butter
Instructions
Cut the carrot and celery into a 3-4mm dice.
Peel the onion and cut it to the same size as the carrots and celery.
Heat the oil in a 17-18cm (7") saucepan and fry the onion, celery and carrot over a medium for 5-10 minutes to soften.
Turn the heat up to high and add the minced beef and cook until brown all over.
Pour in the beer and allow it to reduce by 75%, this will take around 10 minutes.
Add the Worcestershire sauce and the tomato puree and stir for 1 minute.
Pour in the tinned tomatoes and add the sugar, thyme, pepper and crush the stock cube into the pot and stir until the stock cube is completely dissolved.
Reduce the heat to low, add a lid and simmer for 15 minutes.
Peel the potatoes and cut them into 35mm cubes (1½). Then boil them in a 20cm (8") saucepan generously salted (1 teaspoon for every 2 litres of water) boiling water for 20-25 minutes or until they are cooked.
When the beef has had its cooking time transfer it to two baking bowls. The bowls that I use hold around 375ml (1½-1⅔ cups) of water and they are 12.5cm in diameter and 5cm deep (5" by 2").
Just before the potatoes are ready heat the milking a small saucepan 15cm (6"), it does not need to boil it just needs to be hot (50-60°C or around 125°F).
Drain the potatoes and mash them with the butter, then add enough milk to get the texture that you like. I like to use a potato ricer for mashed potato, and I then stir through the butter and finally add the milk.
Top the beef mixture with the mashed potato, I like to use a piping bag with a star nozzle. But you can spread it with a spoon and then rough it up with a fork.
Finally, bake them in an oven at 180°C or 350°F for 30-35 minutes or until the potato is crisp and the gravy is bubbling.
Nutrition Information:
Yield:
2
Serving Size:
1
Amount Per Serving:
Calories:

1087
Total Fat:

65g
Saturated Fat:

30g
Trans Fat:

2g
Unsaturated Fat:

28g
Cholesterol:

217mg
Sodium:

1000mg
Carbohydrates:

67g
Fiber:

9g
Sugar:

14g
Protein:

52g
Calorific details are provided by a third-party application and are to be used as indicative figures only.