A Cottage Pie is a wonderful homely British recipe of braised ground beef and root vegetables in a gravy topped with a crispy potato top.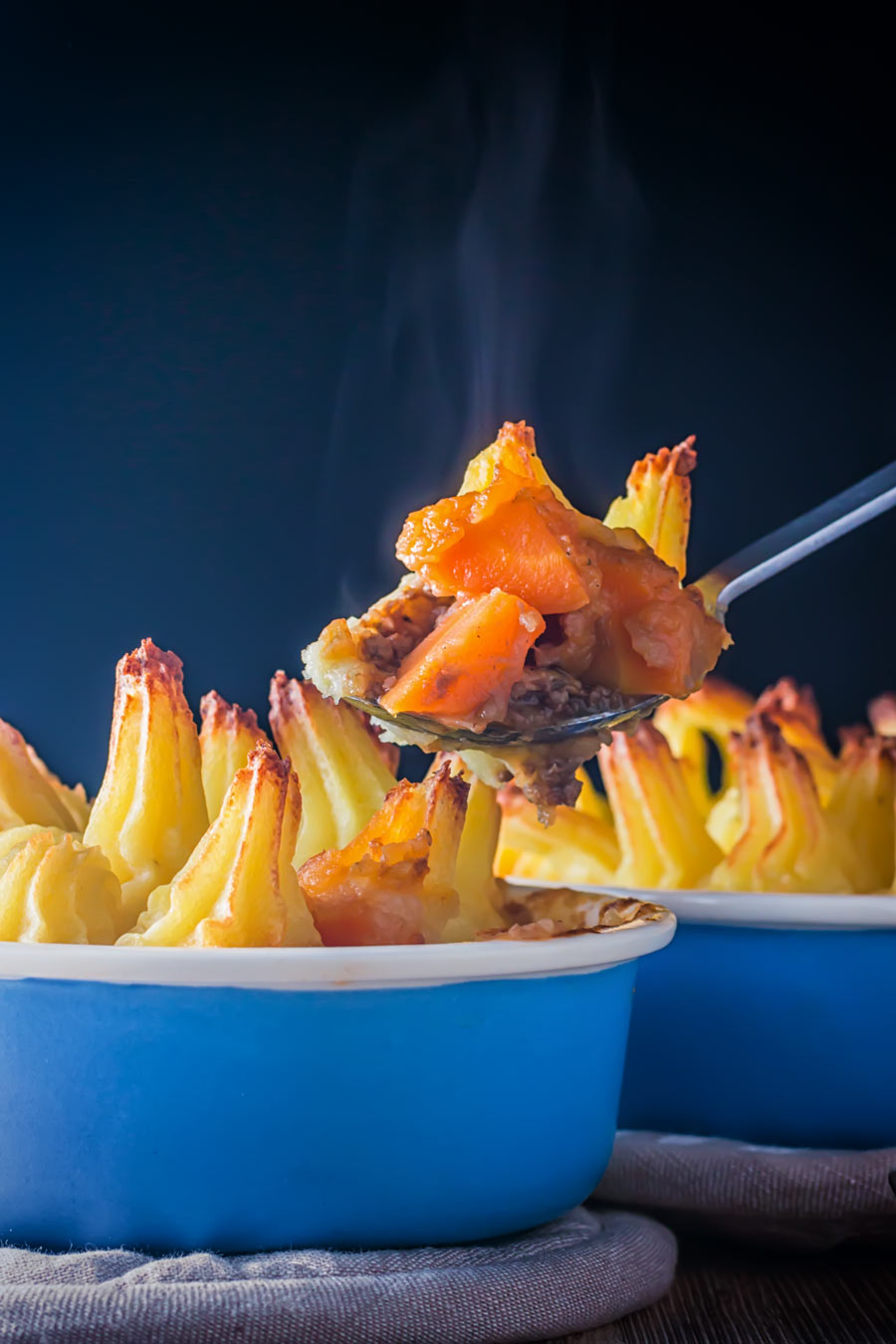 Cottage Pie: Right Back To My Childhood!
Cottage pie is one of the most enduring food memories from my childhood. Not just from home but at my grandparents house, school dinners, friend houses.
No matter where I went you could guarantee that cottage pie was never too far from the 'menu'.
It is essentially a really simple dish of ground beef, vegetables in a gravy all topped with mashed potato. Then baked in the oven to crisp up the mash.
You can play with it as much as you like but it should always remain a good old fashioned winter warming dish.
References to cottage pie date back to the 18th Century but they have always been rustic dishes. Traditionally they were a way to use up leftover roasted meat, but have become a frugal recipe using ground beef.
It joins a long list of British pies here on Krumpli, everything from a traditional pork pie to the great beef and ale pie get a look in. Of course, we also have lemon meringue pie too!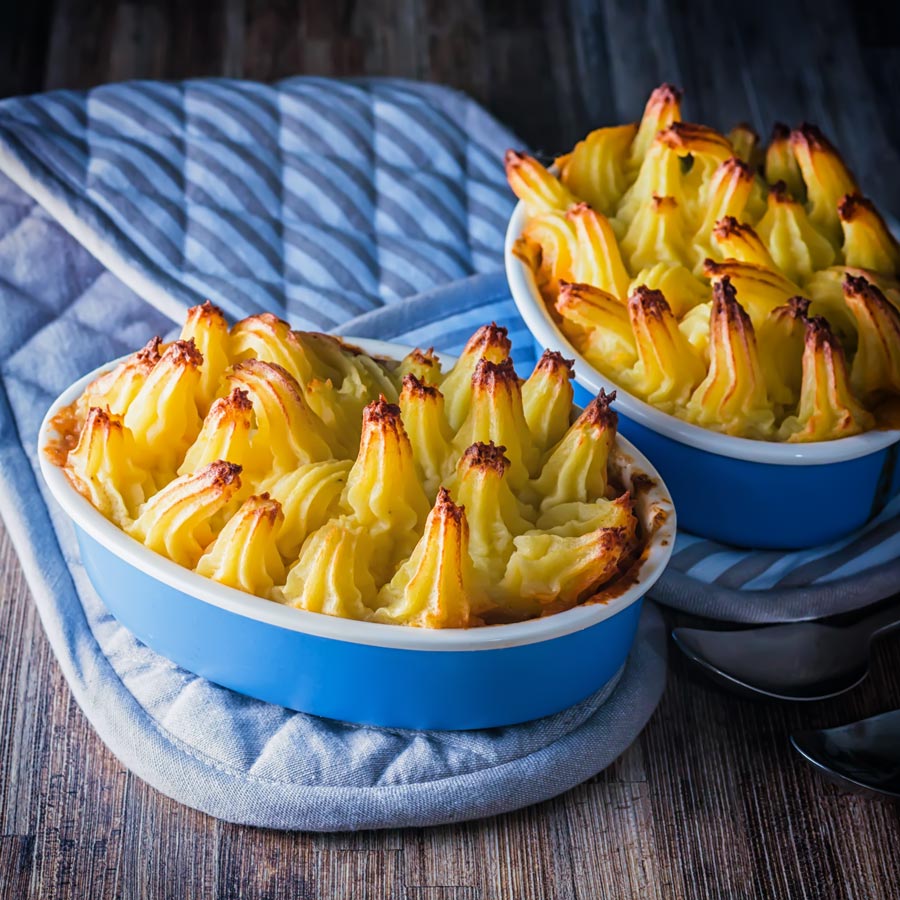 The Perfect Mashed Potato Topping.
The perfect mashed potato topping for a cottage pie recipe should be just that, mashed potato. It is important that the topping has some structure and should not be 'pureed' potatoes.
As a result, I avoid both cream and milk and stick with a butter content of around 10%.
This is slightly different to the mashed potato that I use as a side dish, which uses both butter and cream to the tune of 25%. That is seriously indulgent, you should check out that in my faggots and mash recipe!
I'm very much an advocate of using a potato ricer for mashing potatoes you eliminate all lumps. As for cooking, either boil or bake your potatoes I switch freely between the two.
I promise you I am not being all pretentious by piping on my mashed potato.
I am certainly not a dab hand with a piping bag as you can probably tell, but I love a nice crispy topping on my cottage pie.
The crispy parts of the mashed potato all occur at the 'sharp' edges of the mashed potato. By piping on the mash with a star-shaped nozzle you increase both the surface area of the mash and the sharp edges.
Mor surface area and more sharp areas mean more crispy bits. More crispy bits equals better cottage pie!
However feel free to just spread over the mash and then use a fork to break up the surface. You will get some nice crispy bits just not enough for my liking!
I have seen many people add cheese to the mashed potato. As far as I am concerned it is a travesty, cheese and gravy should never be mixed! But if it is your thing then knock yourself out you crazy person…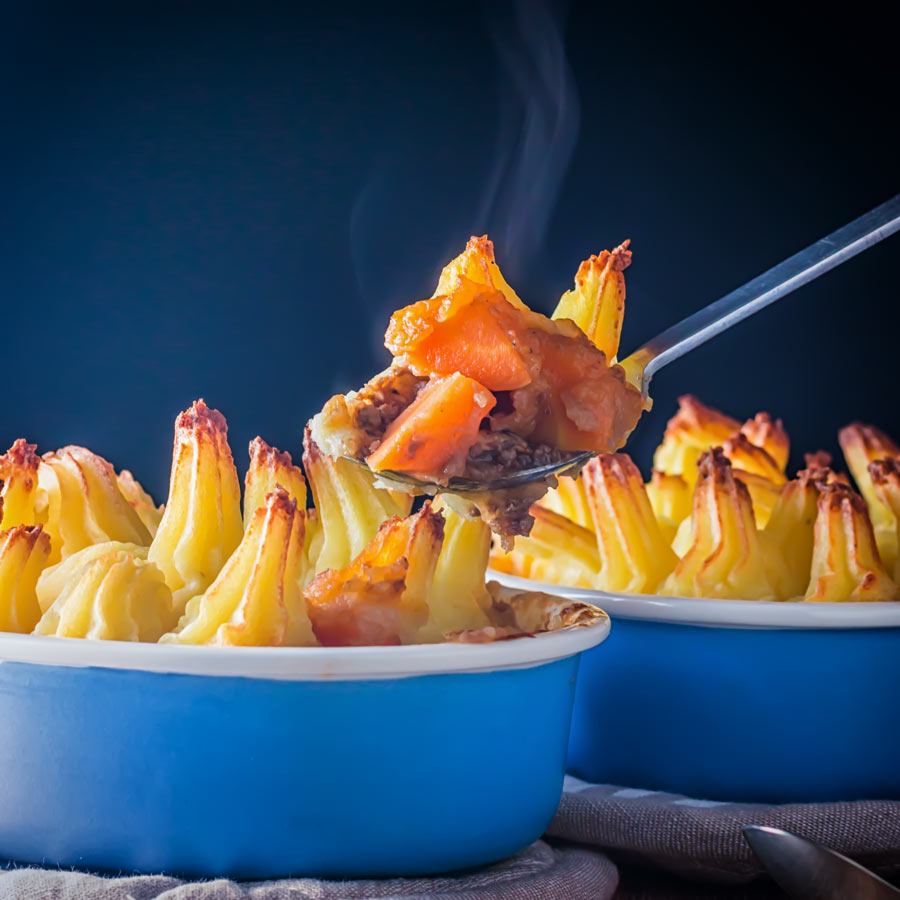 What Is The Difference Between Shepherds Pie and Cottage Pie?
A cottage pie should not be confused with a shepherds pie. They are in many ways the same recipe, but a shepherds pie is made with lamb rather than beef.
I do have a little confession to make… I am far from being an authenticity 'Nazi' when it comes to recipes but a little part of me dies inside when I see cottage pie recipes "incorrectly" called shepherds pie.
It is quite laughable and a little bit daft, I am sure we all have little things that irrationally get under our skin, this one is mine.
Particularly given the fact that the contents of cottage pie, which predates shepherds pie, were never originally fixed.
However, by the time the 20th century got into full flow, there was a distinct difference.
It's OK, I don't turn into a raving psycho or one of them crazy keyboard warriors. I tut and then roll my eyes and mutter to myself before moving on.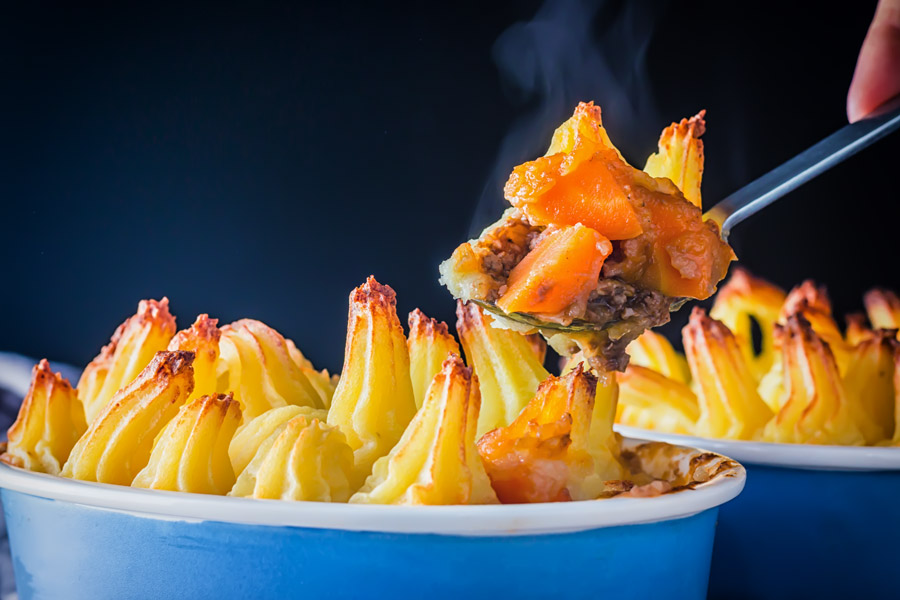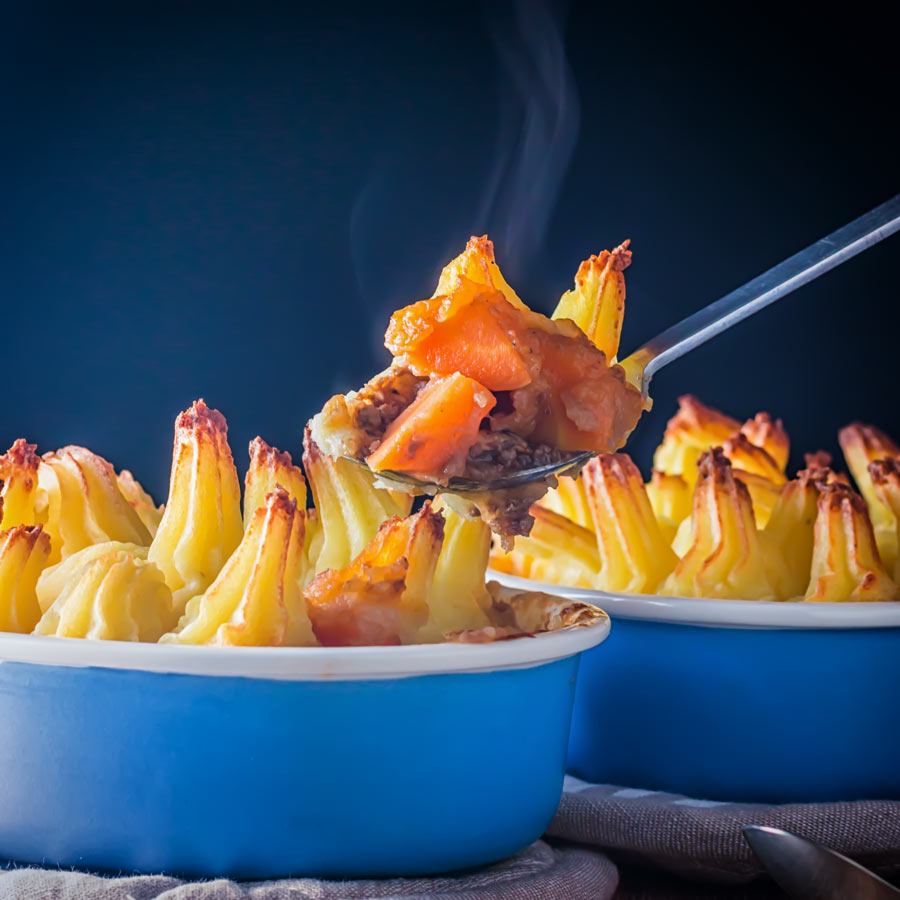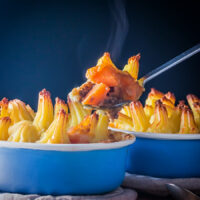 Cottage Pie
Cook Time:
1 hour
15 minutes
Total Time:
1 hour
25 minutes
A Cottage Pie is a wonderful homely British recipe of braised ground beef and root vegetables in a gravy topped with a crispy potato top.
Ingredients
1 kg Potatoes, Peeled and chopped about the size of a golf ball
100 g Butter
75 g Onion, Medium Chopped
2 Cloves Garlic, Thinly sliced
500 g Ground Beef
100 g Carrot, Roughly Chopped
100 g Parsnip, Roughly Chopped
1 Tsp Dried Thyme
200 ml Red Wine
150 ml Tomato Passata, Tomato Sauce in the US
250 ml Beef Stock
1 Tbsp Worcestershire Sauce:, Use Lea and Perrins, everything else is a poor imitation
Instructions
Boil the potatoes until soft and mash adding in the butter, set aside until you are ready to build the pie, ensure you check for seasoning and add salt as required
Cook the onion in a frying pan over a medium high heat for 5 minutes with a splash of oil
Add in the garlic and cook for 1 minute
Turn the heat up to high, add the beef and fry for 5 minutes
Preheat your oven to 180°C
Add in the carrot and parsnip, dried thyme and then pour in the red wine and allow to reduce until almost dry about 15 minutes
Add in the tomato passata and beef stock and reduce by half
Remove from the heat and then add in the Worcestershire sauce, check the seasoning and add salt and pepper to taste and layer into your serving bowl or bowls
Pipe on your mashed potato (you can layer it on any other way you like)
Place in the oven and bake for 30 minutes
Notes
You don't have to pipe the potatoes if you do not wish, I like to as it means I get lots of peaks on the mashed potato to go crispy.
Nutrition Information:
Yield:

4
Serving Size:

1
Amount Per Serving:
Calories:

855
Total Fat:

43g
Saturated Fat:

21g
Trans Fat:

2g
Unsaturated Fat:

17g
Cholesterol:

165mg
Sodium:

633mg
Carbohydrates:

67g
Fiber:

8g
Sugar:

9g
Protein:

43g