Aloo gosht is an Indian or Pakistani curry featuring lamb or mutton & potatoes slowly cooked in a rich and generously spiced gravy!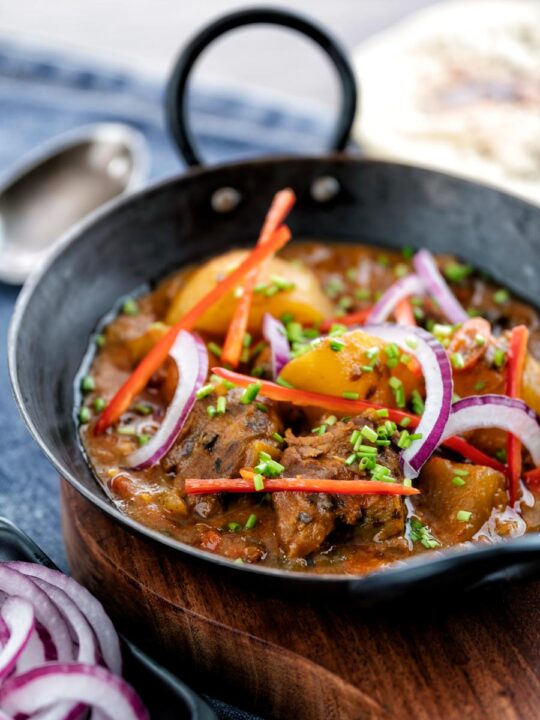 Lamb and Potato Curry.
To say that I am fond of an occasional curry would be an understatement. I always have at least one new curry recipe in the development phase.
This aloo gosht recipe has strong Pakistani and Punjabi influences and features a huge flavour profile.
Like my recent achar gosht recipe this dish can be cooked with either lamb or mutton.
This recipe cooks low and slow in the oven for 3 hours leading to the most tender meat. It is a similar process to the one I use for my Beef Bhuna and lamb bhuna recipes, it makes your house smell divine!
The sauce is a rich and thick gravy thanks to some toasted gram flour and mashing some of the smaller potatoes before serving.
As for flavour, we have a light sweet and sour vibe going on. We add both lime pickle and tamarind and balance that with buttery sweet jaggery.
If you want a lamb curry in a hurry then check out my lamb chop curry, it's all done in 30 minutes!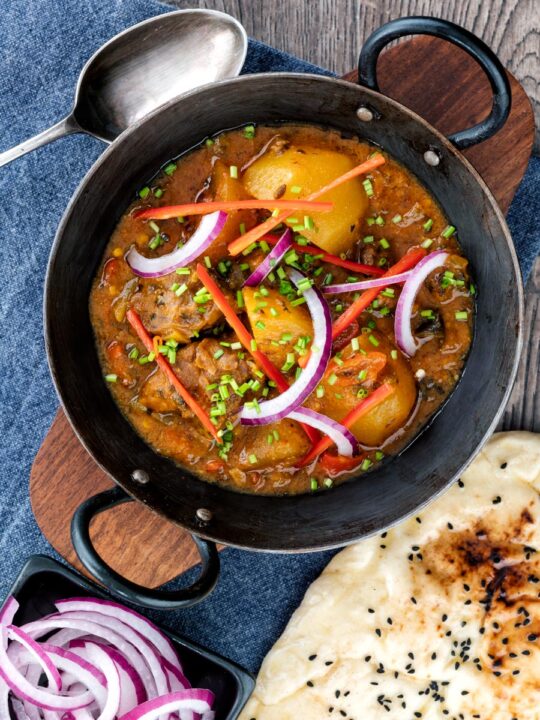 Frequently Asked Questions.
Does using lamb or mutton change the cooking times for this recipe?
In my experience no. The low and slow cooking means that both cook in the same amount of time to a soft and tender texture.
As a result, either your aloo mutton or lamb will be morerish and delicious. If it matters, I would always choose mutton for flavour but it is not as easy to find for many people.
Do I use homemade lime pickle?
An odd question, but no I use jarred lime pickle Ahmeds is my brand of choice if I can find it. I fall back on Pataks as a backup.
That's not to say that you shouldn't make your own if you were minded to do so. This lime pickle recipe looks superb.
Do the type of potatoes matter?
Yes, to a certain extent. I use either a medium potato or a floury potato, this means that they will break down and help thicken the sauce.
You can use waxy potatoes, the dish will not be ruined but your aloo gosht will not be as rich or thick.
Can I use another flour other than gram flour?
Yes, any other flour will have a similar effect of helping thicken the gravy a little.
Do I have to use jaggery?
Jaggery exists to add a little sweetness to my aloo gosht recipe. You can swap it out for any other sugar.
Jaggery adds a mellow sweetness to the dish which is best mimicked with a light brown sugar. Darker sugars will add more of a molasses flavour which also works well.
Add a little at a time and taste to get the levels where you want them to be.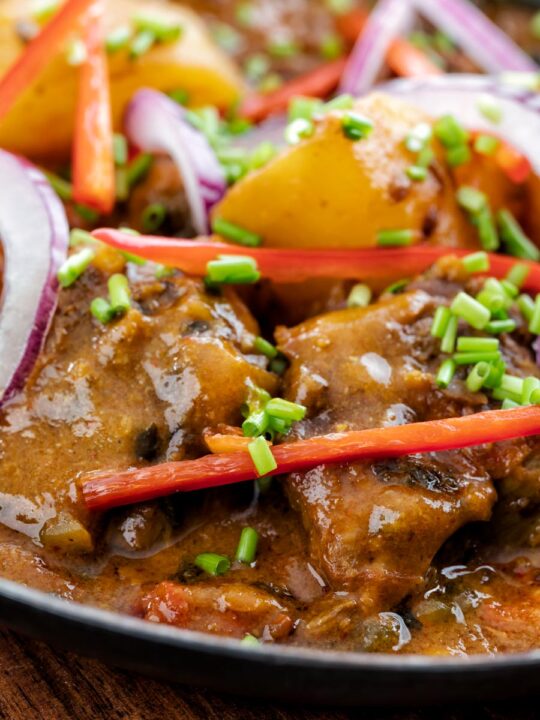 Serving Suggestions.
My aloo gosht recipe is truly a one pot meal and is perfectly filling enought to be served on its own.
However, personally speaking not being able to clean a curry bowl with bread is sad.
So I always go greedy and serve this recipe with a naan bread. Although it is just as good with chapatis.
I also add finely julienned chilli pepper and thinly sliced red onion as a 'garnish'.
I also often add chives if I have them around, the mild onion flavour is a much better match for this curry than coriander.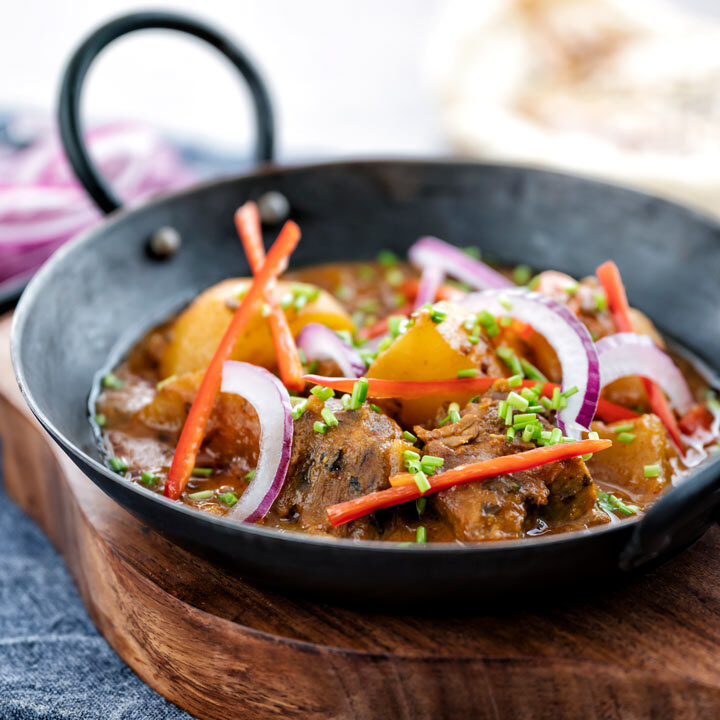 Yield:

2 Servings
Aloo Gosht Recipe
Cook Time:
3 hours
30 minutes
Total Time:
5 hours
45 minutes
A rich lamb and potato curry or aloo gosht is the perfect one pan dinner for those that love a bit of spice in their lives!
Ingredients
350g Diced Lamb or Mutton Shoulder
4 Garlic Cloves
30g (Thumb Sized Piece) Ginger
60g (1 1/2" Cube) Tamarind Pulp
60ml (1/4 Cup) Boiling Water
250g (1 2/3 Cup) Onion
2 Red Chilli Peppers
1/2 Tbsp Cumin Seeds
1/2 Tbsp Coriander Seeds
1 Tsp Fennel Seeds
1/2 Tsp Fenugreek Seeds
2 Tbsp Oil
8 Cardamom Pods
1 Cinnamon stick
1 Star Anise
6 Curry Leaves
300g (2 Cups) Potatoes
1 Tbsp Gram Flour
1 Tbsp Dried Fenugreek Leaves
1 Tsp Turmeric
1 Tsp Kashmiri Chilli Powder
1 Tsp Coarse Sea Salt
1 Tbsp Tomato Puree
2 Tbsp Jaggery
1 Tbsp Lime Pickle
250ml (1 Cup) Water
Instructions
Pour the boiling water over the tamarind pulp and set aside for 10-15 minutes.
Cut the lamb into a 2-3cm dice.
Mash the garlic cloves into a paste.
Grate the ginger.
Pass the tamarind pulp through a fine mesh sieve and pour over the lamb.
Add the garlic and ginger, mix well cover, refrigerate and allow to marinate for at least 2 hours and up to 24 hours.
Remove the meat from the fridge an hour before cooking.
Peel the onion, cut it in half and slice it into 2-3mm thick slices.
Slice the chilli pepper into rounds as thinly as you can.
Place the cumin, coriander, fennel and fenugreek seeds in a pestle and mortar and give them a bash, you just want to break them up a little and not turn them into a powder.
Heat a wide heavy-based (not nonstick) pan over a high heat and add the oil when it is hot.
Throw in the star anise, cinnamon stick, cardamom pods and curry leaves, followed by the bruised seeds.
They should crackle within seconds, add the sliced onion and then reduce the heat to medium-high and cook for 15 minutes stirring occasionally.
Peel the potatoes and cut a third into a 5-7mm dice and the rest into a 2-3cm dice.
Add the gram flour to the pan and stir continuously for 2 minutes.
Add the lamb and the marinade followed by the potatoes, tomato puree, salt, turmeric, fenugreek leaves, and chilli pepper.
Pour in the water and add the lime pickle and the jaggery, then stir until everything is combined.
Turn the heat down to low, add a lid and cook for 2.5-3 hours or transfer to an over and cook at 140C or 285F for 3 hours.
Remove the lid for the last 20 minutes of cooking time.
Crush some of the smaller potatoes with the back of a fork before serving to give the sauce some extra body.
Nutrition Information:
Yield:
2
Serving Size:
1
Amount Per Serving:
Calories:

1036
Total Fat:

62g
Saturated Fat:

20g
Trans Fat:

0g
Unsaturated Fat:

36g
Cholesterol:

212mg
Sodium:

1512mg
Carbohydrates:

60g
Fiber:

9g
Sugar:

16g
Protein:

62g
Calorific details are provided by a third-party application and are to be used as indicative figures only.