NEVER MISS A RECIPE:
Get your Weekly Update Email!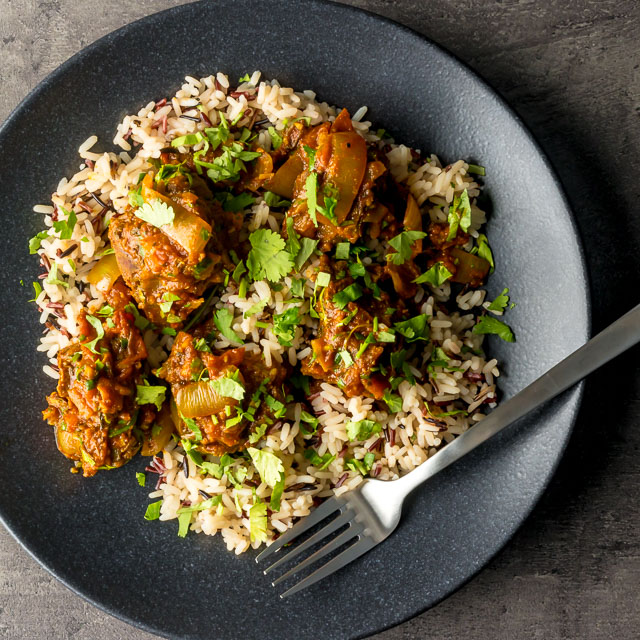 A Bhuna pronounced boona is probably one of the most common dishes on a British Indian Curry House menu, any my fakeaway beef bhuna plays with the same ideas of a really thick and unctuous tomato based sauce coating big chunks of beef.
For the beef I wanted something robust enough to stand up to pretty long cooking to allow the sauce to cook down so I go with some rump, or round as my American readers will know it. Be sure to cut it in to big chunks, you want something 3-4cm to prevent it from breaking down.
I was looking through my fakeaway recipes a couple of days ago and was amused to note that I have pretty much worked my way through a typical British Curry house menu in the last two and a half years here on Krumpli.
Everything from Vindaloo, madras to Tandoori, Aloo Gobi to Tikka Masala and not to mention Naan Bread and Chapati, along with many more I have not mentioned, although I do note a distinct lack of lentil dishes…
Don't worry I have made a mental note. I do find it amusing that I probably now eat Indian food more often than I did when I lived in the legendary 'Balti Triangle' in Birmingham. Such is life Beef Bhuna now gets added to that long list of Indian fakeaway recipes, enjoy.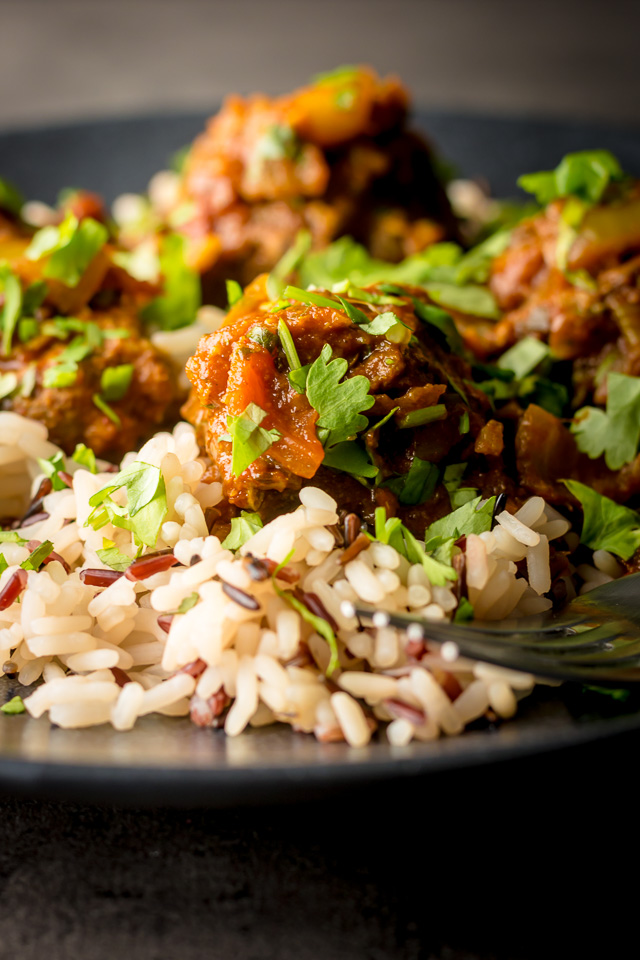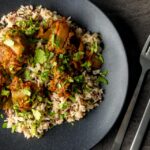 Beef Bhuna
Bhuna is a perennial favourite in the British Indian Curry house and my beef bhuna works that typical thick clingy fragrant gravy heavy with fenugreek.
Cuisine:
Anglo Indian, Indian
Ingredients
2

Tbsp

Cooking Oil

Neutral

2

Cloves

Garlic

Diced

35

g

Ginger

Diced

2

Green Chili

Finely sliced

250

g

Onion

Cut into half moons about 1cm thick

1

Tsp

Turmeric

1

Tsp

Garam Masala

1

Tsp

Ground Coriander

1/2

Tsp

Ground Cumin

1

Tsp

Kashmiri Chili Powder

300

g

Tomatoes

Roughly Chopped

100

ml

Water

1

Tbsp

Tomato Puree

500

g

Beef

I use something like rump as it can handle the slow cooking, cut into 3-4cm chunks

1

Tbsp

Dried Fenugreek Leaves

1/2

Tsp

Salt

1

Handful

Fresh Coriander

Chopped
Instructions
Heat the oil in a pan over a medium heat, making sure that the pan can be transferred to the oven and has a lid.

Add the chili, ginger and garlic and fry gently for 2 minutes.

Next add in the onions and cook for 5 minutes.

Add in the cumin, ground coriander, chili powder, turmeric and garam masala and stir to toast for 60 seconds.

Now throw in the tomatoes, tomato puree and water and cook down for 10 minutes.

When thick and the tomatoes have begun to break down a little season your beef with salt and add to the pan with the fenugreek leaves.

Place in the oven covered by a lid for 30 minutes.

After 30 minutes remove the lid and cook for a further hour.

This recipe loves fresh coriander, so throw as much of it as the dish as you dare!
Recipe Notes
This is a rare Indian fakeaway that I don't serve with an Indian flat bread, I typically just stick with some good rice.
NEVER MISS A RECIPE:
Get your Weekly Update Email!