Dopiaza is Persian for two onions and this beef dopiaza curry Recipe is an ode to my love of the British Indian Curry.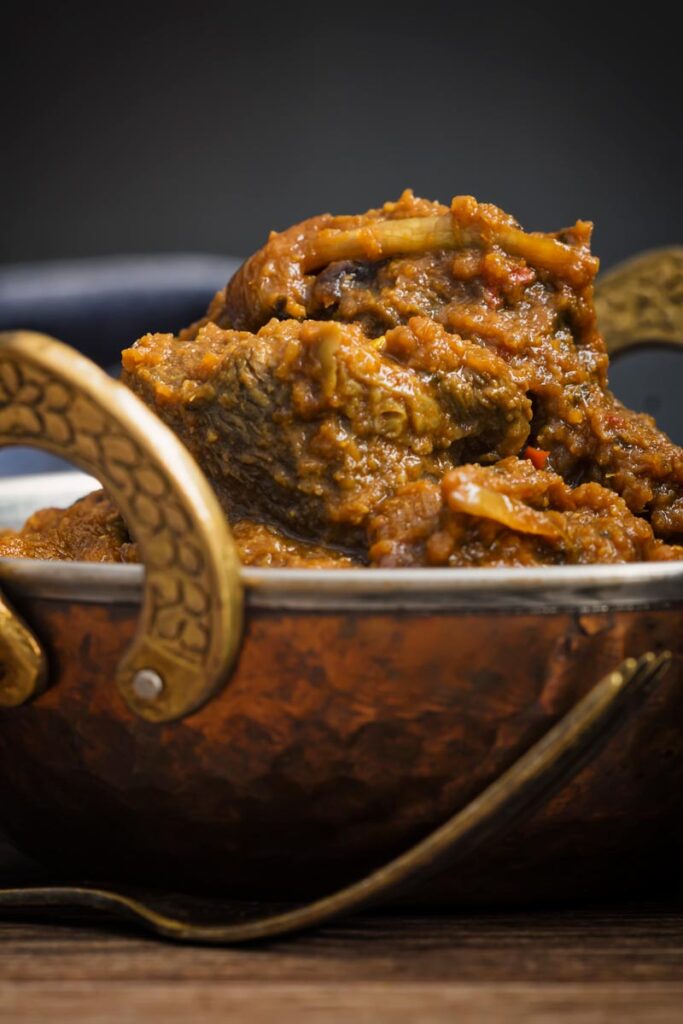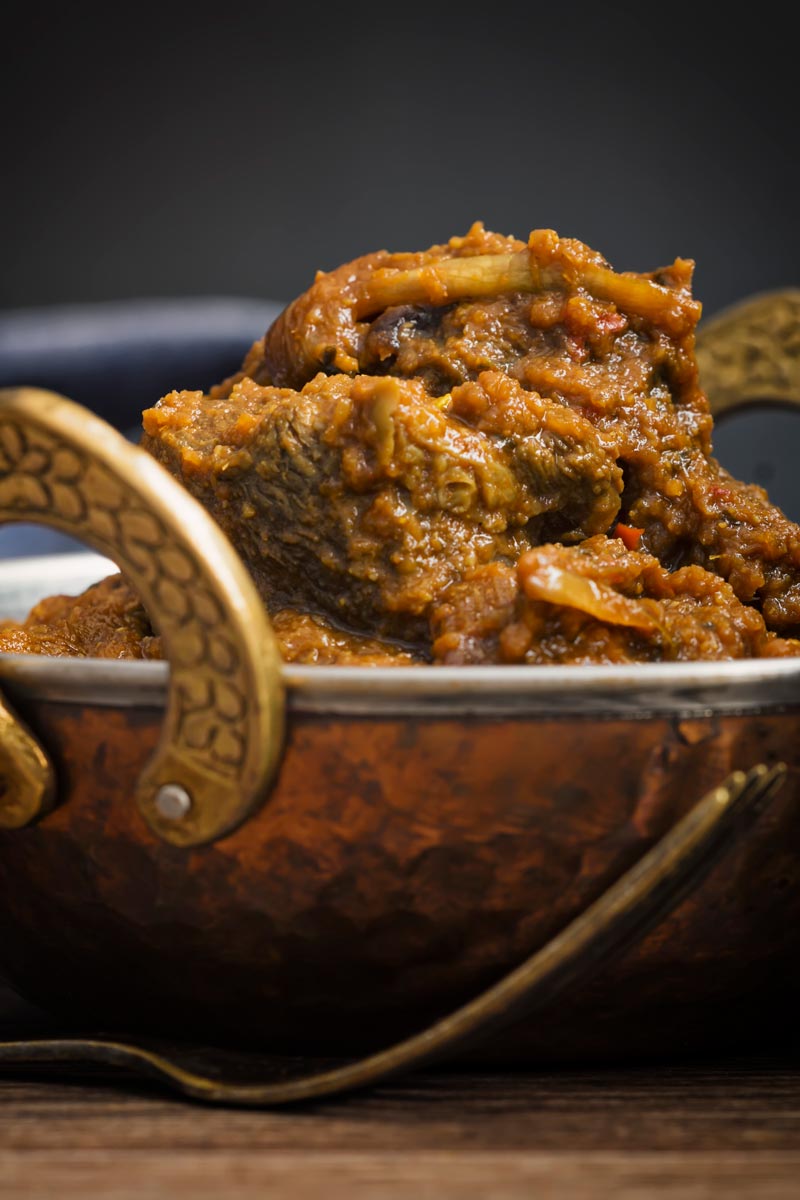 Beef and Onion Curry.
Sometimes meals really are just beautifully steaming brown piles of flavour-packed food. Food "stylists" just love to try and hide brown behind a forest of green, I don't!
My love of the great Anglo Indian Curry is well documented here and this dish is another one in a long list.
Dopiaza is a Persian word meaning two onions.
The name refers to the onions being used in two ways. First as part of the sauce in a pureed form and secondly to add body and a rich onion flavour to the recipe.
A beef variant of this recipe is fairly rare in a British curry house with lamb or chicken being perennial favourites.
However, I think it screams for beef because Beef and Onion are such a beautiful partnership.
I love using beef in curries, whether that be in my beef vindaloo or in the much more classic beef rendang.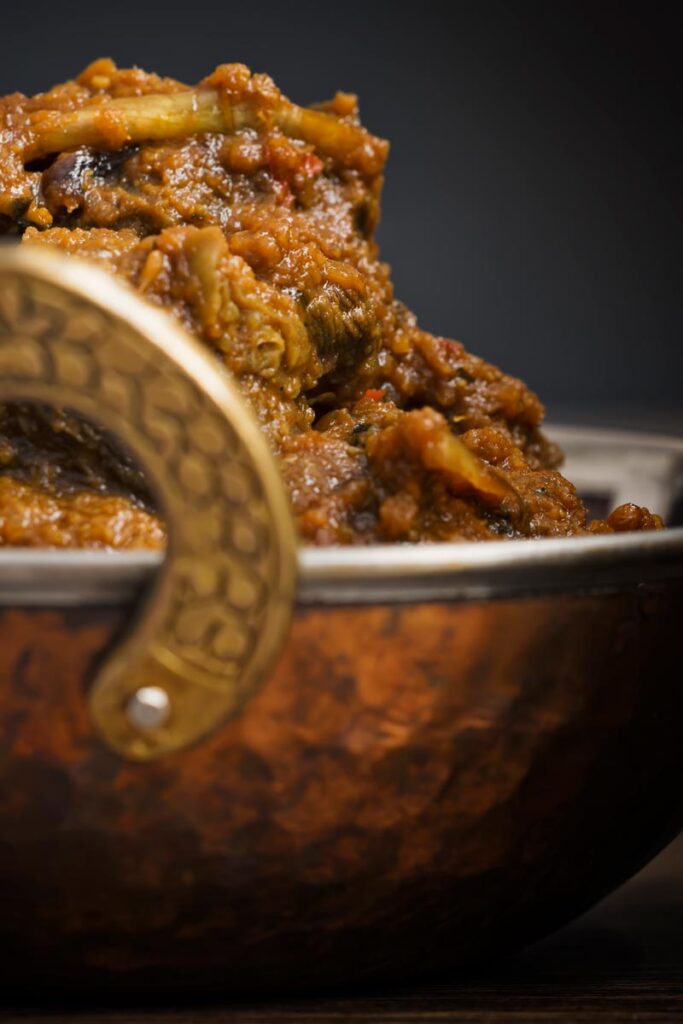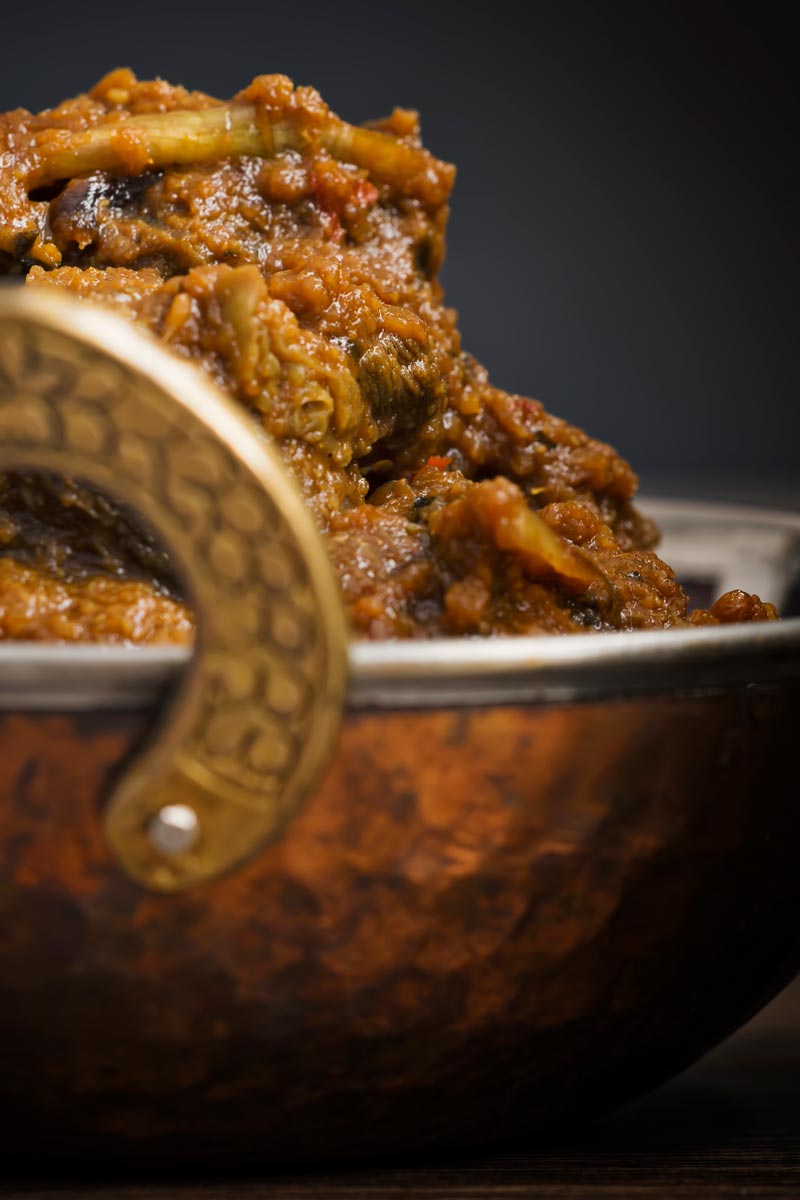 Can I Cook it In A Pressure Cooker?
Indian food has a long-held association with pressure cooking and you can certainly cook this that way.
I have added instructions for the Instant Pot in the recipe below.
If you are using a stovetop pressure cooker, reduce the cooking time by 7 minutes.
The IP tenderises what I think is the tastiest, but most difficult to breakdown cut of beef in just 35-40 minutes.
The timings for this recipe are based on fairly large chunks of beef.
They are also aimed at keeping some texture in the meat and not turning it into a shredded beef dish.
If you like that softer beef that falls to shreds when cooked with the back of a fork then add an extra 5-7 minutes of cooking time.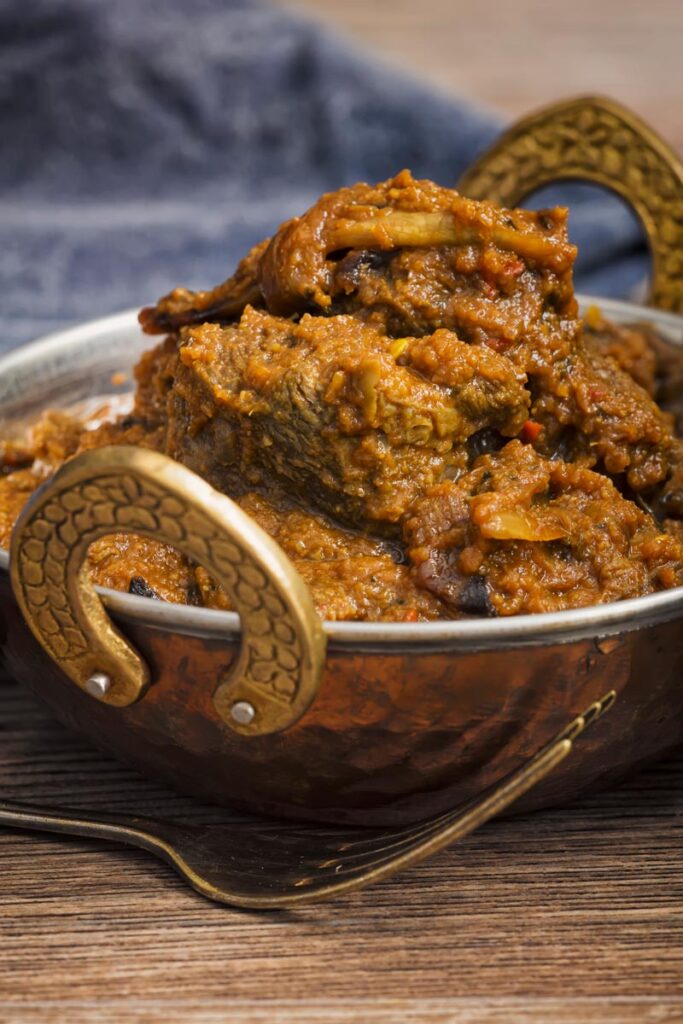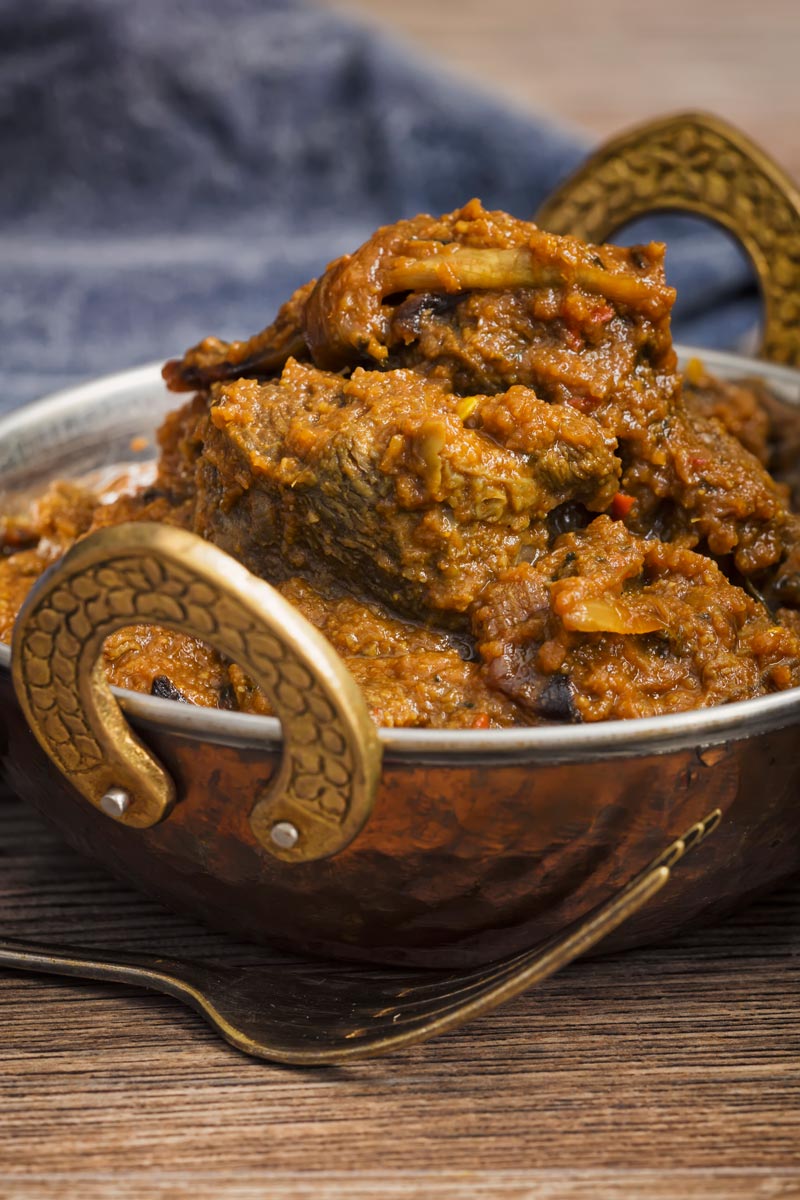 Recipe Hints & Serving Suggestions!
I usually serve this dish with a naan bread because, well I am a Brummie and that is how we roll!
But it is probably better served with chapati or roti.
Like my Beef Bhuna or Chicken Chettinad curry recipes this is a dry curry and dry curries are great with a dry curry.
When it comes to hints and tips this recipe is pretty simple on the technique front!
However, I like it hot, real hot and combine both fresh chilli with Kashmiri chilli powder.
If you are a little more chilli'phobic' then you can absolutely cut back on this.
In fact, I have made this recipe a couple of times without any chilli at all.
The big, bold and fragrant spices do a great job at standing up without it!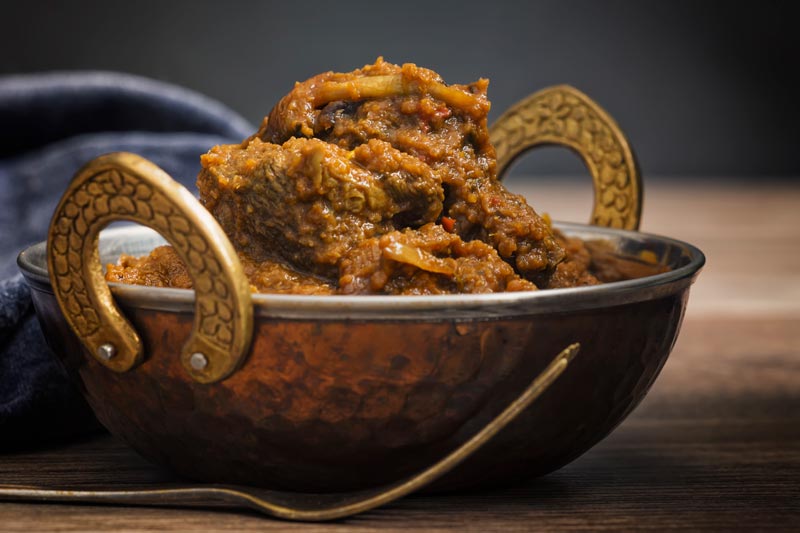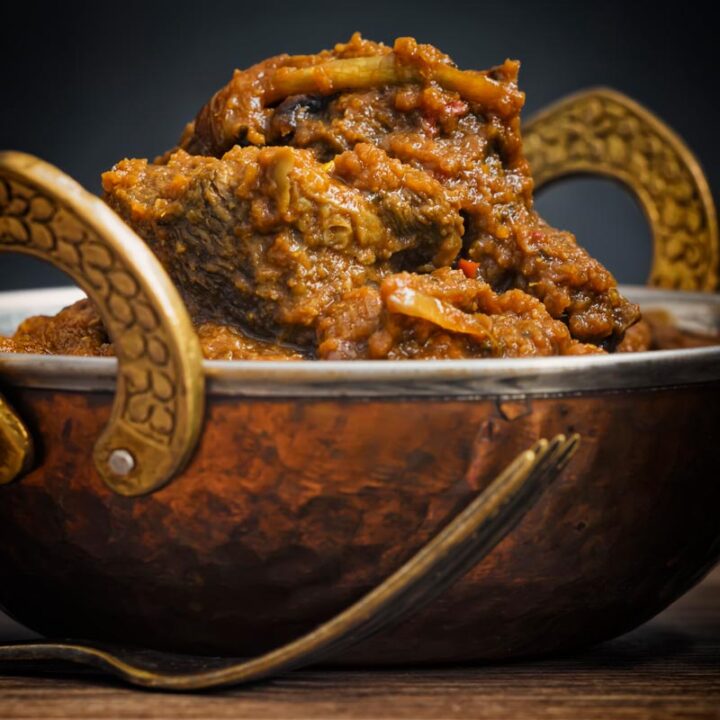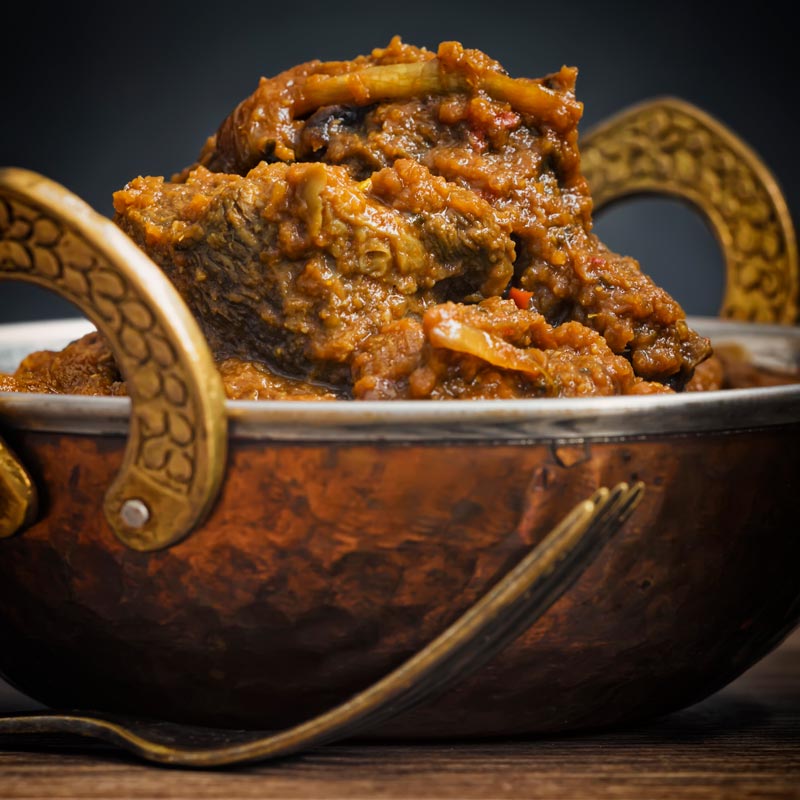 Yield:

2 Servings
Recipe for a Beef Dopiaza Curry
Cook Time:
2 hours
20 minutes
Total Time:
2 hours
30 minutes
This beef dopiaza curry is an ode the British Indian curries that I love, heavy with onions and heady with spices you will love this slow cooked treat!
Ingredients
2 Large Onions
6 Garlic Cloves
50 g Ginger
3 Red Chilli Peppers
2 Tbsp Ghee
3 Cardamom Pods
1 Tsp Kashmiri Chili Powder
2 Tsp Ground Coriander
2 Tsp Ground Cumin
1 Tsp Ground Turmeric
350 g Diced Beef Shin
1 Tbsp Dried Fenugreek Leaf
2 Tbsp Tomato Paste
1 Tsp Brown Sugar
1 Tsp Coarse Sea Salt
125 ml Water
1 Tbsp Garam Masala
Instructions
Roughly chop one of the onions and cut the second into 8 wedges.
Peel the garlic and ginger and roughly chop the ginger.
Remove the tips from the chilli peppers.
Blend the roughly chopped onion, garlic, ginger and chilli peppers to form a paste.
Add half of the ghee to a wide pan and add in onion puree.
Fry for 2-3 minutes.
Add in cardamom pods, chilli pepper, cumin, coriander and turmeric and stir to form a paste.
Add the beef and stir to coat.
Pour in the water, add the fenugreek, sugar, tomato puree and season with salt.
Mix to combine and add a lid and cook covered on low for an hour.
Whilst the curry is cooking covered place the other half of the ghee in a wide pan.
When melted add the onion and cook on a medium low temperature for 40-50 minutes until well caramelised.
After an hour remove the lid from the curry and add in the caramalised onions.
Stir and cook on low, uncovered for another hour.
Remove from the heat and add the garam masala, stir and allow to sit for 3-4 minutes before serving.
Instant Pot Instructions
Follow steps 1-4 above.
Put the IP into saute mode and when hot add half of the ghee.
Fry the onion-garlic puree for 2-3 minutes.
Stir in the cardamom pods, chilli powder, ground cumin, and ground turmeric for 30 seconds.
Then add the beef shin and stir to coat with the paste.
Finally stir in the fenugreek leaf, tomato paste, sugar, salt and water.
Place on the lid and flip the Instant Pot to manual and cooking under high pressure for 35 minutes with a 10 minute natural release.
Whilst the curry is cooking caramalise the onions in a pan with the other half of the ghee.
Turn the Instant Pot to saute and reduce the sauce by half which should take 5 minutes.
Now turn off the Instant Pot add in the beef and garam masala and bring the beef back to temperature before serving.
Notes
Serve with simply cooked Basmati Rice.
Nutrition Information:
Yield:
2
Serving Size:
1
Amount Per Serving:
Calories:

974
Total Fat:

64g
Saturated Fat:

26g
Trans Fat:

0g
Unsaturated Fat:

30g
Cholesterol:

201mg
Sodium:

1354mg
Carbohydrates:

51g
Fiber:

10g
Sugar:

19g
Protein:

55g