Savoury mince beef, a cheap and cheerful meal that takes me back to my childhood, I have of course added a few tweaks to turn up the flavour.
Anchovies and marmite add wonderfully umami notes and the bacon… well bacon just makes everything better.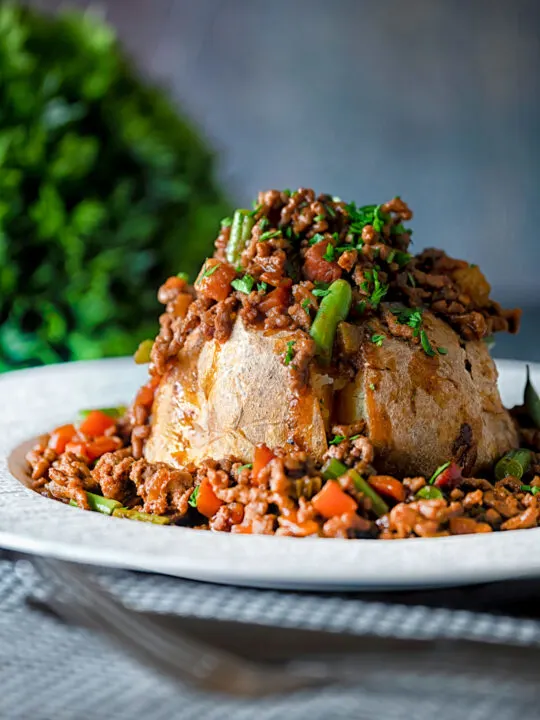 Easy Fried Minced Beef
Minced meat, whether that be beef, pork or occasionally lamb formed a huge part of the foods of my childhood.
I still use it a lot today in dishes like my beef mince stuffed mushrooms, Thai minced pork, minced beef and potato curry and of course, cottage pie!
This savoury mince beef recipe is an ode to the relatively simple food I grew up with, of course with a liberal sprinkling of my modern eating sensibilities.
Rather than the OXO cube and maybe a dollop of brown sauce that my Mom would add I go in a different direction.
Anchovies, Worcestershire sauce and marmite all add a deep rich umami flavour to the dish.
I also add a little bacon for a salty sweetness, and because bacon is, well genius in everything!
It takes about 50 minutes to cook, but much of it is spent with your feet up whilst it gently simmers.
If you like the sound of this dish, check out its sister recipe, beef mince and dumplings!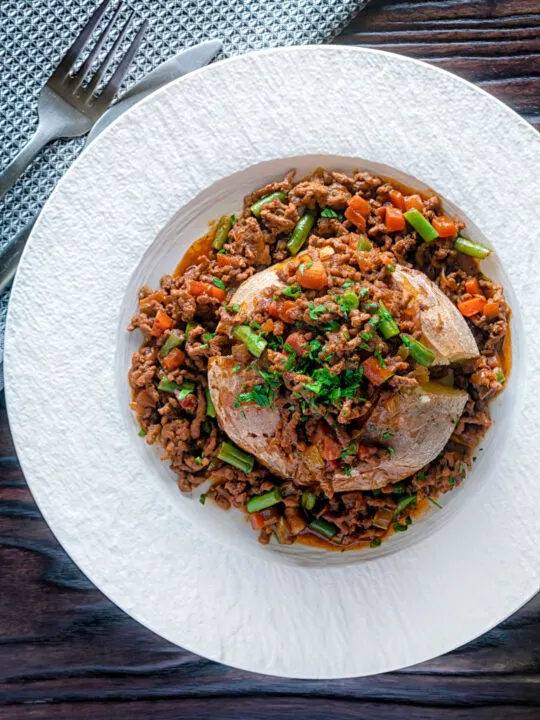 Frequently Asked Questions
Can I use a non-stick frying pan?
You can but you will lose a bit of flavour because those bits of meat that stick to the base of the pan add so much to a dish!
What is marmite?
Marmite is a "yeast extract" much loved or hated by many in the UK. I am not a fan of it as a spread but it works wonders in dishes and in particular gravies. I use it in dishes like my steak and ale pie as well as my vegan onion gravy.

If you can't get it try and look for vegemite, an Australian yeast extract.
Do I have to use anchovies?
No, you can omit them, however, they do add a nice umami banknote to this dish. Do not worry, they do not taste like anchovies on a pizza, they just amp up the savoury tones in the mince beef!
Can I make this in advance?
Yes, it will be fine in the fridge for 2-3 days, in fact, it will get better with time. To reheat, place it in a small saucepan with a lid over a low-medium heat.

You can also scale the recipe up and freeze portions for up to 3 months. I prefer to defrost before reheating.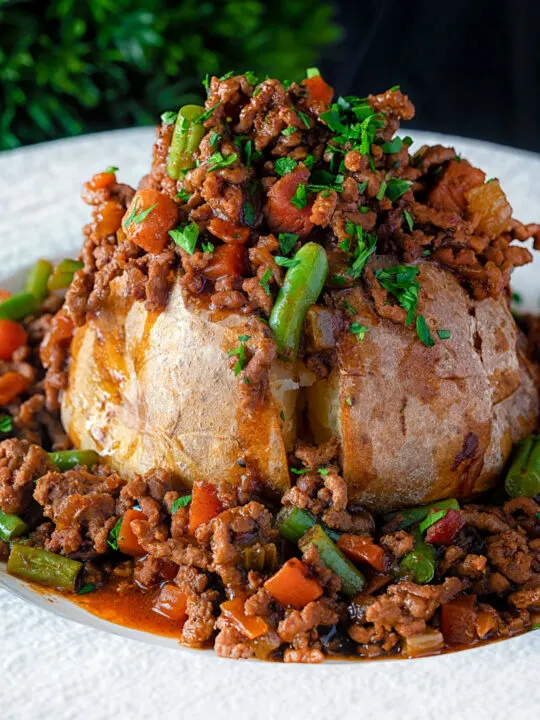 Serving Suggestions
Growing up my Mom would typically serve fried savoury mince with mash and peas.
Usually, it would be mashed potatoes, but you could serve this with both swede and carrot mash or celeriac mash and it would be wonderful.
It is pictured here served with a jacket potato, or baked potato if you must. I've recently discovered that you can cook cracking jacket potatoes in an air fryer and they are awesome!
You could also serve this over a nice cheesy polenta.
Sticking with the polenta theme, you could also serve it with fried polenta chips. Slather it over the top and add some more cheese and do that whole "loaded fries" thing but with polenta chips.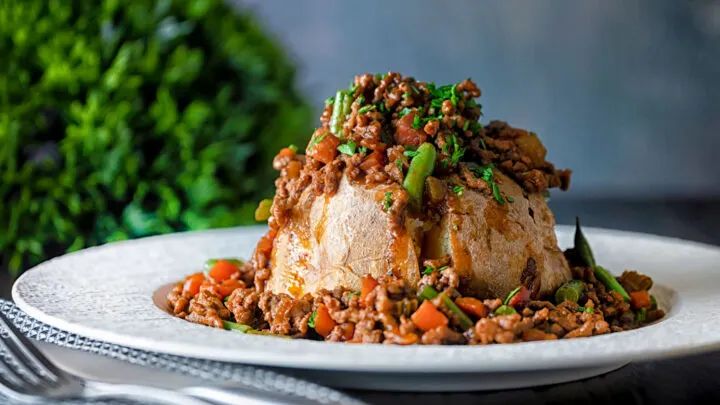 Equipment Used
I tend not to mention specific brands of kit unless I think it will make a material difference to the recipe. If you have any questions feel free to shout up.
Weighing scales and or measuring cups and spoons.
Stovetop.
Reactive (not non-stick) frying pan, 28cm or 11″.
Sharp kitchen knife.
Chopping board.
Stovetop.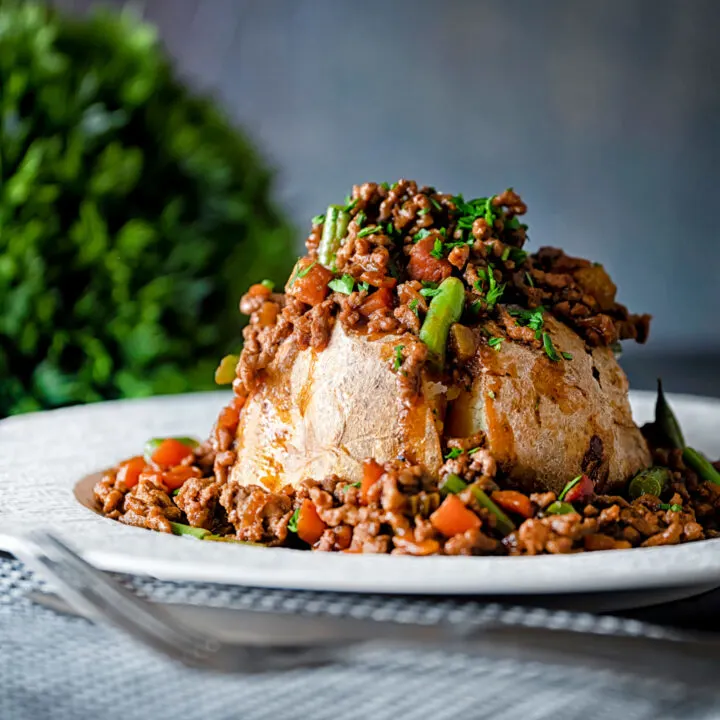 Yield:

2 Servings
Savoury Mince Beef Recipe
My Mom would cook a savoury minced beef at least once a week and serve it with either mash or jacket potato. My version ramps up the flavour with Worcestershire sauce, anchovies and marmite, but it is still a retro reminder of great childhood scran!
Ingredients
350g (12oz) Minced or Ground Beef
150g (1 Cup) Onion
100g (⅔ Cup) Carrot
50g (⅓ Cup) Celery
1 Tbsp Cooking Oil
75g (⅓-½ Cup) Bacon Lardons
3 Anchovy Fillets
1 Tbsp Tomato Puree
2 Tbsp Worcestershire Sauce
1 Tbsp Flour
½ Tsp Salt
½ Tsp Black Pepper
175ml (¾ Cup) Beef Stock
½ Tbsp Marmite
75g (⅓-½ Cup) Green Beans
Instructions
Peel and cut the onion into a 5mm (¼") dice.
Dice the carrot into 5mm (¼") cubes.
Cut the celery into 5mm (¼") dice.
Heat a 28cm (11") frying pan (not non-stick) over a medium high heat and when it is hot add the oil.
Throw in the diced carrot, celery and onion and cook for 10 minutes stirring every couple of minutes.
Turn the heat up to high and add the bacon and anchovy fillets and cook for 2-3 minutes.
Add the minced beef and cook over a high heat until it is browned all over.
Add the tomato puree, flour, salt and pepper, then turn the heat down to low and cook for 2 minutes stirring constantly.
Pour in the beef stock, Worcestershire sauce and marmite stir to combine, add a lid and cook for 30 minutes.
Chop the green beans into 1cm (½") lengths, then add them to the mince, replace the lid and cook for another 5 minutes.
Nutrition Information:
Yield:
2
Serving Size:
1
Amount Per Serving:
Calories:

846
Total Fat:

52g
Saturated Fat:

17g
Trans Fat:

1g
Unsaturated Fat:

29g
Cholesterol:

198mg
Sodium:

2141mg
Carbohydrates:

25g
Fiber:

5g
Sugar:

10g
Protein:

67g
Calorific details are provided by a third-party application and are to be used as indicative figures only.