Baked chicken goujons, strips, or tenders wrapped in a crispy hazelnut and breadcrumb coating served with a simple & spicy hot dipping sauce.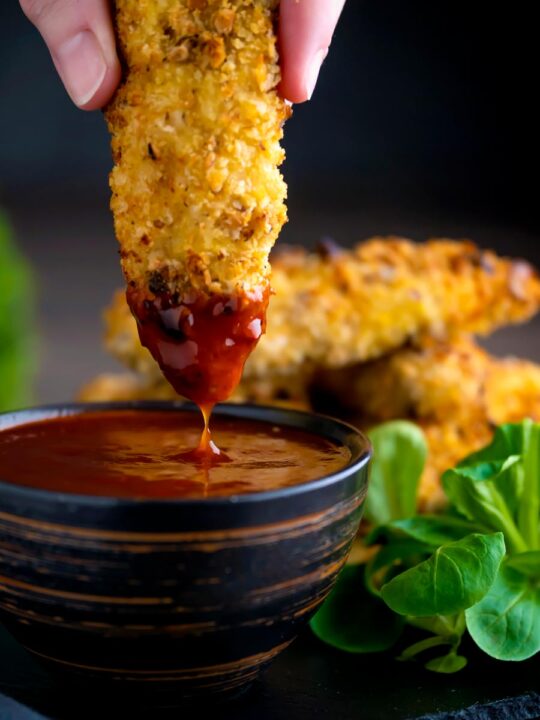 Baked crispy chicken strips with spicy dipping sauce.
Call them what you will, chicken goujons, chicken strips or plain old chicken nuggets, they spark a smile in us young and old.
I simply could not omit a recipe for them on my site!
So here are my favourite crispy chicken bites and a foxy but simple spicy sauce to go wih them.
I like my crunchy chicken tenders coated in breadcrumbs, so I use the classic pane technique.
Simply dip in seasoned flour, then beaten egg, and finally into breadcrumbs. It's a technique I use in everything from my perfect chicken Kievs through to my crispy calamari rings.
But I add hazelnuts into this crumb to change things up and add a nutty flavour to my crispy chicken goujons.
They can be baked or cooked in an air fryer, I prefer chucking them in the oven but I have instructions for both.
You could even change this up and add some cornflakes into the mix as I do with my Cornflake chicken breast!
Finally whilst they are baking I like to make a spicy dipping sauce to finish them off.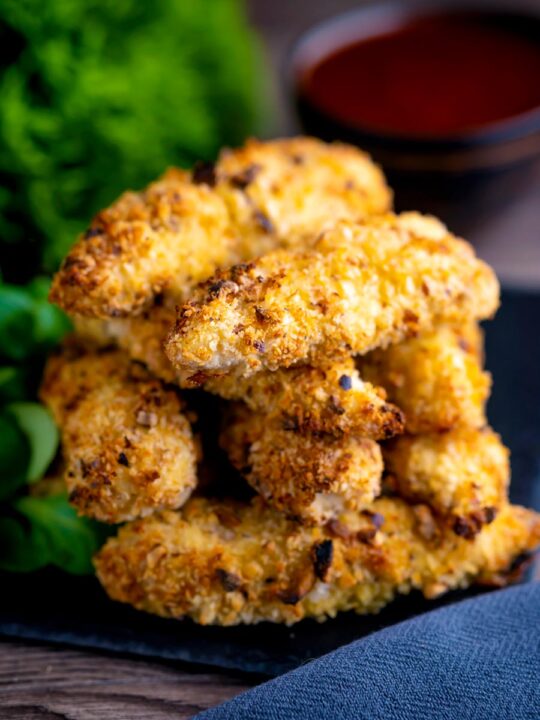 Frequently Asked Questions.
What on earth is a goujon?
It's nothing more than a strip of meat or fish… It is also a fab retro name!
Can I use other types of nut?
Yes, walnuts, brazil nuts and pecan nuts are particularly good.
I find peanuts and cashews burn too quickly, and pistachios are just to expensive!
Can this be prepared in advance?
Yes.
The tenders can be dipped in breadcrumbs up to 8 hours in advance. Put them on a plate or board and wrap in cling film before placing in the oven.
The dipping sauce will last in the fridge for weeks. I always make extra as it is great for slathering on burgers or chips (fries for my American readers).
Do you have to use chicken tenders to make chicken goujons?
No not at all, you could use any other boneless part of the chicken. You will just need to cut them into even uniform shapes and sizes.
I use tenders because they are the perfect size and I usually have some in the freezer.
I always buy whole chickens and cut them up as the video shows below. It saves money and gives me lots of bits of chicken to cook with, and the stock – be still my beating heart!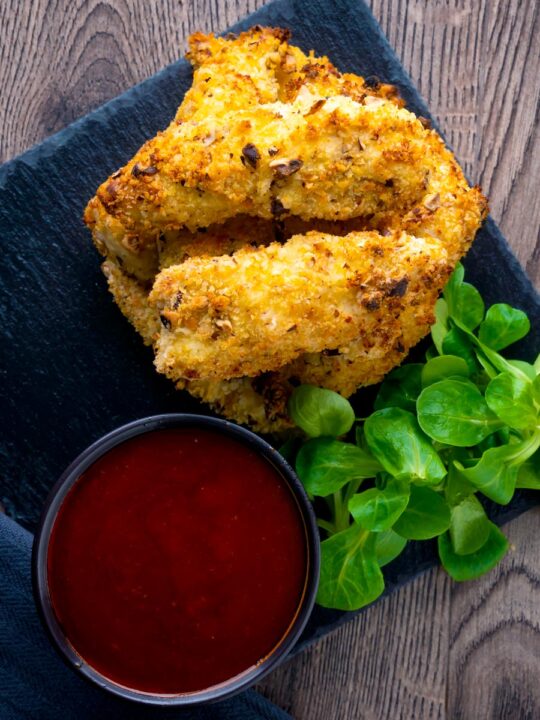 Serving Suggestions.
Aside from my homemade spicy dipping sauce I usually serve my crispy chicken goujons with potatoes of some description.
It's the whole breaded chicken nuggets and chips thing, I was raised on it. Sure the nuggets were frozen and the chips fried but food nostalgia is a powerful thing.
My go to choice is potato wedges as they can all go into the oven together.
Although I sometimes serve these with my crispy fried potatoes or even my cheesy polenta chips, they are glorious with this sauce.
Sticking with a similar theme they would work equally well with some sweet potato fries.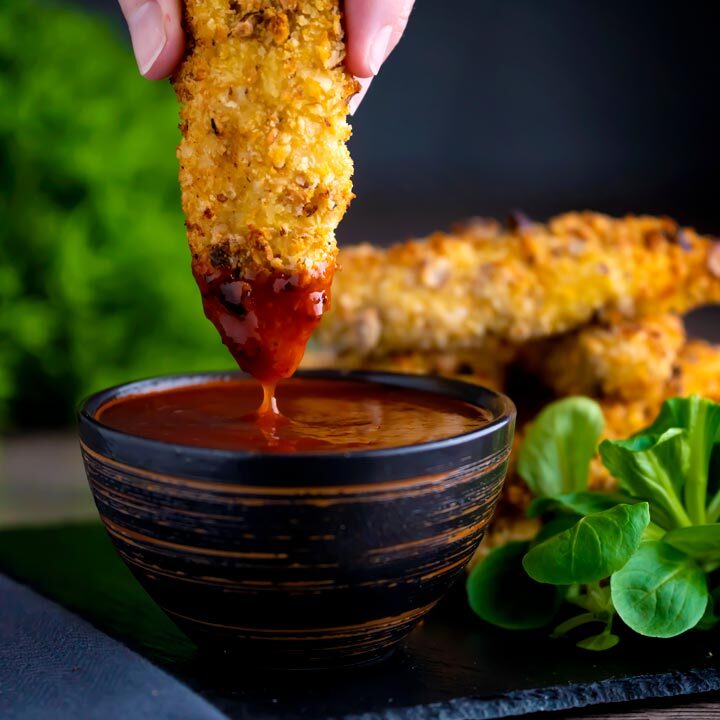 Yield:

2 Servings
Crispy Chicken Goujons Recipe with Spicy Dipping Sauce
These Baked Hazelnut Chicken goujons come bundled with a Spicy Dipping Sauce and can be munched on just 25 minutes after opening your cupboard!
Ingredients
350g Chicken Tenders
75g (1/3-1/2 Cup) Flour
35g (1/4 Cup) Hazelnuts
1 Egg
50g (1 Cup) Breadcrumbs
1 Tsp Salt
1/2 Tsp Black Pepper
For the Sauce:
4 Tbsp Light Brown Sugar
2 Tbsp Sriracha Sauce
2 Tbsp Tomato Ketchup
1 Tbsp Rice Wine Vinegar
1/2 Tsp Garlic Powder
1 Tsp Onion Powder
1 Tbsp Worcestershire Sauce
Instructions
Place the hazelnuts in a bag and roughly break them up with a rolling pin.
Take three flat bowls place the flour in the first bowl and season with salt and pepper, beat the egg in the second bowl and mix together the breadcrumbs and crushed hazelnuts in the third bowl.
Dip the chicken tenders, first into the seasoned flour, then the eggs, and finally into the breadcrumb and hazelnut mix.
Put the dipped tenders onto a baking tray lined with baking parchment and bake for 15-20 minutes at 220°C or 450°F.
Whilst the chicken is baking place all of the ingredients for the sauce into a pan and bring to boil.
Reduce the heat to low-medium and simmer for 5 minutes.
To Cook in an Air Fryer.
Spray the basket of the air fryer with spray oil.
Place the chicken goujons in the basket in a single layer and cook for 12-15 minutes at 200°C or 400°F flipping halfway through.
Notes
Ensure that the chicken reaches 73°C or 165°F before serving.
Nutrition Information:
Yield:
2
Serving Size:
1
Amount Per Serving:
Calories:

800
Total Fat:

33g
Saturated Fat:

6g
Trans Fat:

0g
Unsaturated Fat:

23g
Cholesterol:

174mg
Sodium:

1619mg
Carbohydrates:

81g
Fiber:

4g
Sugar:

2g
Protein:

43g
Calorific details are provided by a third-party application and are to be used as indicative figures only.