NEVER MISS A RECIPE:
Get your Weekly Update Email!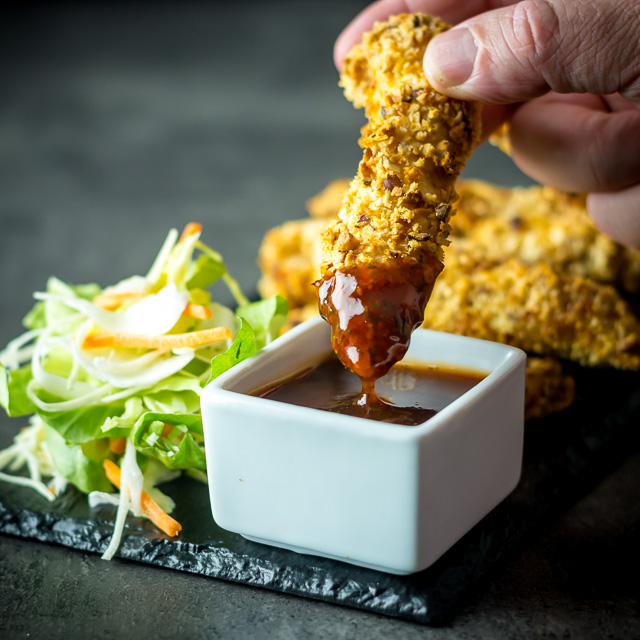 These Baked Hazelnut Chicken Tenders with a Spicy Dipping Sauce are a bit of an unusual recipe on here Krumpli, typically I post meal recipes here where as these grown up chicken nuggets are a bit of a warm supper snack. We don't eat the often but we do love them, and they are a cheeky product of one of my food buying habits, buying whole chickens.
I rarely if ever buy chicken portions almost always opting to by the whole chicken instead, I find it offers much better value for money, it only takes a little practice to be able to joint a whole chicken in 5 minutes or so and it gives me so much more.
No matter what I need I'll buy the whole chook, chop it up and freeze what I am not using immediately of course saving the carcass for making chicken stock too.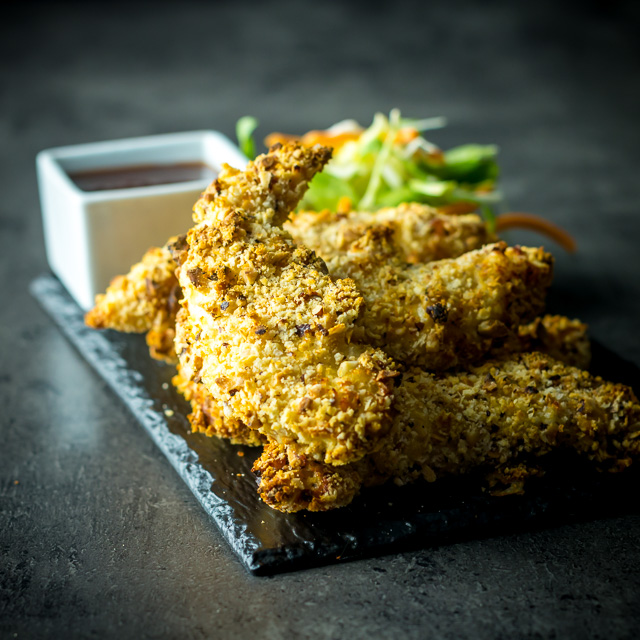 Now I don't use chicken tenders in anything else, they are a bit to small to chop up into a soup, stew or curry so they co into a wee pot all of their own ready for us to gorge on these treats watching some TV or a movie every now and then. The coating is proper crispy and the hazelnuts add an earthiness that works wonderfully against the spicy, sweet and sour sauce, you know I love a bit of spice in my food!
Enjoy these and be sure to check back on Thursday this week for an ingredient inspired dish bought to you with a little help from my friends involving Orange… This recipe is super kitsch and fanbloodytastic if you ask me!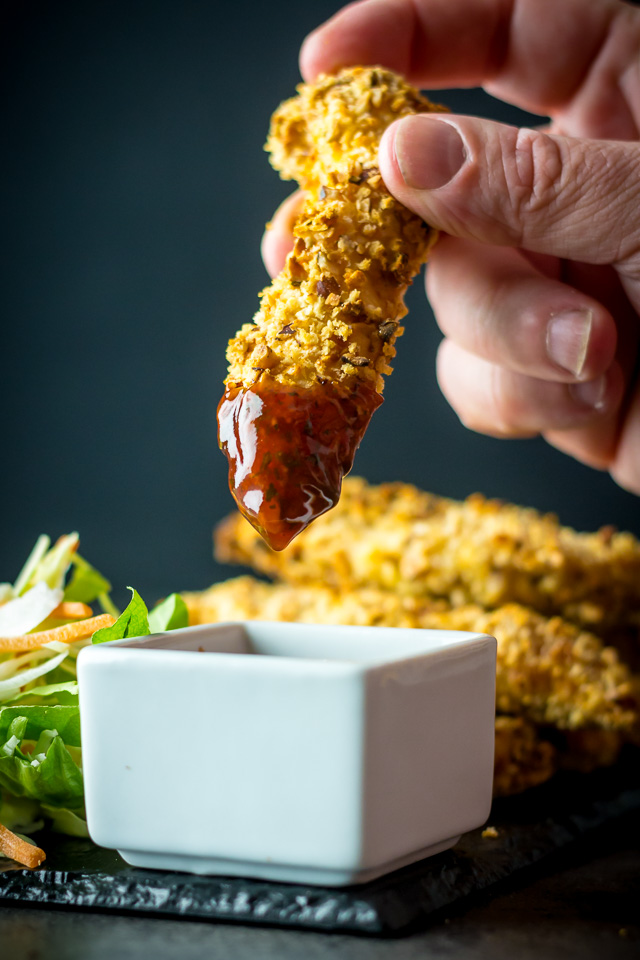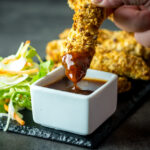 Baked Hazelnut Chicken Tenders with Spicy Dipping Sauce
These Baked Hazelnut Chicken Tenders come bundled with a Spicy Dipping Sauce and can be munched on just 25 minutes after opening your cupboard!
Ingredients
For the Baked Hazelnut Chicken Tenders:
12

Chicken Tenders

100

g

Flour

Salt

Pepper

3

Eggs

Beaten

50

g

Hazlenuts

100

g

Breadcrumbs
For the Sauce.
4

Tbsp

Brown Sugar

2

Tbsp

Hot Sauce

Use your favorite

2

Tbsp

Tomato Ketchup

3

Tbsp

Red Wine Vinegar

1/2

Tsp

Garlic Powder

1

Tsp

Dried Celery Leaves

Sub for celery salt to taste

1

Tbsp

Worcestershire Sauce
Instructions
Take three large bowls and line them up with the flour, seasoned with salt and pepper and eggs in bowls 1 and 2.

In the third bowl combine the hazelnuts and that breadcrumbs.

Now did the chicken tenders, first into the seasoned flour, then the eggs and finally into the breadcrumb and hazel nut mix.

Put on a baking tray lined with baking parchment and bake for 15-20 minutes.

Whilst your chicken is baking place all of the ingredients for the sauce into a pan and bring to boil and simmer for 5 minutes.
NEVER MISS A RECIPE:
Get your Weekly Update Email!