These Baked Hazelnut Crispy Chicken Tenders come bundled with a Spicy Dipping Sauce. The kicker is that they can be munched on just 25 minutes after opening your cupboard.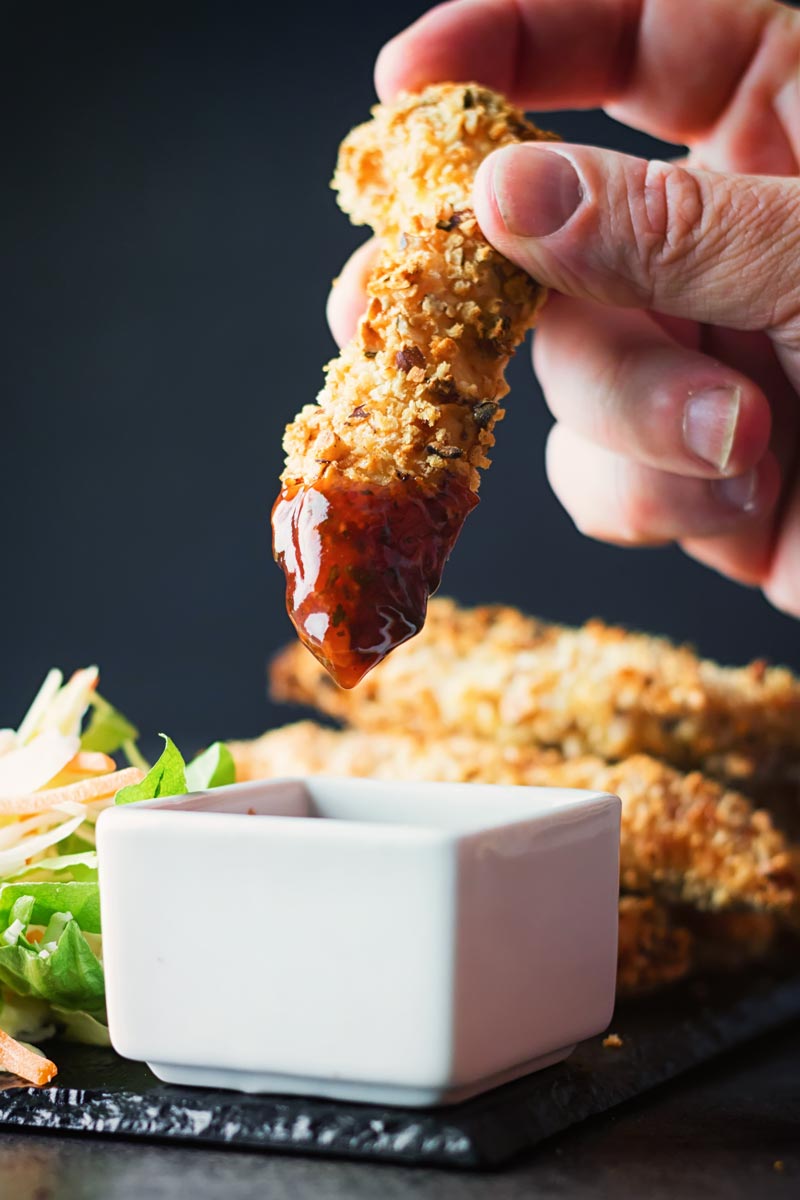 Baked Hazelnut Crispy Chicken Tenders with Spicy Dipping Sauce.
These Crispy Chicken Tenders with a Spicy Dipping Sauce are a bit of an unusual recipe on here Krumpli.
Typically I post meal recipes here whereas these grown-up "chicken nuggets" are a bit of a warm supper snack.
Now I don't use chicken tenders in anything else, they are a bit too small to chop up into a soup, stew or curry. They are also really delicate.
These treats are perfect for a TV night treat or even half time snack!
They make a wonderful warm change from my popcorn obsession.
The coating is proper crispy straight from the oven.
The hazelnuts also add an earthiness that works wonderfully against the spicy, sweet and sour sauce. You should know by now that I love a bit of spice in my food!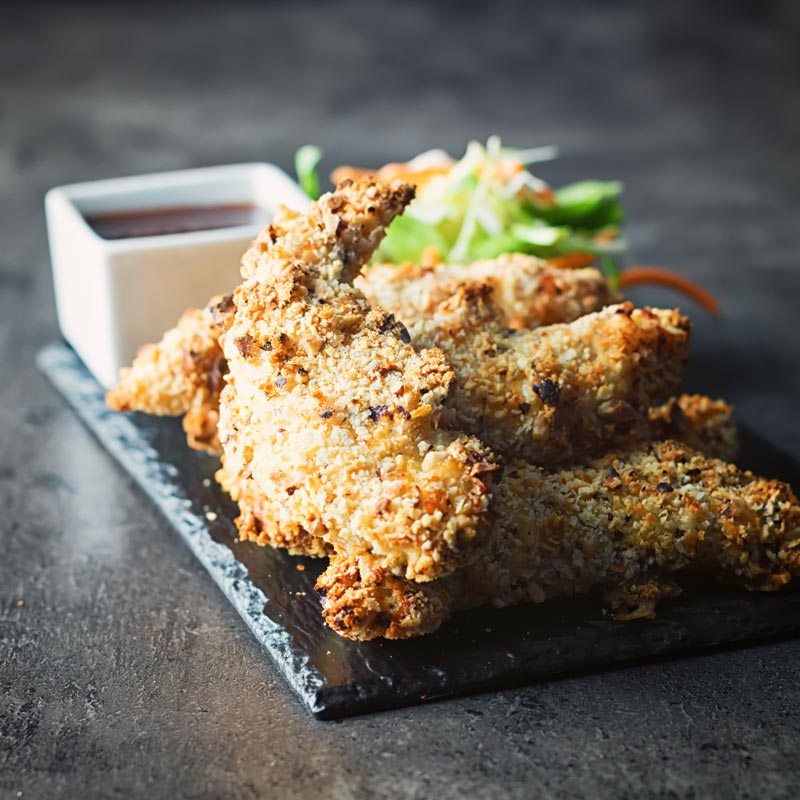 How to Make Crispy Chicken Tenders in the Oven.
Now I am no stranger to deep frying food.
I am particularly fond of deep frying cheese as you can see from this fried goats cheese recipe and this fried camembert recipe.
But that does not mean that I am a slave to the deep fat fryer and I am more than aware that baking is a little healthier.
The key to making these crispy chicken tenders in the oven is temperature. They are cooked at a temperature as high as the oven will go.
The meat of the chicken tender is very 'tender' and delicate and cooks very quickly. They will cook in the oven in a little over 15 minutes.
I always advise folk to use a meat thermometer and you are looking for an internal temperature of 72°C or 160°F.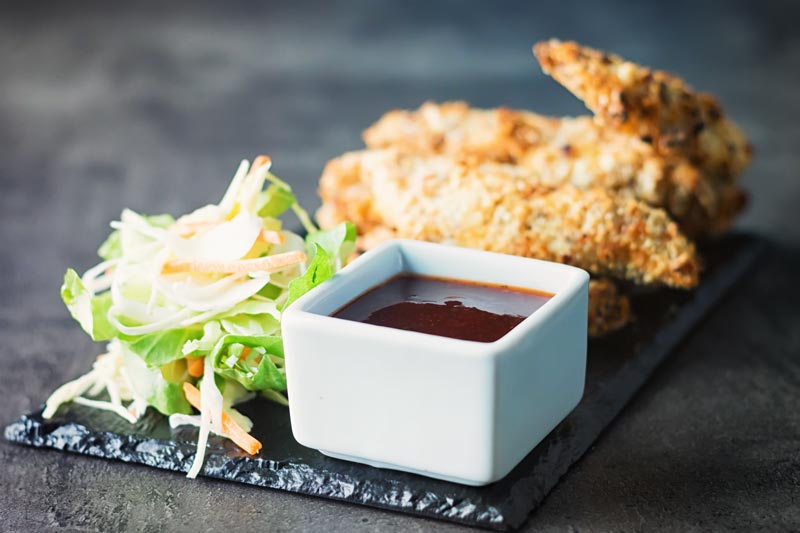 Chicken Tender Hunting!
We don't eat these baked chicken tenders often but we do love them.
They are a cheeky product of one of my food buying habits, buying whole chickens.
I rarely if ever buy chicken portions, I almost always opt to by the whole chicken instead.
I find it offers much better value for money and it only takes nothing more than a little practice to be able to joint a whole chicken in 5 minutes. There is a video below that shows you the technique I use!
No matter what I need I'll buy the whole chook.
Chop it up and freeze what I am not using immediately of course saving the carcass for making chicken stock too.
The tenders have a special place in the freezer and when I have collected enough then I always make this recipe!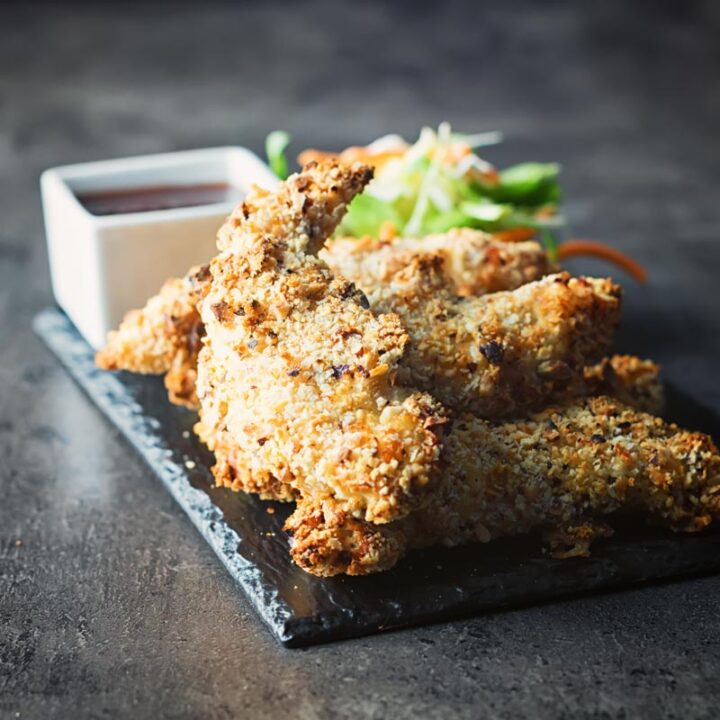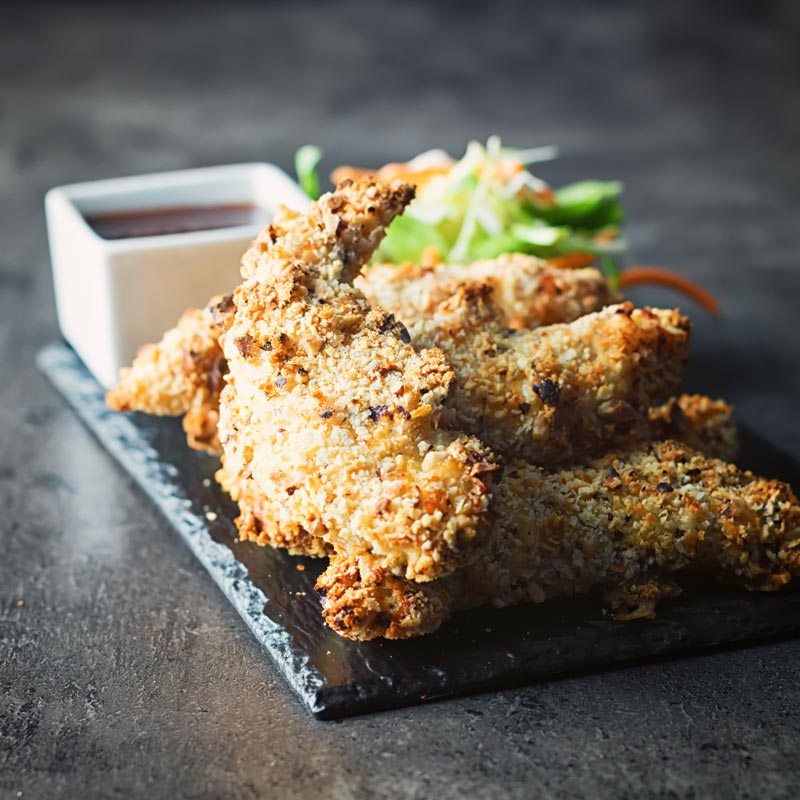 Yield:

2 Servings
Hazelnut Crispy Chicken Tenders with Spicy Dipping Sauce
These Baked Hazelnut Chicken Tenders come bundled with a Spicy Dipping Sauce and can be munched on just 25 minutes after opening your cupboard!
Ingredients
350 g Chicken
75 g Flour
Salt and Pepper
2 Eggs
50 g Hazelnuts
50 g Breadcrumbs
For the Sauce.
4 Tbsp Brown Sugar
2 Tbsp Hot Sauce
2 Tbsp Tomato Ketchup
3 Tbsp Red Wine Vinegar
1/2 Tsp Garlic Powder
1 Tsp Dried Celery Leaves
1 Tbsp Worcestershire Sauce
Instructions
Heat your oven to 220°C or 450°F.
Take three large bowls and line them up with the flour, seasoned with salt and pepper and beaten eggs in bowls 1 and 2.
In the third bowl combine the hazelnuts and that breadcrumbs.
Now did the chicken tenders, first into the seasoned flour, then the eggs and finally into the breadcrumb and hazel nut mix.
Put on a baking tray lined with baking parchment and bake for 15-20 minutes.
Whilst your chicken is baking place all of the ingredients for the sauce into a pan and bring to boil and simmer for 5 minutes.
Nutrition Information:
Yield:
2
Serving Size:
1
Amount Per Serving:
Calories:

970
Total Fat:

45g
Saturated Fat:

9g
Trans Fat:

0g
Unsaturated Fat:

32g
Cholesterol:

351mg
Sodium:

1151mg
Carbohydrates:

80g
Fiber:

5g
Sugar:

29g
Protein:

60g
Calorific details are provided by a third-party application and are to be used as indicative figures only.