Classic flavours are at the forefront in this pork loin steak recipe with roasted pear and blue cheese and it is all held together with a delicious cider sauce.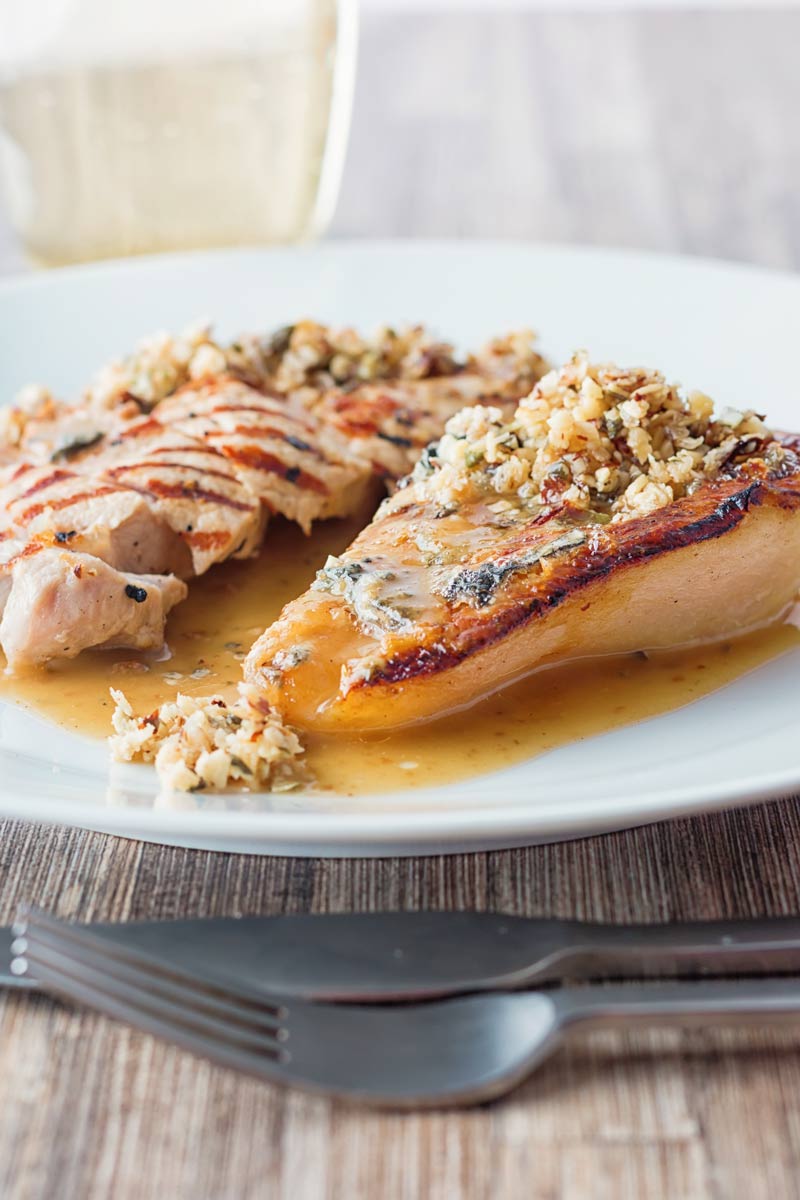 Pork Loin Steak with Roasted Pears, Blue cheese and Savoury Crumble.
This complete dinner recipe is very much focused on the side and the sauce. The roasted pears with blue cheese is definitely the star of this recipe with the pork loin steak playing a supporting role.
Mint and peas, ham and cheese, beer and anything, some things just go so well together. Another of these perfect partners is Pear and Blue cheese.
The roasted pears in this recipe are topped with a buttery, nutty, seedy crumble as well as blue cheese.
The cider sauce pulls all of that together.
This time of year is proper exciting, pears are abundant and pretty much free in these parts. This is because most people have pear trees somewhere in their garden.
Sadly a late spring frost has reduced the yields on fruit trees this year but there still seems to be plenty to go around.
Let's take this recipe element by element.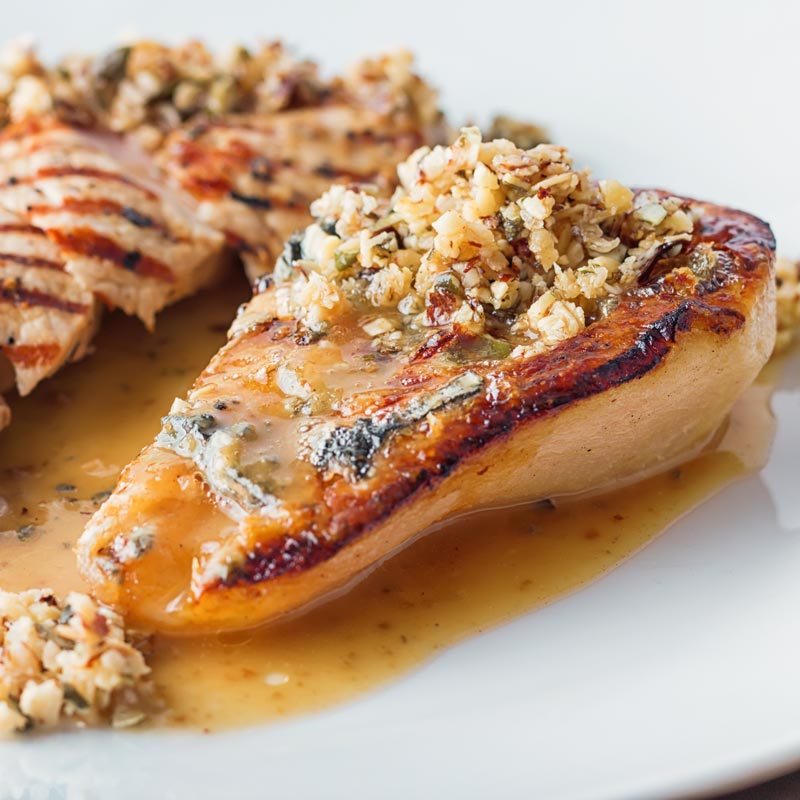 The Pork Loin Steak.
Pork and fruit is a match made in heaven. Whether it is pork with pear, pork with apricots or even pork with prunes… It just works!
The pork in this recipe is a very simply cooed piece of pork loin steak. Lean, quickj to cook and a savour meaty element to compliment the main event.
Thinking of the meat element of a dish as secondary may seem unusual but it is one I do all of the time.
For me that pork loin needs to be cooked pink, not as pink as steak but nevertheless pink.
I know I am in a minority there, a growing minority but it is your dinner cook it as you like it.
I am not one of those 'dickish' cooks that tells people how they should like their meat cooked.
So if you want to take your pork a little further, go ahead.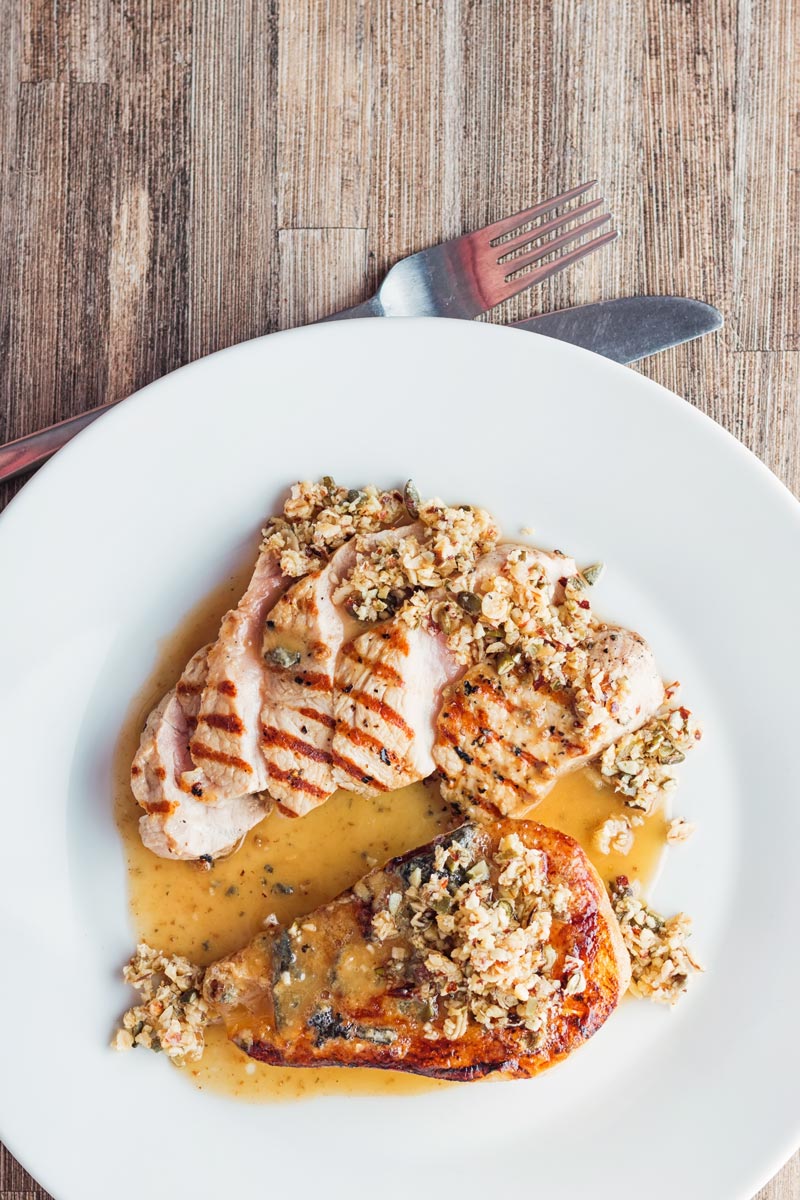 The Roasted Pears With Blue Cheese.
I have to confess to not being much of a fan of raw pear.
But once cooked they are one of my favourite fruits, I don't care whether they poached pear or roasted pear.
Most recipes call for a ripe pear but in this recipe, you definitely want something a little more firm. Roasting the pear will soften it.
The blue cheese I favour is Gorgonzola but you could swap out for Danish Blue or Roquefort if you wish.
The savoury crumble or crumb, it is there to provide a bit of a buttery crunch and contrasting texture.
It was initially going to be called a savoury 'granola' but I decided that it was far too pretentious of a name.
So after I beat myself savagely for having such a ridiculous thought I settled on a savoury crumble. It is also a nice play on the idea of pear crumble and I love it.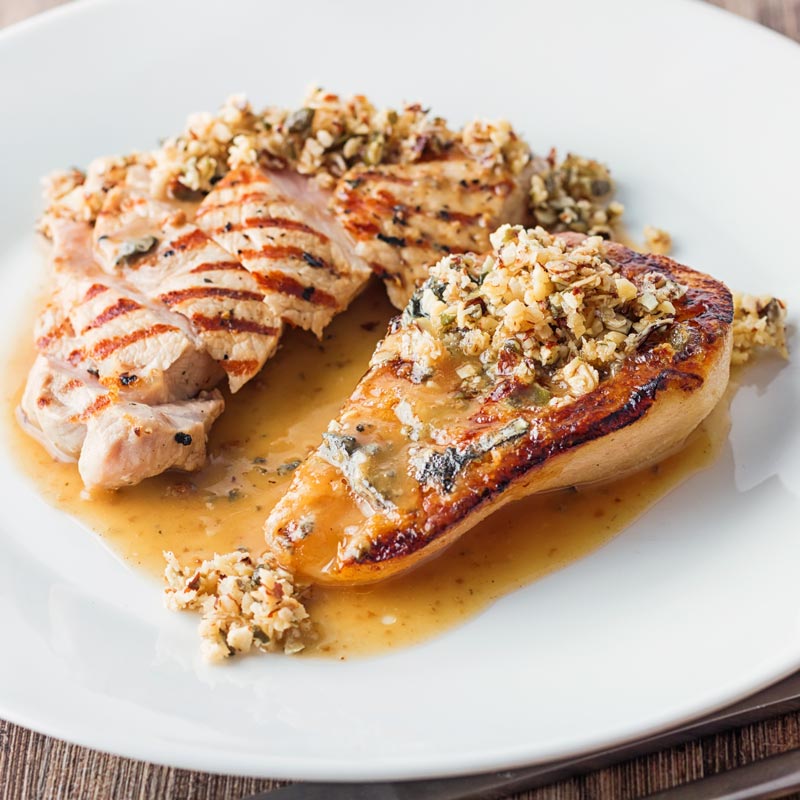 And the Cider Sauce!
Your choice of dicer can and really will change this whole recipe.
I would have loved to have used Perry to match with the roasted pear but sadly it is unavailable here. The choice will also define how much if any sugar you will want to add to the sauce.
Have a taste and make a judgement the drier the cider the more sweetness you will need to add.
If you are using a very sweet cider you may wish to add a touch of lemon juice. Like all cooking, it is all about balance.
The sauce gets enriched with the blue cheese as the pear roasts in the cider.
Some of the cheese melts and drips down into the cider to spread that blue cheese flavour even further through the dish.
You should bear this in mind when you are seasoning and be careful about adding too much salt too early.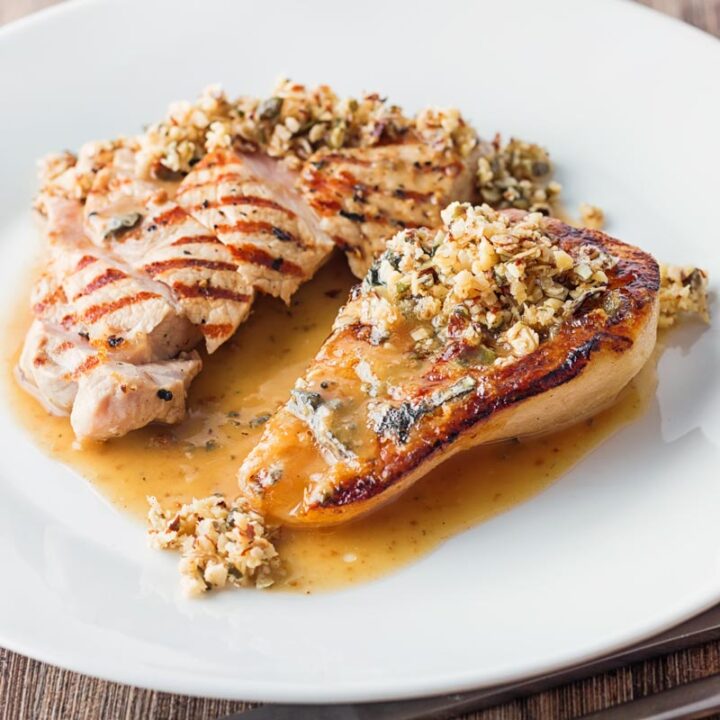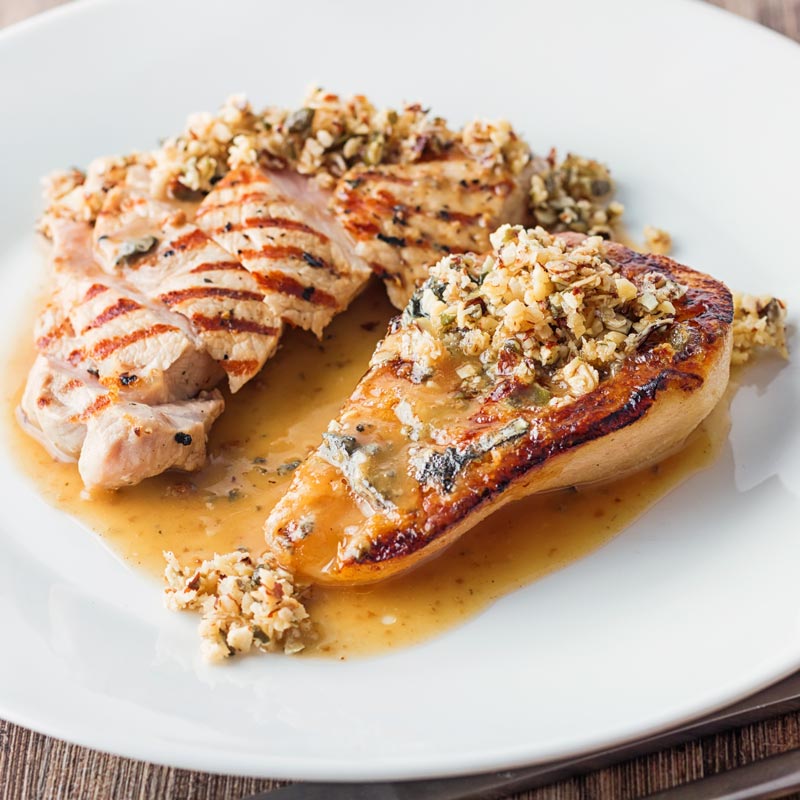 Yield:

2 Servings
Roasted Pear with Blue Cheese and Pork Loin Steak
Classic flavours are at the forefront in this pork loin recipe with roasted pears and blue cheese and it is all held together with a cider sauce.
Ingredients
300 g Pork Loin Steak
1 Tbsp Cooking Oil
Salt, To taste
Pepper, To taste
For the Roasted Pear:
1 Pear
2 Tbsp Lemon Juice
150 ml Cider
1/2 Tsp Brown Sugar
100 g Blue Cheese
35 g Butter
For the Savoury Crumble:
10 g Pumpkin Seeds
20 g Hazelnuts
15 g Oats
1/8 Tsp Salt
40 g Butter
Instructions
Preheat your oven to 200°C.
Mix together enough water with the lemon juice in a bowl to be able to cover the pear when cut in half.
Peel the pear and cut it in half and with a combination of a sharp knife and a spoon remove the core, then take a thin slice of the bulbous part so it will stand flat, then plunge into the lemon acidulated water to prevent browning.
Take 10g of the butter for the pears and heat in an oven proof frying pan over a medium high heat.
When foaming dry off the pear and sear cut side down for 60 seconds or until you have a nice caramalisation.
Flip over the pear and crumble the blue cheese into the cavity left by the core.
Pour in the cider and add the brown sugar and roast in the oven for 30 minutes.
About 15 minutes before the pears come out of the oven heat a griddle pan over a medium high heat.
When hot rub the pork steaks with oil and then season with salt and pepper and cook your steaks to your liking making sure you leave enough resting time.
When the pear is soft to the tip of a knife and your pork cooked rest for 5 minutes whilst we finish the sauce and the crumble.
Our sauce is nothing more than the cooking juices from the pears reduced by half and then enriched with the remaining 25g of butter. Pass through a fine mesh sieve if that is your kinda thing.
For the Savoury Crumble:
Take the pumpkin seeds, hazelnuts oats and salt to a dry frying pan and toasting over a medium heat for 5 minutes ensuring not to burn.
Bring the sauce to the boil and whisk in the remaining 25g of butter and test for seasoning although the blue cheese that has melted in from the pears should provide enough salt.
After 5 minutes add in the butter coating all of the ingredients for the savoury crumble, when melted transfer to a blender and blitz, you only want to pulse you are not looking for a powder but a crumble.
Notes
Cook your pork steaks to your liking, I like a little pink in my pork loin so no more than 4-5 minutes a side for me but longer if you like your pork well done.
Nutrition Information:
Yield:
2
Serving Size:
1
Amount Per Serving:
Calories:

1006
Total Fat:

73g
Saturated Fat:

34g
Trans Fat:

1g
Unsaturated Fat:

33g
Cholesterol:

238mg
Sodium:

1323mg
Carbohydrates:

36g
Fiber:

6g
Sugar:

18g
Protein:

55g
Calorific details are provided by a third-party application and are to be used as indicative figures only.