This Chicken Piccata recipe is a perfect midweek lifesaver, fast and simple with bucket loads of big zingy flavours but homely enough to feel familiar!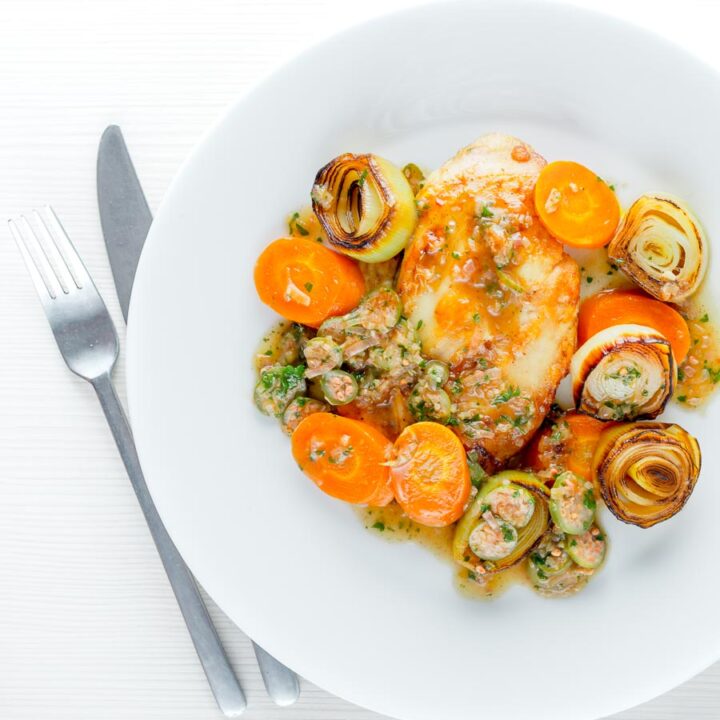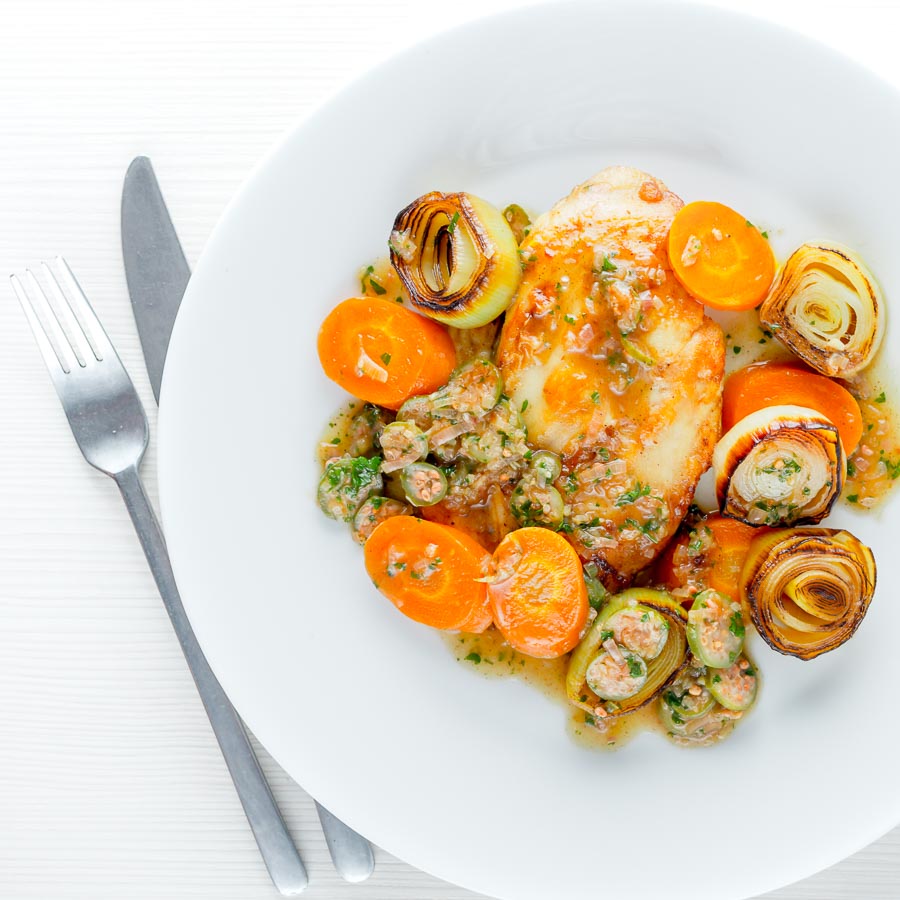 Chicken Piccata With Carrots and Leek.
Picatta is a wonderfully simple dish full of wonderful sharp rich flavours from Italy. However the idea of Chicken Piccata is much more of an American Italian one. The classic Italian Piccata features veal.
That said it works really well with chicken but I can't quite bring myself to serve it with pasta as a side.
It just doesn't fit with my food sensibilities because I really don't like or understand pasta as a side.
This piccata recipe is a perfect late summer or early spring recipe and for me it doesn't need anything more than what I have here. The carrots and leeks provide a substantial enough foil to create a light but filling meal.
But if you wanted more to go with this then I would add some well seasoned boiled potatoes. They may not be 'food of the month' right now but the humble spud is superb.
Mopping up that buttery lemon rich piccata sauce with perfectly boiled spuds is wonderful!
Lemon Chicken: A Match Made In Heaven!
Chicken has a wonderful affinity with sharp flavours. You will find examples of lemon chicken in dishes as far and wide as China to North Africa and Europe to the Americas. It just works!
I use it in recipes as diverse as my grilled lemon pepper chicken wings and Chinese crispy lemon chicken through to my simple skillet garlic lemon chicken recipe.
In France you will often find it with Dijon mustard. The Italians are fond of adding rosemary and pine nuts.
This Chicken piccata recipe is simply a chicken breast, butterflied then perfectly cooked in butter. You all know how I love butter, it is well documented here.
It is then rested whilst a pan sauce is made with wine, lemon juice, capers, garlic and shallots. Making sure that butter is put to good use.
At this time of year I serve this with carrots and leeks that have been cooked in more butter and wine. Sounds good right? Well it is and it is really simple too.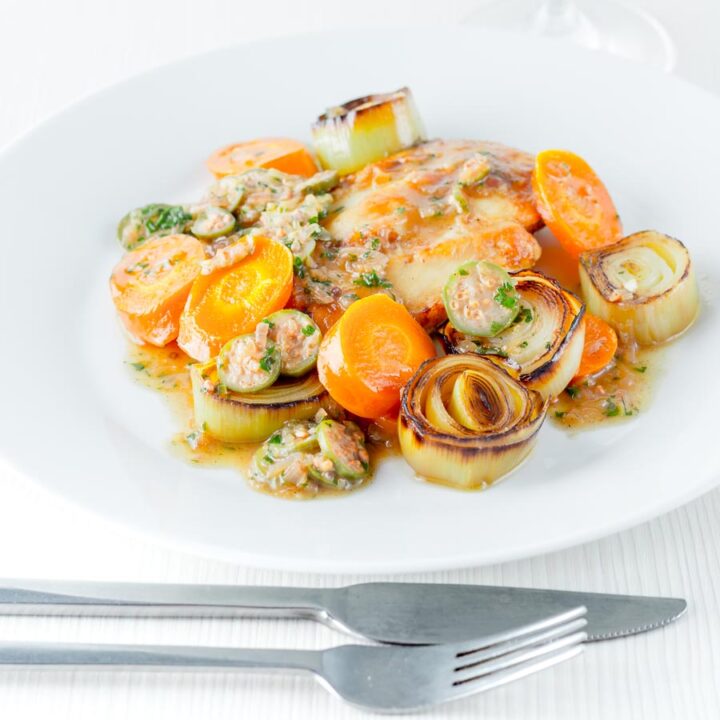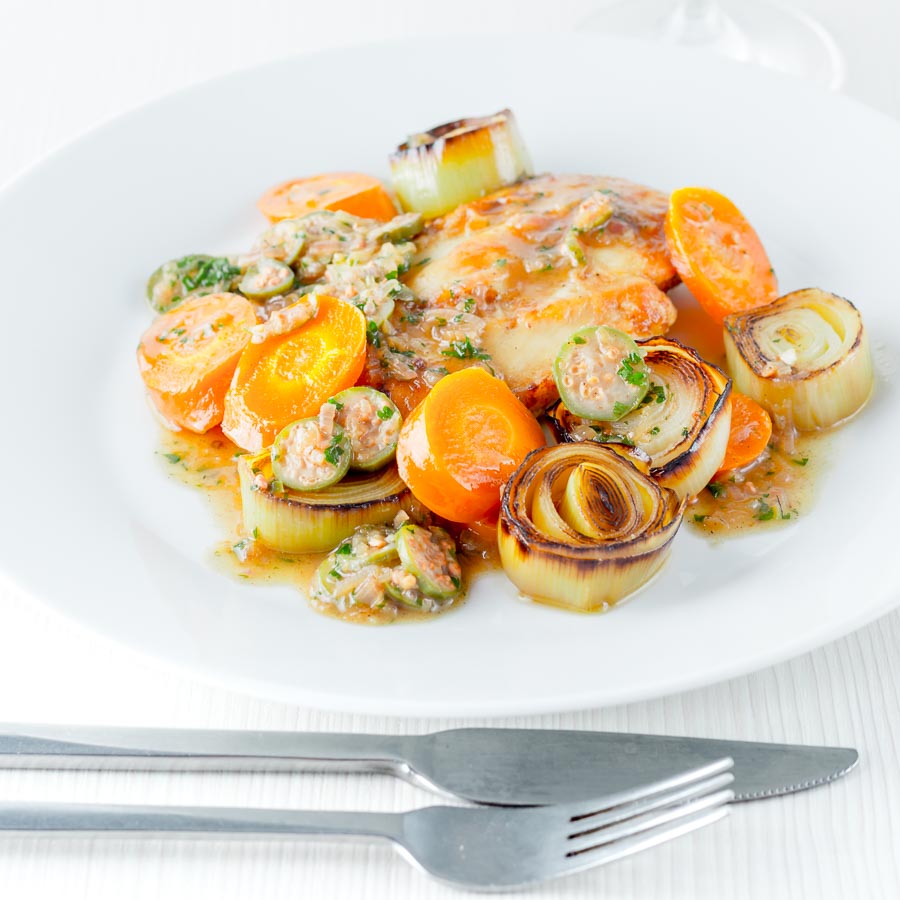 What Is A Caper?
Capers seem to be a real thing for me at the moment and they are appearing in lots of my dishes and I love them. That almost floral sharp flavour really is a wonderful high note in recipes and it is no different here.
Capers are actually the preserved bud of the flower from the caper 'bush'. As bizarre as that sounds they are something that I get palpitations about not having in my store cupboard.
If the flower blooms before it is harvested you get a much larger berry called a caper berry. I use them interchangeably.
They are preserved in everything from sea salt to brine, to vinegar or wine, go for whichever you prefer. To be honest they are all great!
They can add a wonderful extra dimension in everything from sauces like this chicken piccata recipe or my tuna Steak with a lemon caper sauce. Through to salads as in my tuna pasta salad with peas and of course the classic veal scallopini.
If you haven't tried them then pull yourself together and get yourself to the store and get some in yer cupboard!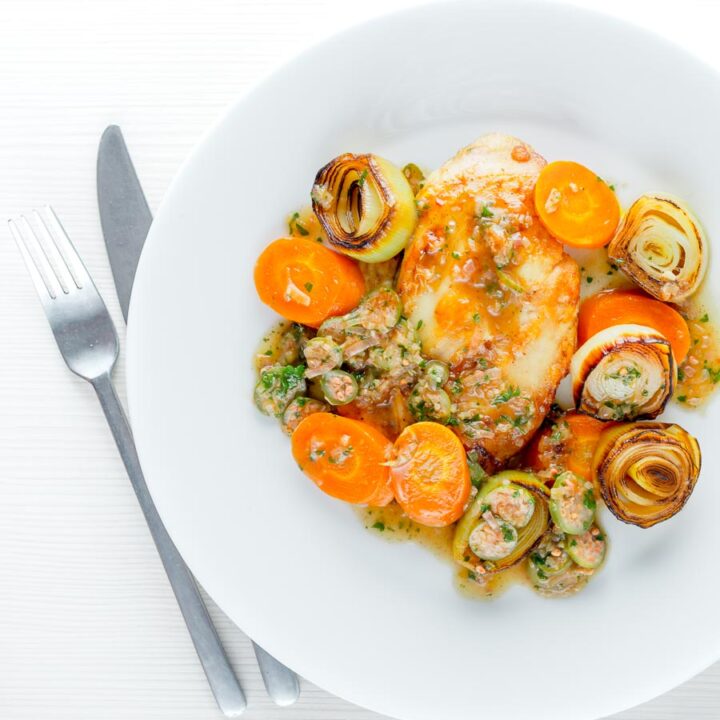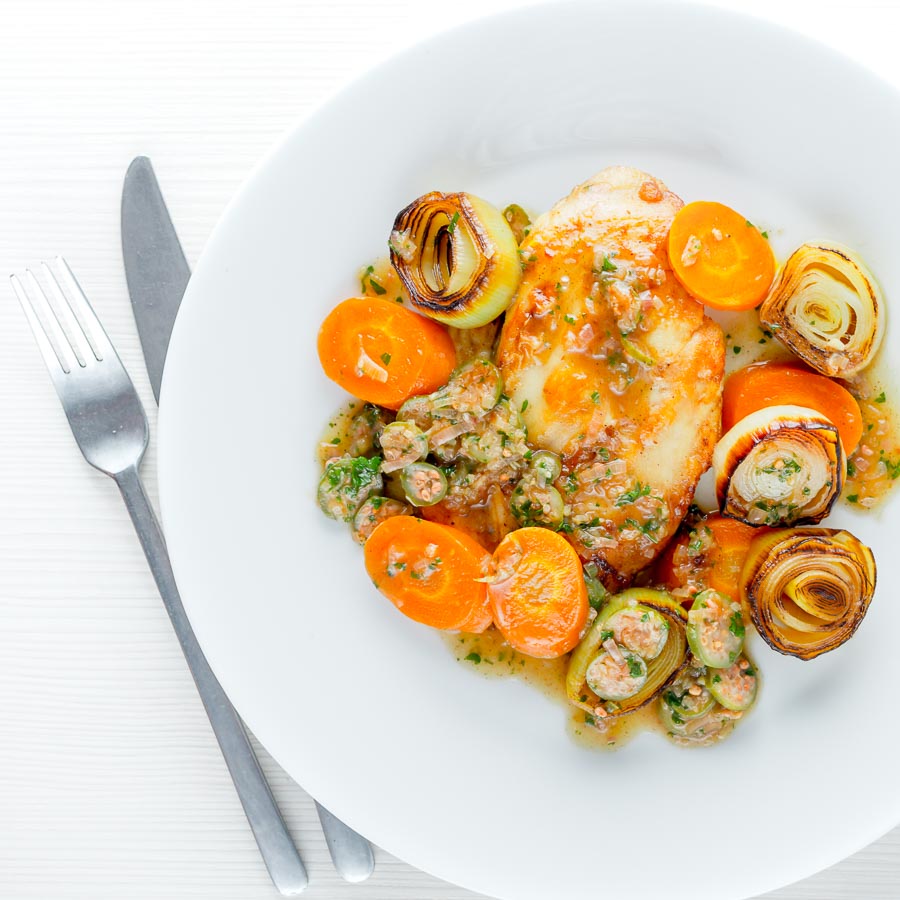 Yield:

2 Servings
Chicken Piccata With Carrots and Leek
This Chicken Piccata recipe is a perfect midweek lifesaver, fast and simple but with bucket loads of big zingy flavours but homely enough to feel familiar!
Ingredients
For the Carrot and Leeks:
125 g Carrot, Sliced on the diagonal into coins 4-5mm thick
150 g Leek, Sliced into rings 1cm thick
1 Tbsp Cooking Oil, Neutral
25 g Butter
50 ml Dry White Wine
1/4 Tsp Coarse Sea Salt
For the Chicken Piccata:
300 g Chicken Breast, Two small or one large chicken breasts
50 g Shallot, Diced as finely as you can
35 g Capers, Finely sliced if large roughly chopped if small
2 Tbsp Fresh Parsley, Chopped
1 Clove Garlic, Mashed
50 g Plain Flour
1 Tsp Salt
1/2 Tsp Black Pepper
1 Tsp Cooking Oil, Neutral
1 Tbsp Lemon Juice
100 ml Dry White Wine
Instructions
Heat a frying over a medium high heat and when hot add the cooking oil for the carrots and leeks.
Place the leeks in to the frying pan and sear until you get a nice colour, 1-2 minutes, then flip.
Add the butter for the carrots and leaks and when it begins to foam turn down the heat to medium and add the carrots, wine and salt and cover with a lid and cook for 12-15 minutes.
Now sort your chicken, if you are using small breasts use them whole if a single large breast cut in half across the breadth and sandwich between cling film and bash out to around 7mm thick.
Mix together the flour, salt and pepper for the chicken Picatta and spread on a plate or board.
Heat the oil for the Piccata over a medium heat followed by the butter.
When the butter has melted and begins to foam dredge the chicken breasts in the flour and add to the butter.
Cook the chicken for 3-4 minutes until you have a nice golden color then flip and cook for further 3 minutes or until the chicken is cooked through.
Remove the chicken from the pan and set aside to rest for a few minutes whilst we make the sauce.
Add the garlic and shallot to the butter that we cooked the chicken in and cook for 2 minutes until softened.
Turn the heat up to high and add the wine and lemon juice and reduce by half.
When reduced add in the capers and parsley and stir.
Serve the chicken breast with the carrots and leeks napping over with the pan sauce we have just made.
Nutrition Information:
Yield:
2
Serving Size:
1
Amount Per Serving:
Calories:

744
Total Fat:

28g
Saturated Fat:

9g
Trans Fat:

0g
Unsaturated Fat:

16g
Cholesterol:

205mg
Sodium:

2155mg
Carbohydrates:

39g
Fiber:

5g
Sugar:

7g
Protein:

70g