Chicken thighs provide an intense chicken flavour in this creamy lemon chicken pasta, throw in some anchovies and capers and you have a taste sensation!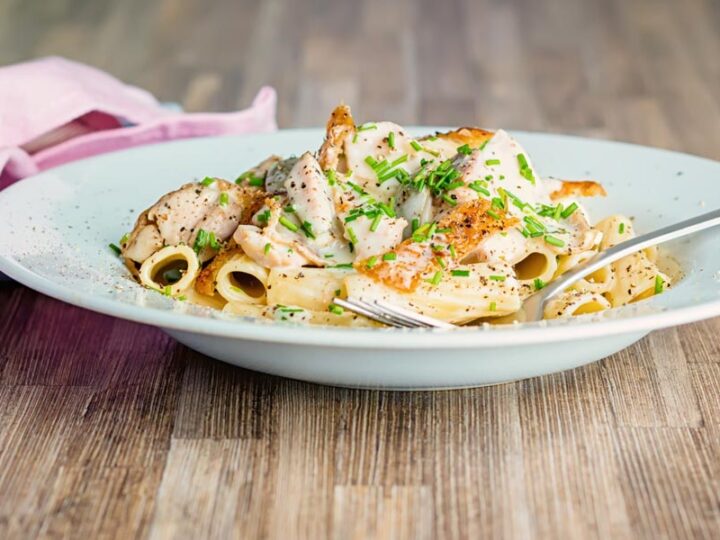 Creamy Lemon Chicken Pasta.
Lemon chicken is such a popular flavour combination and one I have used at length here on Krumpli. This creamy lemon chicken pasta recipe is another play on that idea and a really tasty one…
Simply roasted chicken thighs really do have so much flavour. Throwing in a load of lemon juice to create that whole citrus mojo adds another level of that flavour.
I have no idea why but creamy sauces are pretty much a rarity for me on pasta. I only have a few my creamy chicken and bacon pasta, creamy steak pasta and chicken and leek pasta recipes are great examples.
I don't dislike them, quite the opposite, I just seem to always seem to gravitate towards oil based dressings.
Whether that be pesto as in this pea and pesto spaghetti recipe or indeed the oil from salami as in this little salami and leek pasta number.
I even have a sage and onion chicken pasta recipe that is very influenced by British flavours.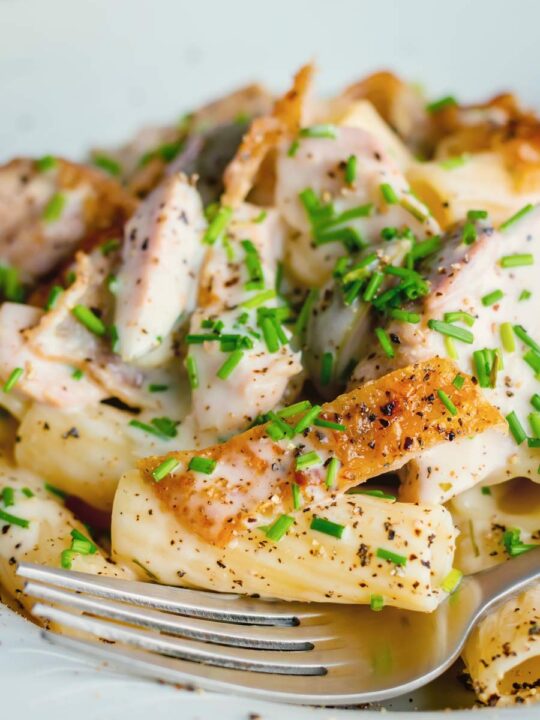 Lemon Chicken Pasta In A Hurry.
This simple lemon chicken pasta recipe is not the quickest pasta recipe in my armoury, but it is insanely tasty.
However, if you do not have half an hour to roast some chicken thighs then we can hurry this up a little.
The first approach would be to use it to use up some leftovers.
Whether it is some left-over roast chicken form Sunday lunch or even leftover turkey from Thanksgiving or Christmas you are good to go.
Just skip the roasting chicken section. Then you have a dinner in the same amount of time it takes to boil pasta.
The second way to speed up this recipe is to grab a rotisserie chicken from the local supermarket.
If you are using leftovers try and use the dark meat from the legs as it has much more flavour. Keep the breast meat for a sandwich with lighter flavours.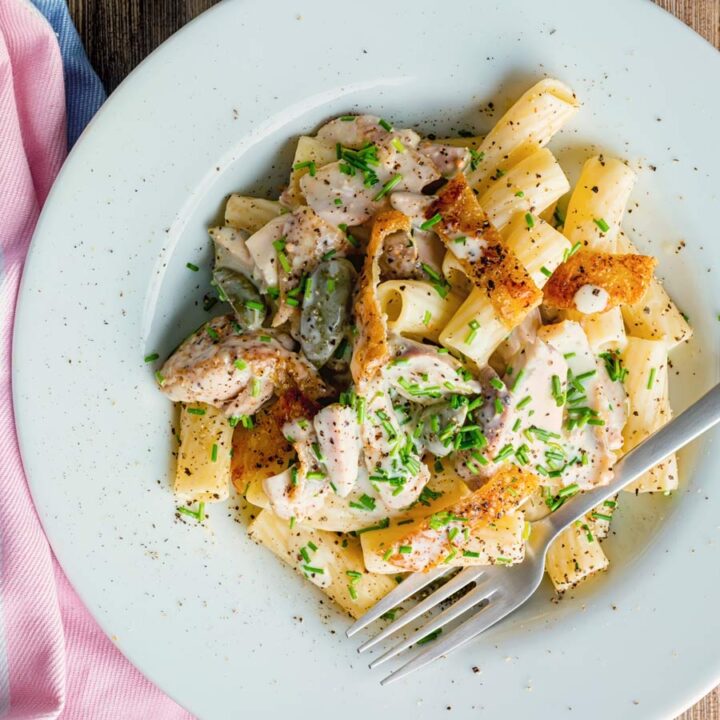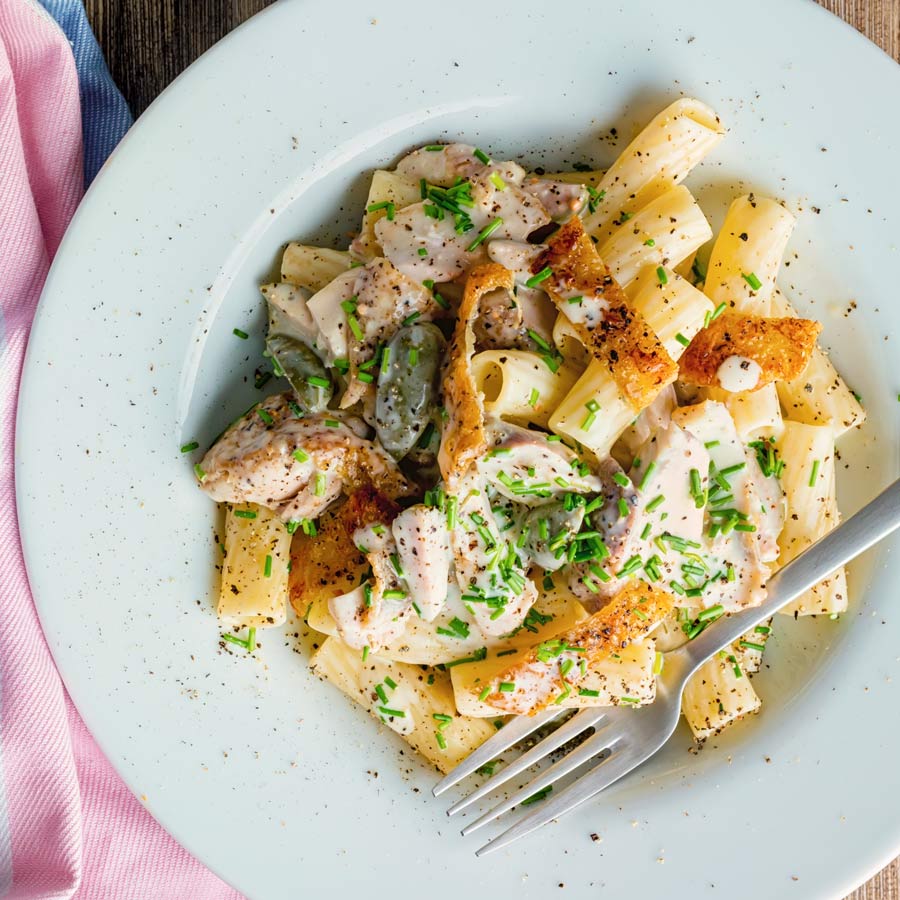 Using Anchovies As Seasoning.
I use anchovies to form a foundation in this lemon chicken pasta recipe.
They are an ingredient I use a lot in surprising places, they are seriously not fishy… Quite the opposite actually they add a level of meatiness to a recipe that you can detect but can't quite put your finger on.
As far as I am concerned they are one of the most magical ingredients in the store cupboard.
They get used in everything from this asparagus soup to my tuna pasta salad.
If you have tried them on pizza and think you don't like them then there is a whole world of cooking and flavour you are ignoring.
Seriously I am not being paid by the anchovy marketing board for this! Although if you are reading this and want to slip me a few quid then we can talk heheheee.
They truly are a superfood and I mean that in the best way possible. They are a food that enhances flavour in everything they touch if used properly!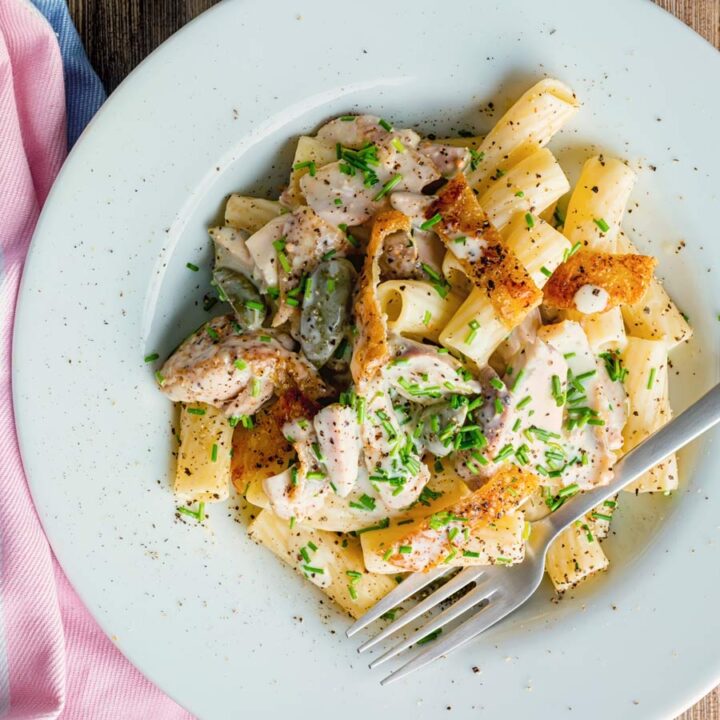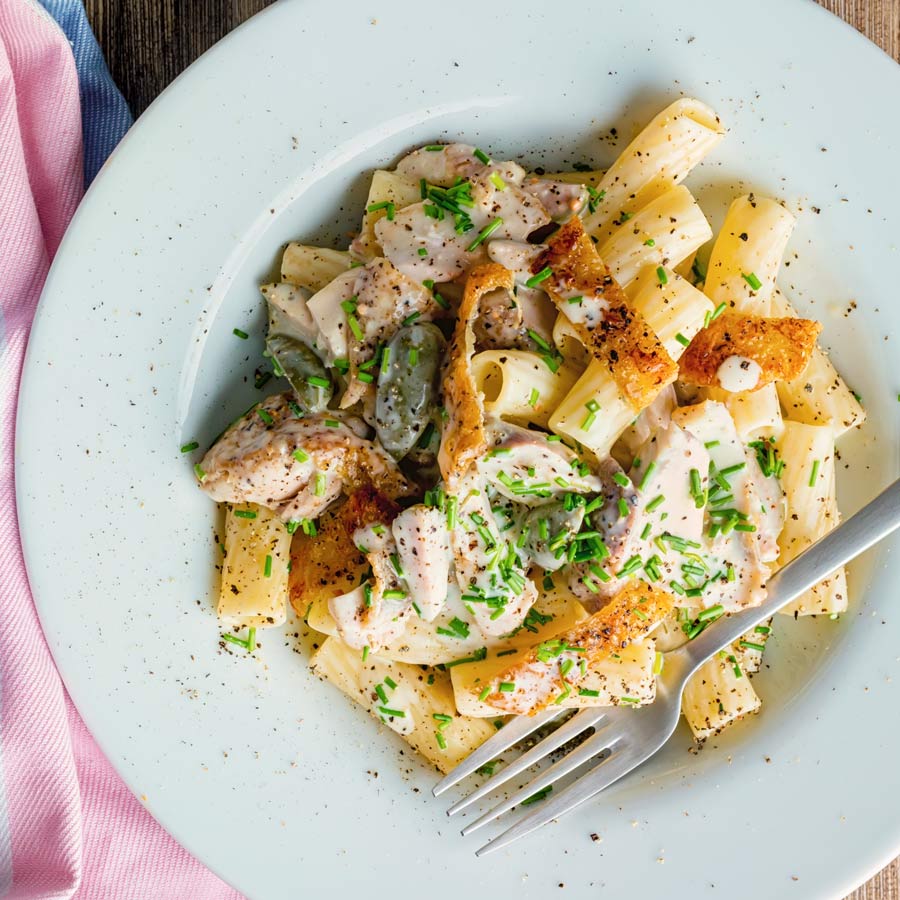 Yield:

2 Servings
Creamy Lemon Chicken Pasta
Chicken thighs provide an intense chicken flavour in this creamy lemon chicken pasta, throw in some anchovies and capers and you have a taste sensation!
Ingredients
350 g Chicken Thighs, Boneless skin on
1 Tbsp Cooking Oil
3 Cloves Garlic, Left whole
10 g Chives
35 g Capers, Cut up if using extra large like me
35 ml Lemon Juice, That's roughly the juice of one lemon
3 Fillets Anchovy
150 g Pasta, Something like penne or tortiglioni is perfect
150 ml Cream
Salt, To taste
Pepper, To taste
Instructions
Heat a pan over a medium high heat and when hot add the oil.
Season the chicken thighs with salt and pepper and sear skin side down in the pan.
When golden flip the chicken, throw in the garlic, lemon juice and anchovies then roast in the oven at 180°C for 30 minutes, or until cooked.
Bring a large pan of salted water to the boil and cook the pasta as per the instructions timed to be finished just after the chicken comes out of the oven.
When the chicken comes out of the oven remove and shred the chicken setting aside a little of the skin to sprinkle after to maintain a crunch.
Drain most of the fat from the pan you cooked the chicken in keeping all the good stuff.
Squeeze out the contents of the garlic, add in the capers, shredded chicken and drained pasta and stir.
Finally pour in the cream and chives and stir to bring to temperature.
Nutrition Information:
Yield:
2
Serving Size:
1
Amount Per Serving:
Calories:

946
Total Fat:

61g
Saturated Fat:

26g
Trans Fat:

1g
Unsaturated Fat:

32g
Cholesterol:

315mg
Sodium:

1254mg
Carbohydrates:

50g
Fiber:

4g
Sugar:

4g
Protein:

54g