A chicken pasta offers a wealth of potential for flavour combinations, this recipe goes with Sage and Onion. Classic flavours with poultry and aided by butter create a fully flavoured main course pasta dish.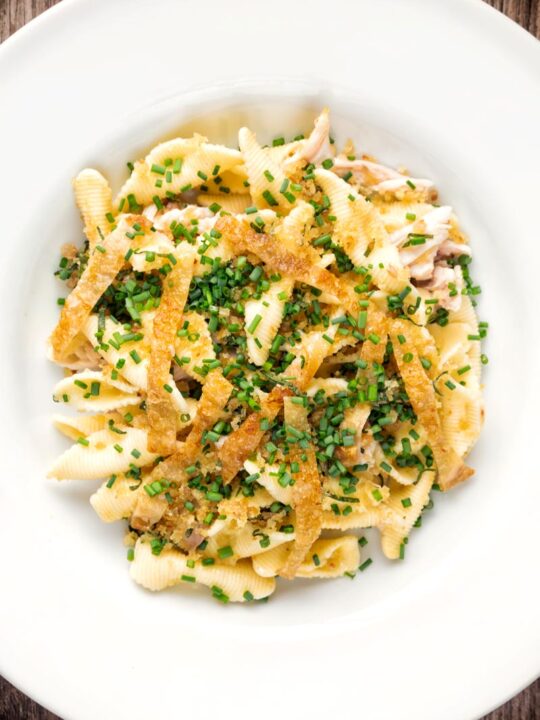 Sage and Onion Chicken Pasta.
The flavours in this pasta recipe are arguably very British. The concept of chicken served with a sage and onion is something that most Brits will recognise.
Now it usually takes the form of a sage and onion stuffing in much the same way as it does for this stuffed chicken breast recipe.
It may seem to be an unusual partner for pasta, but it really is not that much of a reach.
Sage is known as Salvia in Italian and is a common appearance in both gnocchi and risotto recipes.
Butter is also not as unusual as many think in Italian food. Yes, we all know about olive oil, but if you head to the north of Italy butter and dairy produce rule the roost.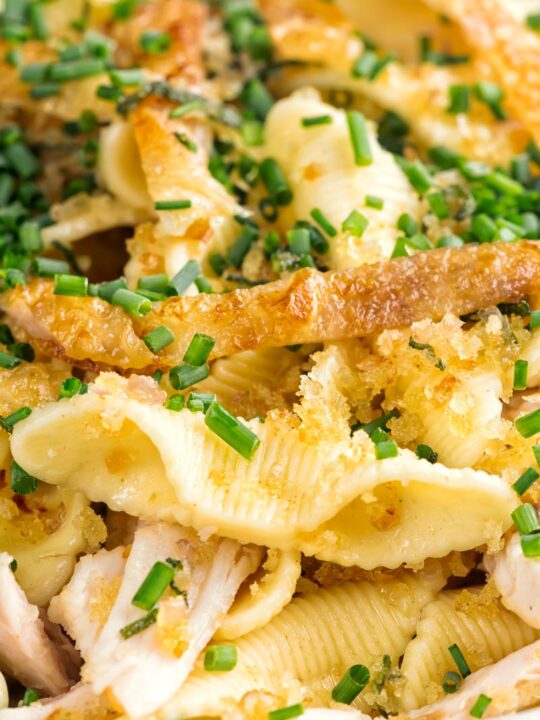 Recipe Notes and Suggestions.
This recipe starts out with some simply roasted chicken thighs, we want pure chicken flavour so we stick with seasoning with salt alone.
If you wanted to you could make this with leftover chicken.
Although then you would have to forego the crispy chicken skin. That will make the dish lighter but also less tasty, those crispy chicken strips work like croutons!
You should also not skimp on the chives, they are not a garnish. They provide the onion flavour in this sage and onion flavoured recipe!
Finally the breadcrumbs, I have used this technique as a topping for pasta a few times.
This recipe would also work really well as a pasta bake, just undercook the pasta a little more. Then add a little cream, nutty swiss cheese and more salt and pepper.
Make it up in advance and chuck it in the oven for 20 mins sprinkled with more bread crumbs and you have a perfect pasta bake.
You can also swap out the chicken thighs for chicken breasts if you wish, although they do have less flavour!
It is pure genius, please give it a try with any complimentary flavours for the dish you are cooking.
If you want some inspiration, check out my smoked mackerel pasta and garlic spaghetti with blue cheese recipes!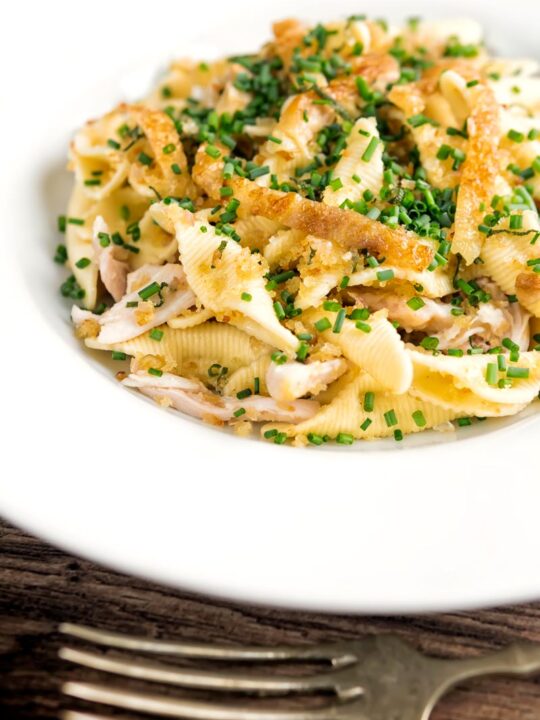 What Pasta to Use in This Recipe?
This pasta recipe does not have a thick rich sauce and as a result, works best with a flatter wider pasta.
I found this wonderfully textured, larger than usual Tripolini shaped pasta. But something like farfalle would work well as would conchiglie.
If you wanted to really bulk out this as a meal then you could also use orecchiette pasta.
If you are looking for something with a sauce then I have a fantastic creamy lemon chicken pasta or chicken and leek pasta for you.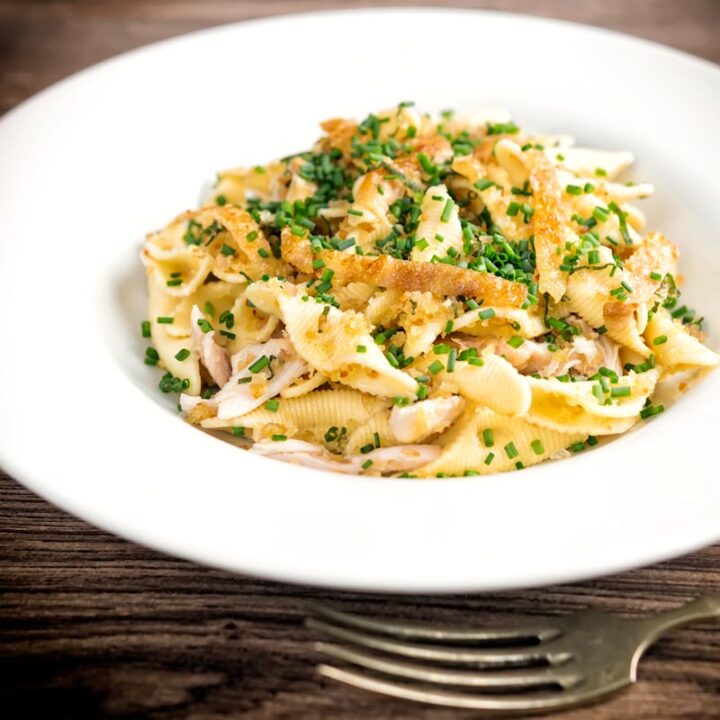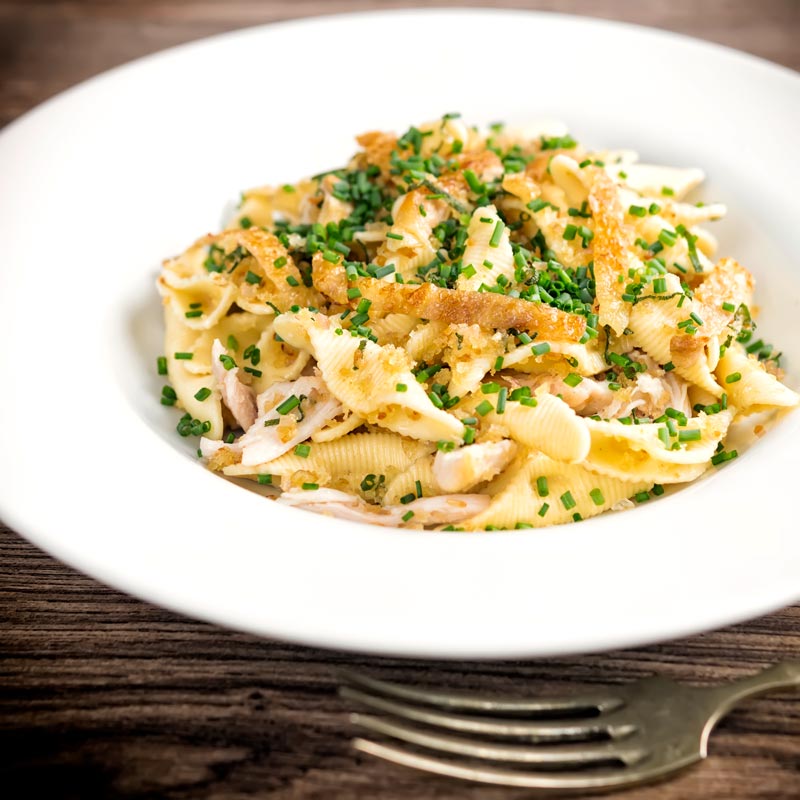 Yield:

2 Servings
Sage and Onion Chicken Pasta
This sage and onion chicken pasta recipe definitely fuses British flavours with Italian ingredients. We toast breadcrumbs in butter and sage and then stir this through pasta with some simple roasted chicken thighs.
Ingredients
2 Chicken Thighs
150 g Short Pasta
1 Tbsp Olive Oil
50 g Butter
2 Shallots
20 Sage Leaves
25 g Breadcrumbs
5 g Chives
Salt to taste
Instructions
Heat a dry pan that can be transferred to the oven over a high heat.
Rub the chicken thighs with the oil and season generously with salt.
Place the chicken skin side down in the hot pan and get a nice colour on the skin.
Flip the chicken and then transfer to the oven and cook for 20-25 mins*
Finely dice the shallot and finely cut the chives.
Roll the sage and cut into fine ribbons.
When the chicken has cooked remove from the oven and remove the skin.
Turn off the oven and place the skin in the oven to dry.
Tent the chicken with foil and allow to rest for 10 minutes.
Keep the juices in the pan we need those.
As soon as the chicken comes out of the oven add the pasta to some well-salted water.
Cook for a minute less than the packet instructions.
Heat the pan we cooked the chicken in over a medium heat and add half of the butter.
When melted add the shallots and cook for 3-4 mins.
Add the sage and breadcrumbs to this pan and cook for 2 mins or until the bread crumbs are golden.
Whilst you are doing this shred the chicken.
Remove these from the pan and set aside.
Add the remaining butter to the pan and melt.
Your pasta should now be ready to drain.
Add the pasta to the butter and stir through the chicken.
Stir through 3/4 of the breadcrumbs.
Serve and top with the remaining breadcrumbs, the chicken skin and the chives.
Notes
You want your chicken to reach an internal temperature of 70°C or 158°F before you remove and allow to rest. It will continue to cook and the temperature will rise into the safe zone as it rests.
Nutrition Information:
Yield:
2
Serving Size:
1
Amount Per Serving:
Calories:

718
Total Fat:

46g
Saturated Fat:

19g
Trans Fat:

1g
Unsaturated Fat:

25g
Cholesterol:

220mg
Sodium:

775mg
Carbohydrates:

40g
Fiber:

3g
Sugar:

5g
Protein:

38g
Calorific details are provided by a third-party application and are to be used as indicative figures only.