As far as I am concerned sage and onion stuffing balls are an essential and delicious part of any Sunday lunch.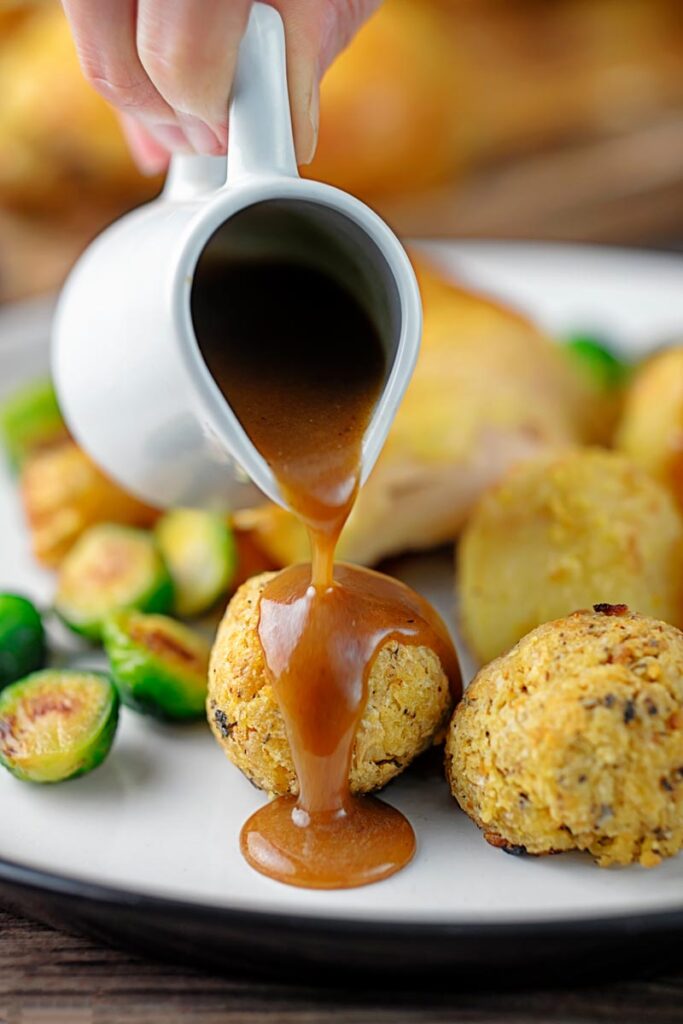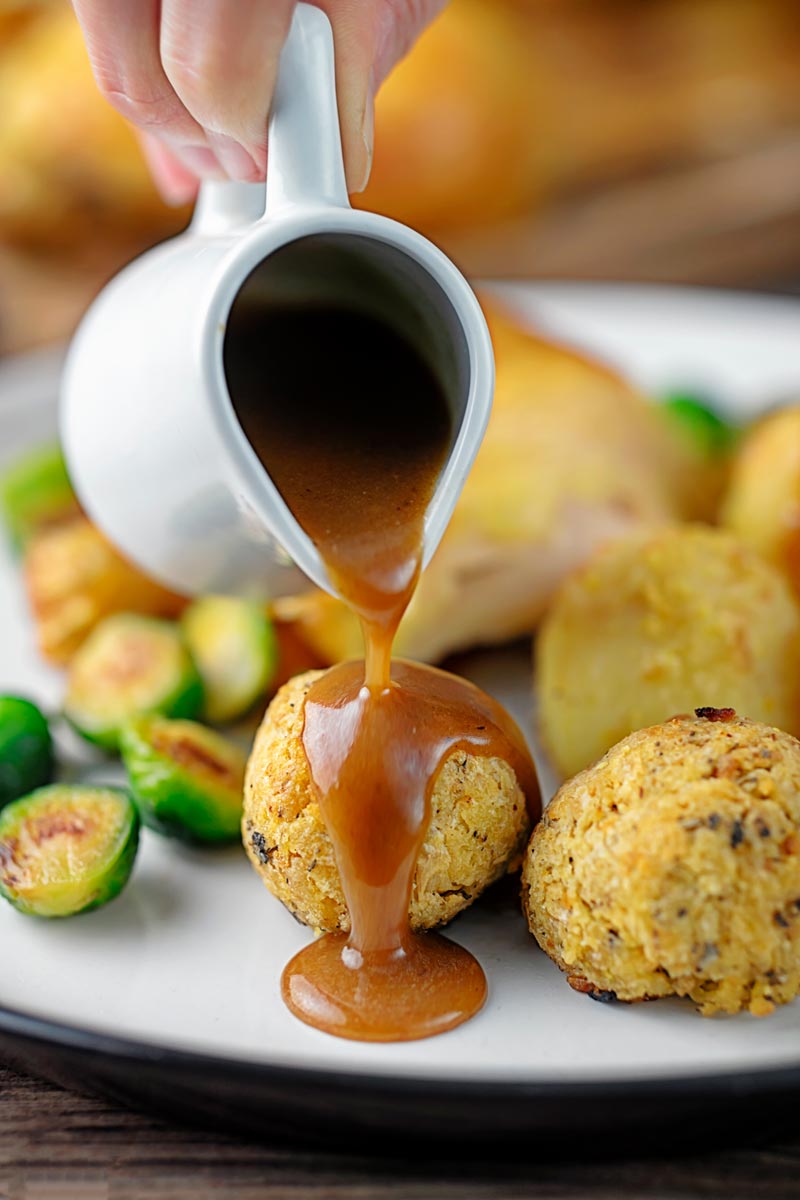 Sage and Onion Stuffing.
There are a couple of brand names in the UK that are just synonymous with Sunday lunch. Bisto owns gravy and Paxo owns stuffing.
How on earth we ended up here I have no idea at all.
Both gravy and sage and onion stuffing are insanely easy to make from scratch.
They both taste better than their "boxed" brethren.
AND they are both cheaper, for gravy you should check out my roast chicken with pan gravy recipe. Stick around here for all things stuffing!
Naturally, these must form part of the full monty and roast potatoes and Yorkshire puddings are required!
Sage and onion are a flavour combination from heaven.
I love it so much that I even created a sage and onion chicken pasta recipe that is divine!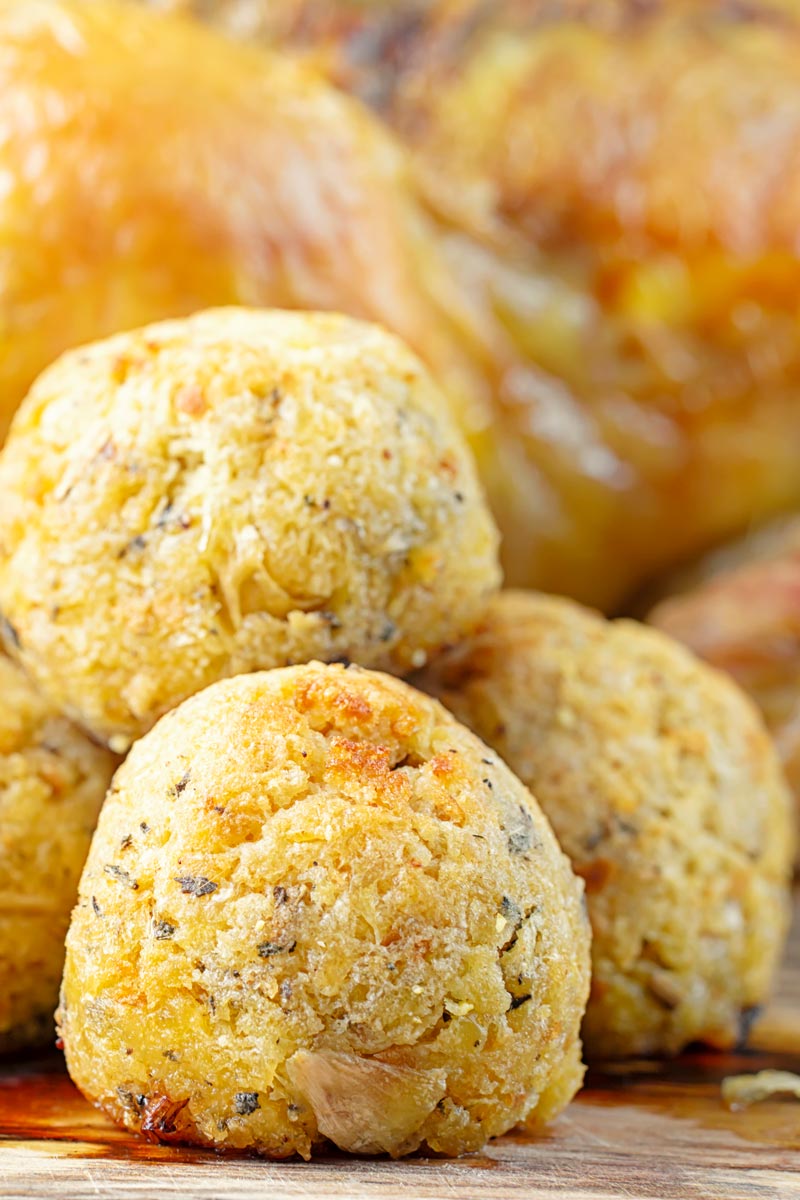 How to Make Stuffing Balls.
The making of the stuffing balls is insanely simple.
All you need to do is chuck some ingredients together and form them into balls.
However, you do need to make sure you grate your onion rather than chop or blend.
It releases more of the liquid which leads to juicy balls… No one likes dry balls!
I also strongly favour dried herbs over fresh, it is one of the few times that I will say this.
Most importantly according to the cooking rules of yours truly they should contain no sausage meat and certainly should not be wrapped in bacon!
They are, if you like, vegetarian and better for it.
We have all the meat we need with whatever roast we are serving it with.
I'm not much of a fan of adding pork products to Sunday lunches unless that pork product is a lump of pork like my roast pork fillet or crispy pork belly.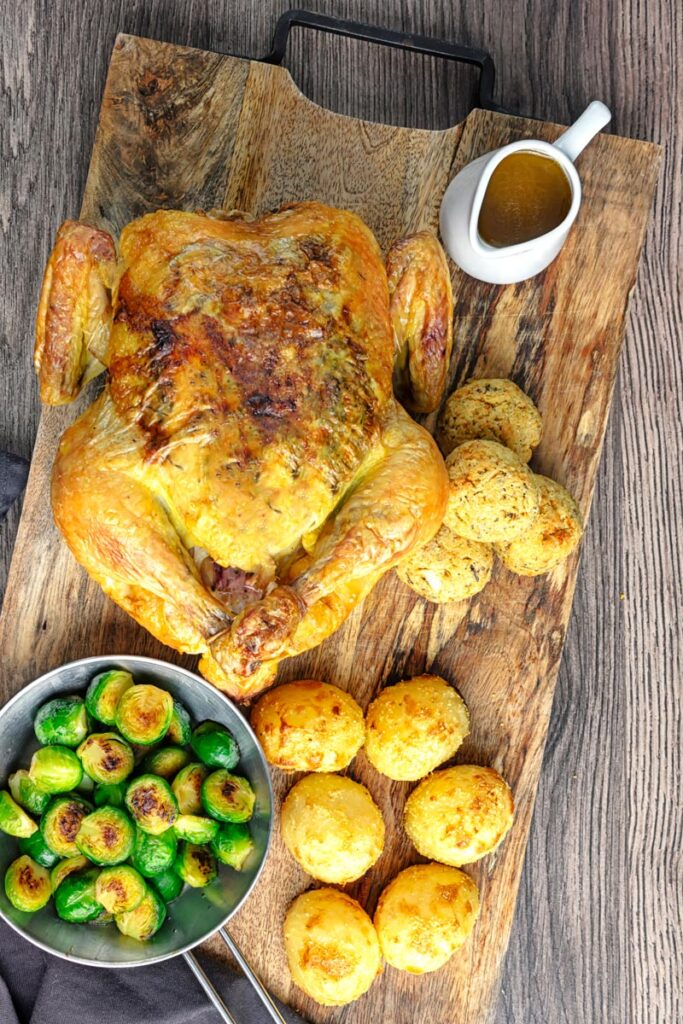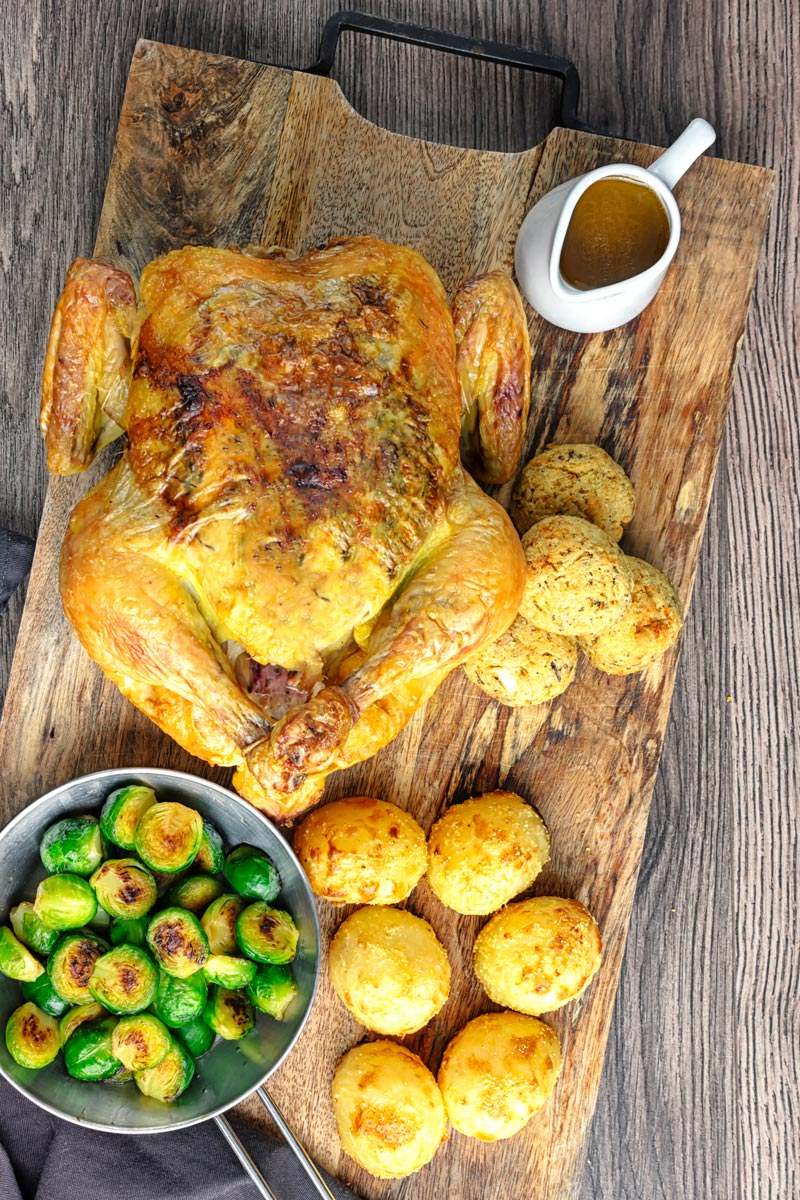 How to Cook Them.
These things really come to life with what they are cooked with.
They should be rolled in the fat of a roasting tin with your Sunday lunch. Whether that be pork, chicken or beef, it does not matter.
They take around 30 minutes to cook at 180°C or 350°F.
Given that every roasted hunk of meat needs resting for 20-30 minutes then you drop them in when the meat comes out or just before.
But you will need to allow for a little time to make the gravy!
You can cook them separately, although they are never quite as good.
A good Sunday lunch really is all about the sum of its parts and those part on there own are always a little lonely.
If I am cooking these separately then I will roll in a good tasty hard fat. Something like goose, duck, beef dripping or lard.
It adds a great depth of flavour and a wonderful crisp coating.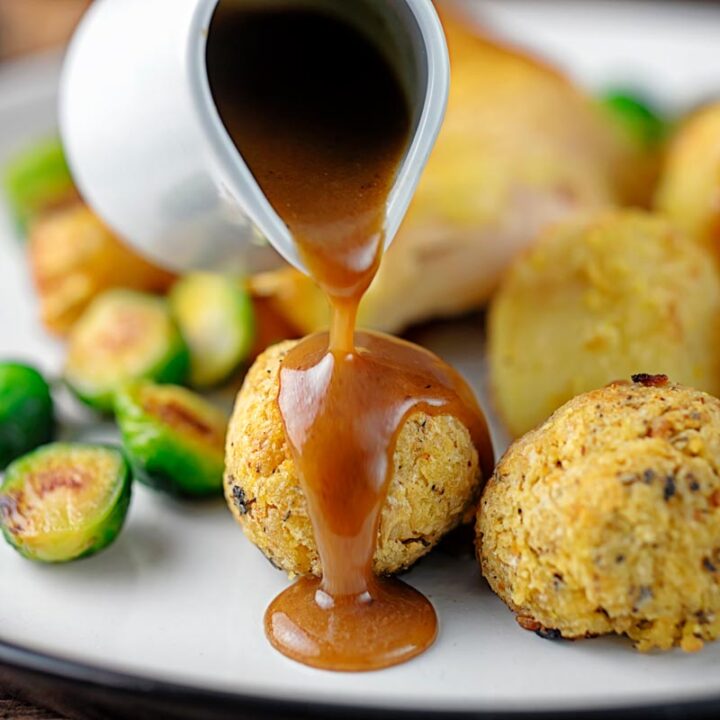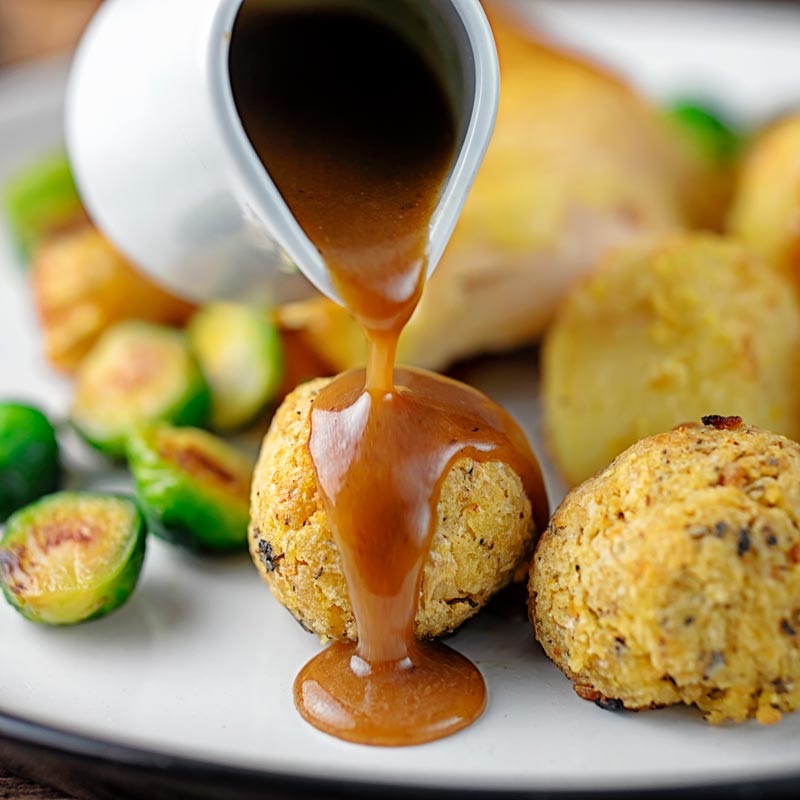 Yield:

4 Balls
Sage and Onion Stuffing Balls Recipe
No roast dinner is complete without sage and onion stuffing balls as far as I am concerned, simple to make and utterly delicious I could make a meal out of these.
Ingredients
100 g Onion
1 Egg Yolk
40 g Breadcrumbs
1 Heaped Tsp Dried Sage
1 Pinch Salt
Pinch Fresh Nutmeg
Instructions
Peel and grate the onion and add it to the sage in a bowl.
Add the egg yolk and breadcrumbs.
Drop in a pinch of salt and a little grating of fresh nutmeg.
Form into 4 balls and set aside for 15 minutes.
Place in a roasting tray with your roast meat and roll around in the cooking juices.
Cook for 30 minutes at 180°C or 350°F.
Nutrition Information:
Yield:
2
Serving Size:
1
Amount Per Serving:
Calories:

130
Total Fat:

3g
Saturated Fat:

1g
Trans Fat:

0g
Unsaturated Fat:

2g
Cholesterol:

92mg
Sodium:

218mg
Carbohydrates:

20g
Fiber:

2g
Sugar:

4g
Protein:

5g
Calorific details are provided by a third-party application and are to be used as indicative figures only.