Roast pork fillet makes the perfect Sunday lunch for two, this recipe combines it with a baked apple puree and simple cider butter sauce!
You can scale this recipe for more people by simply adding more pieces of pork. It has little to no impact on the 40 odd minute cooking time, making it a great recipe to feed a crowd in a hurry too.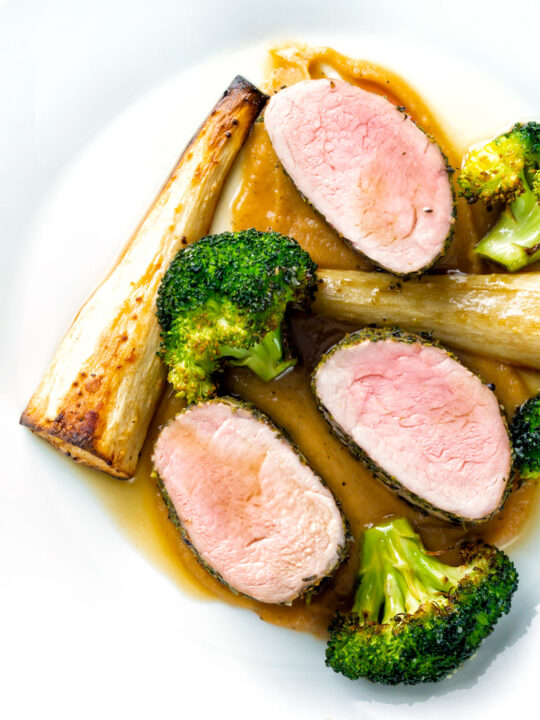 Roast Pork Tenderloin for Two.
This recipe whilst looking rather might sound complex but it is remarkably simple.
You can even prepare the baked apple puree and cider sauce in advance and reheat them later.
I adore roast pork but it can take a long old time to cook. Both my roast pork belly and roast pork knuckle recipes take 3-4 hours to cook.
But tenderloin or fillet is much quicker and dishes like this roast pork fillet, my roast pork tenderloin and my char siu pork tenderloin all take under half an hour to cook.
And because of the nature of pork fillet, you can add more of them and the cooking time remains unaffected.
In fact, so long as you have oven space you can cook this for two people as I have here or two dozen and it will not take a lot longer.
The same goes for other pork tenderloin recipes like my bacon wrapped pork tenderloin and miso & honey glazed pork tenderloin.
As a side note, it is also particularly good in stir fry dishes like my hoisin pork noodle stir fry.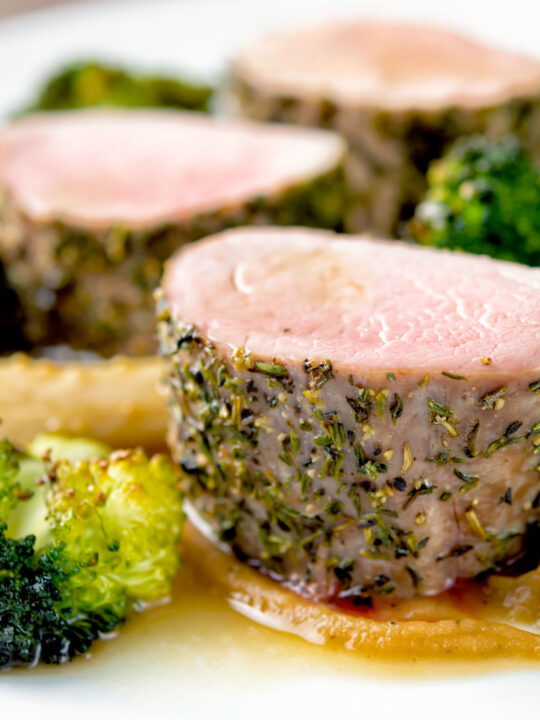 Frequently Asked Questions.
Is it safe to serve pork pink?
Yes, the guidance on the safe cooking temperature for pork changed many years ago. It now sits down at 63° or 145°F.

As with most roasted meat you need to factor in a rise in temperature whilst resting. As a result, I usually remove it from the oven around 5°C below that.
Do I have to serve the pork pink?
Absolutely not! There are many food writers that will queue up to tell you how you should like your meat cooked, I'm not one of them!
I like my pork fillet cooked to the very lowest safe temperature. If you want it cooked all of the way through with no pinkness then aim for a serving temperature of 71°C or 160°F. Again remember to factor in a temperature rise whilst resting.

Going beyond that number will tighten up the pork significantly. Anywhere between those two figures will give you a lovely tender piece of pork.
A note on the cider!
This is a note for my US-based readers, cider to us Europeans refers to booze. You guys know it as hard cider.

Please do not make this with what is labelled as apple cider in the US, it will taste real funky! Try and find a nice dry hard cider or French cidre.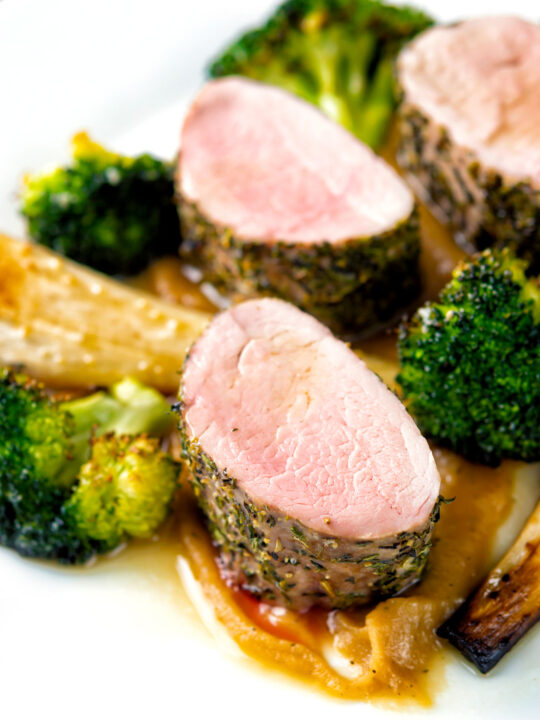 Serving Suggestions.
This roast pork fillet recipe has a Sunday lunch kinda vibe for me and it is only right that it gets served appropriately.
Here it is accompanied by honey roast parsnips and roasted broccoli.
But it also goes wonderfully with roast potatoes or even fondant potatoes, and sage and onion stuffing balls.
You could also add some garlic green beans with almonds or glazed Chantenay carrots. The umami hit from miso glazed Brussel sprouts would also be wonderful.
There are some Brits that will tell you that Yorkshire puddings should only be served with roast beef… they are wrong, they would work great here too!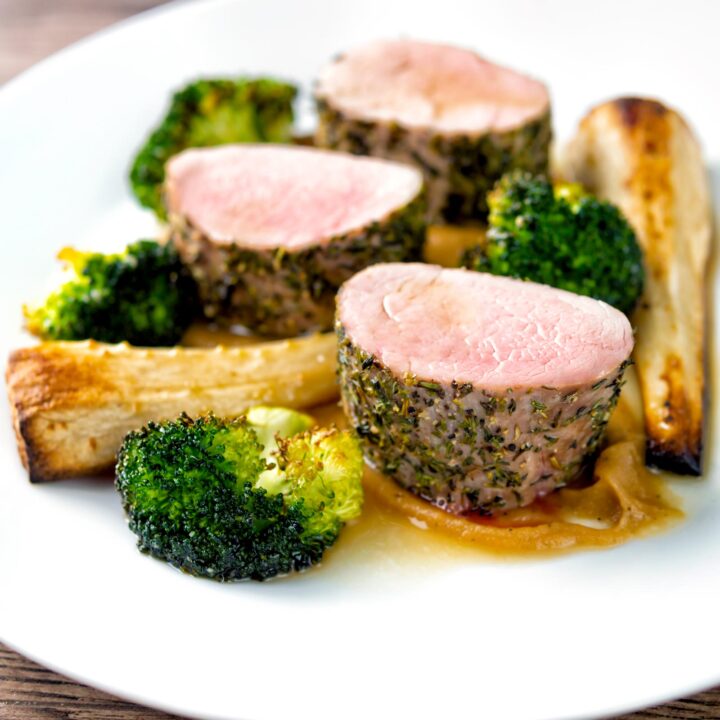 Yield:

2 Servings
Roast Pork Fillet Recipe with Baked Apple Cider Sauce
Simple cooking techniques, perfect timing, fab presentation and great flavour combinations make this roast pork fillet with baked apple puree achievable for even novice home cooks.
Ingredients
For the Pork Fillet
400g (14oz) Pork Fillet
1 Tsp Dried Thyme
1 Tbsp Olive Oil
Salt to Taste
Pepper to Taste
For the Apple Puree
2 Apples
25g (~2 Tbsp) Butter
½ Tsp Sugar
½ Tsp Dried Sage
1 Tsp Balsamic Vinegar
Pinch Salt
For the Cider Sauce
50g (⅓ Cup) Shallot
25g (~2 Tbsp) Butter
250ml (1 Cup) Dry Cider
Pinch Salt
Instructions
For the Apple Puree (35 minutes):
Peel and core the apples.
Cut into quarters and place on a small roasting tray with the butter.
Sprinkle over the salt, sugar and sage.
Roast for 35 minutes or until soft at 200°C or 400°F.
Blend to a smooth puree passing through a fine sieve to refine if you like..
For the Cider Sauce (30 minutes):
Heat the butter in a pan over a medium heat.
Finely slice the shallot and add it to the butter and cook until softened.
Pour in the cider add a pinch of salt and reduce down to around 100ml (just under half a cup).
Strain off the sauce and reserve for serving
For the Pork Fillet (20-25 minutes):
Season the pork fillet with the thyme and then generously with salt and pepper.
Place on a roasting tray and drizzle with olive oil.
Roast in the oven at 200°C or 400°F for 12-17 minutes.
You want the internal temperature to reach 58°C 135-140°F before removing from the oven (see frequently asked questions above for cooking beyond medium rare).
Cover with foil and allow to rest for 5-7 minutes.
Notes
Look for a 'mealy' or floury apple for the puree, something like a red delicious would be perfect. In the absence of this older apples tend to be more floury, but if you can only get a firm apple then bake them for up to 30 minutes longer.
Nutrition Information:
Yield:
2
Serving Size:
1
Amount Per Serving:
Calories:

717
Total Fat:

36g
Saturated Fat:

17g
Trans Fat:

1g
Unsaturated Fat:

16g
Cholesterol:

200mg
Sodium:

709mg
Carbohydrates:

47g
Fiber:

6g
Sugar:

35g
Protein:

54g
Calorific details are provided by a third-party application and are to be used as indicative figures only.