Chinese barbeque pork or char siu pork is loaded with wonderful flavours and cooking it with pork tenderloin means it cooks in under 20 mins!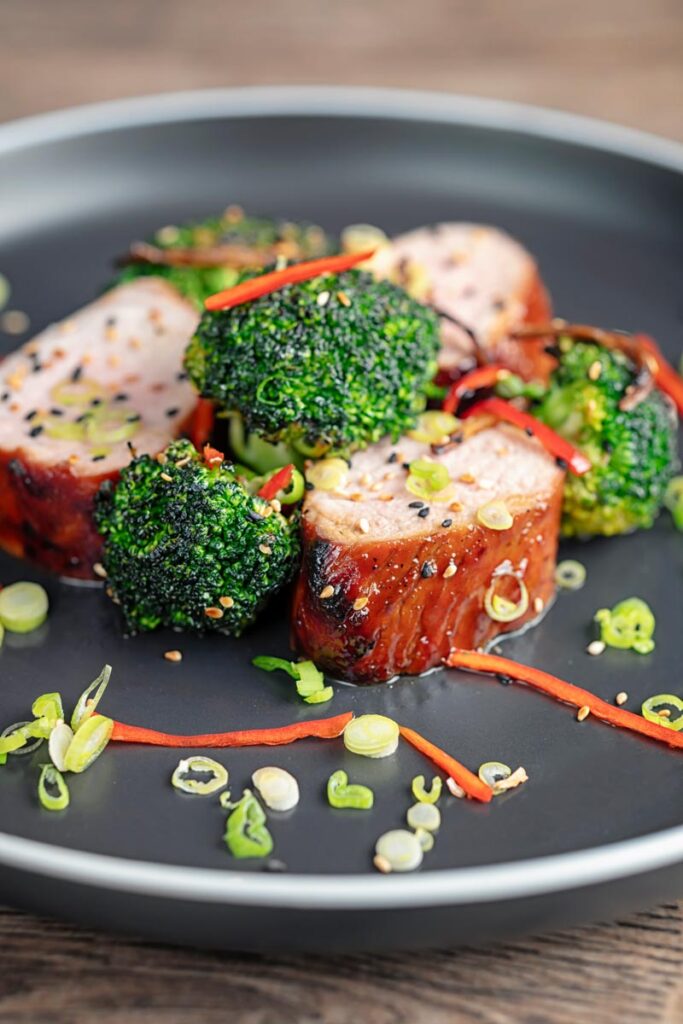 Chinese BBQ Pork.
The name char siu translates as fork roasting and it belies the origins of this recipe.
I have two versions of this, the first is my slow cooker char siu ribs.
That one takes all day to cook… This one cooks much quicker and it is my "date night" version of this classic recipe.
It is also super simple to make, so long as you can mix ingredients together and have an oven then you are good to go!
Roast off the pork in a hot oven, no searing, for 15 minutes and then let it rest. Seriously it is that simple!
Pork Tenderloin comes from the same part of the pig as fillet of beef comes from in a cow.
Just like beef fillet, pork fillet is exceptionally tender and really benefits from quick and simple cooking.
It is also really versatile, I make everything from eurocentric bacon-wrapped pork tenderloin and pork medallions through to using it in my pork stroganoff. It even appears in my special fried rice recipe!
Using the fillet makes char siu pork a really achievable quick midweek dinner so long as you plan ahead with the marinade.
Please do not confuse tenderloin for loin, they are different cuts of meat and require different cooking!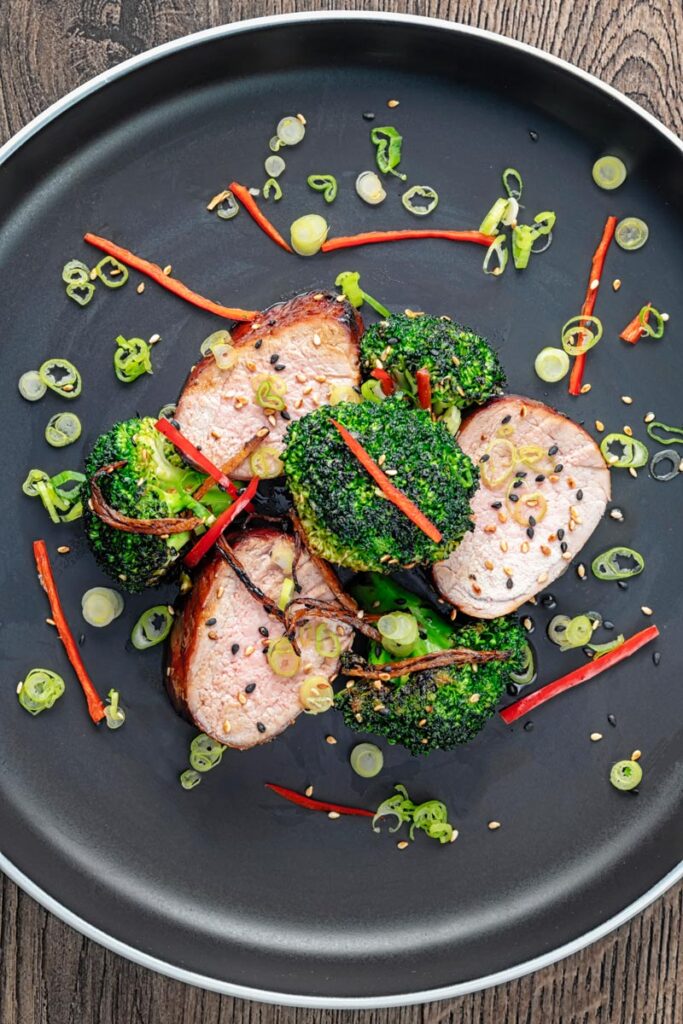 Alternative Cooking Methods.
I have tested out this recipe 3 ways because I am all about the sacrifices, that and I love it!
All of them work really well. It does not matter if you roast in the oven, cook on the BBQ or even in an air fryer, folk will love this.
The instructions at the end of the page are for oven-roasted char siu, I find this method the most consistent and pleasing.
To cook on a BBQ you need to have two cooking zones, direct and indirect, and a BBQ with a lid.
Marinade as per my instructions then get your BBQ nice and hot.
Sear the pork on the direct heat for a few seconds then transfer to the indirect heat and add a lid.
Then cook for 8-12 minutes.
To cook in an air fryer you need to cut the pork in half to make it fit. Do not bend because it will stop you getting an even glaze.
Then cook in a preheated air fryer at 200°C or 400°F for 8-10 minutes.
Serving Suggestions
First of all, let's talk about the serving of the pork.
I like my tenderloin medium-rare to medium but you should have yours as you like it.
Anyone who tells you how you should eat your meat should not be trusted to tell you how to cook!
Internal temperatures for pork when served are as follows.
Medium-Rare: 63-65°C or 145-150°F
Medium: 65-68°C or 150-155°F
Medium-Well: 68-71°C or 155-160°F
Well: 71°C+ or 160°F+
Buy a meat thermometer and stick the probe in the middle of the pork.
Remove the meat when the temperature reads 3-4 degrees cooler than the final temperature.
I have no irons in this fire, buy whatever you want, they all work.
Mine cost the equivalent of a £5 or $7-8 and gets used all of the time and it makes me a better cook!
Finally, serving suggestions for char siu pork.
The images show this served with stir fried broccoli, but it also works really well with stir fried noodles. This quick mushroom and spinach stir fry or mushroom chow mein would be great too!
If you are planning to serve this as part of a multi-course meal then pickles are also a good lighter choice.
A quick pickled daikon or pickled cucumber would both work really well, they both take around 20 minutes!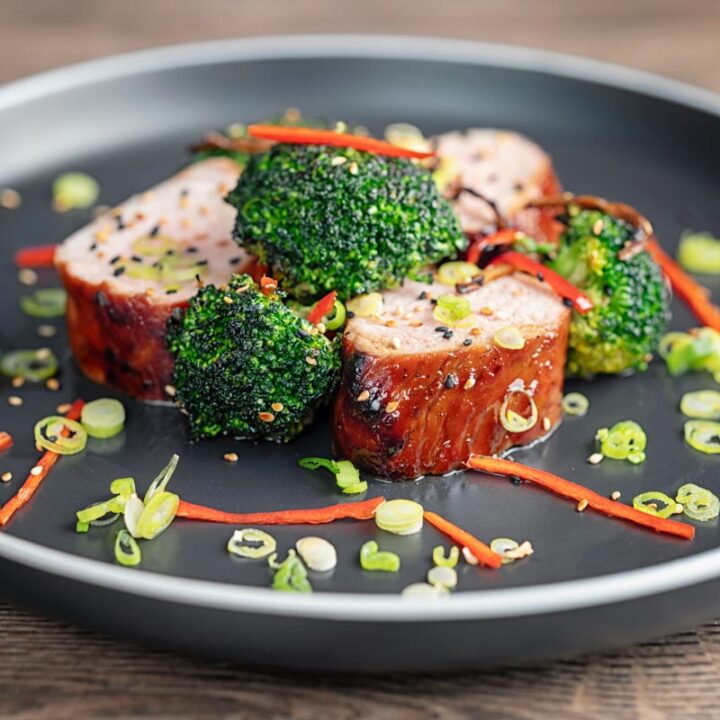 Yield:

2 Servings
Char Siu Pork Tenderloin Recipe
Total Time:
4 hours
20 minutes
Char Siu pork is a classic Chinese recipe, in this version I use marinade pork tenderloin overnight and roast it quickly in the oven!
Ingredients
350 g Pork Tenderloin
2 Tbsp Hoisin Sauce
1 Tbsp Rice Wine
1 Tbsp Light Soy Sauce
25 g Honey
1 Tsp Chinese Five Spice
1/2 Tsp Tabasco Sauce
Instructions
Measure all of the ingredients with the exception of the pork into a large sealable bag.
Seal the bag and mix well together.
Add the pork to the bag, massage to coat well and seal the bag again.
Place in the fridge and marinate for at least 4 hours, up to 24 hours.
Remove the pork from the fridge an hour before cooking.
Place the pork on a roasting tray.
Cook at 220°C or 450°F for 12-15 minutes or until the pork reaches the desired internal temperature.
Remove from the oven and rest under foil for 5 minutes.
Nutrition Information:
Yield:
2
Serving Size:
2
Amount Per Serving:
Calories:

348
Total Fat:

8g
Saturated Fat:

2g
Trans Fat:

0g
Unsaturated Fat:

4g
Cholesterol:

128mg
Sodium:

935mg
Carbohydrates:

19g
Fiber:

1g
Sugar:

15g
Protein:

47g
Calorific details are provided by a third-party application and are to be used as indicative figures only.