My Mushroom Chow Mein as my take on the takeaway legend and being ready in 20 minutes means it is much quicker than delivery.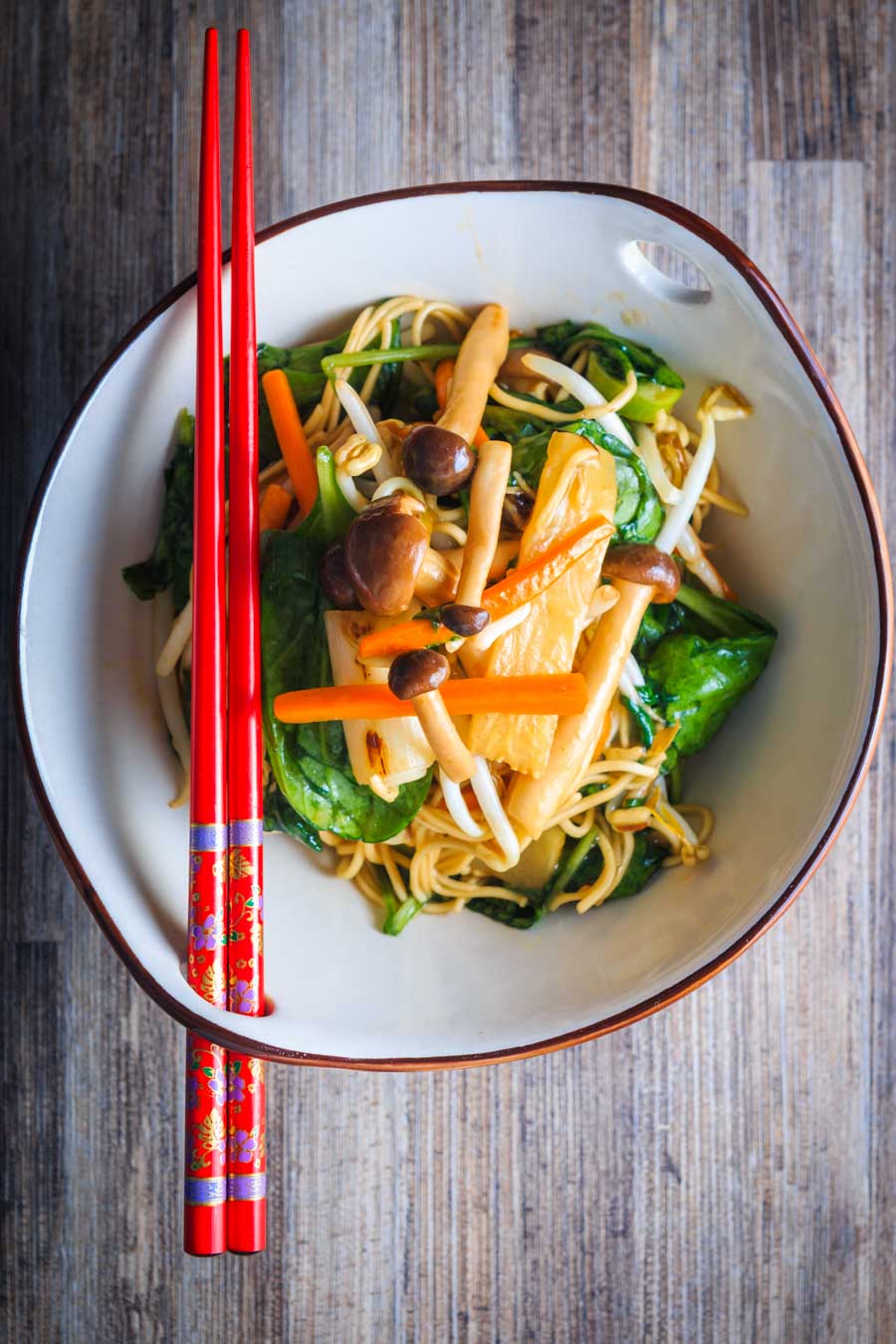 Mushroom Chow Mein.
I can't believe I have not shared this recipe earlier. This chow mein recipe is a stalwart dish at casa Jones and it is so incredibly simple and quick.
You will be playing with variations on this dish for months, nah years.
The secret as with all stir fry recipes is preparation or mise en place as the French and chefs would say.
There is little or no time with this recipe to chop or mix as you go. So take 10 minutes and systematically chop your vegetables and mix the sauce.
This is not just true for chow mein recipes, but all stir-fry recipes! Whether you are cooking a chicken lo mein or stir fry beef and broccoli, make sure you prep in advance.
Once you get going because you need to concentrate on keeping things moving in your fiercely hot wok.
But do that and I promise you will have the most wonderful fakeaway on the table in no time.
Let's face it 20 minutes (at the most), is definitely quicker than your takeaway dude or dudette can get to you.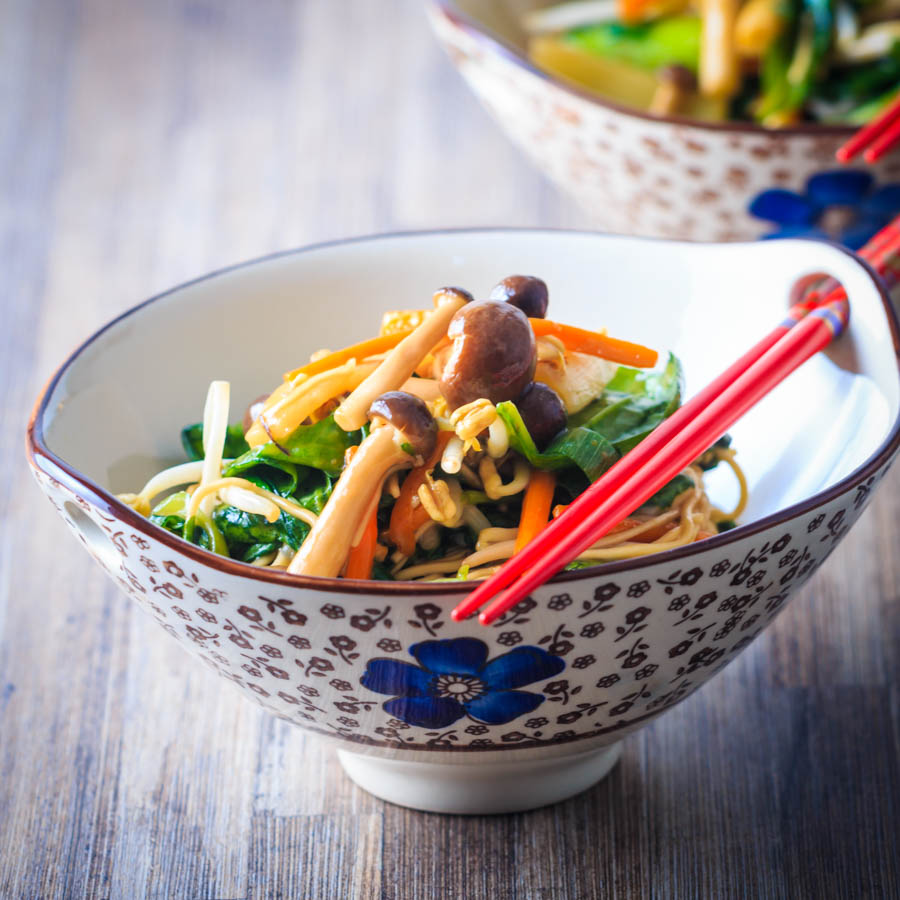 The Secret to Sub 30 Minute Meals.
As much as I wax lyrical about slow-cooked food and the love of spending time in my kitchen sometimes fast food is called for.
When it comes to dinner in a hurry I often turn to stir fry recipes! They are so flexible and versatile and always insanely quick.
Most importantly they can be put together with the ingredients you have in the fridge or freezer and just a few store cupboard ingredients.
Think, beef and asparagus, shrimp and broccoli, or steak and cauliflower… All will make you a great sub 30-minute dinner!
When it comes to your store cupboard you need just a few things to have a great stir-fry waiting for you at any time:
Light Soy Sauce.
Dark Soy Sauce.
Rice Wine: I prefer Shaoxing wine.
Chinese Vinegar: Chinkiang vinegar usually gets my vote.
Toasted Sesame Oil.
Add to that a few jars of sauces like black bean and oyster sauce and you have a whole 'world' of flavour open to you in just minutes.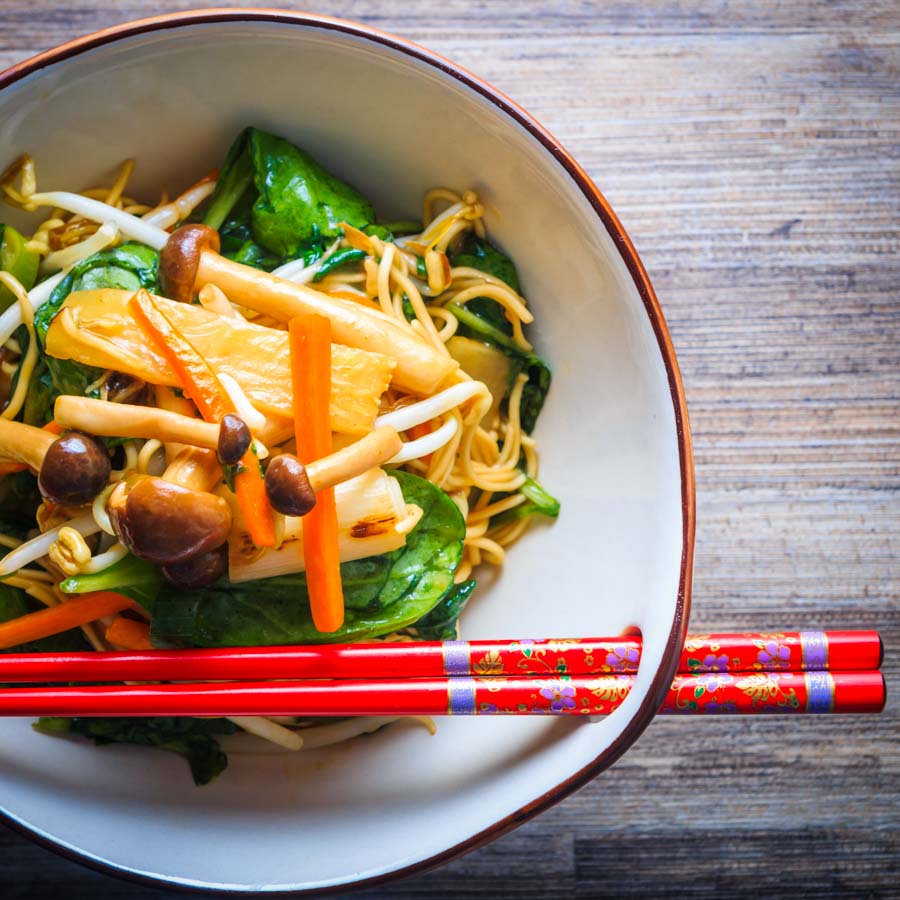 The Perfect Mushrooms For a Stir Fry.
To be perfectly honest you will be hard pushed to find bad mushrooms for this recipe.
I found some shimeji mushrooms which are wonderful and I think that their size and delicate flavour are perfect for this recipe.
Straw mushrooms would do something very similar.
You could substitute out for something like an oyster mushroom, which is what I usually use as a substitute.
However shiitake or even plain old chestnut or button mushrooms work just as well.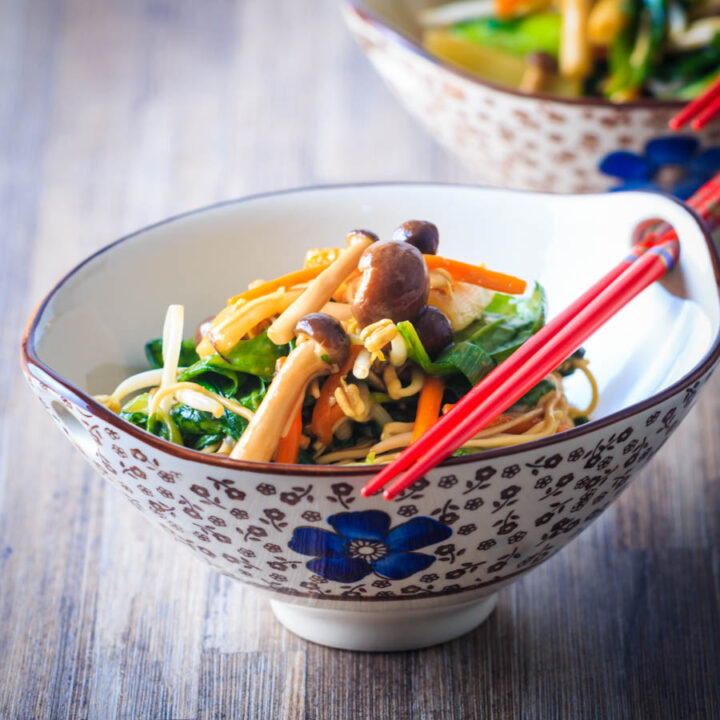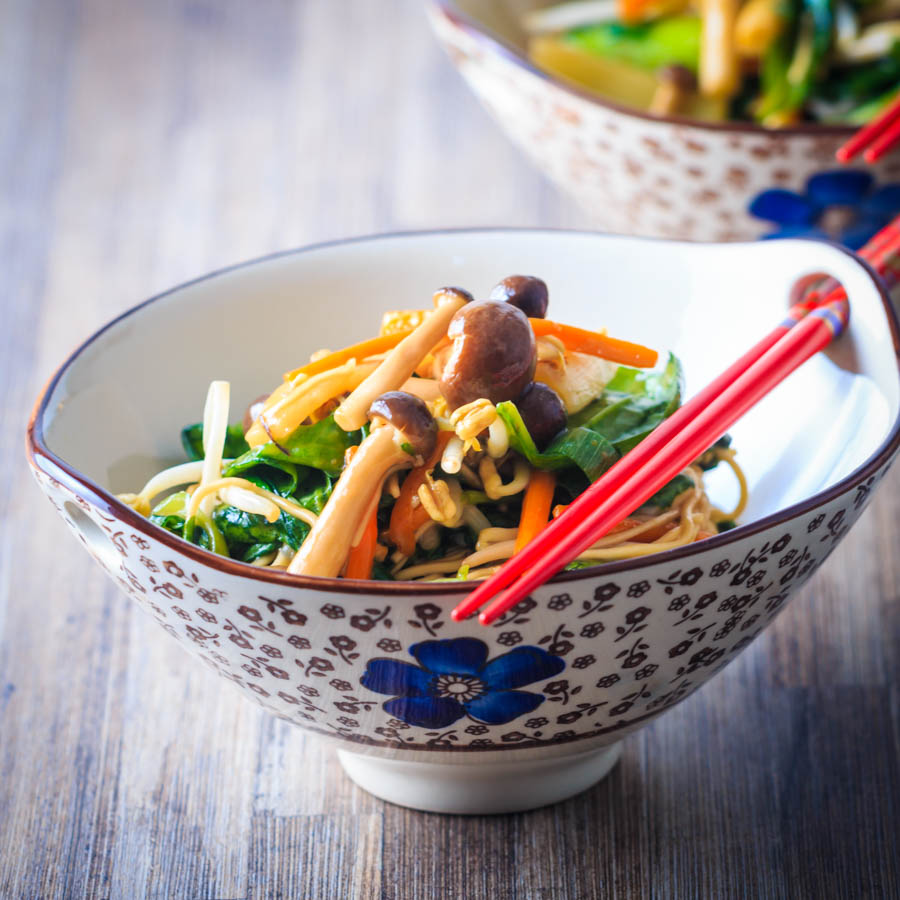 Yield:

2 Servings
Recipe for Mushroom Chow Mein
My Mushroom Chow Mein as my take on the takeaway legend and being ready in 20 minutes means it is much quicker than delivery.
Ingredients
2 Tbsp Cornflower, Cornstarch in the US
1.5 Tbsp Light Soy Sauce
1 Tbsp Rice Wine
1/2 Tbsp Mirin
2 Tbsp Oyster Sauce
1 Tbsp Sugar
1/2 Tsp Sesame Oil
100 g Egg Noodles
1 Tbsp Cooking Oil, Neutral
150 g Mushrooms
75 g Beansprouts
75 g Bamboo Shoots
2 Garlic Cloves, Finely Sliced
2 Spring Onions
50 g Carrot
100 g Baby Spinach
Instructions
Mix together the cornflower, soy sauce, rice wine, mirin, oyster sauce, sugar and sesame oil and set aside.
if you are using larger mushrooms cut them into bite sized pieces.
Cut the carrot into thin 3-4cm long batons.
Cut the white part of the spring onions into 1.5cm lengths and finely slice the green parts.
Cook the egg noodles as per the instructions on the packet, then refresh in cold water and set aside.
Heat the oil in a wok over a high heat.
When the oil is shimmering and really hot add the garlic and stir fry for 30 seconds
Throw in the white parts of the spring onion and carrot and continue to stir fry for 2 minutes keeping the ingredients all the time.
Throw in the mushrooms and continue to stir fry for another 2 minutes.
Now add in the bamboo shoots, cooled noodles and the sauce we mixed together at the start.
When the sauce is bubbling add in the spinach, bean sprouts and green parts of the spring onions.
Serve once the spinach has wilted which should take no more than a minute.
Notes
As with all stir fry dishes get all your stuff ready to go before you rock and roll, as they move real quick!
Nutrition Information:
Yield:
2
Serving Size:
1
Amount Per Serving:
Calories:

417
Total Fat:

12g
Saturated Fat:

1g
Trans Fat:

0g
Unsaturated Fat:

9g
Cholesterol:

27mg
Sodium:

1401mg
Carbohydrates:

67g
Fiber:

8g
Sugar:

17g
Protein:

12g