Mushroom Chow Mein, a vegetarian version of an all-time favourite takeaway dish, this version cooks in 20 minutes and tastes spectacular.
This vegetable chow main is stuffed to the gunnels with mushrooms, I use shiitake, shimeji and chestnut and you can change them out any way you want.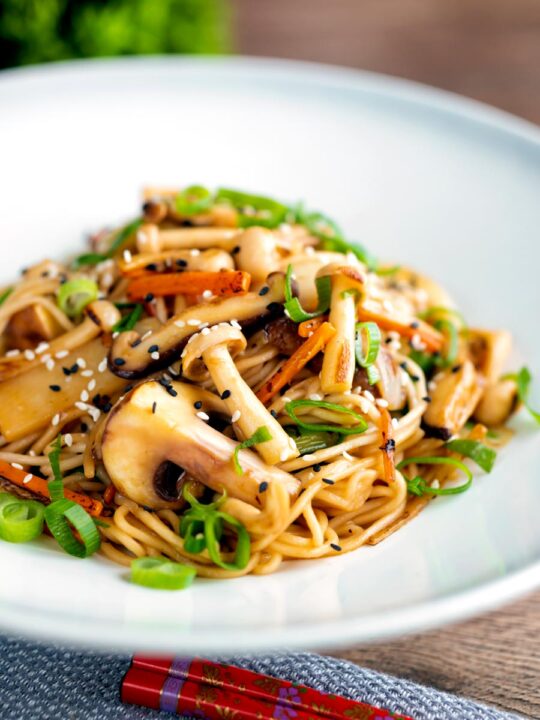 Takeaway Vegetable Chow Mein.
I can't believe I have not shared this recipe earlier. This mushroom chow mein recipe is a stalwart dish at casa Jones and it is so incredibly simple and quick.
You will be playing with variations on this dish for months, nah years.
The secret as with all stir fry recipes is preparation or mise en place as the French and chefs would say.
There is little or no time with this recipe to chop or mix as you go. So take 10 minutes and systematically chop your vegetables and mix the sauce.
This is not just true for chow mein recipes, but all stir-fry recipes! Whether you are cooking Szechuan chicken, satay chicken stir fry, my hoisin pork stir fry, or this duck stir fry recipe, make sure you prep in advance.
Once you get going because you need to concentrate on keeping things moving in your fiercely hot wok.
But do that and I promise you will have the most wonderful fakeaway on the table in no time.
Let's face it 20 minutes (at the most), is definitely quicker than your takeaway dude or dudette can get to you.
If you want other chow mein ideas check out my chicken chow mein, beef chow mein and duck chow mein recipes.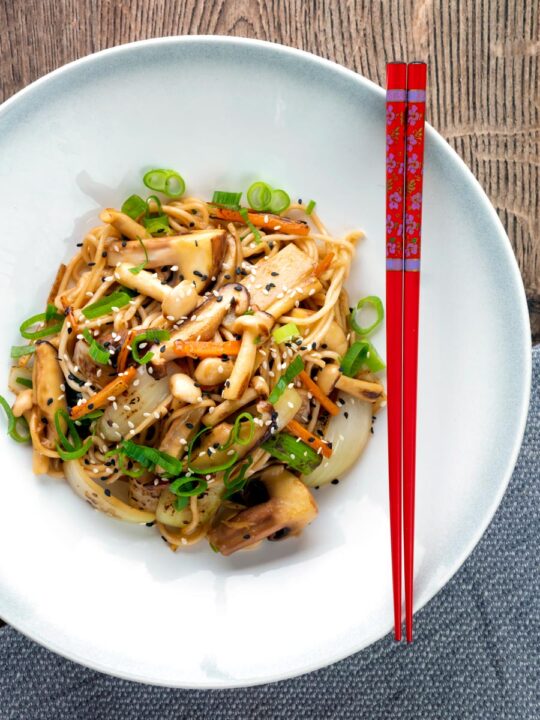 Frequently Asked Questions
What are the perfect mushrooms for a chow mein?
I usually use a combination of mushrooms for this recipe. The images here show a combination of shimeji, shiitake and chestnut mushrooms.

Straw mushrooms and oyster mushrooms are both great as are the king oyster mushrooms that I use to top my walnut and mushroom risotto.

It's also superb with portabello mushrooms cut into slices. Essentially you can't go wrong, buy what looks good at the supermarket!
What is in Chow Mein Sauce?
Common themes in a classic chow mein sauce are oyster sauce, soy sauce, rice wine or vinegar, and some form of sugar.

This recipe is vegetarian so I swap out the oyster sauce for hoisin sauce. You can swap out the hoisin for the oyster sauce in this recipe by reducing the soy sauce by half and doubling the sugar.
What else can I add?
Knock yourself out, with additions to this recipe. Green pepper, courgette (zucchini), water chestnuts and bean sprouts are things that occasionally get thrown into mine.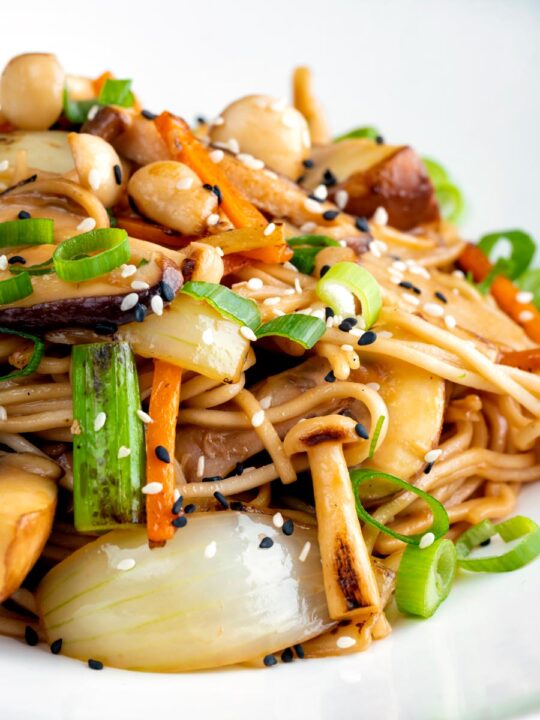 Serving Suggestions.
This recipe is typically a main course Friday fakeaway for me and it is served with nothing but a cold beer.
I do however sometimes serve this dish scaled down as a side dish.
It is particularly good with my Chinese braised ham hock and char siu pork tenderloin.
You can also serve it with crispy fried takeaway dishes, think salt and pepper chicken, salt and pepper squid.
It would also be great alongside this Chinese roast chicken.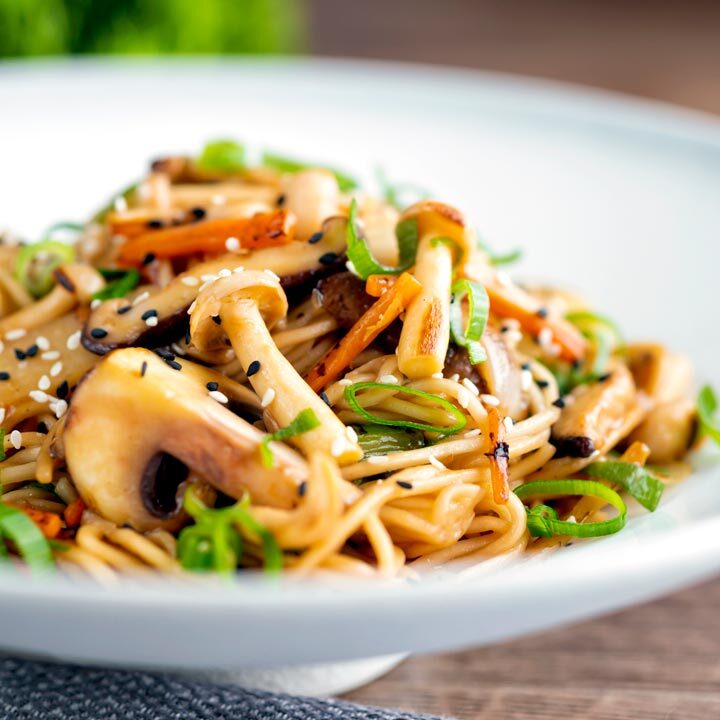 Yield:

2 Servings
Vegetarian Mushroom Chow Mein Recipe
My Mushroom Chow Mein as my take on the takeaway legend and being ready in 20 minutes means it is much quicker than delivery.
Ingredients
150g (5oz packet) Dried Egg Noodles
250g (9oz) Mixed Mushrooms
2 Garlic Cloves
30g Ginger or a thumb sized piece
50g (~½ Cup) Carrot
100g (~⅔ Cup) Onion
2 Spring Onions
1 Tbsp Cornflour (Cornstarch)
3 Tbsp Light Soy Sauce
2 Tbsp Rice Wine
1 Tbsp Hoisin Sauce
1 Tsp Sugar
1 Tsp Sesame Oil
1 Tbsp Cooking Oil
75g (~½ Cup) Sliced Bamboo Shoots
Instructions
Cook the egg noodles as per the instructions on the packet, then refresh in cold water and set aside.
Chop the mushrooms into bite sized pieces
Slice the garlic cloves as finely as possible.
Peel and cut the ginger into matchstick sized sticks.
Cut the carrot into thin 3-4cm long and 2-3mm in profile.
Top and tail the onion, then peel it and cut it into 8 wedges before breaking it into individual "petals".
Cut the white part of the spring onions into 1.5cm lengths and finely slice the green parts into 2mm thick rings.
Mix together the cornflour, soy sauce, rice wine, hoisin sauce, sugar, and sesame oil and set aside.
Heat a wok over a high heat until it begins to shimmer, then add the oil.
Throw in the garlic and ginger, white parts of the spring onion, sliced onion, and carrot, then stir fry for 2 minutes keeping the ingredients moving all of the time.
Throw in the mushrooms and continue to stir fry for another 2-3 minutes.
Now add in the bamboo shoots and noodles and toss to combine.
Finally, add the sauce and cook for 30 seconds before tossing through the green parts of the spring onions.
Nutrition Information:
Yield:
2
Serving Size:
1
Amount Per Serving:
Calories:

576
Total Fat:

22g
Saturated Fat:

3g
Trans Fat:

1g
Unsaturated Fat:

18g
Cholesterol:

0mg
Sodium:

2124mg
Carbohydrates:

81g
Fiber:

9g
Sugar:

16g
Protein:

13g
Calorific details are provided by a third-party application and are to be used as indicative figures only.