Chicken satay stir fry served with egg noodles, a quick & simple recipe in a peanut sauce with a sweet and sour vibe that everyone will love.
When I say quick, it takes just 15 minutes of leisurely prep and 10 minutes of cooking time, making it a great midweek meal!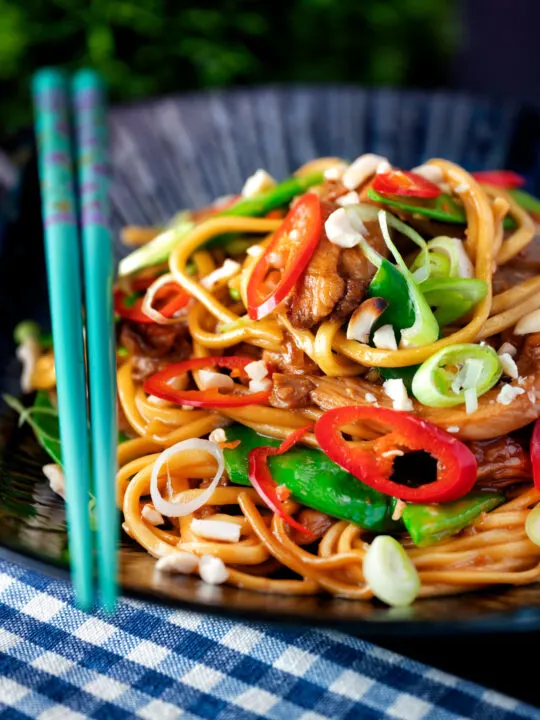 Peanut Chicken Stir Fry
I have a thing for quick stir fry dinners, my site is littered with everything from spicy Szechuan beef stir fry and ginger chicken udon noodles, to a simple and quick salmon stir fry recipe.
They all share the same thing in common. Speed and this 25 minute chicken satay stir fry sticks with that theme.
This delicious stir fry takes just 10 minutes to cook and even a novice can do the prep in 15 minutes.
It features a sauce that uses peanut butter as the base and features Chinkiang vinegar, soy sauce and honey.
This gives it a wonderfully earthy sweet and sour flavour. Mangetout or snow peas freshen it up as do the spring onions.
Egg noodles bulk out the dish making it the perfect one-pot dinner.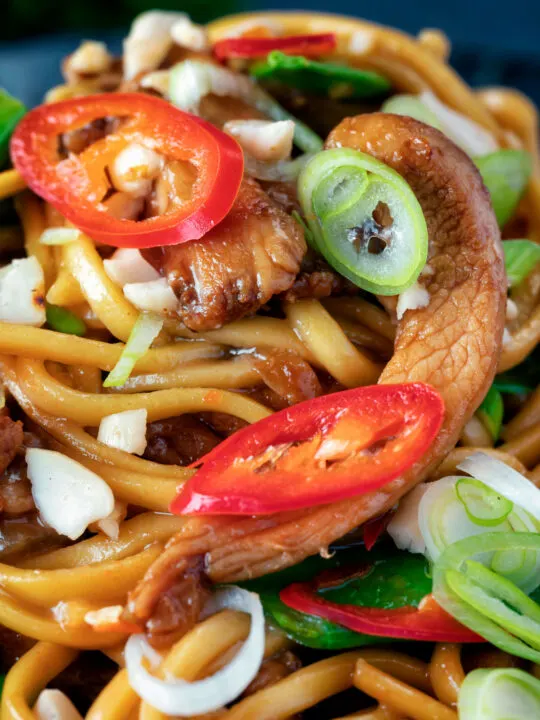 Frequently Asked Questions
Can I use chicken breast?
Absolutely, they do have less flavour than chicken thighs but work equally well in this recipe.

Cut them up to the same size as I recommend in the recipe and follow the rest of the instructions.
Should I use smooth or crunchy peanut butter?
I prefer smooth peanut butter in this recipe, but crunch works fine too. I like to add crunch at the end with some toasted peanuts.
What are Mangetout?
A question I get asked whenever I use them by my American readers. Mangetout are essentially snow peas.

If you wanted to change it up some fine green beans or even runner beans make an excellent substitution.
What is Chinkiang vinegar?
Chinkiang vinegar is a black Chinese rice vinegar. It is delicious and I use it in countless dishes, everything from my Instant Pot Chinese spare ribs through to my General Tso's chicken recipe.

You could replace it with any rice vinegar, although you will lose some of the depth of flavour.
Can I use rice or glass noodles?
Yes, they are not my favourite but you can substitute them for the egg noodles in this recipe.

You could also change this up and use udon noodles, I love them in this vegan yaki udon recipe.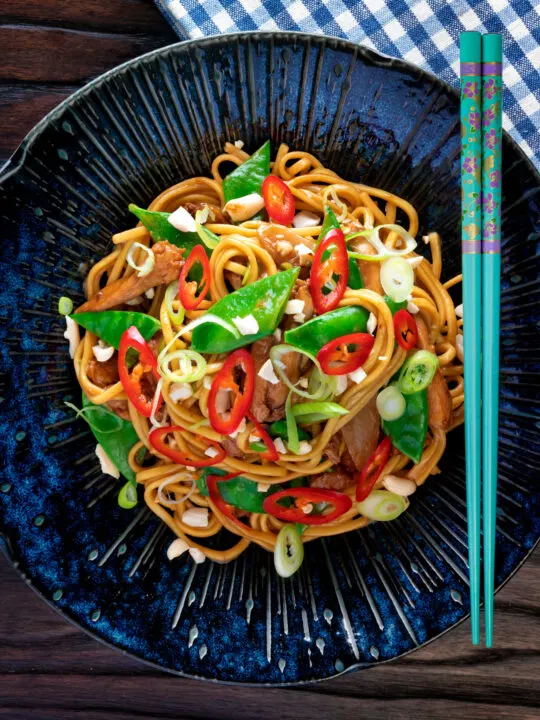 Serving Suggestions
For me this chicken satay stir fry is a one-dish dinner and requires no side dishes.
However, that does not mean that I don't add some starters to the mix if I am feeling greedy.
Some prawn crackers or even better, some sesame prawn toast are both up high on my munchie list.
If I am really going for it then I'll make up some crispy spring rolls. If I am feeling lazy then I'll just rustle up some frozen spring rolls in the air fryer!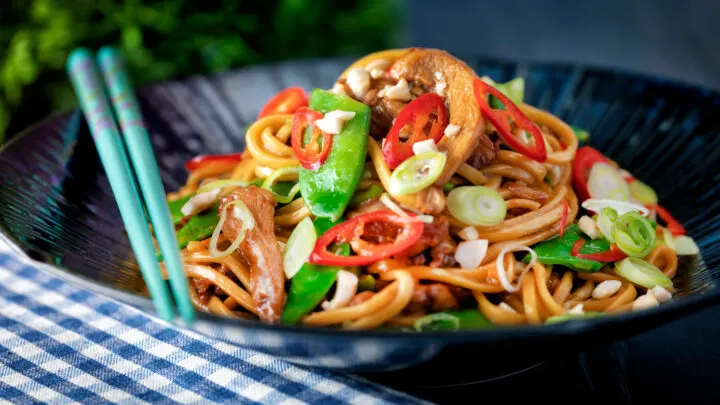 Equipment Used
I avoid recommending specific brands of kit unless I think that it will make a tangible difference to the recipe. If you have any questions feel free to shout up in the comments section.
Stovetop.
Wok, I use a large carbon steel wok.
Chopping board.
Sharp kitchen knife.
Weighing scales and or measuring cups and spoons.
Mixing bowls.
Small pan for cooking noodles.
Colander or sieve.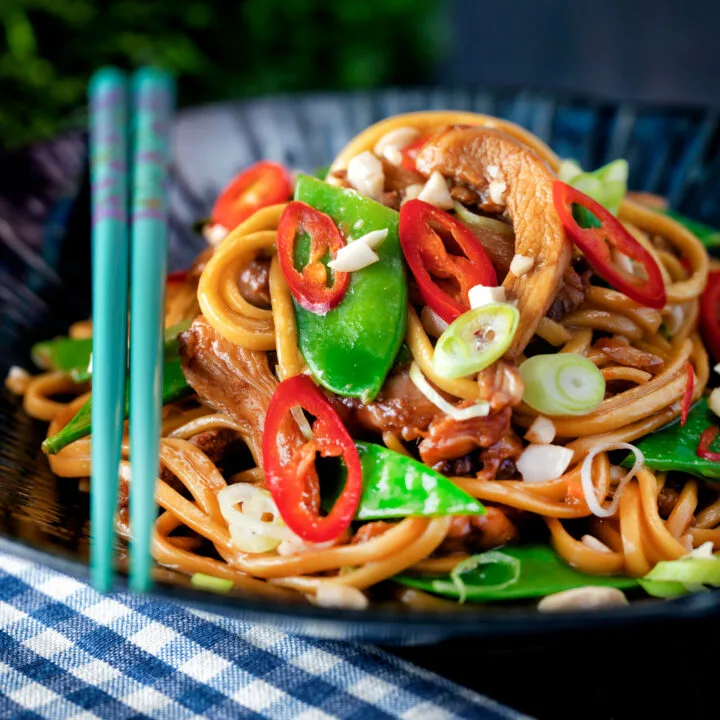 Yield:

2 Servings
Chicken Satay Stir Fry Recipe
A delicious, quick and easy peanut chicken satay stir fry with egg noodles in and mangetout that will for from your fridge to your table in under 30 minutes!
Ingredients
300g (10oz) Chicken Thighs
2 Garlic Cloves
15g (Half of a Thumb-Sized Piece) Ginger
2 Tbsp Light Soy Sauce
1 Tbsp Dark Soy Sauce
1 Tbsp Chinkiang Vinegar
40g (2 Tbsp) Honey
2 Garlic Cloves
150g (1 Cup) Onion
2 Spring Onions
1 Medium Hot Red Chilli Pepper (Optional)
75g (½ Cup) Mangetout or Snow Peas
2 Bundles Dried Egg Noodles
2 Tbsp Peanut Butter
3 Tbsp Raw Peanuts
2 Tbsp Cooking Oil
Instructions
Trim the chicken thighs of any sinew and fat, then cut them into slices 4-5mm thick and place them into a bowl.
Peel and chop the garlic cloves as finely as you can.
Peel and grate the ginger.
Mix together the soy sauces, Chinkiang vinegar and honey with the ginger and garlic in a bowl and pour it over the chicken and let it sit for 10 minutes.
Top and tail the onion and peel it, then cut it into 6 wedges and break each wedge into petals.
Cu the spring onions into rounds as finely as you can.
Finely slice the red chilli pepper into rounds as thinly as you can.
If your mangetout or snow peas are quite large cut them in half.
Cook the egg noodles as per the instructions on the packet, then drain and refresh in cold water. Make sure that you reserve 2 tablespoons of the cooking liquid.
Mix the peanut butter with the reserved hot water from the cooking noodles.
Heat a wok over a medium-high heat and toast off the raw peanuts, making sure that you do not burn them, then set them aside to cool.
Return the wok to a high heat.
Whilst the wok is heating up remove the chicken from the marinade and place it in another bowl, then mix the marinade with the peanut butter mix you made in step 9.
When the wok is shimmering hot add the cooking oil followed by the onions and stir fry for 60-90 seconds.
Add the chicken and stir fry for 2 minutes.
Add the drained noodles and mangetout and stir fry for 1 minute.
Pour in the sauce and cook for a final minute.
Finally crush the now cooled peanuts lightly and garnish the dish with them, the red chilli and spring onions.
Nutrition Information:
Yield:
2
Serving Size:
1
Amount Per Serving:
Calories:

862
Total Fat:

51g
Saturated Fat:

10g
Trans Fat:

0g
Unsaturated Fat:

39g
Cholesterol:

207mg
Sodium:

1882mg
Carbohydrates:

57g
Fiber:

8g
Sugar:

27g
Protein:

52g
Calorific details are provided by a third-party application and are to be used as indicative figures only.