Duck chow mein a delicious take on the classic Chinese noodle-based takeaway favourite, my version adds hoisin sauce for a real flavour boost.
The hoisin sacue is a nod to the classic flavours of duck and pancakes and this whole dish takes around half an hour to cook!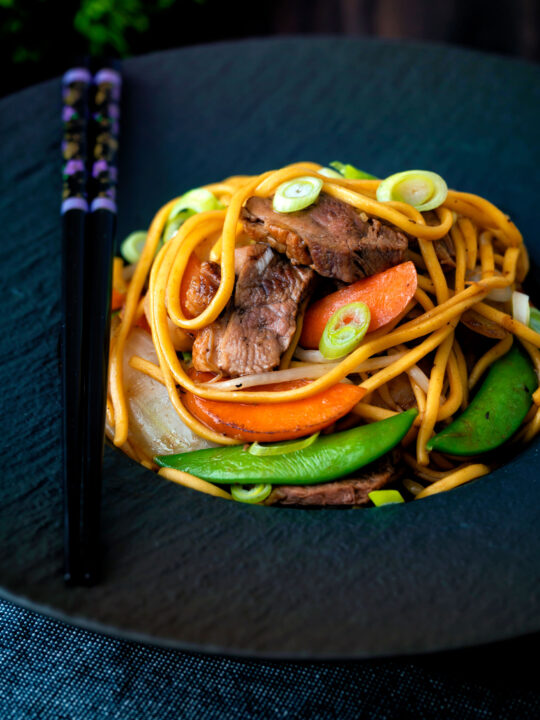 Hoisin Duck Lo Mein
The names lo mein and chow mein once denoted the difference between a crisp and wet noodle dish. But today the names have kinda melded into one, certainly here in Europe!
I love a good chow mein and chicken chow mein or beef chow mein was the thing I used to order most often from a Chinese takeaway.
My duck chow mein recipe is a delicious departure from a tradional dish.
Just like my mushroom chow mein this recipe replaces oyster sauce with hoising sauce. The former is aimed at keeping a recipe vegetarian, however in this recipe it is all about flavour!
Let's face it duck and hoisin sauce is an absolute classic combination, duck, pancakes and hoisin anyone?
This recipe uses the cold pan method of starting off the duck breast, it is the same way I cook my duck breast in orange sauce.
It renders out the fat beautifully and leads to a wonderful texture in the skin. As a bonus it leaves loads of delicious duck fat in the base of the wok. This adds an incredible mouth feel and flavour to this duck and noodle stir fry.
But because duck fat has a low smoking point, your smoke alarm may go off when cooking this!
If you like the idea of a duck breast stir fry check out my duck and plum stir fry.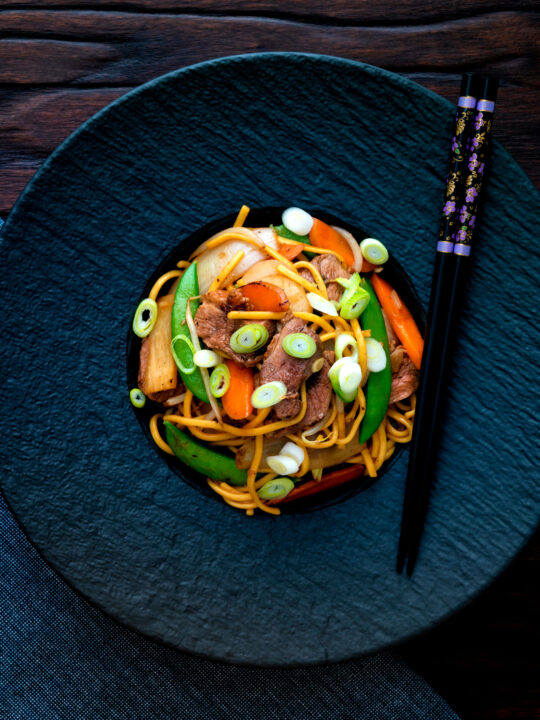 Frequently Asked Questions
Do I have to use duck breast?
No, you could use any duck you want. I've made this with leftovers from my whole roast duck and even roasted an extra leg when cooking my crispy roast duck legs and used that the follwing day.

Yes, I like cooking duck, I have lots of recipes, if you want more type "duck" into the search function!
Can I use other vegetables?
Yes, use anything you like or have to hand. Just add them to the wok in descending order of cooking time. Be sure to cut them into bite sized peices!
My stir fries usually end up "soggy" what am I doing wrong?
There are two keys to keeping a stir fry fresh, speed and heat!

You need to do all of the prep work for your stir fry in advance because you genuinely do not have time to prep or hunt for ingredients when you start. Invest in some small bowls and arrange them in order of adding them to the wok

Secondly and the one most often people fail with is not having the wok hot enough. It needs to be "smoking hot". As I have mentioned earlier because duck fat has a relatively low smoking point this will be extra smoky!
Can I use glass or rice noodles?
It would not be a choice that I would make, however, they work relatively well in this dish.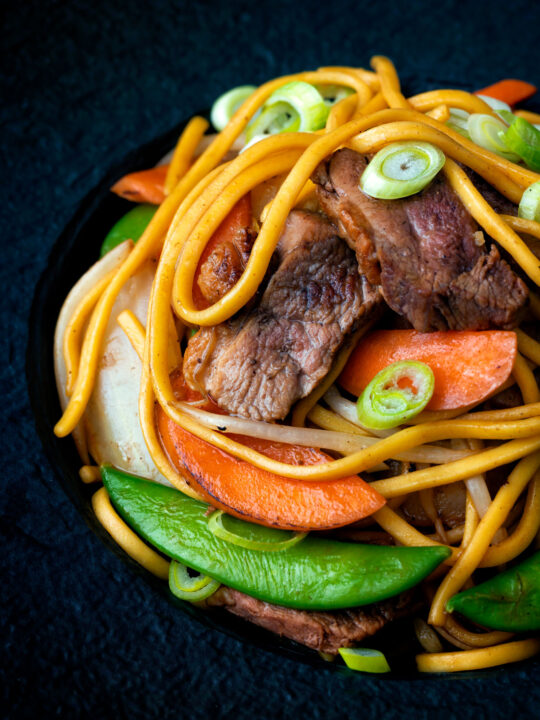 Serving Suggestions
I tend not to serve this duck chow mein with a side, instead I am fond of serving it with a starter.
I do this becaucse I'm a bit of a greedy chap when it comes to takeaway inspired food!
Crispy spring rolls or prawn toast are a great option, as are Chinese spare ribs if you are scaling this up to feed a crowd.
However, most often I will start off with a soup of some description. My Chinese influenced hot and sour soup, or chicken and sweetcorn soup are my favourites.
Oh yeah, don't forget the prawn crackers!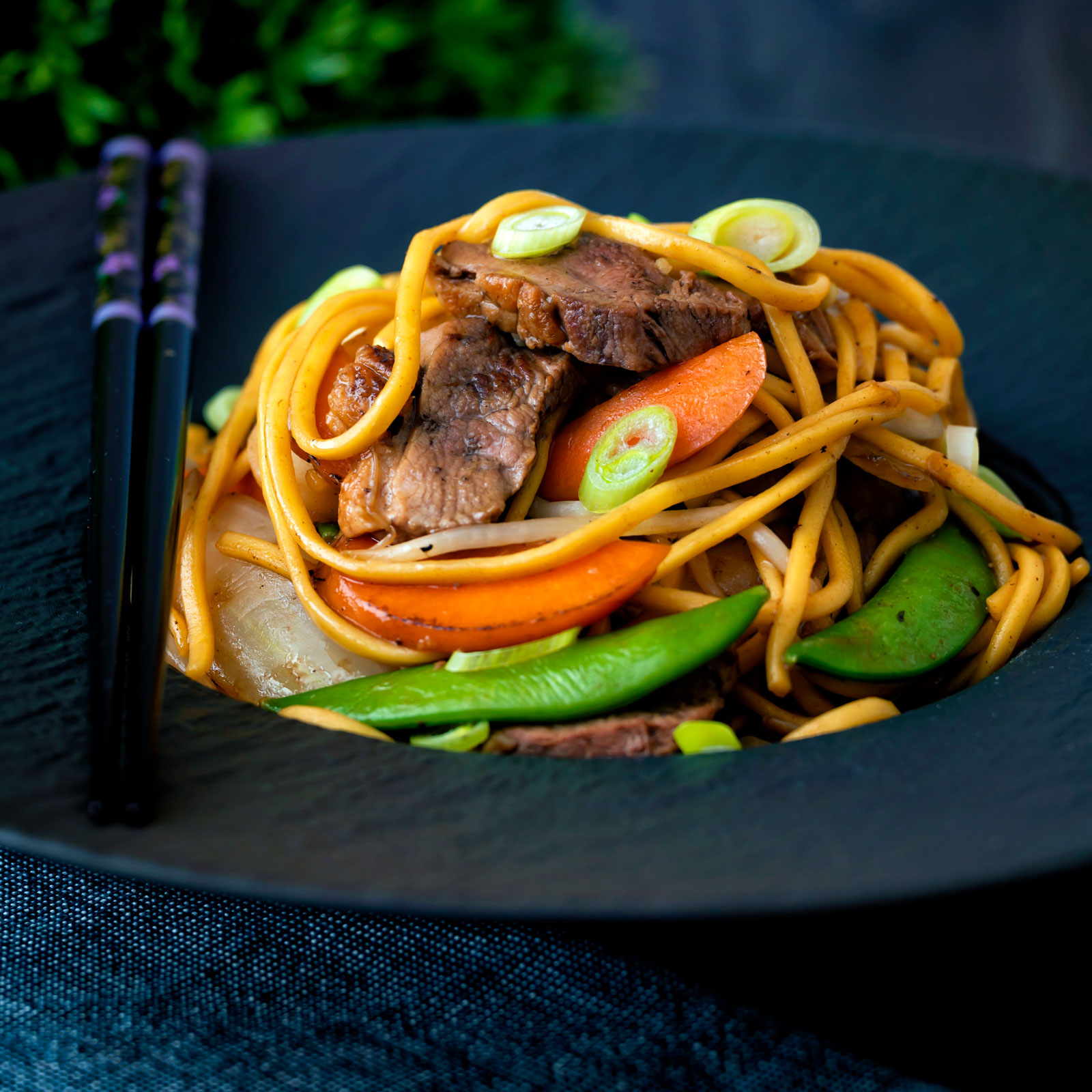 Yield:

2 Servings
Duck Chow Mein Recipe
A wonderfully simple Chinese fakeaway duck chow mein, featuring a sauce flavoured with hoisin sauce and loaded with vegetables!
Ingredients
250g (9oz) Duck Breast
1 (100g) Medium Onion
1 (100g) Medium Carrot
100g (1 Cup) Sugar Snap Peas
2 Garlic Cloves
20g (½ Thumb sized Piece) Ginger
3 Spring Onions
70g (½ Cup) Tinned Water Chestnuts
70g (½ Cup) Tinned Bamboo Shoots
150g (1 ½ Cups) Beansprouts
2 Tbsp Hoisin Sauce
2 Tbsp Dark Soy Sauce
3 Tbsp Light Soy Sauce
1 Tbsp Shaoxing Wine
1 Tsp Cornflour
1 Tsp Sesame Oil
2 Bundles (~125g) Dried Egg Noodles
Instructions
Dry the skin of the duck thoroughly and then score it in a cross hatch pattern (∼1cm or 1/2" gaps), and set aside (not in the fridge) whilst you prepare the other ingredients.
Peel, then top and tail the onion and cut it into 8 wedges.
Cut the carrot in half lengthways and then cut it into 2-3mm thick slices at a 45 angle to the carrot.
Peel the garlic cloves and then slice them as thinly as you can.
Peel the ginger and then cut it into batons as thinly as you can.
Slice the spring onions at a 45 angle into strips 1-2mm thick.
Mix together the soy sauces, hoisin sauce, shaoxing wine, cornflour and sesame oil in a bowl.
Cook the noodles as per the instructions on the packet and then drain and refresh on cold water.
Place the wok on the hob and add the duck, skin side down into the cold wok.
Turn the heat onto medium low and allow the duck to slowly brown for 7-10 minutes.
Flip the duck and cook for another 2 minutes then remove it and allow it to rest.
Turn the heat up under the wok to high.
When the duck fat begins to smoke, toss in the onion and carrot and stir fry for 1 minute.
Add garlic and ginger and stir fry for another 30 seconds then remove the wok from the heat.
Cut the duck breast in half lengthways and then slice into strips 2-3mm thick.
Return the wok to the heat and when it begins to sizzle, add water chestnuts and bamboo shoots and stir fry for 1 minute.
Add the duck and any resting juices and stir fry for 1 minute.
Add the beansprouts and drained noodles and stir fry for 1 minute.
Pour in the sauce and cook for 1 minute.
Toss through most of the spring onions keeping a few back to sprinkle on top as a garnish.
Nutrition Information:
Yield:
2
Serving Size:
1
Amount Per Serving:
Calories:

531
Total Fat:

18g
Saturated Fat:

4g
Trans Fat:

0g
Unsaturated Fat:

12g
Cholesterol:

189mg
Sodium:

2908mg
Carbohydrates:

49g
Fiber:

7g
Sugar:

13g
Protein:

42g
Calorific details are provided by a third-party application and are to be used as indicative figures only.