Dating back to the time of the Raj a Mulligatawny Soup is an Anglo Indian take on a traditional Rasam and it tastes incredible!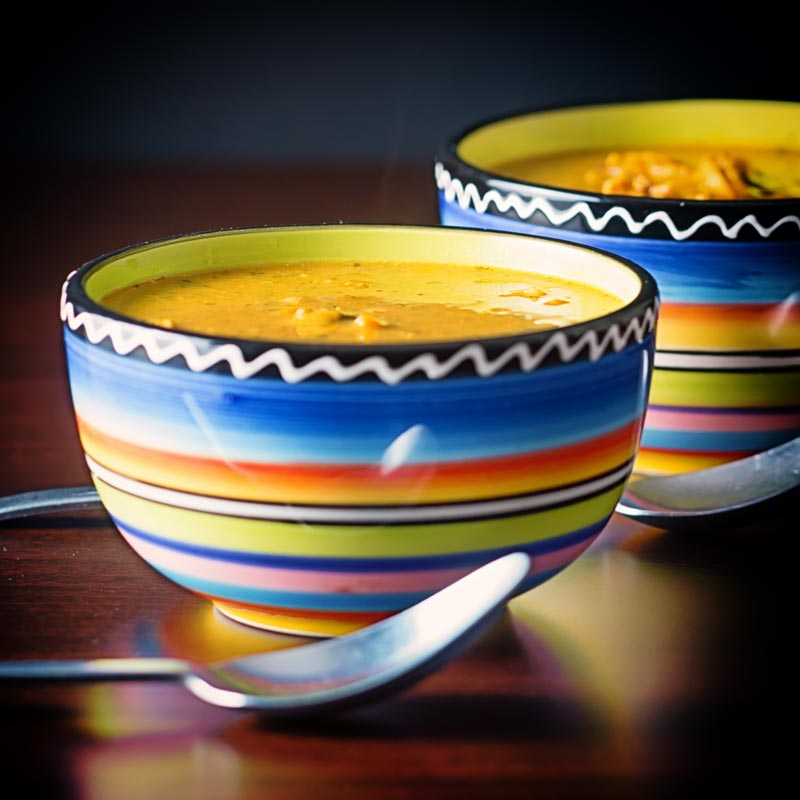 Mulligatawny Soup: Indian Pepper Water.
You must be warned this Mulligatawny soup recipe comes at you deep from the depths of man flu. We all know man flu is the most crippling illness known to man, it kinda makes ebola virus feel like a stubbed toe.
So I am pretty much on deaths door bed typing this. But please don't worry about me I will struggle through this and I am sure I will survive… Hold on there is a song in there somewhere.
All joking aside, I don't get a cold very often and much less so since I left the UK. However, when I do there are two things that happen.
My appetite goes through the roof and my need for hot and spicy food reaches its pinnacle. Mulligatawny Soup is my go-to cold remedy, that and a hot toddy of course.
This delightful Anglo Indian soup is hot, hotter than the surface of the sun.
Almost all of that spice heat comes from the majesty of black pepper. As a spice I think black pepper is greatly overlooked.
Well, maybe not overlooked but certainly taken for granted. It has the most wonderful of flavours and packs the most unique heat.
Very different to that of chili but no less euphoric in its heights and the Indians are masters at taking advantage of its flavour and of course its heat.
If black pepper is your thing you must check out this pork tenderloin recipe. It features the most wonderful Tasmanian Black Pepper that blew my tiny mind!
Indian Food and Black Pepper.
Black pepper is a huge flavour ingredient in Indian food and features in a host of the spice mixes I rely on. It has been used for over 4,000 years in Indian food and is known as the king of spices. A moniker I could not agree more with!
In many ways, it is the unspoken hero sitting in the background whilst other spices get all the limelight.
Although it is not just front and centre in Mulligatawny soup recipes, it is again the major spice in my Chettinad Chicken Recipe.
It really does have the most wonderfully unique type of heat, very much different to capsaicin found in chili.
Most importantly when buying black pepper buy it whole. That pre-cracked stuff will lose its flavour really quickly once you open the packet. As for that nasty, cigarette ash, powdery nonsense… Well, not even I know enough swear words to adequately describe that stuff!
Most importantly cherish and love those wee black, wrinkly pearls of goodness!
What is Mulligatawny Soup?
Britain has had a long term love affair with 'Indian' food and this dish dates back to a time in British history when the British Empire was at its strongest. India was crawling with Brits that lead to much sharing of both styles and flavours between Indian Food and British food.
Political misgivings aside that 'sharing' colours British food to this very day. In everything from our love of a good curry through to the humble Scotch egg.
Yes, the Scotch egg was originally an Indian Nargis Kebab and became the Scotch Egg we know today.
Mulligatawny soup is the result of that 'sharing', not only do I love the spice in this soup but also the name.
It is just wonderful, it hails from two Tamil words. One for pepper and the other for water, which is really very apt.
Rumour has it that Mulligatawny soup takes its heritage from the classic Tamil south Indian dish of Rasam. A similarly textured soup which usually had a base of tamarind.
But enough of the history lesson back to biology, I must now sign off and head back to the pharmacy.
Well when I say pharmacy, I mean the kitchen to knock me up another whisky hot toddy to try and shift or at least mask this damn funk!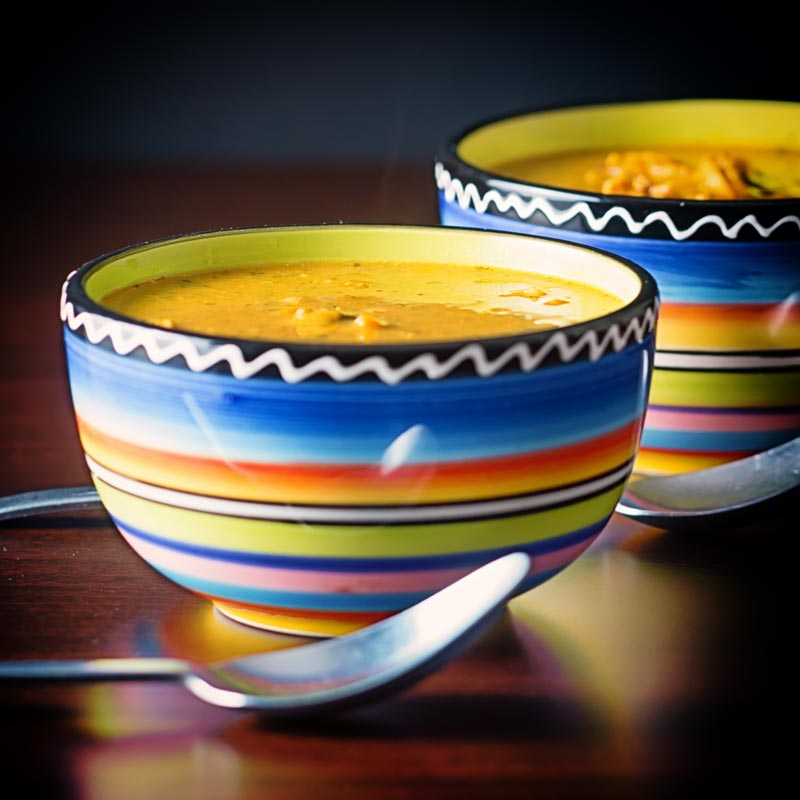 Yield:

4 Servings
Mulligatawny Soup
Total Time:
1 hour
15 minutes
Dating back to the time of the Raj a Mulligatawny Soup is an Anglo Indian take on a traditional Rasam and it tastes incredible!
Ingredients
4 Tsp Coriander Seeds
5 Tsp Cumin Seeds
4 Tbsp Black Pepper Corns
1 Tbsp Mustard Seeds
20 g Ginger, Peeled and roughly chopped
4 Garlic Cloves, Peeled
2 Tsp Ground Turmeric
2 Tsp Kashmiri Chili Powder
1 Tbsp Dried Fenugreek Leaves
1 Tbsp Mint Sauce
2 Tbsp Ghee, Use butter if you cannot get ghee
2 Bay Leaves
4 Cloves
1 Cinnamon Stick
150 g Onion, Finely diced
1 Tomato: Finely diced
75 g Carrot, Finely diced
1 Stick Celery: Approx 50g Finely Diced
50 g Leek, Finely sliced
1/4 Tsp Salt
300 g Chicken Thigh, Boneless and skinless and cut in half
1 Tbsp Ground Turmeric
1 Tbsp Plain Flour
500 ml Chicken Stock
400 ml Coconut Milk
Instructions
Toast off the coriander seeds, cumin seeds and pepper corns in a dry pan and then grind in a pestle and mortar or spice grinder.
Place the garlic and ginger in a grinder and blitz to form a paste adding in the toasted and ground coriander, cumin, pepper and mustard seeds along side the turmeric, chili powder, turmeric, fenugreek and mint sauce then blitz to form a paste. Use water to help this come together and add as needed.
Heat the ghee over a medium heat in a largish saucepan and add the cloves, bay leaves and cinnamon stick and cook for 2 minutes.
Now add in the tomato and onion and cook down for 10 minutes stirring occasionally.
Now add the carrot, leek and celery and cook for 5 minutes.
Then add the spice paste, stir through and add the chicken thighs and cook for 2-3 minutes so everything is coated.
Now stir through the plain flour and additional turmeric and cook out for two minutes before adding in the chicken stock and salt then reducing the heat to low and allowing to simmer for 20-25 minutes.
When simmered fish the chicken thighs and shred before returning to the pan with the coconut milk and bring to temperature adding salt as required.
Make sure you remove the cinnamon stick and bay leaves before serving.
Notes
I always double up on this recipe and make enough for 4 and a generous 4 at that, as it makes the most wonderful lunch treat the day after having it as a main.
Nutrition Information:
Yield:
4
Serving Size:
1
Amount Per Serving:
Calories:

651
Total Fat:

48g
Saturated Fat:

30g
Trans Fat:

0g
Unsaturated Fat:

15g
Cholesterol:

132mg
Sodium:

562mg
Carbohydrates:

37g
Fiber:

8g
Sugar:

7g
Protein:

28g