Roast pork tenderloin with apricot, gin braised fennel and hazelnuts finished off with the gloriously magical Tasmanian pepperberry.
This dish looks glorious, sounds complicated but is actually really easy and takes a shade over half an hour to cook.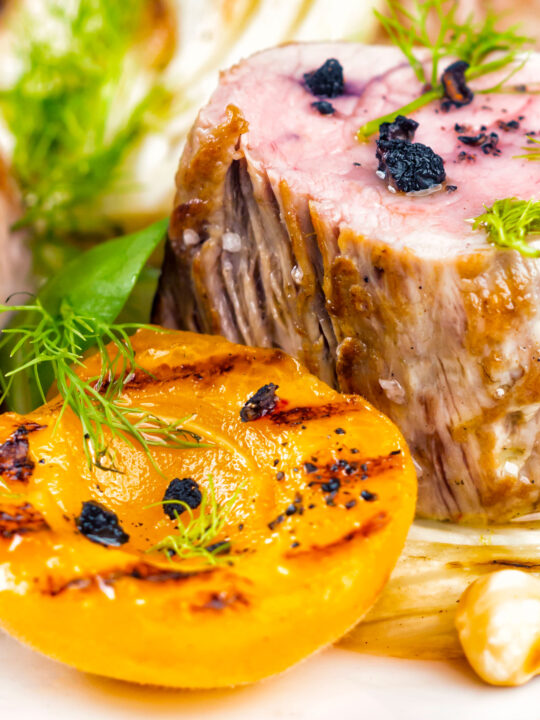 Oven Baked Pork Tenderloin with Apricots and Fennel.
Pork with fruit is a real favourite of mine. The classic combination is apple and of course that features on my website in the form of roast pork fillet with apple puree as well as an Instant Pot pork belly with apples.
But apples definitely ain't the only fruit, I have a blackberry sauce with pork chops, a delicious pressed pork belly with cherries, and of course my sweet and sour pork balls feature pineapple!
This roast pork tenderloin recipe adds apricot into the mix!
I love this roast pork tenderloin recipe, it is a method of cooking that I love, lots of different bits that come together to form a delicious cohesive meal.
The light aniseed flavour of the fennel here marries beautifully with sharp and sweet apricots.
Then we have gin, not the first alcoholic ingredient that many think of cooking with although I do cook the peaches for my venison burgers in gin.
I have no idea why as that juniper flavour is wonderful particularly with fennel. It also ties up with the unique and remarkable flavour of Tasmanian pepperberry beautifully.
All of these flavours perfectly compliment the relatively gentle porky flavour of the perfectly roasted pink pork tenderloin.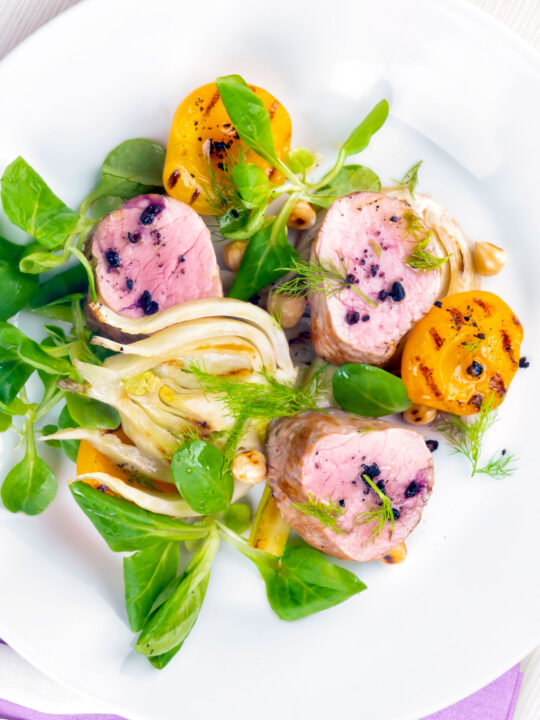 Frequently Asked Questions?
What is Tasmanian Pepperberry?
Tasmanian pepperberry the fruit of the Tasmannia Lanceolata tree and as the name suggests, it comes from southeastern Australia.

It has a wonderfully complex flavour and heat that starts off floral, almost like Szechuan pepper. It then goes through a heat phase with the unmistakable pepper burn then it mellows and gives a zingy woody cinnamon vibe.
Do I have to use Pepperberry?
No, this dish stands up perfectly well without it, but if you have a decent spice store in your town you may find it. Buy some and give it a whirl it is glorious!
What is the difference between pork tenderloin and pork loin?
In short, there is a world of difference between the two! Yet for some reason I often see the two confused with each other online.

Essentially the difference is the same as the difference between a Sirloin Steak and a Fillet Steak. They are indeed from the same anatomy of a pig as the aforementioned are on a cow.

Just like the beef equivalents, they require slightly different treatments. The pork loin requires slightly longer and lower temperature cooking or even long slow roasting.
What if I don't like my pork pink?
Then cook it for longer. I am not one of those cooks that scoffs at folk that want their meat cooked well done.

A meat thermometer is your friend here, buy one and use it! If you want your pork cooked all the way through with no pink you want to carve and serve it at 71°C or 160°F. To get there you want to remove the meat from the oven 5-6°C below that and allow it to rest.

You will then have perfectly cooked juicy meat with no pink.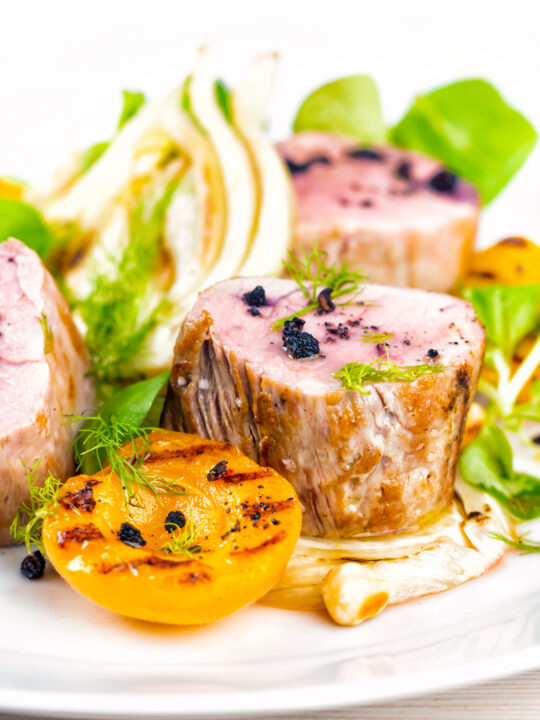 Alternative Serving Suggestions.
There are a host of ways to play around with this recipe to turn it into your own creation.
The obvious one to me is to serve the roast pork tenderloin with the apricots with a simple tabbouleh salad.
Another option is to play around with the fruit and vegetables.
If you are serving this in autumn rather than summer you could use pears or apples as the fruit.
If I were doing this then I would keep the gin and cook the apples or pears in gin over a high heat rather than griddling them. I would keep the griddle vibe going by cooking som baby gem lettuce hearts to replace the fennel.
If you do get creative, let me know what you do, I would love to hear from you.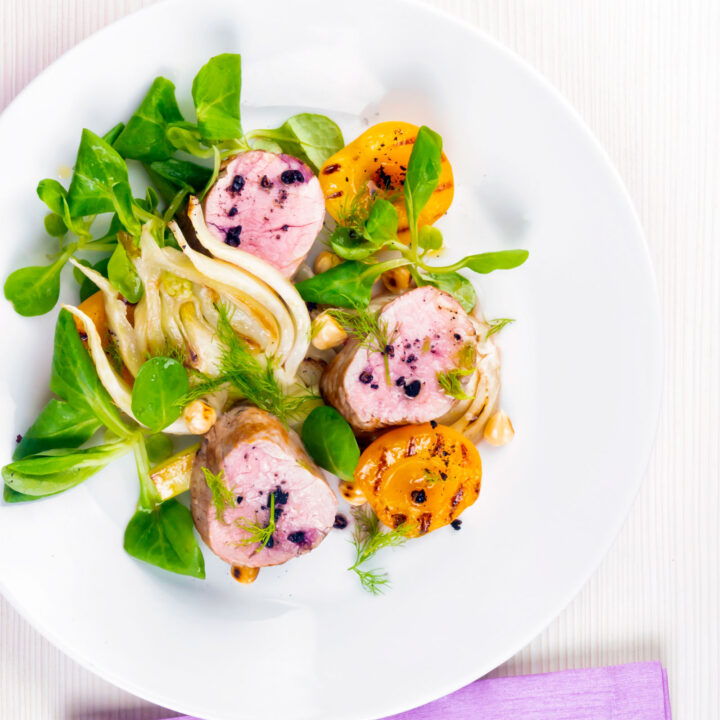 Yield:

2 Servings
Roast Pork Tenderloin with Apricots and Fennel
Roast pork tenderloin is the perfect 'quick cook' piece of meat, beautifully tender when cooked pink and served here with gin braised fennel, seared apricots and Tasmanian pepperberry.
Ingredients
400g (14oz) Pork Tenderloin
3 Apricots
1 Fennel Bulb
Handful Lambs Lettuce
35g (¼-⅓ Cup) Hazelnuts
10 Tasmanian Pepperberries
50ml (3 Tbsp + 1 Tsp) Olive Oil
50ml (3 Tbsp + 1 Tsp) Gin
Salt to Taste
Instructions
Cut the apricots in half and remove the stone
Slice the fennel into 5mm thick slices.
Heat a dry pan over a medium high heat and toast your hazelnuts for 4-5 minutes taking care not to burn.
When your hazelnuts are toasted remove from the pan and add the Tasmanian pepperberries and toast for 2 minutes.
Remove the pepper from the pan and gently crush.
Heat a large pan over a high heat and when hot add half of the olive oil.
Season your pork tenderloin generously with salt and then sear in the pan on all sides.
When seared transfer to the oven and roast for 12 minutes at 180°C, 350°F or until the pork has reached the desired level of "doneness". I am to remove the pork at 57°C or 135°F and serve ay 63°C or 145°F.
Return the pan to a high heat and add the fennel and sear for 2-3 minutes.
Pour in the gin over the fennel and reduce the heat to low, season with salt and add a lid and cook for 5 minutes.
After 12 minutes remove the pork and allow to rest for 3-4 minutes.
Heat a griddle pan and sear your apricots.
Before you remove the fennel from the pan for plating add in the remaining olive oil to create a warm dressing for the meal.
Carve the pork and then plate sprinkling the Tasmanian pepper over the pork and apricots.
Nutrition Information:
Yield:
2
Serving Size:
1
Amount Per Serving:
Calories:

642
Total Fat:

37g
Saturated Fat:

6g
Trans Fat:

0g
Unsaturated Fat:

29g
Cholesterol:

146mg
Sodium:

428mg
Carbohydrates:

11g
Fiber:

3g
Sugar:

7g
Protein:

55g
Calorific details are provided by a third-party application and are to be used as indicative figures only.