My Thai Green Chicken Curry Recipe may contain a long list of ingredients, but it still only takes 40 minutes to make. That includes the time that it takes to prepare a from scratch Thai Green Curry paste that leaves leftovers for even more yummy Thai grub.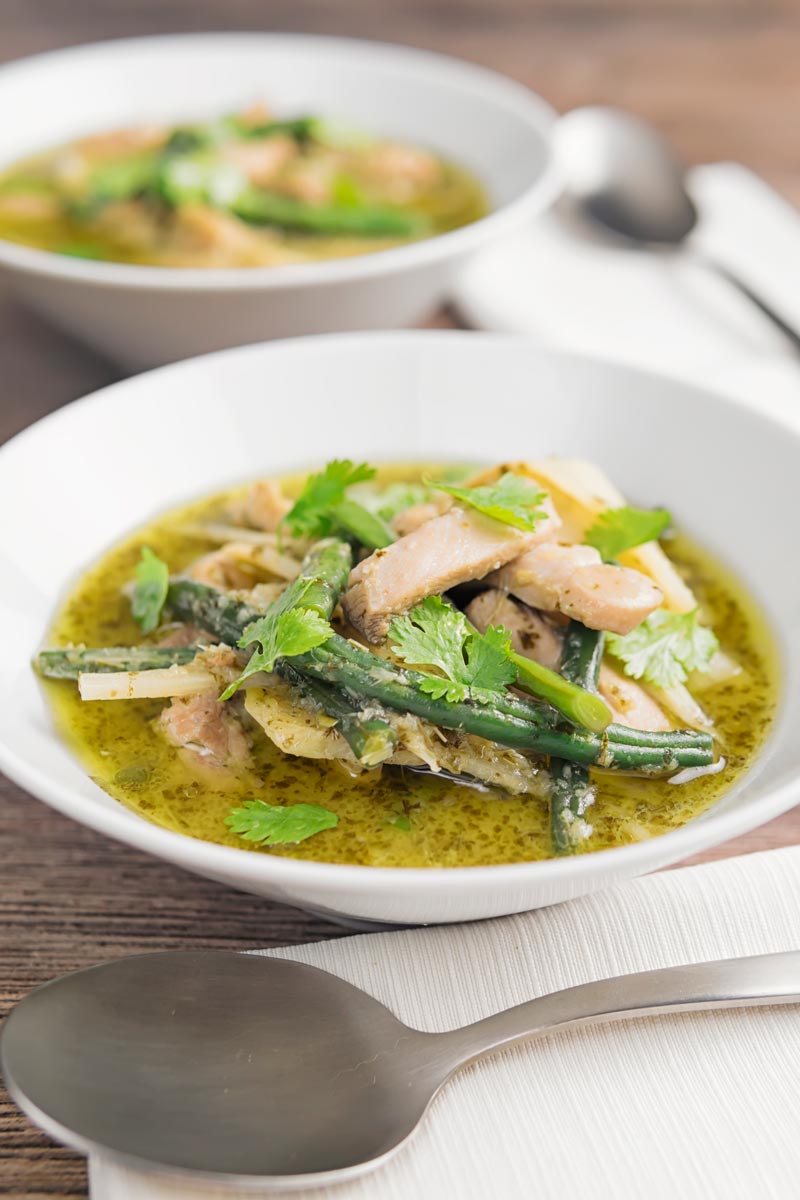 The Classic Thai Curry.
This simple curry recipe must be one of the most well known Thai dishes. The recipes take on many forms but in the main it is sweet, sour, hot and salty which is all tempered with coconut milk.
Whilst most of my chicken curry recipes are Indian, this is not my first Thai curry rodeo. I have both a Thai Duck Curry and Thai Salmon curry.
Both of which feature my, from scratch, Thai Red Curry Paste and both are kinda reimagined versions of a Thai curry.
This curry is much more 'traditional' in its approach.
It also features a from-scratch curry paste.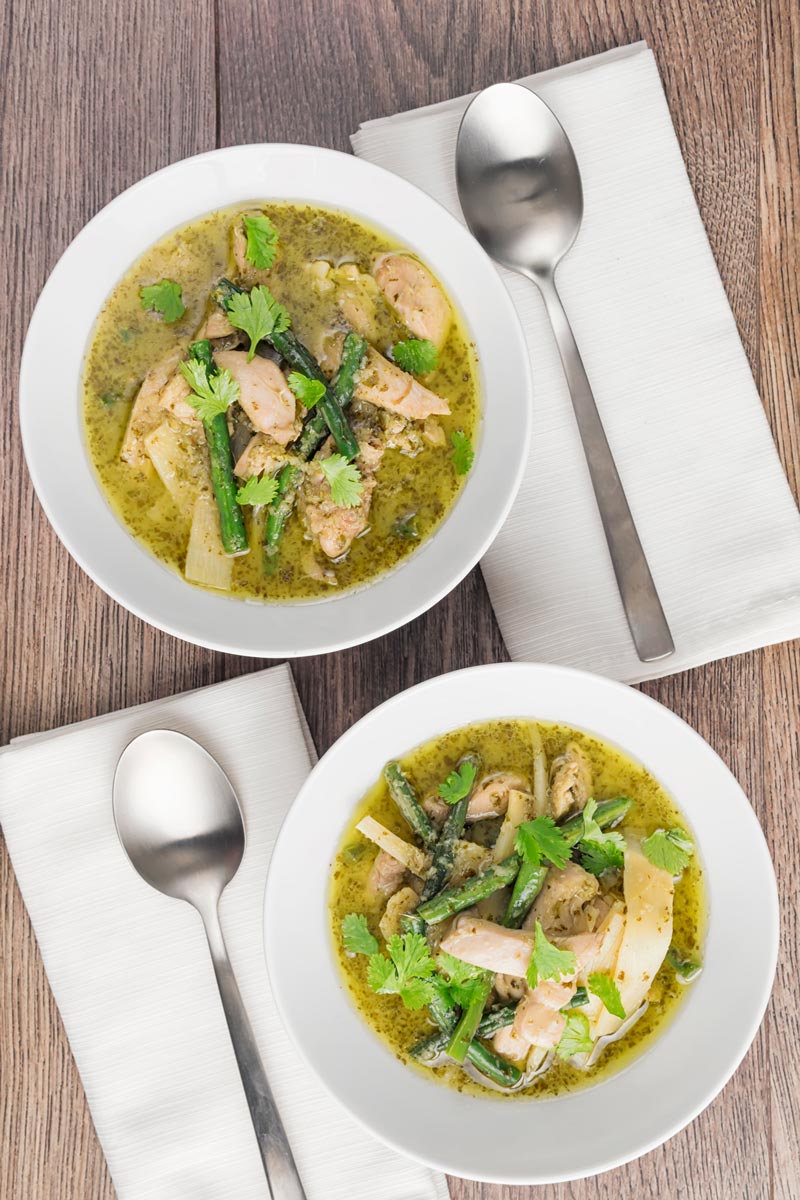 How To Store Fresh Thai Green Curry Paste.
Half of the total time to make this Thai Chicken Curry recipe goes to making the fresh curry paste.
Due to the nature of the ingredients, I always make too much of this paste and store it.
This makes enough curry paste for 6-8 servings depending on how hot you want your curry.
If you are planning to use it within a couple of weeks then you can store it in a jar in the fridge.
Spoon in the curry paste and give it a bash to remove air bubbles. Then add a layer of oil a cm or so thick.
When it comes to making your curry this oil makes the perfect start place. Then simply top up the oil when you have taken what you want.
If you want to keep it for months then scoop into silicone ice cube trays and freeze.
When frozen pop them out into a bag. I have used them up to 3 months after freezing with delicious results.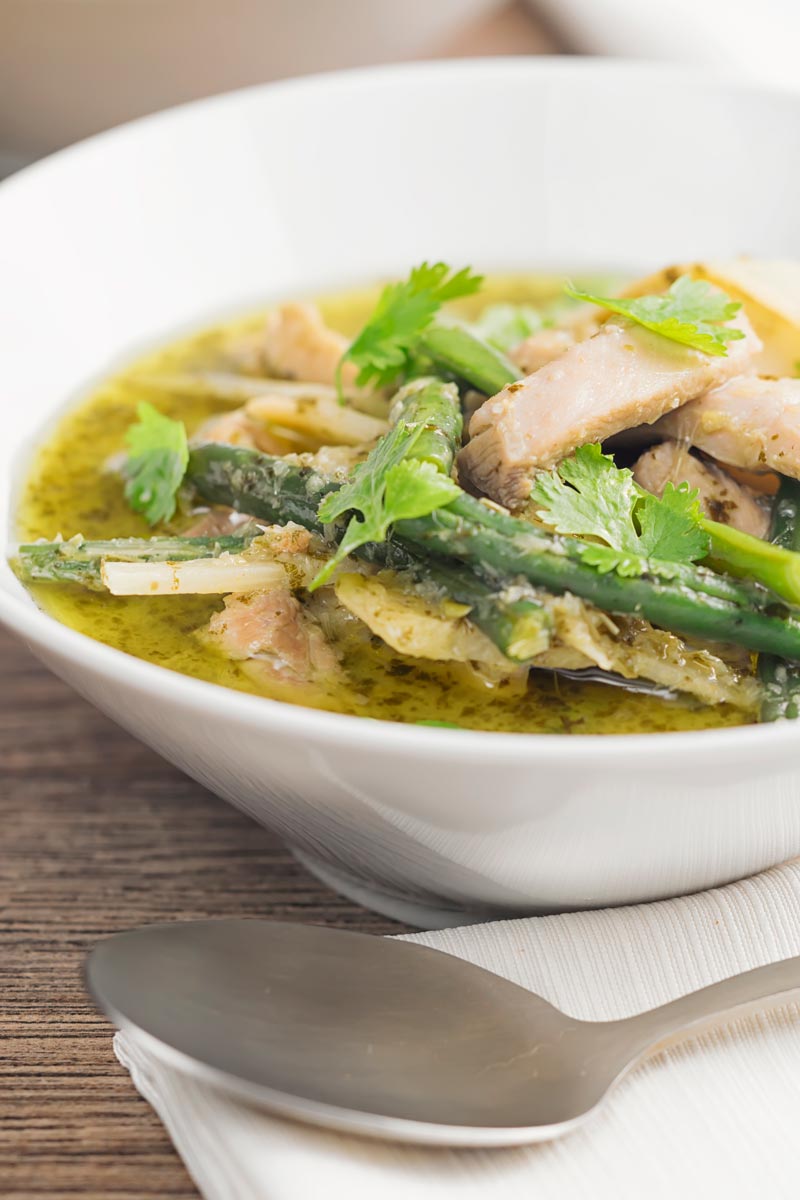 Ingredient Substitutions.
Depending on where you are in the world you may struggle to find some of the ingredients in this recipe.
Don't worry, I am not protective about food, in fact, this recipe has one notable omission and a couple of subs already.
But let's look at the ingredients and see where we can ease things a little.
Lemongrass: Do not sub or omit, you can get lemongrass paste in jars that is very good.
Ginger: This is one of my subs, traditionally this would have been galangal.
Thai Basil: Sub for a mix of sweet basil with 10% of mint.
Lime Juice: Go for lemon juice
Fish Sauce: Go for a light soy sauce, make sure you do not use dark soy!
Brown Sugar: This is a sub for the more traditional palm sugar.
Kaffir Lime Leaves: There is no sup for these but depending where you are in the world they are available dried, frozen and fresh. Fresh is best, I have to make do with dried, they add a citrus flavour, omit if you cannot get them and balance with more lime juice.
And my omission? Well, that would be shrimp paste, it is an ingredient I often struggle to get. If you can find some add a tablespoon to your paste.
It adds a richness savoury edge to the dish in much the same way that anchovies do in my Pasta e Fagioli recipe.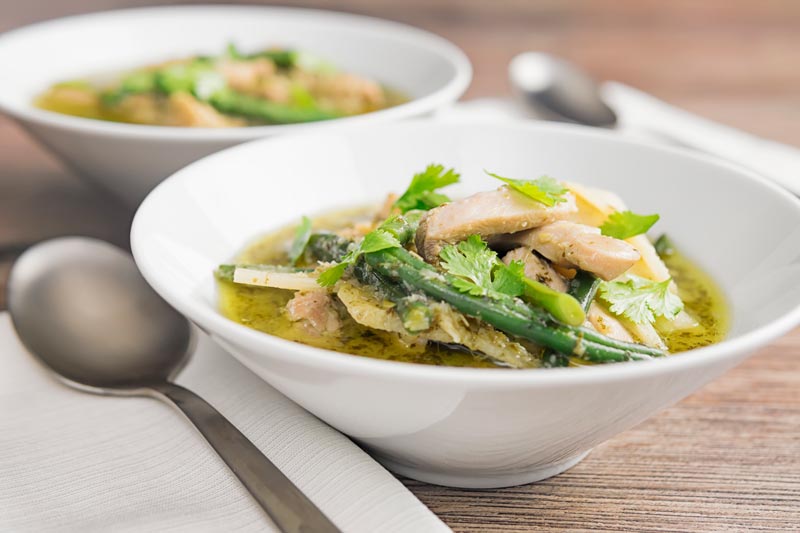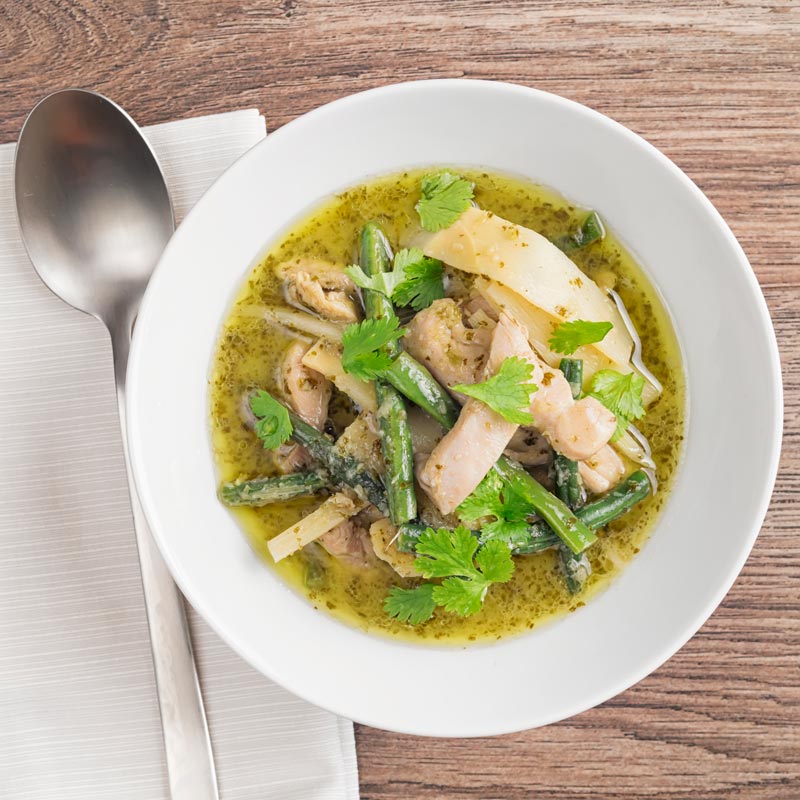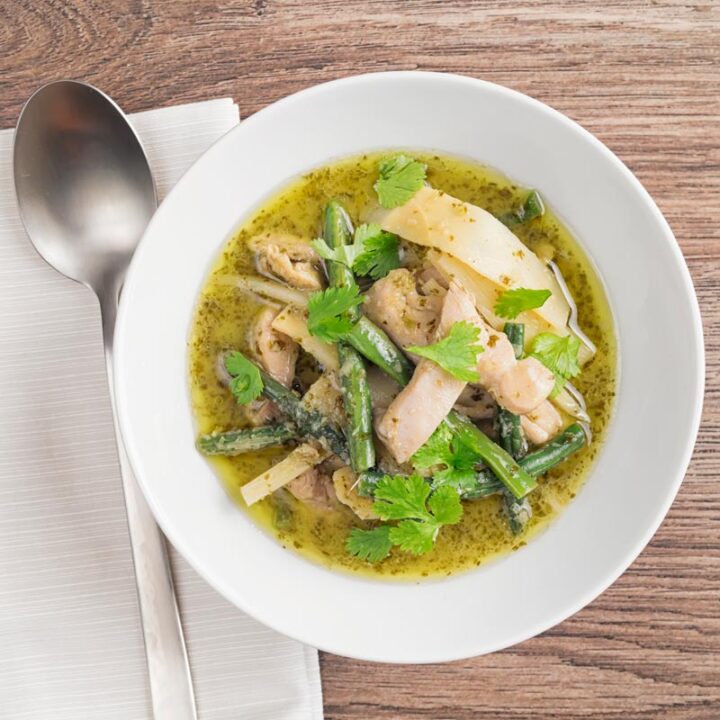 Recipe for Thai Green Chicken Curry
This delicious Thai Curry is a stark contrast to the typical view of a curry as being brown and rich. This is light, vibrant and full of lots of fantastic zingy flavours and a real kick of spice.
Ingredients
For the Curry Paste
2 Stalks Lemongrass
30 g Ginger
50 g Thai Green Chilli Peppers
6 Garlic Cloves
10 g Fresh Coriander
30 g Thai Basil
50 g Shallots
1/4 Tsp White Pepper
1/2 Tsp Ground Coriander
1/2 Tsp Ground Cumin
1 Tbsp Lime Juice
1 Tbsp Fish Sauce
1 Tsp Brown Sugar
For the Curry
400 g Chicken Thighs
100 g Green Beans
300 ml Coconut Milk
100 g Bamboo Shoots
1 Tbsp Oil
1 Tsp Brown Sugar
1 Tsp Fish Sauce
1/2 Lime Juice Only
10 Dried Kaffir Lime Leaves
Instructions
Blend all of the ingredients for the Thai Green Curry Paste. This recipe will make enough paste for 3 curries for two people.
Cut the chicken into bite-sized pieces.
Top and tail the beans.
Heat a wok over a high heat and add the oil.
Add 3 tablespoons of the green Thai curry paste.
Stir fry for 2-3 minutes.
Add the chicken and stir fry for a further 3-4 minutes.
Pour over the coconut milk and add the lime leaves then cook for 10 minutes.
Add in the green beans and bamboo shoots and cook for 2 minutes.
Season with the extra fish sauce, lime juice and brown sugar.
Remove the dried lime leaves before serving and sprinkle with coriander leaves.
Notes
If you are using fresh kaffir lime leaves reduce the amount by half and tear them up before adding. There is no need to fish out the fresh leaves.
Nutrition Information:
Yield:

2
Serving Size:

1
Amount Per Serving:
Calories:

943
Total Fat:

67g
Saturated Fat:

36g
Trans Fat:

0g
Unsaturated Fat:

28g
Cholesterol:

256mg
Sodium:

1329mg
Carbohydrates:

43g
Net Carbohydrates:

0g
Fiber:

4g
Sugar:

9g
Sugar Alcohols:

0g
Protein:

56g
Calorific details are provided by a third-party application and are to be used as indicative figures only.