Thai red curry mussels are a wonderfully quick, easy & cheap way to bling up your shellfish game, a fab curry that cooks in well under 30 minutes.
Mussels are often associated with a simple wine sauce but their sweet flavour loves a bit of spice and the flavours of Thailand are front and centre here!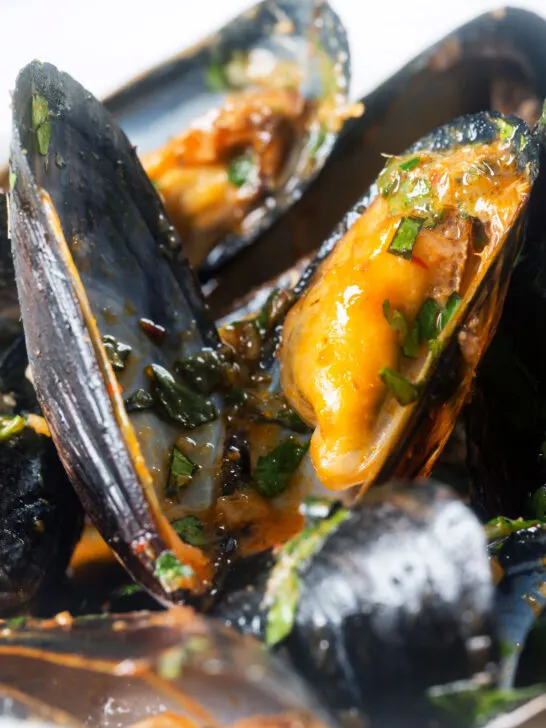 Spicy Mussel Curry
If I were pressed to name my favourite "food" I'd be hard-pushed to choose between mackerel and mussels. Both are insanely tasty, really quick and easy to cook as well as being really rather affordable.
Mussels are the start of the Thai red curry dish and it is superb!
Both of the other mussels dishes on my site include a bit of spice because I think they love a bit of chilli heat. As a result, I have both a beer-steamed chilli mussels recipe and a fabulous Indian curry mussels recipe.
Like the latter of those two recipes, this fabulous offering tempers spice with coconut milk. This gives the dish a wonderfully silky finish to the broth.
Many folk are intimidated by mussels, but you shouldn't be they are really easy to cook and quick too!
Aside from soaking the mussels, this dish takes 20 minutes to go from your fridge to your table. That is assuming that they are cleaned first.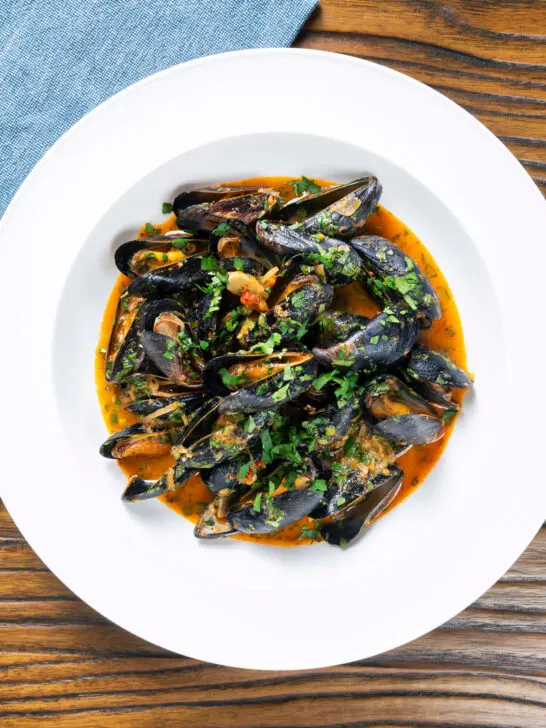 Frequently Asked Questions
How do I prepare mussels so they are "safe"?
The most important thing to do is to discard any "dead" mussels!

The first thing to do is to throw away any mussels where the shell is broken or damaged

The second thing to do is to take any mussels that are open and give them a tap on your work surface. If they do not close, then discard them.

The final step is to discard any mussels that are still closed after you have finished cooking them.
How do I clean the mussels of their beard?
The "beard" is nothing more than remnants of the rope that the mussels are grown on.

Take a small blunt knife and grab the stringy bit between your knife and your thumb then pull back towards the hinge. The hinge is the pointy bit.

This can be a time-consuming process, it is not difficult, just slow! So try and buy clean mussels if you can.
What is the best Thai red curry paste to use?
The obvious answer to this is the one that you can get your hands on and that will vary depending on where you are from.

I have a wonderful homemade red Thai curry paste recipe if you want to make your own.

If I am buying curry paste I tend to use either Lobo or Maesri brand.
Why do you not give firm directions for the fish sauce, sugar and lime amounts?
Mainly because the stock and Thai curry paste that you use will vary considerably, but also and possibly more importantly, we all have different tastes.

Make sure you have taste at step 14 and add a little at a time until you are happy.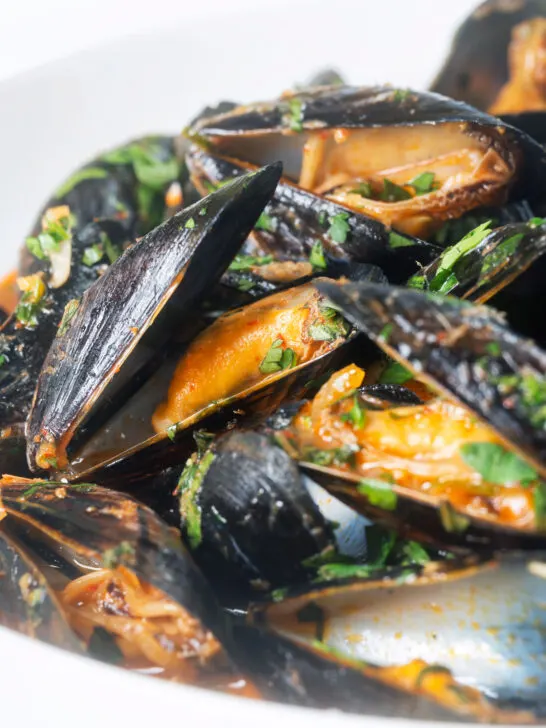 Serving Suggestions
Classic European cooking techniques and ingredients with Thai flavours can provoke interesting choices for side dishes and you can fall on both sides of the fence with this dish.
I like to serve these Thai-inspired red curry mussels with "frites", or salty French fries that I cook in an air fryer.
They are equally good with my salty crispy straw potatoes, but be careful of the salt levels in the curry if you are doing this.
Bread is another nice option and I tend to grab a crunchy farmhouse-style loaf and cut off a hunk.
If I were to fall on the "Asian" side of the fence, I would serve this with rice. Some plain boiled or steamed rice would be good, but coconut rice would be awesome!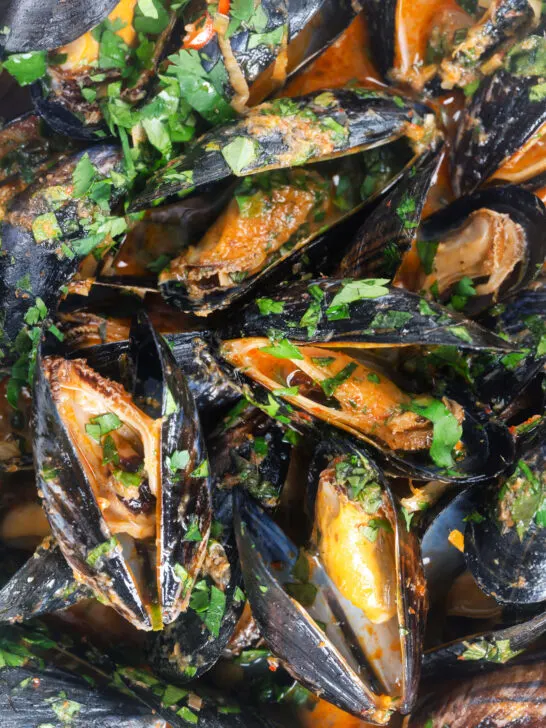 Equipment Used
I only mention brands of equipment if I think that they make a material difference to a recipe. But if you have any questions feel free to ask them in the comments section below the recipe.
Stovetop.
Wok with a large lid (35cm or 14″) if you do not have a lid use a 28cm or 11″ saucepan with a lid.
Large bowl to soak the mussels.
Chopping board.
Kitchen knife.
Stirring and serving spoons.
Weighing scales and or measuring jug, cups and spoons.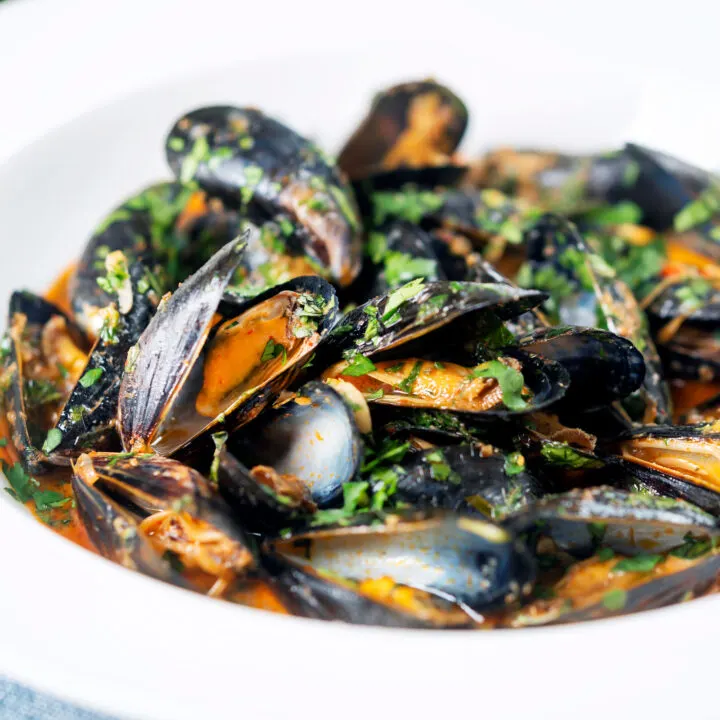 Yield:

2 Servings
Spicy Thai Red Curry Mussels Recipe with Coconut Milk
Sweet mussels steamed in a delicious Thai red curry and coconut milk sauce is the perfect quick and easy mid-week curry recipe that will go from your fridge to your table in well under 30 minutes.
Ingredients
1kg (2.2 lbs) Mussels in Shells
2 Red Thai Birds Eye Chilli Peppers
35g (1 Medium) Banana Shallot
1 Stick Lemongrass
2 Garlic Cloves
6 Lime Leaves
1 Tbsp Cooking Oil
75ml (~⅓ Cup) Water or Fish Stock
200ml (¾ Cup plus 1 Tablespoon) Tin Coconut Milk
35g (2 Tbsp) Thai Red Curry Paste
½ Tbsp Fish Sauce
½ Tbsp Dark Brown Sugar
1 Lime
20g (⅓-½ Packed Cup) Thai Basil
20g (⅓-½ Packed Cup) Fresh Coriander
Instructions
Soak the mussels in water whilst you prepare the ingredients for the rest of the dish. If you can leave them for an hour or so then even better because it will help get rid of any grit.
Cut the shallot in half, peel it and then slice it as finely as you can.
Cut the chilli peppers into rounds as finely as you can.
Peel and slice the garlic cloves as finely as you can.
Remove any tough outer leaves from the lemongrass, then bash the stem with the blunt side of a knife to bruise it and then shred it as finely as you can.
Remove the central stems of the lime leaves and discard them, then finely shred the leaves.
Chop the basil as finely as you can.
Chop the coriander as finely as you can.
Drain the mussels and discard any that do not close tightly if you tap them on your work surface.
Heat a wok (if you have a lid large enough) over a high heat and add the oil. If you do not have a lid large enough use a large saucepan with a lid.
Throw in the lemongrass, shallots, chilli pepper and garlic cloves and stir fry for 30 seconds.
Add the red curry paste and stir fry fo 30-60 seconds mashing the paste to cook out the ingredients.
Pour in the water or fish stock and coconut milk and give everything a stir.
Have a taste here and add the brown sugar, fish sauce and squeeze in the lime juice to taste adjusting the balance of these flavours to your liking.
Add the mussels, give them a stir and add the lid, then cook until the mussels open up, then remove from the heat.
Throw in the Thai basil and coriander, stir and serve immediately.
Nutrition Information:
Yield:
2
Serving Size:
1
Amount Per Serving:
Calories:

791
Total Fat:

36g
Saturated Fat:

18g
Trans Fat:

0g
Unsaturated Fat:

13g
Cholesterol:

140mg
Sodium:

2262mg
Carbohydrates:

54g
Fiber:

4g
Sugar:

9g
Protein:

66g
Calorific details are provided by a third-party application and are to be used as indicative figures only.