Balsamic and Honey Glazed Duck Breast is perfect date night food, fancy enough to impress but simple enough so you don't spend all night at the stove.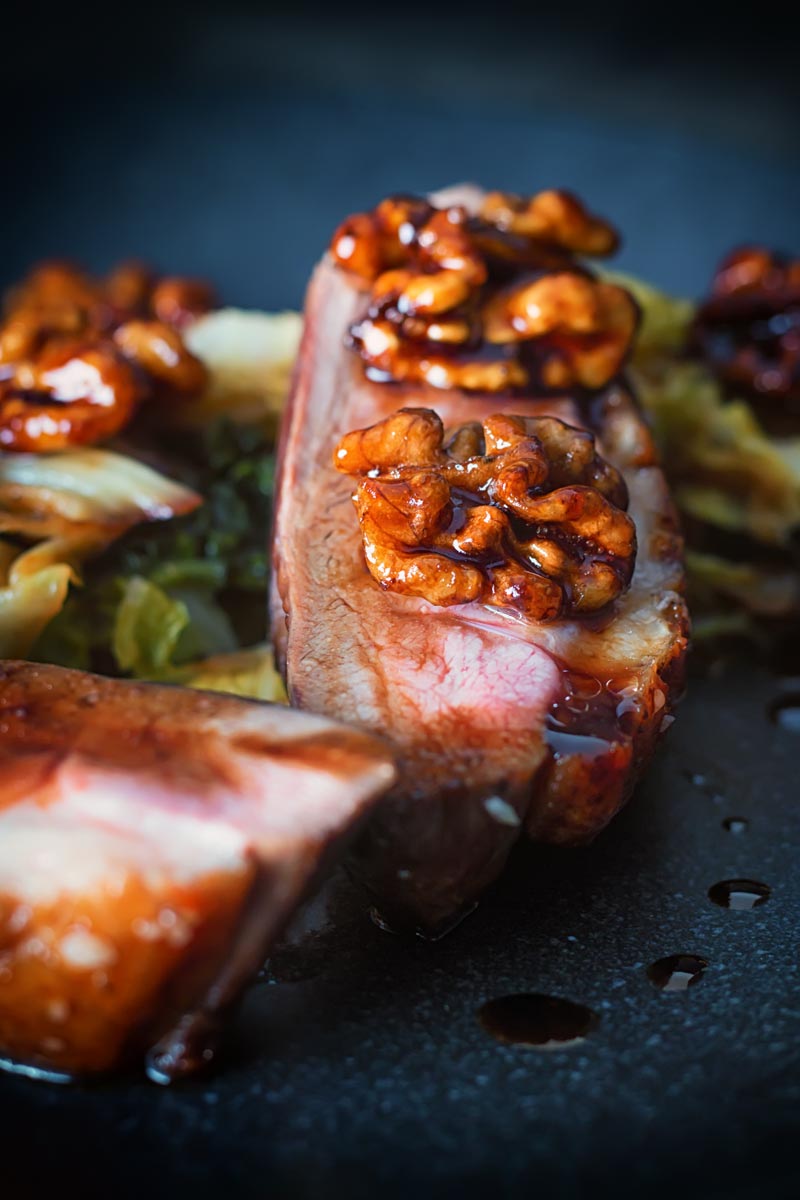 Balsamic and Honey Glazed Duck Breast.
Having recipes that look great, sound impressive and taste million dollars but are easy is the thing all cooks really yearn for. This balsamic and honey glazed duck breast ticks all of those boxes!
In fact, duck recipes are so often the ones I fall back on when I am looking for tasty, impressive and fast. It has amazing flavour, always looks great and is really versatile.
Most importantly it always feels like a bit of a treat but cooks in no time at all.
This Balsamic and Honey Glazed Duck Breast is all done in just 25 minutes. Pretty quick for a European style meal rather than a stir-fry.
It stands in stark contrast to my recent duck recipes, duck ragu and duck salad salad with roasted radish and asparagus.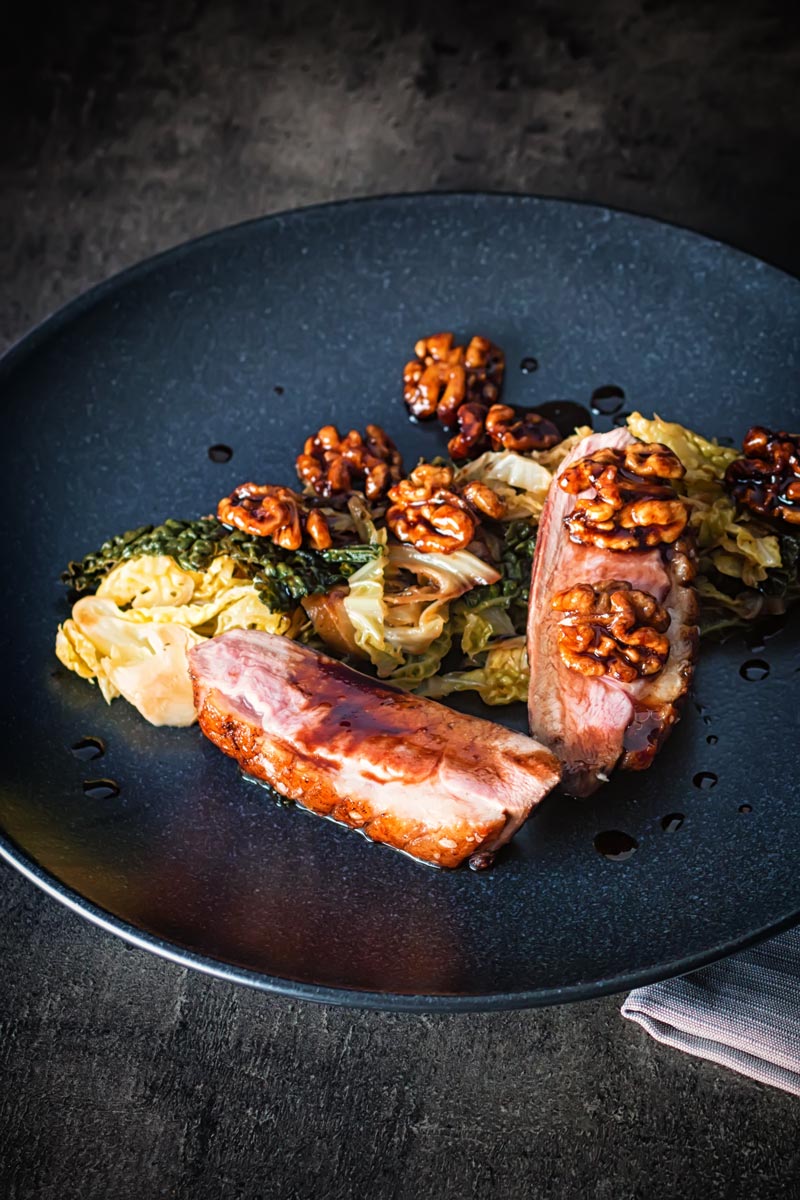 Versatile Duck Recipes!
I am sure a lack of familiarity puts many people off eating duck, but you really should 'hunt' it down.
It is every bit as good as any steak you will eat. In fact, in my opinion, better than any steak you will eat!
Duck is so versatile and is capable of standing up to pretty much anything you can throw at it. It does work exceptionally well with sweetness so this honey and balsamic number is spot on for this glazed duck breast.
I like to serve this with cabbage, apple and walnuts at this time of the year to give it an autumnal feel. Of course, those walnuts passed through the glaze are delicious all by themselves let alone with the duck.
But duck is not a one trick pony it lends itself to cuisines from all over the world so well. Here on Krumpli alone, I have an Indian Duck Tikka Masala and an Italian Duck Ragu Pasta. But no that is not all, we can go to the good ol US of A with a Duck Burger or Thailand with Thai red Duck Curry.
Of course, we can nip to France for Duck a l'Orange. Naturally, we can just stay at home grab a beer and knock up some simple Duck Kebabs on the BBQ! Do you get the feeling I like duck?
Seriously, go buy some duck, even if it isn't for this Honey Glazed Duck Breast! Your belly will thank you.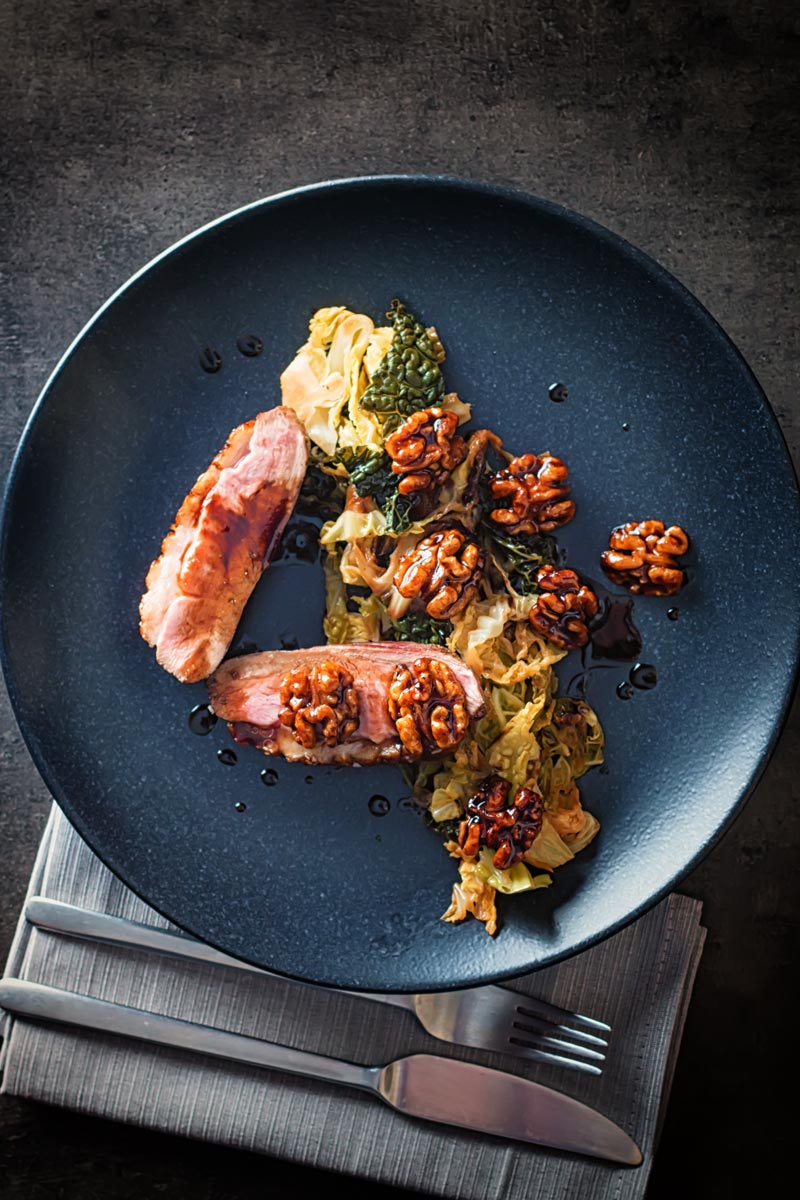 Duck Breast Cooking Temperatures.
I have written at length here about the importance of cooking food for you. I like my meat cooked pretty rare. That is of no importance to you what so ever, cook your meat the way you like it.
Anyone who tells you otherwise is an A grade asshole, I have no time for that bullshit. Food is to be enjoyed and loved not to be used to pass judgement on others.
As a result, here are some temperature guides for cooking your duck for this honey glazed duck breast. They represent internal temperature after your duck has rested.
If you are pan frying duck like this, then you should 'budget' for an increase of 5-8°C in internal temperature during the resting period of 5-7 minutes.
So go on, step outside your comfort zone.
Head out find some duck and see what you can do and if you have any questions shout up, I'm happy to help where I can.
Medium Rare: 55°C, 130°F.
Medium: 62°C, 145°F.
Well Done: 67°C, 153°F.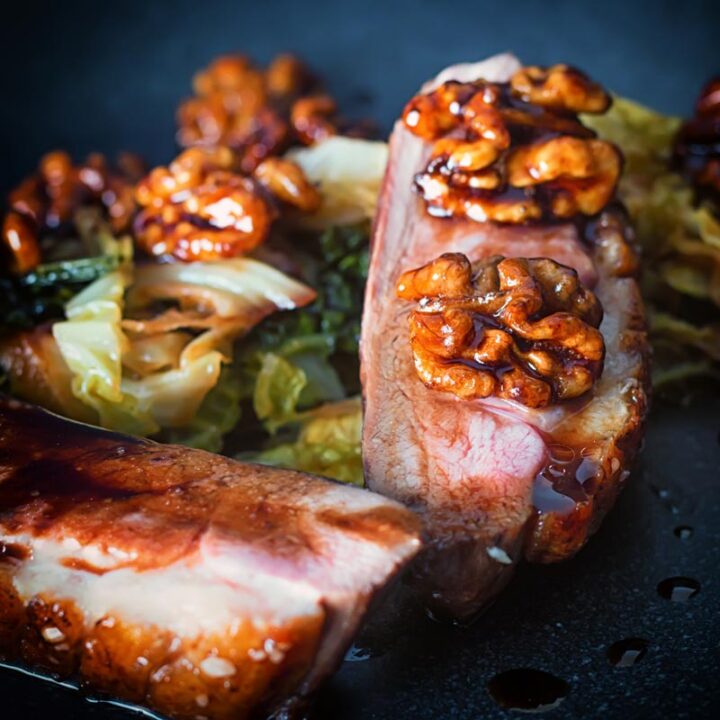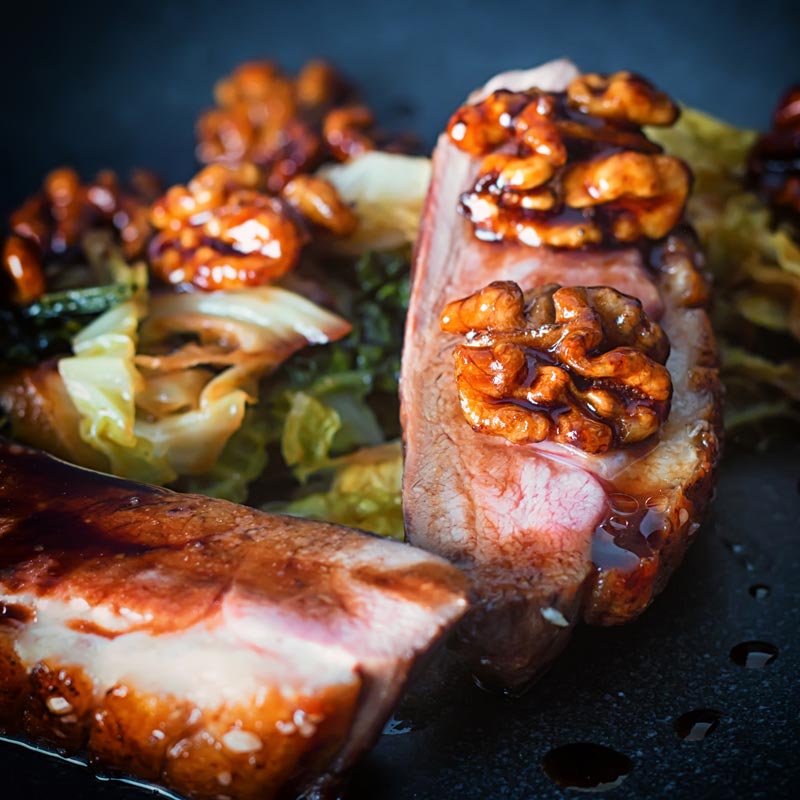 Yield:

2 Servings
Balsamic and Honey Glazed Duck Breast
Balsamic and Honey Glazed Duck Breast is perfect date night food, fancy enough to impress but simple enough so you don't spend all night at the stove.
Ingredients
2 Duck Breasts
50 g (1/4 Cup) Shelled Walnuts
1/2 Small Cabbage, Finely Shredded
2 Tbsp Honey
4 Tbsp Balsamic Vinegar
30 g (2 Tbsp) Butter
1 Apple, Diced into 1 cm dice
Salt and Pepper
Instructions
Trim up the duck breasts and then score the skin in a cross hatch pattern roughly 1cm diamonds being careful to only score the skin and not to cut through the flesh. Then thoroughly dry the skin.
Heat 2 frying pans one with a lid, both over a medium high heat.
Season the duck with salt and pepper.
When the pans are to temperature add the butter and one tablespoon of balsamic to one and then add the duck to the second pan skin side down. The pan for the duck should be dry.
Add the cabbage to the second pan, reduce the heat to medium and put on the lid.
Try and leave the duck alone on the skin for 5 minutes, you will need to sneak a peak to make sure it is not burning and you have your temperature correct.
After 5 minutes flip over the duck and allow to cook for a further 5-6 minutes or until the internal temperature reaches 50°C, this is for how I like my duck cooked but there are further instructions in my blurb.
When the duck reaches temperature remove from the pan and allow to rest for 5 minutes, by this time the internal temperature should reach 55°C.
Whilst the duck is resting add the apple to the cabbage along with salt as required and stir.
Drain off most of the fat from the duck pan and then add the honey and remaining balsamic vinegar and bubble up to form a syrup.
Add in the walnuts and duck to the syrup when rested and spoon over the syrup to coat, slice and serve.
Notes
The cabbage is my serving suggestion but you can do this with loads of sides.
Nutrition Information:
Yield:
2
Serving Size:
1
Amount Per Serving:
Calories:

729
Total Fat:

37g
Saturated Fat:

14g
Trans Fat:

0g
Unsaturated Fat:

21g
Cholesterol:

353mg
Sodium:

442mg
Carbohydrates:

38g
Fiber:

3g
Sugar:

33g
Protein:

60g