A gloriously British dish of a hearty stew cooked under a scalloped top of sliced potatoes, this easy Lamb hotpot is proper old school family comfort food!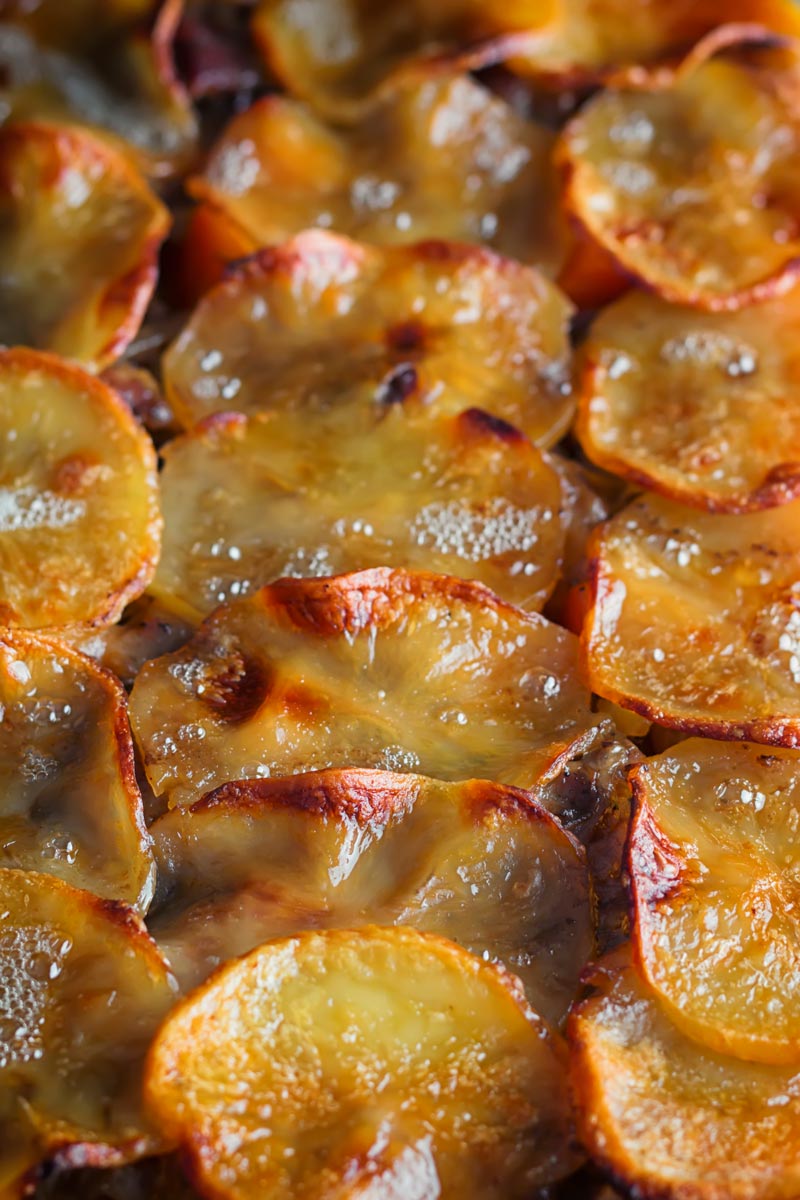 Mutton or Tender Lamb Hotpot.
Just like my cottage pie recipe, this recipe is a real old school British meal. It is also what British food does exceptionally well, glorious, hearty brown simplicity.
At the heart of this recipe is a great stew and at the heart of that is the right type of meat.
You can either use lamb or mutton in this recipe, although shoulder is definitely the best cut of meat. But you could use diced lamb leg if you want.
Please do not be afraid of what many call tough pieces of meat they always taste better than their much more expensive and tender cousins.
They do take a little bit more cooking to get the most out of them but they always have more flavour!
This dish is pretty close to what would be called a Lancashire hotpot in the UK.
Although that recipe has evolved into a dish using the neck of the beast. Sometimes even stuff like the loin and rump, which I think is a terrible waste.
I even have a chicken hotpot and Moroccan Beef Hotpot recipes. Just like this recipe that is a simple stew cooked under a lid of nicely browned potatoes.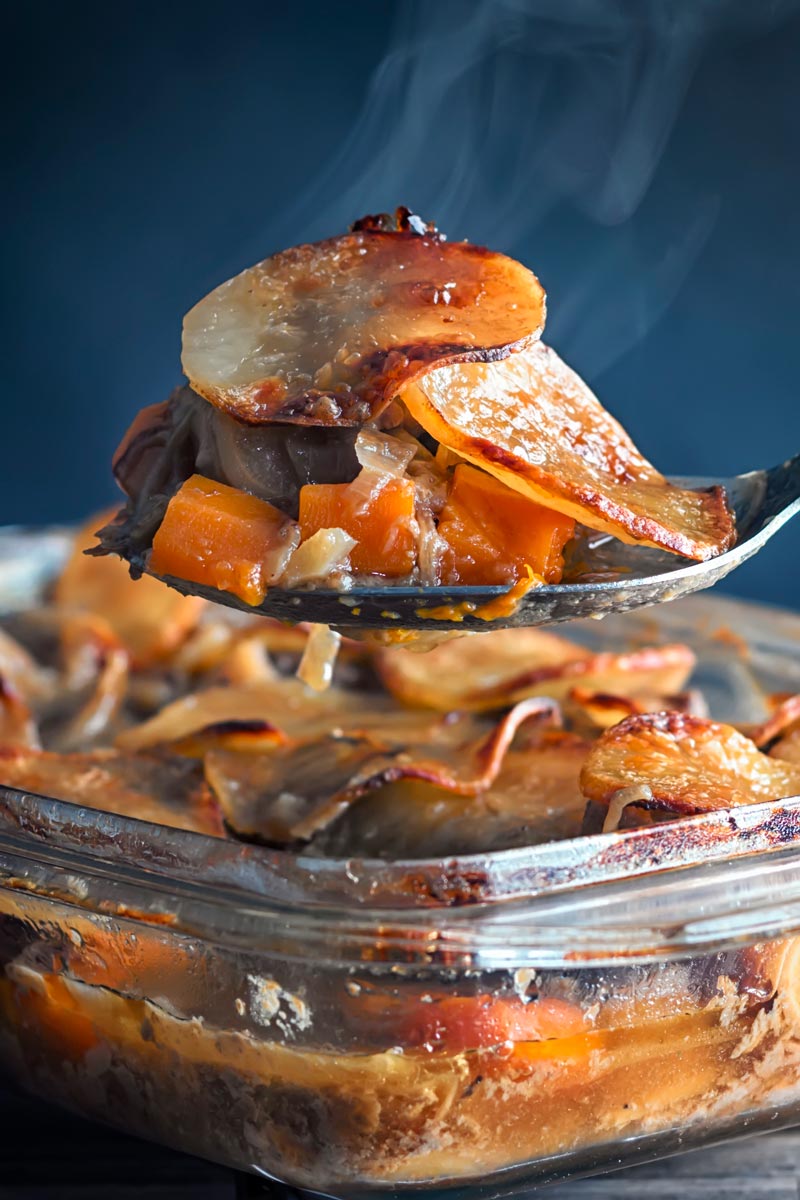 Cooking with Mutton Instead of Lamb?
Essentially meat from an older sheep, a sheep over a couple of years old. There are technical descriptions relating to tooth wear, but a general rule is lamb is under 1 year, hogget under two years and mutton over two years old.
In the main, your average piece of mutton will be tougher than lamb and have a boatload more flavour!
Traditionally this almost Lancashire lamb hotpot recipe would have used leftover cuts and quite often offal like kidney or liver.
Without question, my recipe would have had kidneys in it if I could have laid my hands on some. So feel free to mix it up and sub out some of the meat for kidneys if you like!
I love mutton would recommend that as the first choice if available. This is because the big flavour really works so well with the heavy spices.
So in reality, both my lamb madras and lamb rogan josh recipes will ordinarily be made with mutton!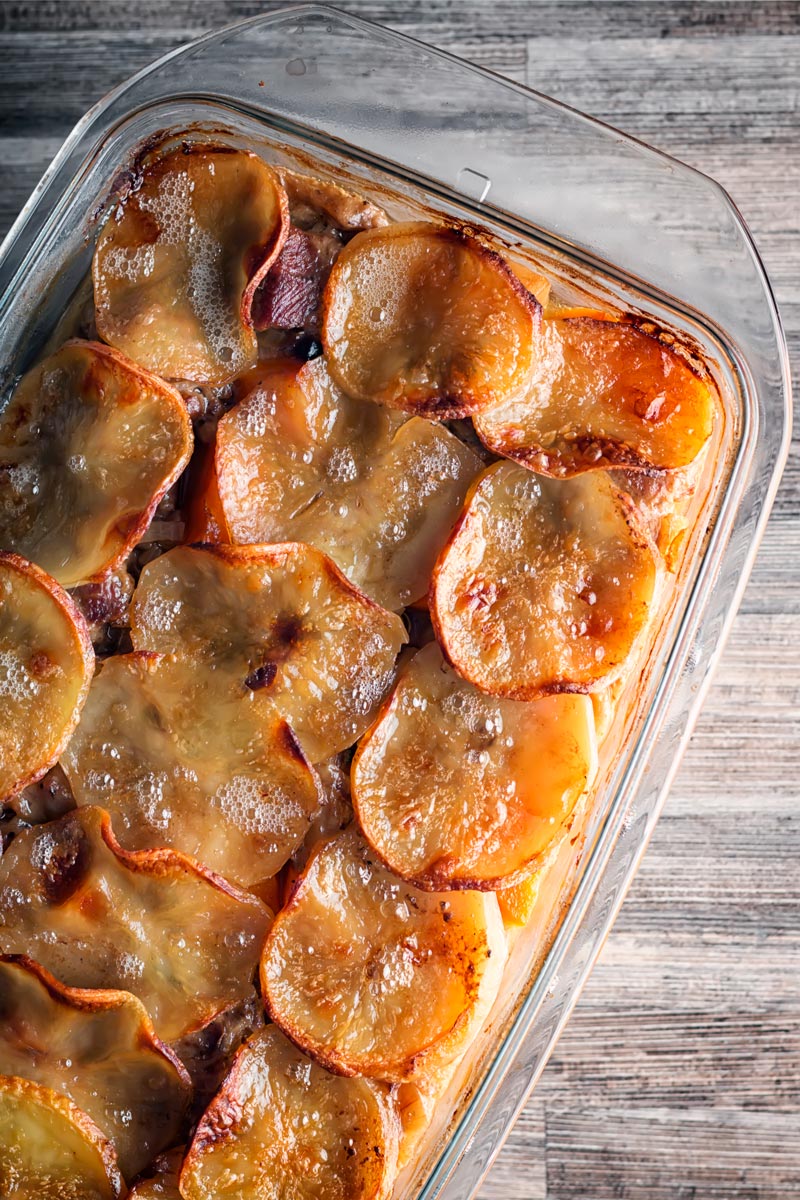 So Should You Use Mutton Or Lamb?
All things being equal I would go with mutton over lamb in every slow cooked recipe every single time.
Beautifully tender chops or rump are great in a more delicate dish, but if you want big strong and hearty then mutton is the way to go.
Mutton has a lower water content and higher fat content. That means flavour, much more flavour!
It does mean that you need to cook the meat a little longer, it also means pan frying mutton out of the question.
So for instance in this recipe, you will increase the cooking time by 30 minutes for a mutton hotpot.
If you cannot be bothered to make lamb stock, it can be difficult to find in stores, simply substitute for good quality beef stock. It will not be the same but it will still taste great!
One final thing when sitting down to this dinner, don't forget the mint sauce!
It is the law and if you don't I will know!
And just like Liam Neeson 'I will Look for you and I will find you'. I will almost certainly not go for the killing part though and make do with a passive-aggressive British 'tut'!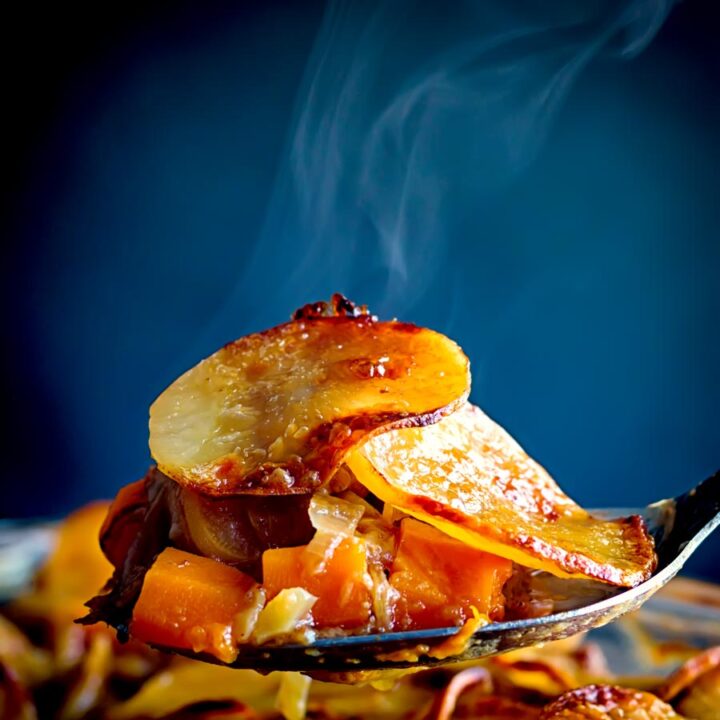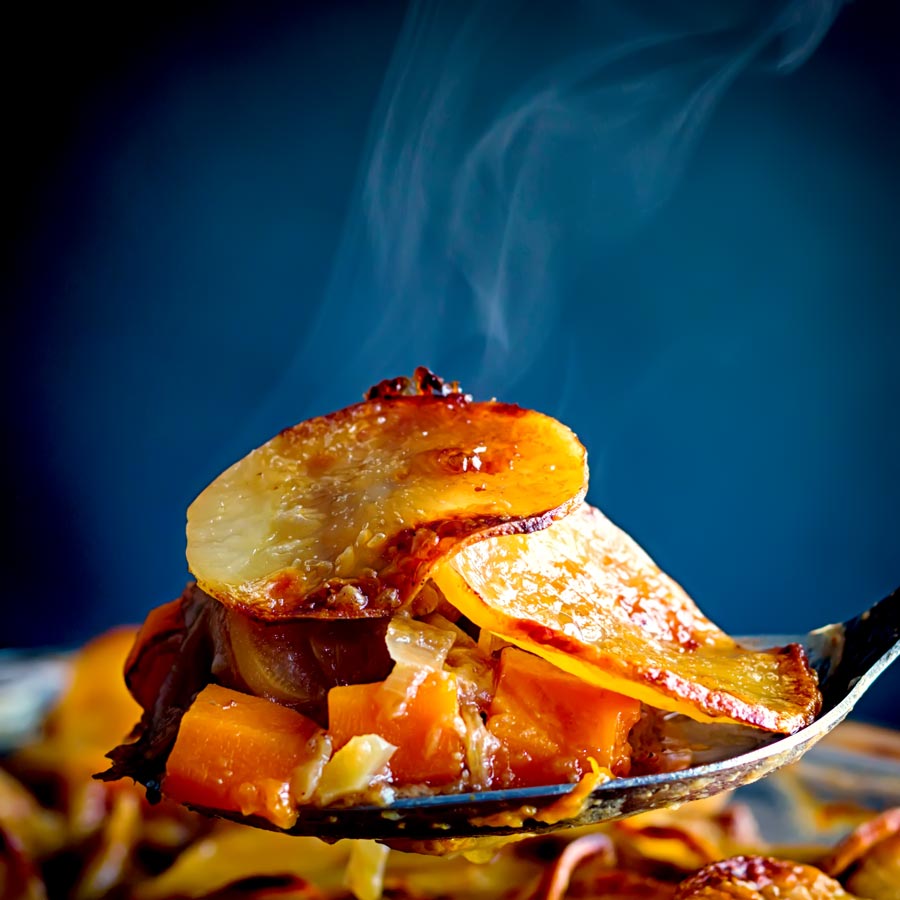 Yield:

4 Servings
Mutton or Lamb Hotpot
Total Time:
3 hours
15 minutes
The lamb or mutton hotpot us the perfect winter warming recipe. Beautifully soft mutton or lamb shoulder in a vegetable-rich stew served under a scalloped potato topping.
Ingredients
600 g Mutton Or Lamb Shoulder
4 Tbsp Plain Flour
5 Tbsp Cooking Oil
400 g Onions
200 g Carrot
150 g Parsnip
50 g Butter
500 ml Lamb Stock or Beef Stock
1 Tsp Rosemary leaves
350 g Potato
Salt to Taste
Black Pepper to Taste
Instructions
Cut the lamb or mutton into 2.5-3cm cubes.
Slice the onion into cm wide half moons.
Cut the carrots and parsnips into 2.5cm pieces.
Heat a heavy-based pan over a high heat and add 3 tablespoons of cooking oil.
Season the lamb mutton chunks with salt and pepper and then dust with 3 tablespoons of the flour before batch frying until nicely coloured.
Set aside to drain in a colander.
Clean your pan and return to the heat and add the remaining 2 tablespoons of cooking oil.
Fry off the onions until they start to colour.
When the onions have coloured reduce the heat to medium and add in 50g of the butter and melt.
Add the final tablespoon of flour and stir into the onions and butter then stir for 5 minutes to cook out the flour.
Pour in the stock and add the carrots, parsnips and mutton along with the rosemary leaves and bring to a simmer.
Cook for 10 minutes.
Preheat the oven to 220°C or 450°F.
Peel and slice the potatoes into thin 2-3mm scallops.
Now layer up your pie, place a layer of potatoes on the base of a 2 litre casserole dish.
Pour over the lamb or mutton mix and finally add a final layer of potatoes and add a lid. Use foil for a lid if you do not have one.
Place in the oven for 30 minutes at 220°C or 450°F and then reduce the temperature to 150°C or 300°C.
Cook for a further 90 minutes (30 more if using mutton).
Remove from the oven and increase the temperature back to 220°C/450°F.
Remove the lid and brush the top level of potatoes with melted butter.
Return to the oven and cook for a further 30 minutes.
Nutrition Information:
Yield:
4
Serving Size:
1
Amount Per Serving:
Calories:

1015
Total Fat:

62g
Saturated Fat:

21g
Trans Fat:

1g
Unsaturated Fat:

36g
Cholesterol:

241mg
Sodium:

401mg
Carbohydrates:

47g
Fiber:

7g
Sugar:

10g
Protein:

66g