This Indian prawn curry is hot, sour and all sorts of delicious & if that is not enough it cooks in just 15 minutes, yes you read that right!
This meal is one I often fall back on when I am out late and need to grab something at the supermarket for dinner.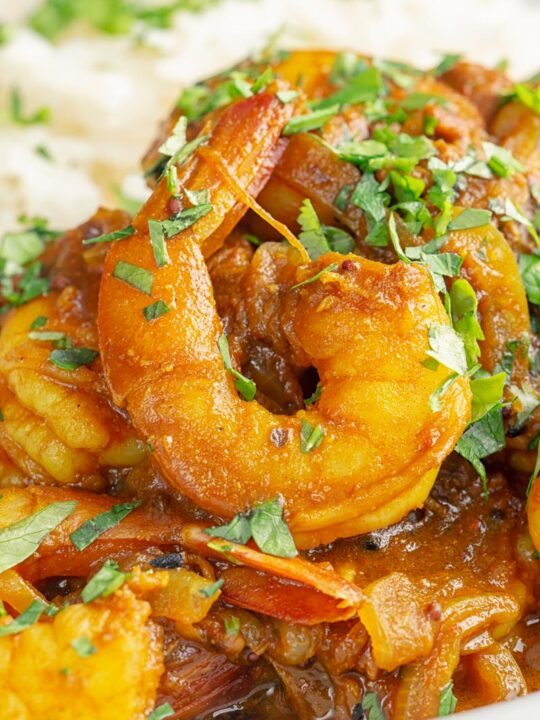 The Perfect Spicy Prawn Recipe
All cooks have one of those quick meals that they can rustle up with their eyes closed, a recipe that tastes great and can be rustled up quickly.
I have many, but this easy prawn curry is one of my favourites and one of the quickest recipes that I cook. It sits right alongside my Thai Prawn Curry as "brothers from another mother"!
Flavour-wise we go sour with the help of a little tamarind. I keep the heat fairly low key but you can increase this if you wish.
This ensures that the flavour of the sweet prawns shines through, I do exactly the same thing with my pheasant curry.
Most of the ingredients are store cupboard staples for anyone who cooks Indian food regularly.
The spices in this curry are relatively "reserved" so as not to overwhelm the sweet flavour of prawn which should still sing through.
This is the same approach that I take with my sea bream curry, Macher Jhol Bengali fish curry, Keralan fish curry, salmon tikka, and my curry mussels!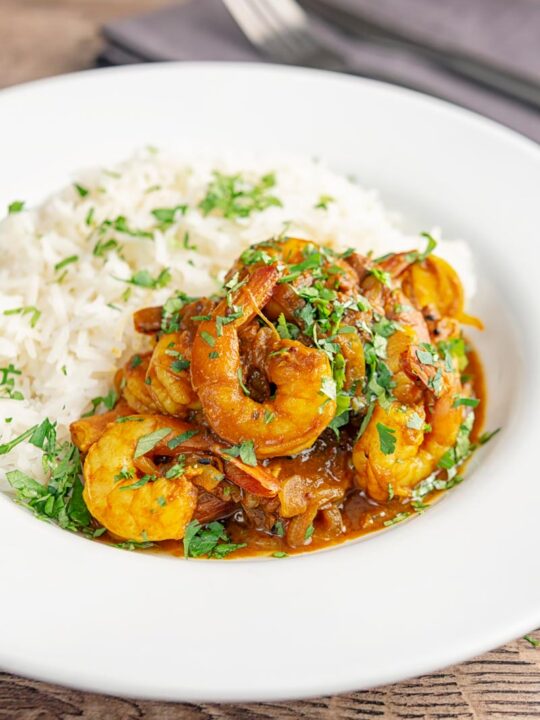 How to Defrost Frozen Prawns.
I always use frozen prawns or shrimp as my US readers call them.
It does not matter if it is for this prawn curry, my harissa prawns or indeed the prawns for my special fried rice!
They are convenient, can be great quality and are really easy to use.
As you can see I use blanched frozen prawns in the video for this recipe. This means that they are cooked but not completely.
But the process of defrosting them is identical whether they are cooked or raw.
You can, of course, go long and slow and leave them in the fridge overnight. But this recipe is my go-to "quick I need dinner now" recipe!
Simply place the shrimp on a colander in the sink and run cold water over them.
I typically set that going whilst I am preparing the vegetables and spices for this prawn curry.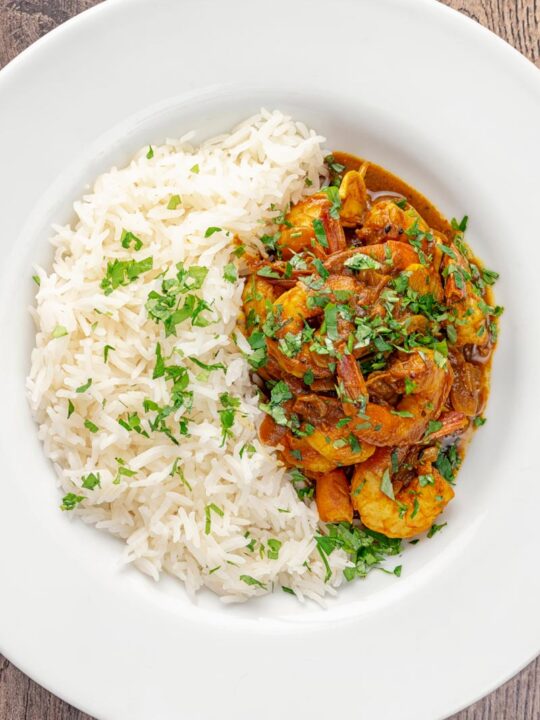 Hints and Serving Suggestions
You can use raw frozen prawns, frozen cooked prawns or indeed fresh for this curry.
Each step towards fresh, head on, shell on prawns adds a little extra time to the prep for this curry. But no matter what you use this recipe is still a speed demon!
For convenience here I use tamarind concentrate in this recipe rather than soaking tamarind pulp.
It is super convenient but it is pokey, typically 5-10 times more powerful than pulp. Each brand is different so start with a little and have a taste.
If you want to use tamarind pulp take 60g of pulp (around 3-4 cm 1 1/2″ cube). Soak it in 65ml (around 1/4 cup) of boiling water, let it steep, and then pass it through a sieve.
If I am cooking in a rush I serve this prawn curry with plain basmati rice.
With a little more time on my hands I'd prepare some chapatis because let's face it curry and flatbread!
You can also enhance the sour vibes in this prawn curry by adding a little lime or lemon pickle on the side!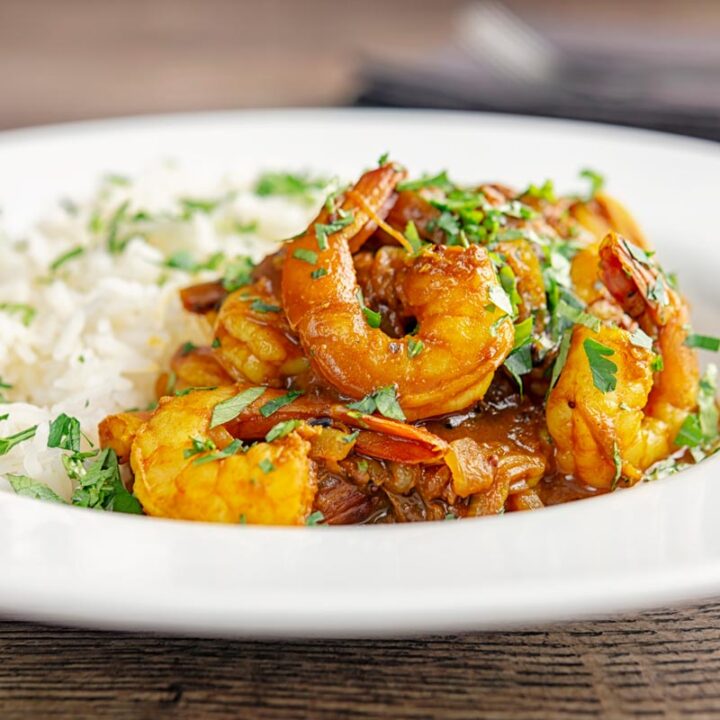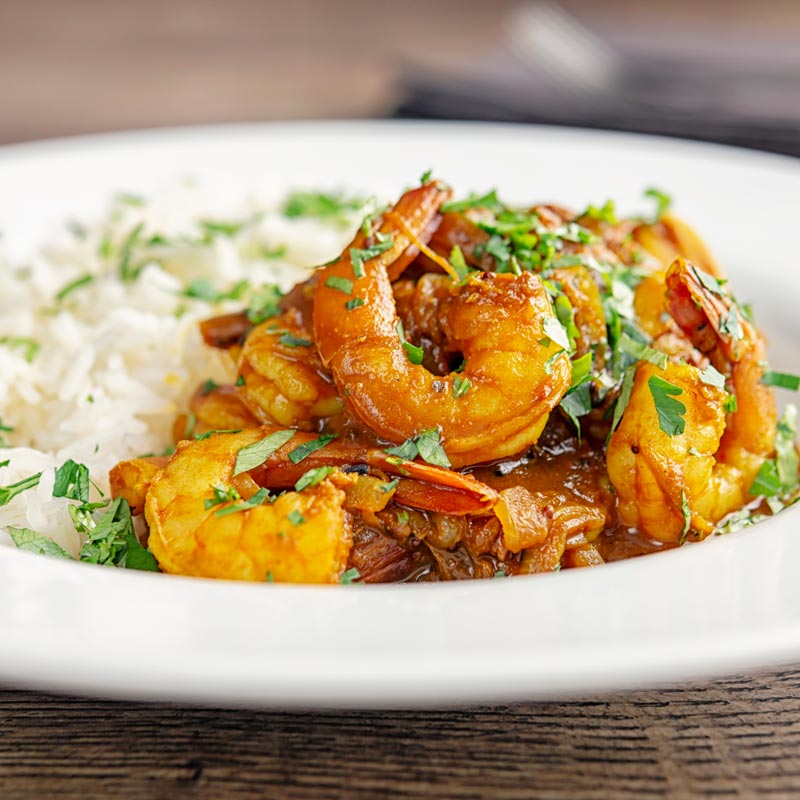 Yield:

2
Quick Indian Prawn Curry Recipe
A super quick, simple and delicious hot and sour Indian prawn curry, this recipe is the sort of thing that all cooks need in their repertoire!
Ingredients
400 g 14 oz Large Frozen Prawns
1 Tbsp Cooking Oil
1/2 Tsp Brown Mustard Seeds
1/2 Tsp Fenugreek Seeds
1/2 tsp Black Onion Seeds
100 g (2/3 Cup) Onion
2 Cloves Garlic
1 Tbsp Grated Ginger
1/4 tsp Kashmiri Chili Powder
1/4 tsp Ground Coriander
1/2 tsp Ground Turmeric
75 g (1/3 - 1/2 Cup) Tomato Passata
5 g (1 Tsp) Tamarind Concentrate
50 ml (3 Tbsp + 1 Tsp) Water
Pinch of Sugar
Pinch of Salt
Instructions
Peel and thinly slice the onion into half moon shapes and finely slice the garlic.
Grate the ginger.
Heat a wok over a high heat.
When hot add in the oil followed by the mustard, black onion and fenugreek seeds.
When the mustard seeds begin to pop add in the onion and stir fry for 2-3 minutes.
Add the garlic and ginger and fry for a further minute until fragrant
Add the Kashmiri chilli, ground coriander and turmeric and stir to incorporate with the onions.
Pour in the water, passata and tamarind and bring to a boil.
Check for seasoning and add salt to taste along with a pinch of sugar.
Finally, add the prawns stir and warm through.
Serve sprinkled with fresh coriander.
Notes
Adapted from a recipe in Rik Stein in India
Nutrition Information:
Yield:
2
Serving Size:
1
Amount Per Serving:
Calories:

638
Total Fat:

34g
Saturated Fat:

12g
Trans Fat:

0g
Unsaturated Fat:

16g
Cholesterol:

314mg
Sodium:

2232mg
Carbohydrates:

36g
Fiber:

4g
Sugar:

11g
Protein:

49g
Calorific details are provided by a third-party application and are to be used as indicative figures only.