This Thai Chicken Stir Fry with Cashew Nuts is a super quick, hot, sour, sweet and salty stir fry with little hints of Thailand.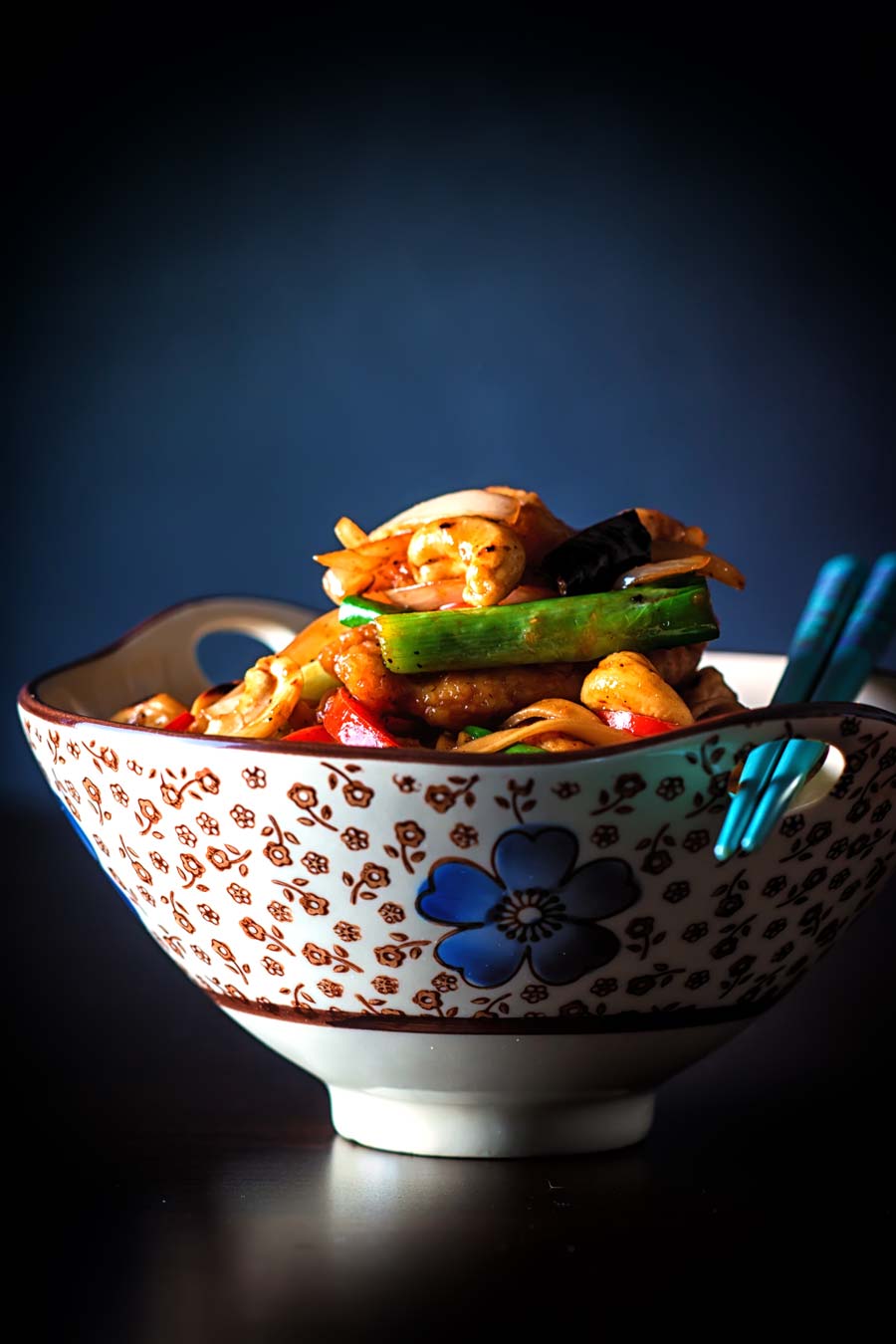 Thai Chicken Stir Fry with Cashew Nuts.
I do love Thai food but whilst I do a pretty damn good job of sourcing some global ingredients, those from Thailand often leave me coming up empty.
As a result, this Thai chicken stir fry is a compromise when it comes to some ingredients. However, there is certainly no compromise in flavour.
One of the ingredients I lament not being able to buy is lemongrass. I love the stuff and try as I might I have never managed to grow it either.
It is very hit and miss whether or not I can get fresh lemongrass after a 320km round trip. Because of this I always have some lemongrass paste at home to feed the need for Thai flavours.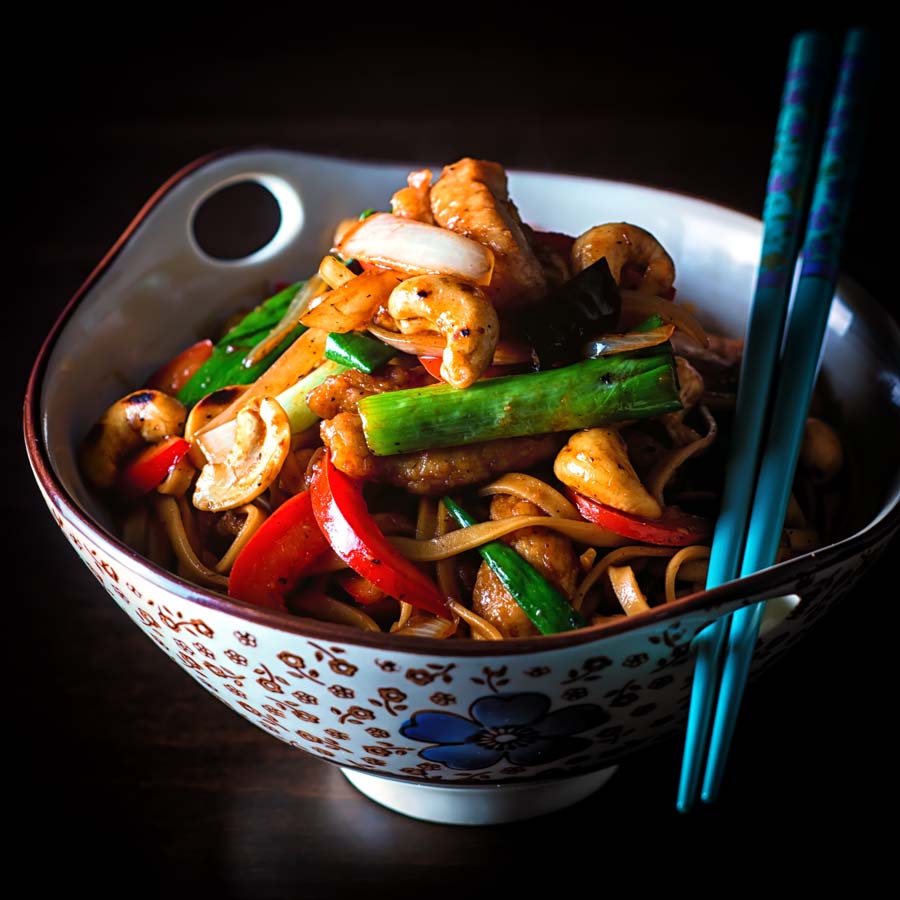 Speedy Chicken Stir Fry.
A chicken stir fry is a pretty common meal in our house all year round.
Stir fried food is superb, they are recipes that contain an insane amount of flavour cooked in a short period of time!
Alongside my Thai Chicken Stir Fry You should definitely check out some other favourites of mine.
And as a wee bonus just like this Thai Chicken Stir Fry all of these recipes are done and dusted in less than 30 minutes!
They will beat your delivery driver every single time.
The key to cooking this and any stir fry recipe is in the preparation!
Get everything ready before you even think of heating your wok. This style of cooking moves quickly and if you try to prepare ingredients whilst cooking you will ruin your meal.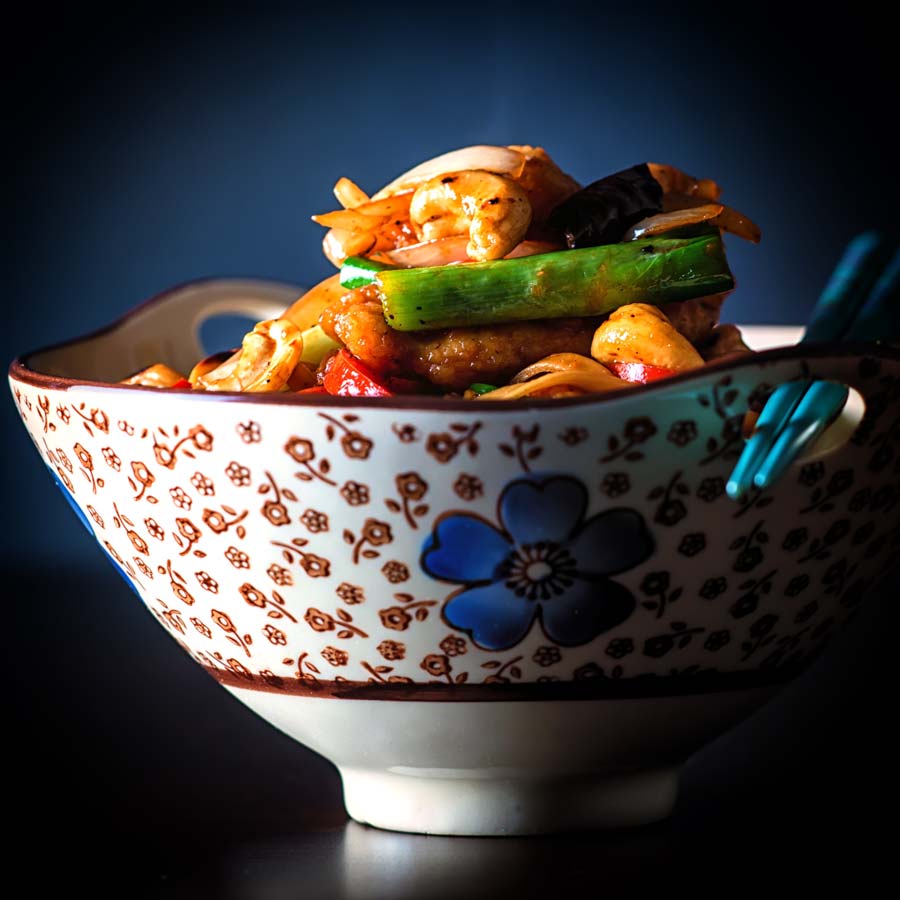 Nuts In Savoury Recipes.
I love nuts and use them all of the time in savoury recipes. Particularly those with an Asian influence.
They add a sweet crunch that mellows to creamy really very quickly.
This chicken stir fry with cashew nuts is the perfect illustration of the way nuts add to a meal. In many ways they act like a crouton, but with a much more interesting texture.
I use them often to dress salads like this Thai chicken salad or even this smoked mackerel salad.
Don't be afraid to experiment though either. I use cashew nuts in this recipe which could easily be replaced with peanuts if you are watching the pennies.
But walnuts and hazelnuts would add a more earthy crunch to this recipe.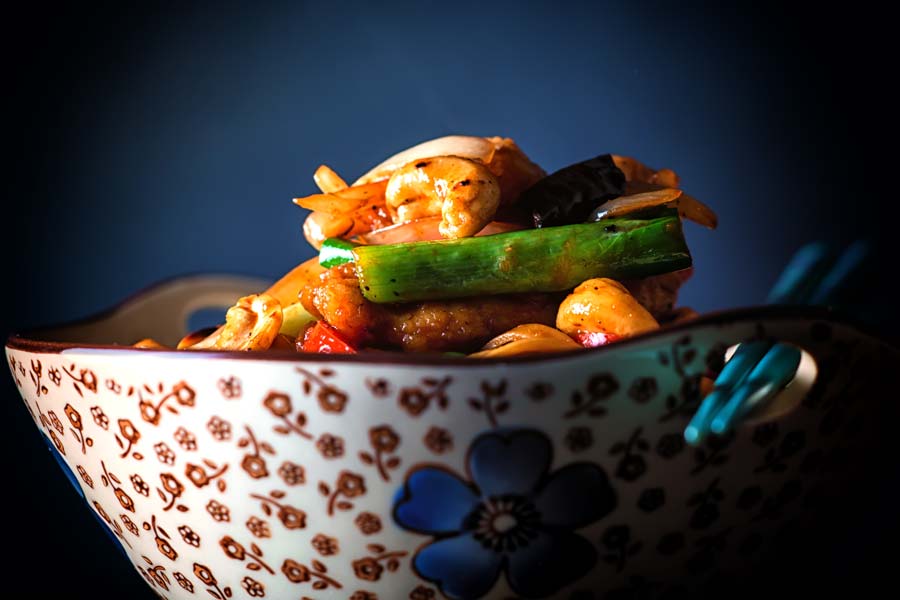 In Other News!
We are all a bit confuddled right about now because most of our work for the year is done. I just have the slight matter of 2 tonnes of wood to split for our winter wood.
Then all the bluster of our 'summer' lives is over and already the amount of free time we have has exploded.
It is always the same for us at this time of year. We go from running around like crazy people for 7-8 months and then all of a sudden we have a 'what now' moment.
As a result you should expect to see lot's more experimentation and longer form cooking in the coming weeks.
Quick stir fried recipes will be cooked out of love and not out of requirement!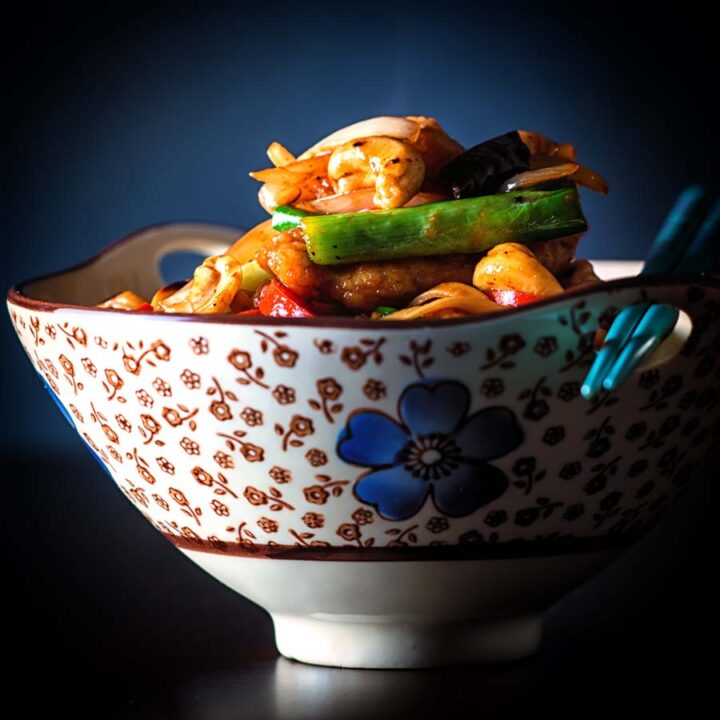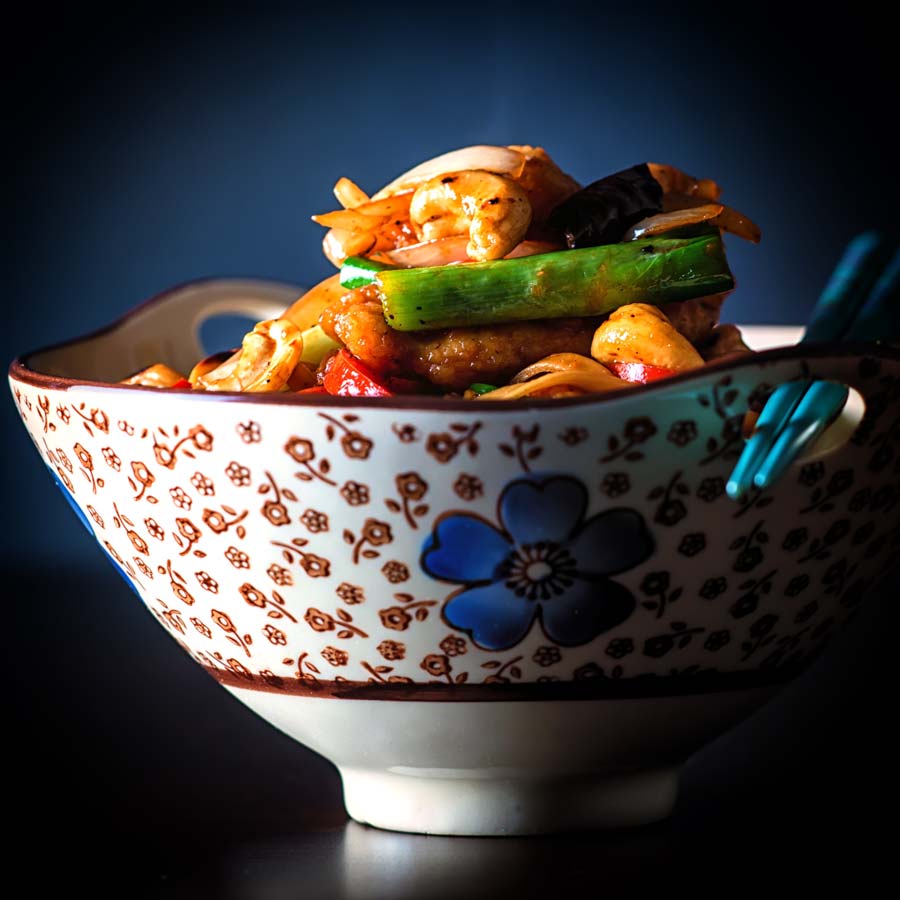 Yield:

2 Servings
Thai Chicken Stir Fry with Cashew Nuts
This Thai Chicken Stir Fry with Cashew Nuts is a super quick, hot, sour, sweet and salty stir fry with little hints of Thailand.
Ingredients
1/2 Tbsp Oyster Sauce
1/2 Tbsp Dark Soy Sauce
1 Tbsp Fish Sauce
1/4 Tsp Light Brown Sugar
2 Tbsp Water
125 g Onion, Peeled and thinly sliced
1 Red Pepper, Cut into thin strips
3 Spring Onions, Cut into 5cm lengths
2 Garlic Cloves, Finely Sliced
2 Dried Red Chile, Seeds Removed and cut into 1cm pieces
75 g Unsalted Cashew Nuts
300 g Chicken Thighs, Boneless and skinless, sliced into a thin slices
2 Tbsp Cornflour, Cornstarch in the US
2 Tsp Lemongrass Paste, You can of course use fresh lemongrass
100 g Egg Noodles
4 Tbsp Cooking Oil, Neutral
Instructions
Mix together the oyster sauce, soy sauce, fish sauce, brown sugar and water and set aside.
Add the cashew nuts into a hot dry wok and toast, be careful not to burn them.
Cook your egg noodles as per the instructions on the pack then refresh in cold water and set aside.
Heat the cooking oil in a wok and fry the dried chili for 30 seconds and set aside..
Now dredge the chicken thighs in the cornflour and cook for 3 minutes and set aside on some kitchen towel.
Pour out all but a scant tablespoon of oil and add in the lemongrass paste and garlic and stir fry for 30 seconds.
Now add in your onions and stir fry for 3-4 minutes until they begin to become translucent.
Throw in the peppers and spring onions and stir fry for 1 minute.
Then add in the chicken, fried chili and the cashew nuts and cook for 2 minutes.
Finally add in the sauce and noodles and toss until every thing comes to temperature and everything is coated in the shiny sauce.
Notes
Like all stir fried meals preparation or mise en place as chefs call it is critical, get everything ready before beginning to stir fry.
Nutrition Information:
Yield:
2
Serving Size:
1
Amount Per Serving:
Calories:

1003
Total Fat:

68g
Saturated Fat:

12g
Trans Fat:

0g
Unsaturated Fat:

54g
Cholesterol:

207mg
Sodium:

1334mg
Carbohydrates:

60g
Fiber:

5g
Sugar:

12g
Protein:

48g