As far as I am concerned if I need a quick dinner then a stir fry is the way to go and this super quick chicken with black bean sauce recipe is done in 15 minutes!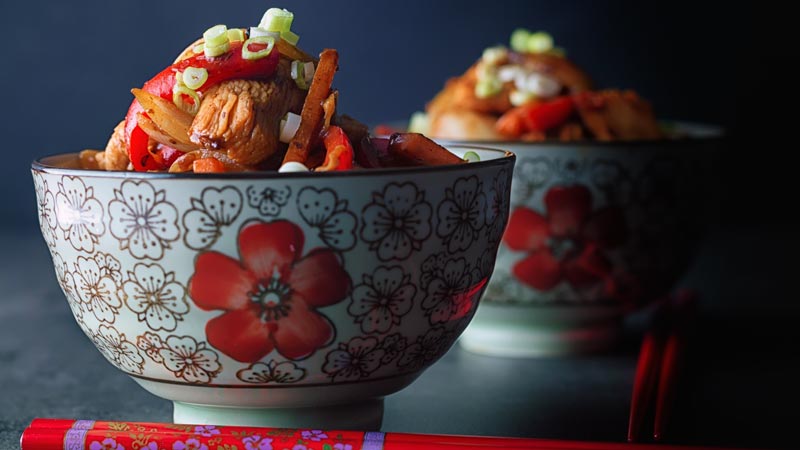 Super Quick Chicken with Black Bean Sauce.
It has been an eternity since I have done a quick chicken stir fry like this chicken with black bean sauce on Krumpli.
They are however a frequent occurrence in our kitchen with one variety or another produced at least once a week.
In fact, this recipe has knocked my former favourite, kung pao chicken from the top spot of my favourites!
I'm certainly not averse to spending hours in the kitchen but sometimes there just aint the time. For me that means a stir fry, you can knock up this black bean chicken recipe in 15 minutes.
Leaving just enough time to cook up some Jasmine rice to serve it on.
It is definitely quicker than waiting for the delivery dude to turn up.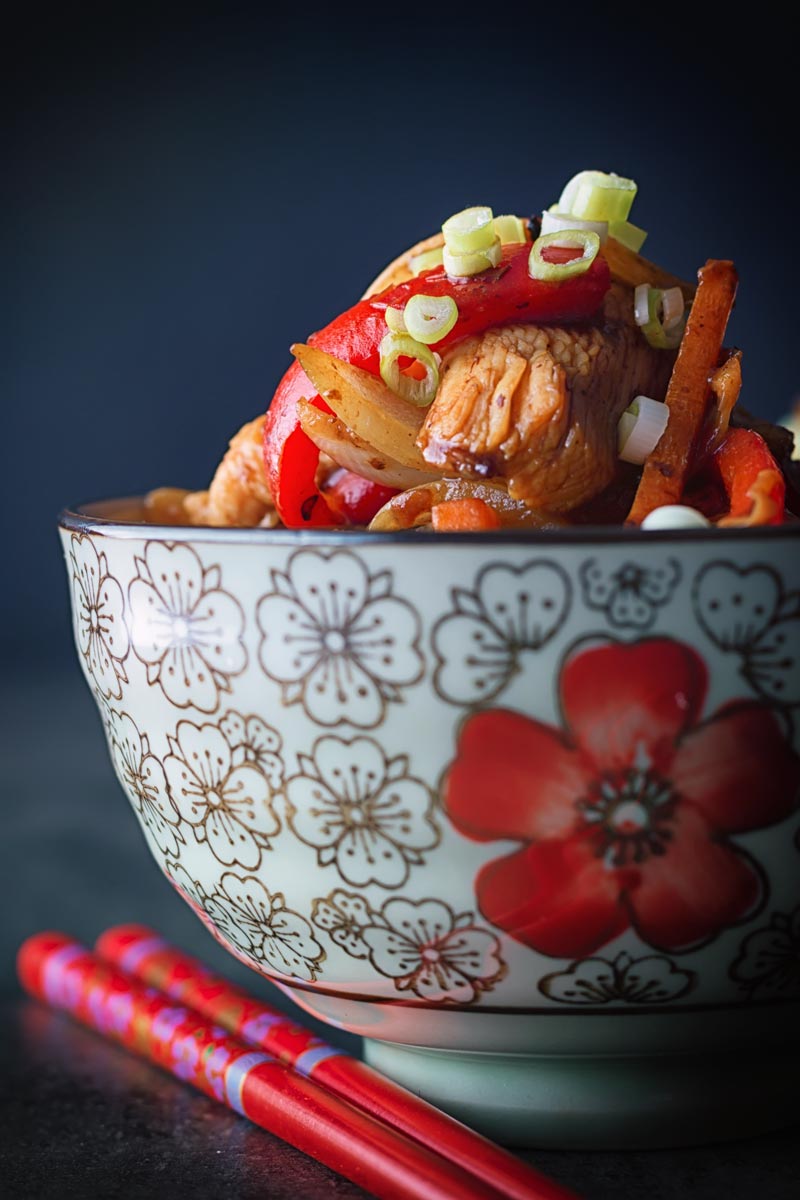 The Black Bean Sauce.
It would be remiss of me not to mention the black bean sauce in this recipe, it is from a jar, shock of all shocks.
Not something I usually do and making homemade black bean and garlic sauce is really rather easy.
It is just a combination of fermented black beans, garlic, ginger and spring onions cooked in water and thickened.
However, as much as I am a "from scratch" cook these dishes are never usually planned and are thrown together when the day gets away from you.
So no there ain't no time to knock up a batch of sauce because I want a Chinese fakeaway black bean chicken.
I want to open the jar and go, this whole recipe is about 15 minutes of chopping and cooking and then sitting down and eating.
In all fairness, a good jar of black bean sauce is often better than homemade and I use it quite often.
Another favourite recipe is my Ham Hock braised in Black Bean Sauce.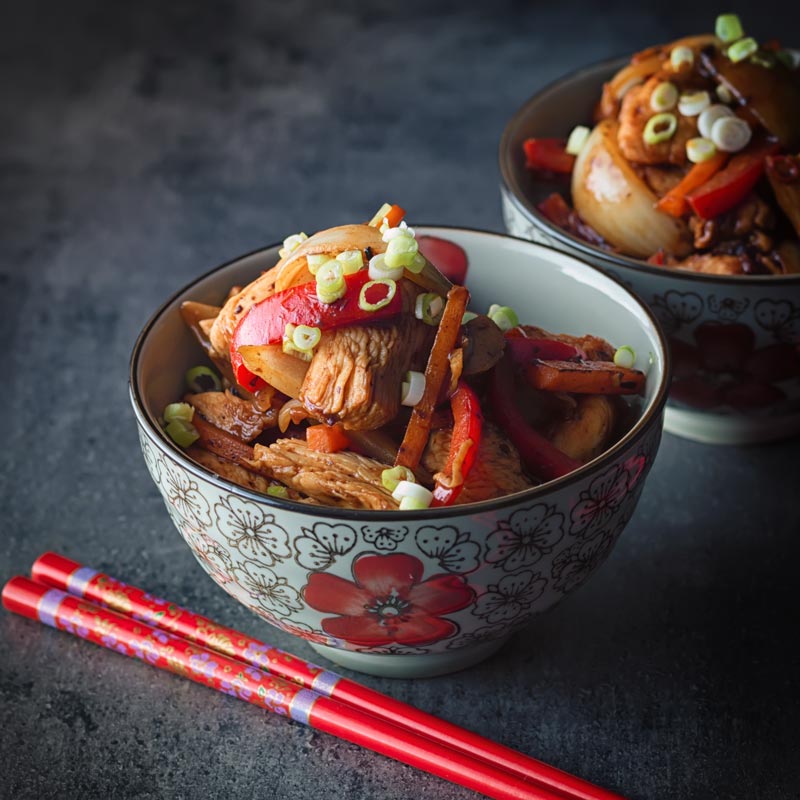 How to Cooking a Fakeaway at Home.
I always bang the drum that cooking is easy and this recipe doubles down on that!
There are no techniques to learn here, just take your time with the chopping. Most importantly use a sharp knife!
You will be more likely to hurt yourself with a blunt knife as you have to add more pressure.
If you are new here… Helloooooo… If you are not then sorry I am repeating myself again.
If you want a successful stir fry, make sure that you do ALL of your preparation in advance.
You simply have no time to prepare anything once your wok is hot!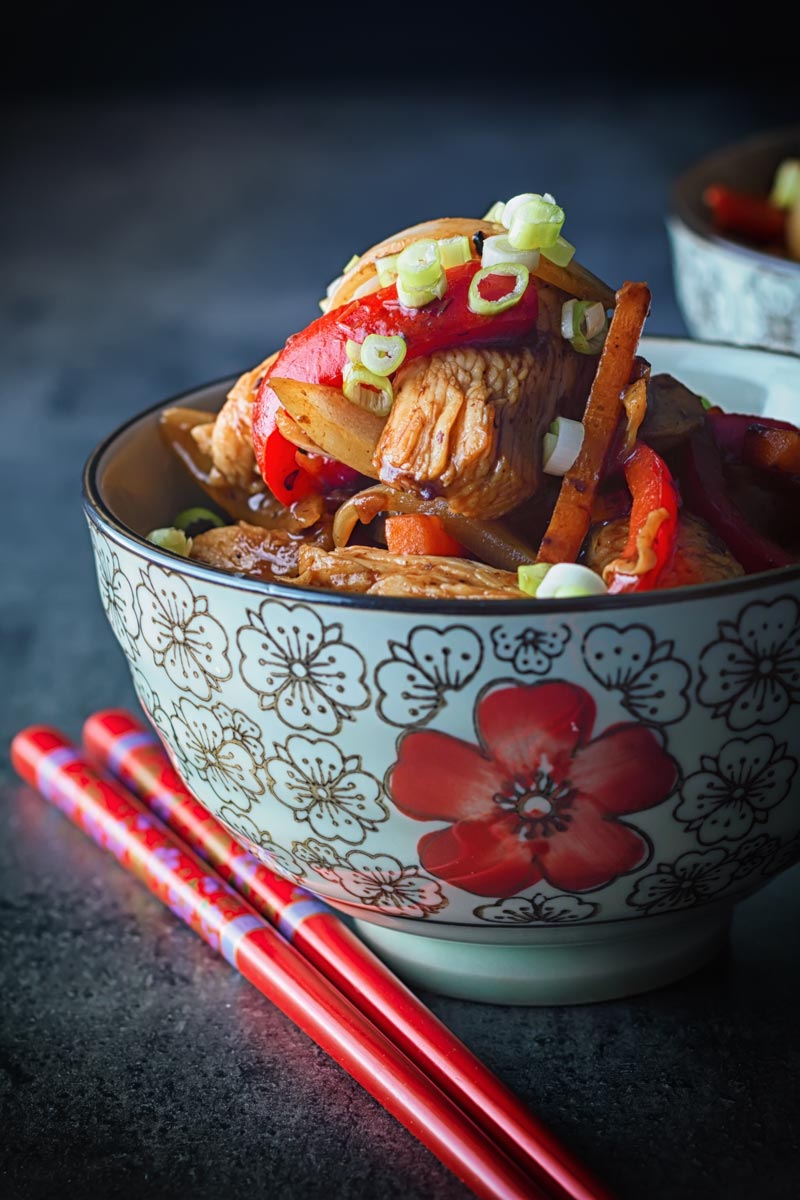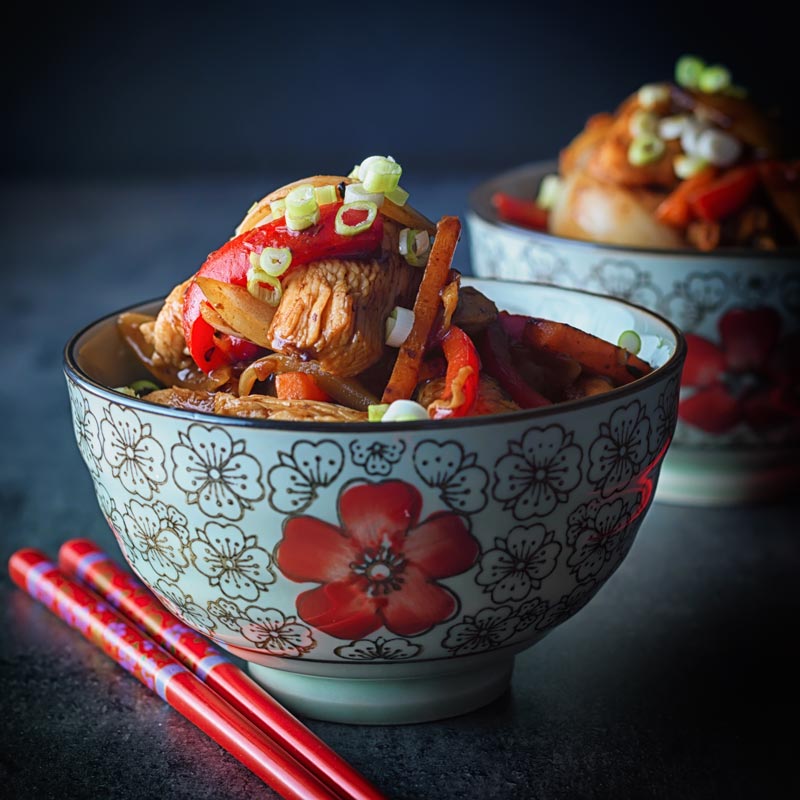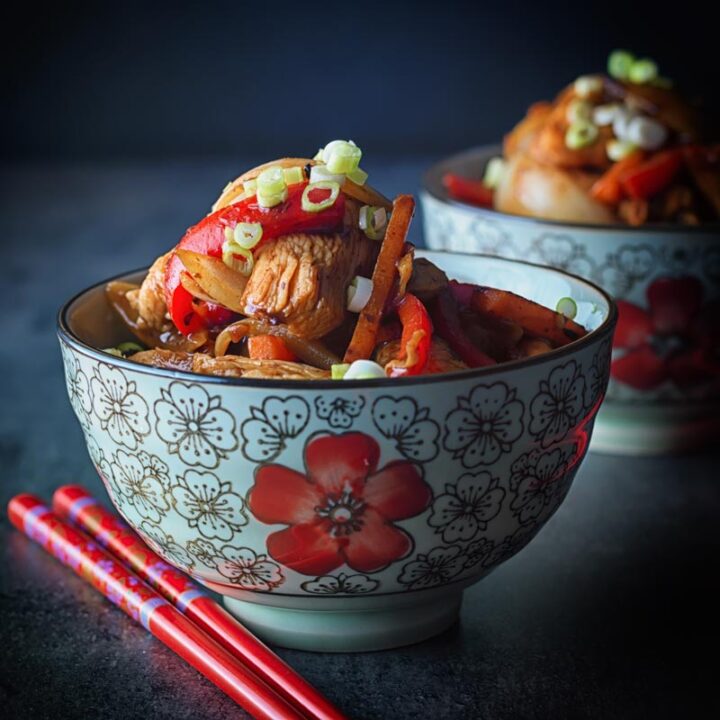 Quick Chicken with Black Bean Sauce
A quick stir fry fakeaway is always welcome and this super quick chicken stir fry recipe is a fantastic frugal alternative to delivery!
Ingredients
250g Chicken Breast
1 Tsp Cornflour
1 Tbsp Light Soy Sauce
1 Tbsp Rice Wine
1/2 Tsp Sugar
75 g Onion
75 g Red Pepper
75 g Carrot
1 Spring Onion
75 g Black Bean Sauce
1 Chili pepper
1 Tbsp Cooking Oil
50ml Water
Instructions
Butterfly and slice the chicken into thin slices around 2.5 cm long.
Cut the onion into 8 wedges, the red pepper into strips 3-5mm wide and 20mm long and the carrot into strips the same size as the pepper.
Finely slice the spring onion and the chili pepper.
Mix together the soy sauce, water, rice wine, sugar and cornflour and add to the sliced chicken for a few minutes.
Prepare the vegetables as per the instructions above.
Heat your wok over a high heat and when shimmering add the cooking oil.
Afterwards throw in the onion, carrot and chili and stir fry for 60 seconds, 
Then add your peppers and stir fry for another 60 seconds.
Now add the chicken with marinade and cook for 2 minutes.
Finally add in the sauce and stir to coat adding a little water if required to let this down.
Cook for a further 60 seconds and serve sprinkled with the spring onion.
Nutrition Information:
Yield:

2
Serving Size:

1
Amount Per Serving:
Calories:

395
Total Fat:

17g
Saturated Fat:

2g
Trans Fat:

0g
Unsaturated Fat:

13g
Cholesterol:

107mg
Sodium:

859mg
Carbohydrates:

16g
Fiber:

3g
Sugar:

7g
Protein:

42g
Calorific details are provided by a third-party application and are to be used as indicative figures only.