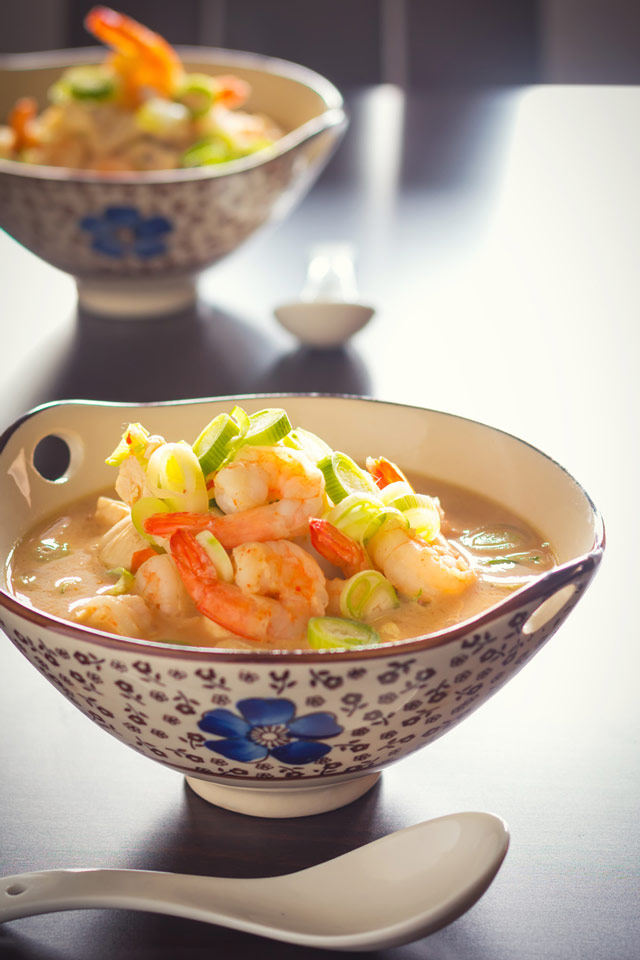 My Quick Asian Chicken and Shrimp Soup is a return to quick food after some slightly more involved cooking for my last two recipes, I often wax lyrical about soups and cook more than my fair share.
For some strange reason soups are often thought of as 'second class citizens' when it comes to cooking and I have no idea why, anything that can be as diverse and tasty as a bowl of simple consomme (despite all its complexity in making). Or as big and bold as this chicken and shrimp soup should be celebrated as far as I am concerned.
Particularly when loaded with all the wonderfully warming flavours of south east Asia, this bowl is sweet, salty sour and spicy just as dishes from this region tend to be. It may sound odd but they are flavours we have become so familiar with in the west.
Take your average Mcdonalds burger if you like and remove heat from the equation and you are left with the sweetness from the ketchup, sourness from the pickles and saltiness from just about every angle and judging by the popularity of their establishments we can't seem to get enough of it.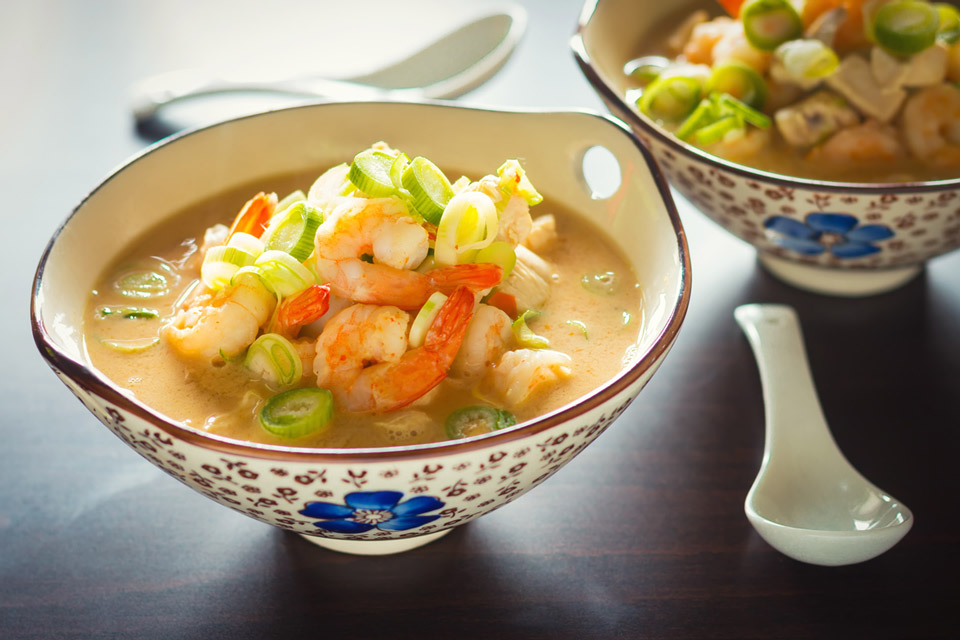 In other news we are pretty much all planted and rocking and rolling down on the 'farm' so now all we have to do is commence our annual battle with Mother Nature, many people refer to working 'hand in hand with nature' which is a crock of. It is pitched battle from April through to October with the undisputed heavy weight champion of the world!
Mother Nature constantly depriving us of water, a break in the temperatures and seemingly and endless supply of weeds where we are trying to grow crops. I am hoping this year to keep you guys updated with some of our adventures in growing food in my 'Hungarian Adventure' section.
It is a little sparsely populated at the moment, but I am hoping to get another post live in the next 10 days and keep you appraised of our fun and frivolity as we go.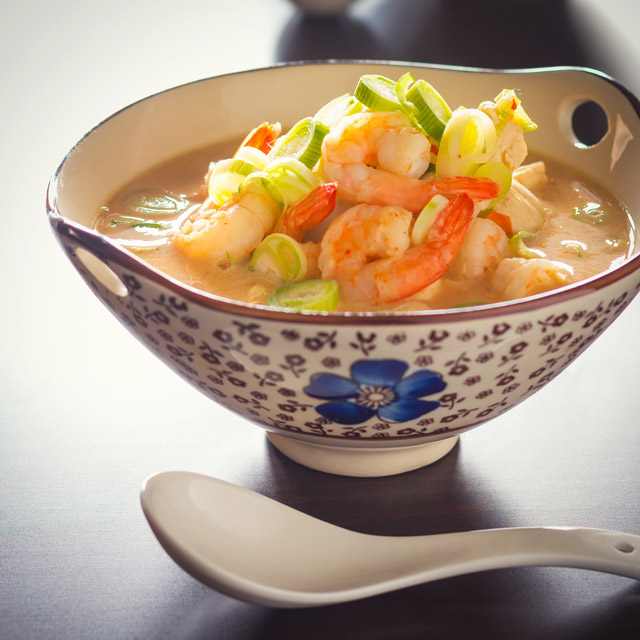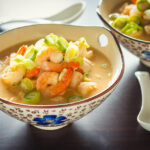 Quick Asian Chicken and Shrimp Soup
My love of soup knows no bounds and this wee chicken and shrimp soup is loaded with my favourite Asian flavours and is hot, sweet, sour and salty.
Ingredients
300

ml

Chicken Stock

35

g

Ginger

Cut into 5mm coins shapes

3

Garlic Cloves

Bruised with the side of a knife

1

Lemon Grass

Bruised with the side of a knife and roughly chopped

1

Tbsp

Sweet Chili Sauce

250

ml

Coconut Milk

1

Tsp

Shrimp Chili Paste

1

Tbsp

Fish Sauce

1

Tbsp

Rice Wine Vinegar

1

Tsp

Honey

1

Chicken Breast

Cut into a 1cm Dice

250

g

Shrimp

Peeled and de-veined if using frozen defrost them

2

Spring Onions

Sliced
Instructions
Begin by adding some Asian aromats to your chicken stock for the base of your sauce.

Heat the chicken stock over a low heat and add in the ginger, garlic, lemon grass and sweet chili sauce and cover with a lid and allow to simmer for 10 minutes.

Strain the aromats from the stock and pour in the coconut milk and bring the soup back to a simmer.

Add in the shrimp chili paste, fish sauce, rice wine vinegar and honey and test for seasoning, the broth should taste sweet, sour, hot and salty.

Add in three quarters of the spring onion and the chicken and poach the chicken for 5 minutes.

Then add in the shrimp and poach for 2-3 minutes, the chicken should now be cooked.

Serve with the remaining spring onions sprinkled on top.