I can't think of anything more homely than this pumpkin risotto, it sings with the flavours of autumn and winter and is perfect comfort food.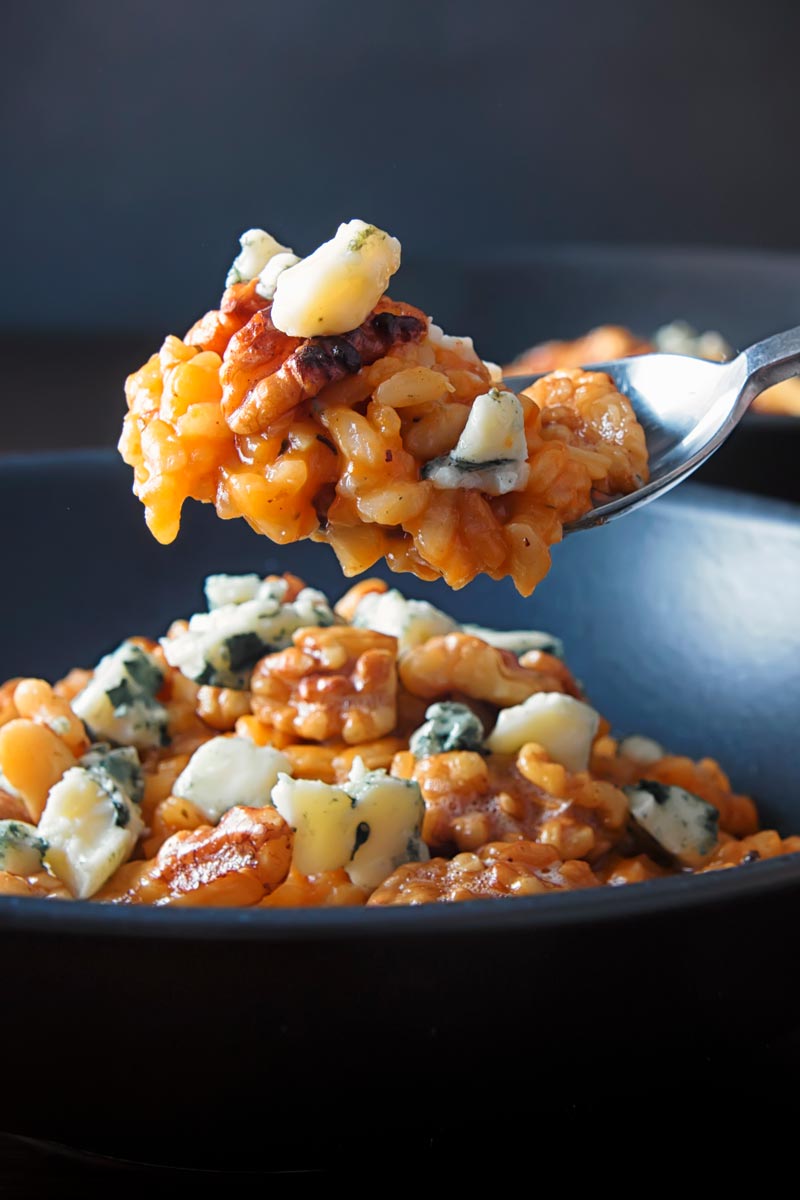 Winter Squash Risotto.
Cooking is really simple. It is nothing more than a series of techniques which can all be learned.
Then a set of flavours and textures that work well together. You can play those ideas together in the same way music takes chords and notes to form riffs.
Food is rarely innovative or new, but reworkings of things that make our bellies and taste buds go, mmmmmm.
This recipe works with my favourite pumpkin buddies, blue cheese, and nuts.
The walnuts provide an earthy counterpoint and the Roquefort an acidity and saltiness.
The Roquefort is a great alternative to the much more common grated parmesan cheese.
If your house is anything like mine you will definitely have some blue cheese and nuts lying around at during winter so why not do something new with them?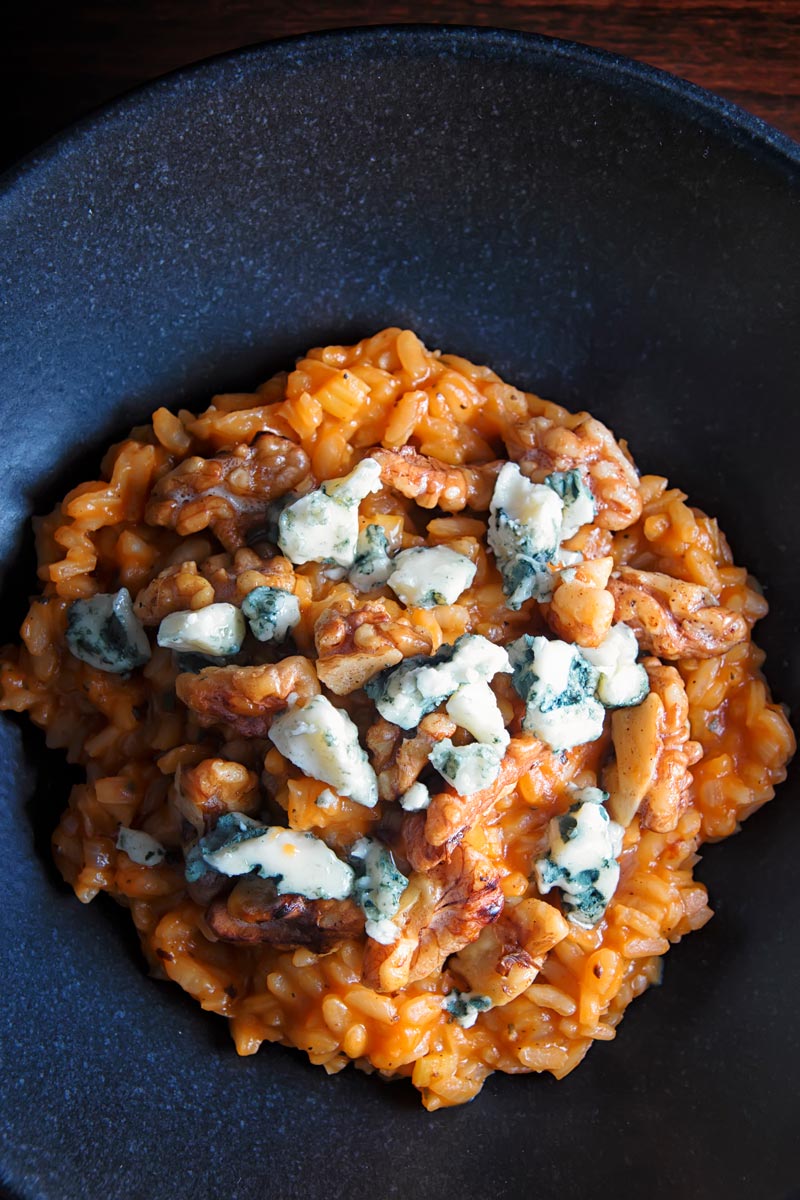 How to Make Pumpkin Puree.
If you are in Europe like me then store-bought puree will be largely unheard of. It is fortunately very easy to make and it freezes very well.
I usually use butternut squash for this as they yield a better quantity for two or the smaller family.
Cut your pumpkin or butternut squash in half, scoop out the seeds and then rub some olive oil into the cut face.
Sprinkle over some salt and pepper and roast for an hour and a half or until soft at 200°C or 400°F.
Then allow to cool, scoop out the flesh and pass through a vegetable mill or blend.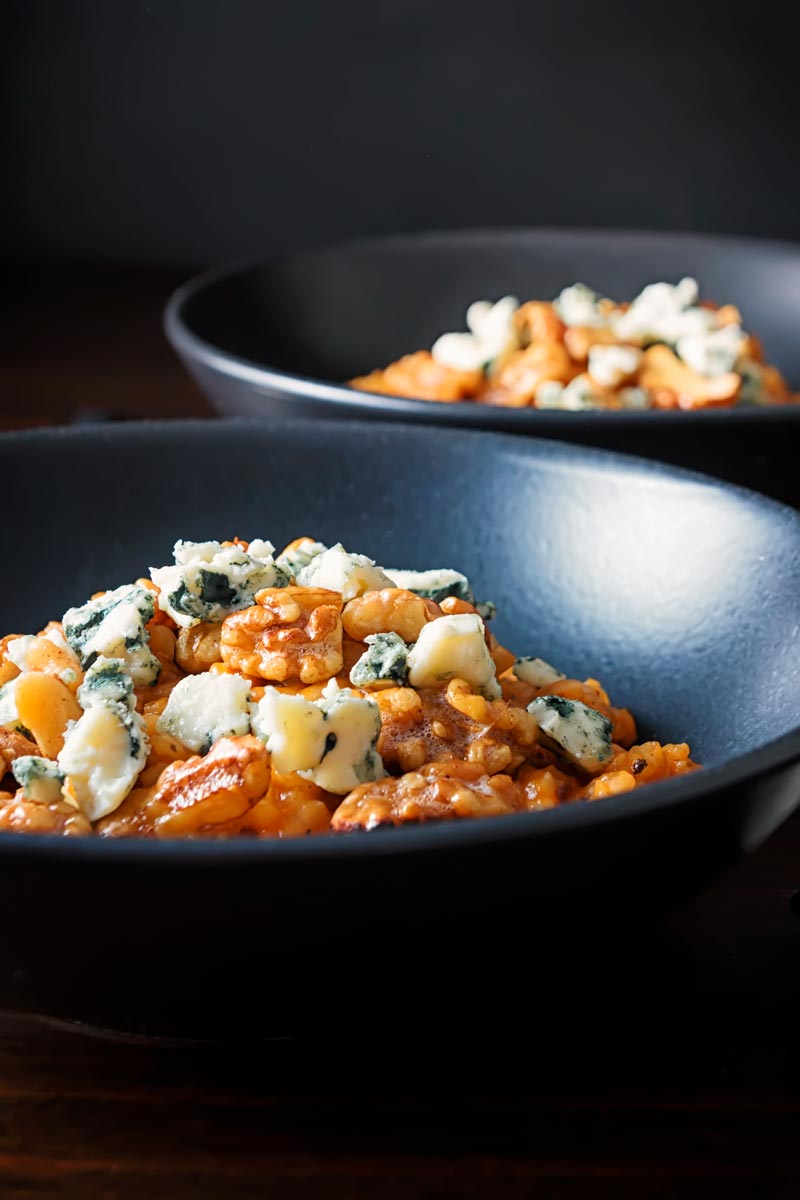 Cooking The Perfect Risotto Is Easy.
Like all good risotto recipes, this one is not quick but requires no skill.
If you can stir you can make this, the secret is patience and nothing else.
I have seen all sorts of foolproof shortcut risotto recipes and they always confuse me a little as to why they exist.
This recipe is foolproof, shortcuts are not required!
It does not matter whether you are cooking this, my pea and ham risotto, my prawn risotto or my spinach and mushroom risotto, the technique is the same.
Fry some risotto rice, add some stock little by little and stir. I find it even easier whilst liberally lubricating your arm with wine and keeping your head clear with good music.
Keep going until the rice is cooked, I'm not sure it gets any more simple than that.
There is of course always the great risotto debate, should it be "thick" or should it "flow".
The answer to this is it really does not matter, whichever way you like it.
Naturally, the interweb is loaded with people who will tell you that you are wrong, but it is your dinner what business is it of mine?
I usually cook mine so that it flows "like lava", but as you can see from these pictures all you need to do is cook it on a little longer and it will hold together.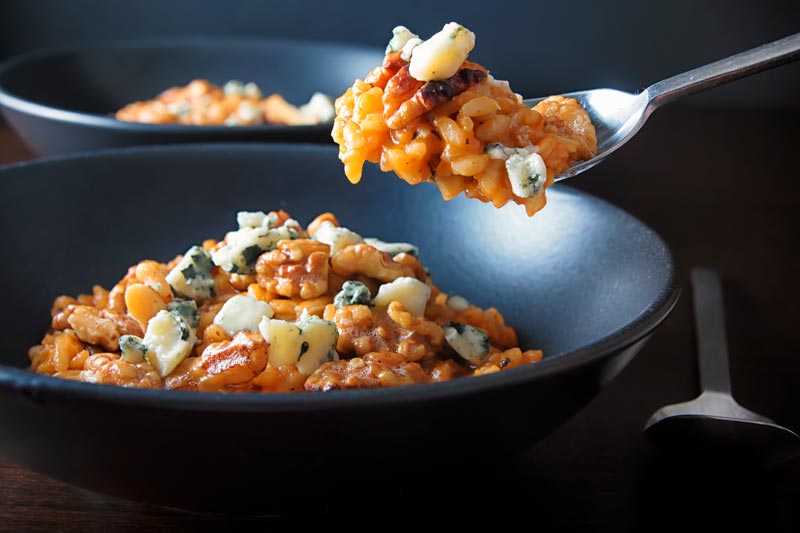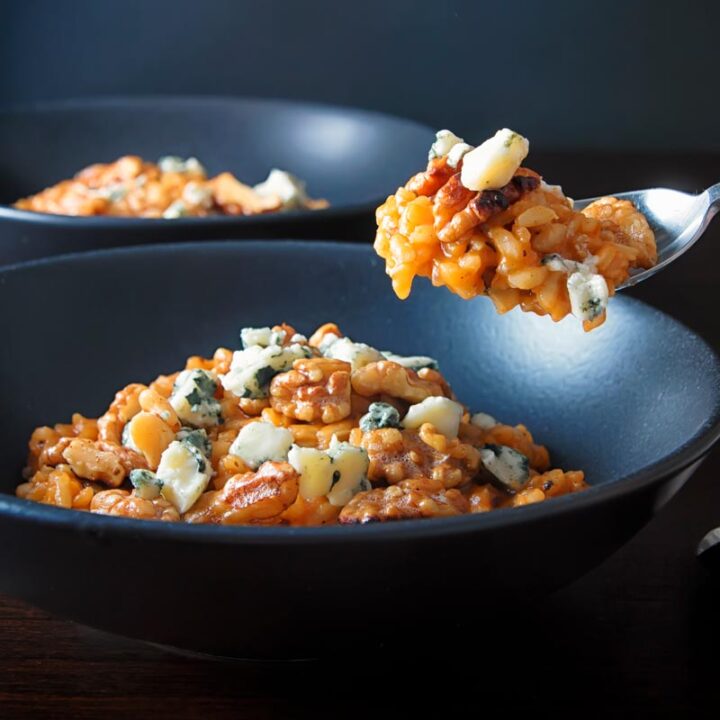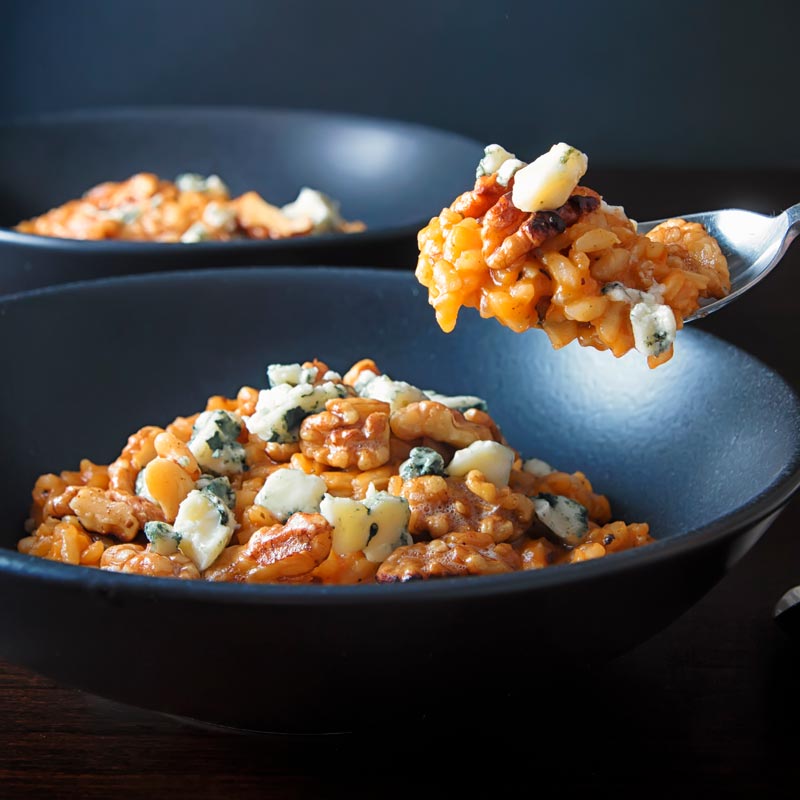 Yield:

2
Pureed Pumpkin Risotto Recipe
Pumpkin puree is at the heart of this delicious and comforting pureed Pumpkin risotto. It is joined by walnuts for earthiness and Roquefort for salty acidity.
Ingredients
500 ml Vegetable Stock
50 g Butter
50 g Onion
35g Celery
1 Garlic Clove
1 Tbsp Dried Sage
150 g Risotto Rice
125 ml White Wine
150 g Pumpkin Puree
50 g Roquefort Cheese
50 g Shelled Walnuts
Salt and Pepper to Taste
Instructions
Finely chop the onion, garlic and celery.
Heat the vegetable stock to a slow simmer.
In a large frying pan heat the half of the butter over a medium heat.
Then add the finely chopped onion and celery and cook for 10 mins until softened.
Turn the het up to medium high and add the rice.
Stir until the grains become translucent at the edges, this should take 2 minutes or so.
Pour in the white wine and stir until almost all of the wine has disappeared, then add in the dried sage.
Turn the heat down a little and slowly stir in the hot vegetable stock a ladle full at a time.
Stir continually, making sure almost all of the stock has been incorporated each time and the pan is dry.
Repeat this until all of the stock is incorporated and the rice is cooked with a very slight bite which should take between 25 and 35 mins.
Stir in the pumpkin puree and bring to temperature, then place on a lid and allow to rest for 3-4 mins.
Whilst it is resting take the remaining of butter and melt in a separate pan and use it to toast off the walnuts.
Serve with the butter-toasted walnuts and crumbled Roquefort.
Notes
The amount of salt required will vary greatly depending on your stock so you will need to rely on your taste buds
Nutrition Information:
Yield:
2
Serving Size:
1
Amount Per Serving:
Calories:

486
Total Fat:

29g
Saturated Fat:

18g
Trans Fat:

1g
Unsaturated Fat:

9g
Cholesterol:

76mg
Sodium:

1489mg
Carbohydrates:

37g
Fiber:

3g
Sugar:

6g
Protein:

10g
Calorific details are provided by a third-party application and are to be used as indicative figures only.