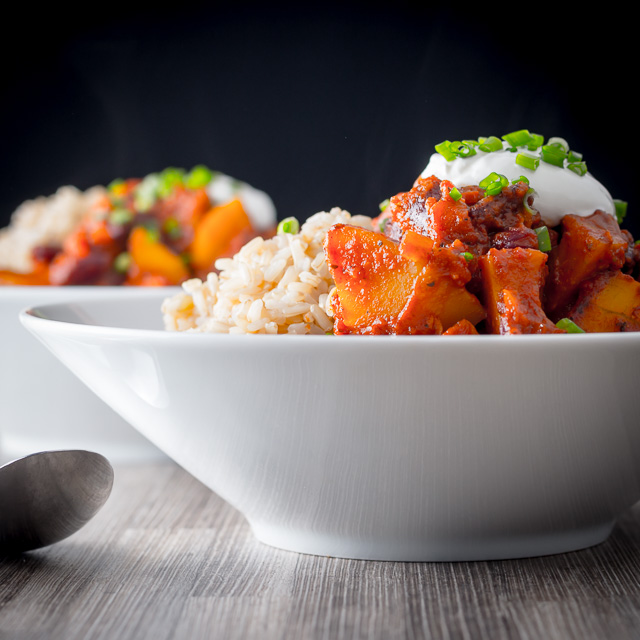 It does feel great to be posting recipes from our garden again, this pumpkin chili recipe is definitely a winter warming favourite in our household, a really quick and simple meal that can be on your table in 40 minutes and 10 minutes of that is preparation time and another 20 minutes is allowing it to bubble and simmer away. It is full of all the flavours you associate with a good ol' tex mex chili like cumin, tomato, beans and of course chili but the sweet earthiness of the pumpkin still stands up and remains the star of the show. Of course this is no better, or indeed worst than a beef or pork chili, it is different and when I am cooking food sans meat I like to celebrate the difference rather than turn the key ingredients in to meat substitutes… I make pumpkin chili because I want pumpkin chili, not because I want something to replace beef!
It is odd cooking for my little corner of the internet at this time of year, all summer I have been playing around on and off with darker photographs to break up the brightness and now I find myself almost exclusively taking photographs against a darker background… Of course this is due to the fact that it is now dark when I cook and take my pictures, we live right on the Eastern edge of the of the Central European Time Zone, so as I write this in the middle of November the sunsets at around 4:40, however by the time we get to midwinter that will be closer to 3:45! I see lots of chatter on the interweb from folk that get terribly sad because the nights draw in, I personally love it, there is something very satisfying about 'closing up shop' at 4pm, making a cuppa from the kettle that permanently sits on top of our wood burning stove (unless that spot is taken by mulled wine), before heading into the kitchen to make something warming like pumpkin chili 😀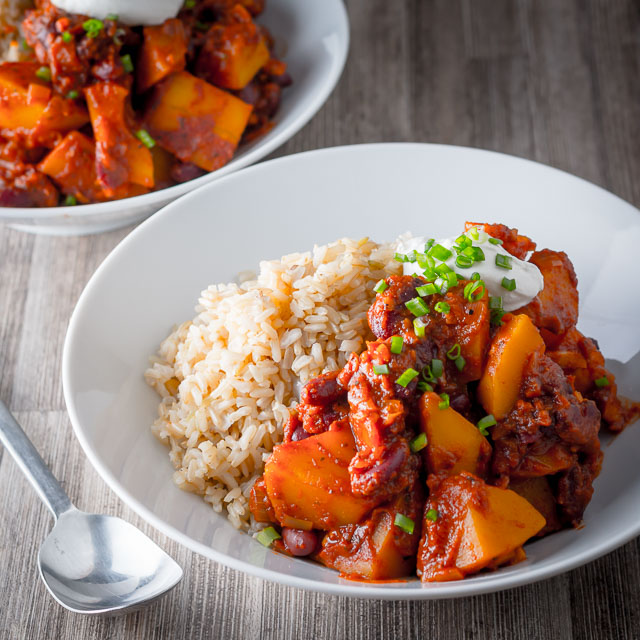 Print
Quick and Easy Pumpkin Chili
Who said chili needs beef? This spicy pumpkin chili will surprise and delight even the most committed of carnivores and may even turn a pumpkin skeptic!
Ingredients
25

g

Butter.

100

g

Onion.

Cut into a medium dice.

1

Chili.

Finely Sliced, I used a whole fresh cayenne pepper

2

Cloves

Garlic.

Mashed into a puree.

250

g

Pumpkin.

25mm Dice.

1

Tsp

Ground Coriander.

1

Tsp

Ground Cumin.

1/2

Tbsp

Tomato Puree.

200

g

Tomato Passata.

Tomato Sauce in the US

1/2

Tsp

Sweet Paprika.

1/8

Tsp

Cacao Powder.

1/2

Tsp

Dried Oregano.

100

g

Kidney Beans.

Cooked.

1

Tsp

Honey.

1/2

Tsp

Sea Salt.

Generous grind of black pepper.
Instructions
Melt the butter over a medium heat and when melted add the onion and chili then cook for 5 minutes until translucent

Add the Garlic and cook for a further minute

Add the pumpkin, coriander and cumin and stir and allow to cook for 2 minutes

Stir in the tomato puree, tomato passata, paprika, cacoa powder, oregano, kidney beans, salt, pepper and honey, cover with a lid and allow to simmer on low for 15-20 minutes
Recipe Notes
I like to serve this with brown rice for the nuttiness and a dollop of sour cream and some fresh chives.