Pumpkin is the most wonderfully versatile ingredient and this pumpkin curry of Burmese influence is softened with Tamarind with a beautiful mint back note.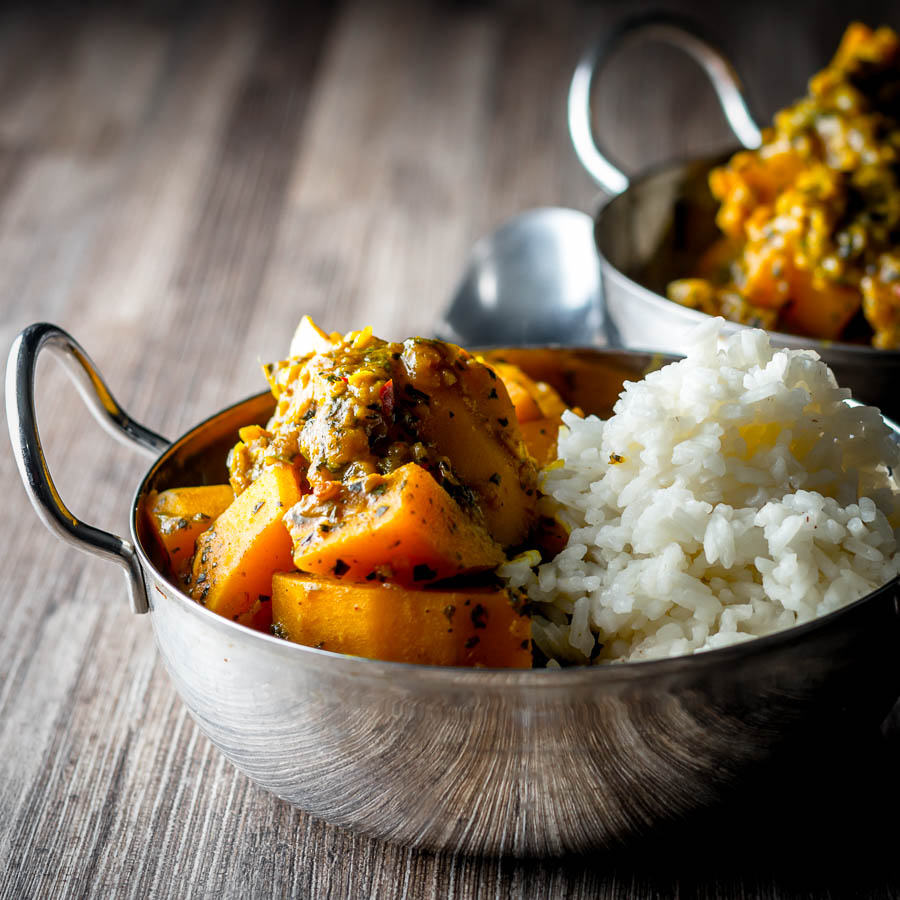 Burmese Pumpkin Curry with Tamarind.
I confess to being a bit of a pumpkin 'newbie'. s a result, this pumpkin curry recipe comes from extensive research from my far too generous cookbook collection. In this instance a great book called Burma by Naomi Duguid.
Why am I a pumpkin and squash 'newbie'?
Primarily because pumpkin and squash were rarely used when I was growing up in the UK and because of that I was never exposed to its wondrous versatility.
All I had tried was some quite frankly overly sweet soups which kinda closed my eyes to it.
However around last year when we were beginning to think about planning our crops for this coming year. We decided to experiment a little and see if we could not find some peace with a vegetable we both thought we disliked.
We knew right from the start that pumpkin grows exceptionally well in this climate. The seemingly never never-endings we see full of them at this time of year was a hint.
So we were determined to give it a try and plough on through, this Burmese pumpkin curry with tamarind was the very first dish we cooked.
Our combined love of spicy Asian influenced food would surely give us a chance.
Well, we loved it, not just a little, we cooked this endlessly last winter. Whilst I have played with the flavour profiles a little it still remains the core of the recipe we initially followed word for word.
But we did move on from pumpkin curry recipe. Our table is regularly filled with pumpkin recipes.
Everything from my pumpkin tagine, but have also stuffed tortellini with it. I've even returned to the dreaded butternut squash soup with great results.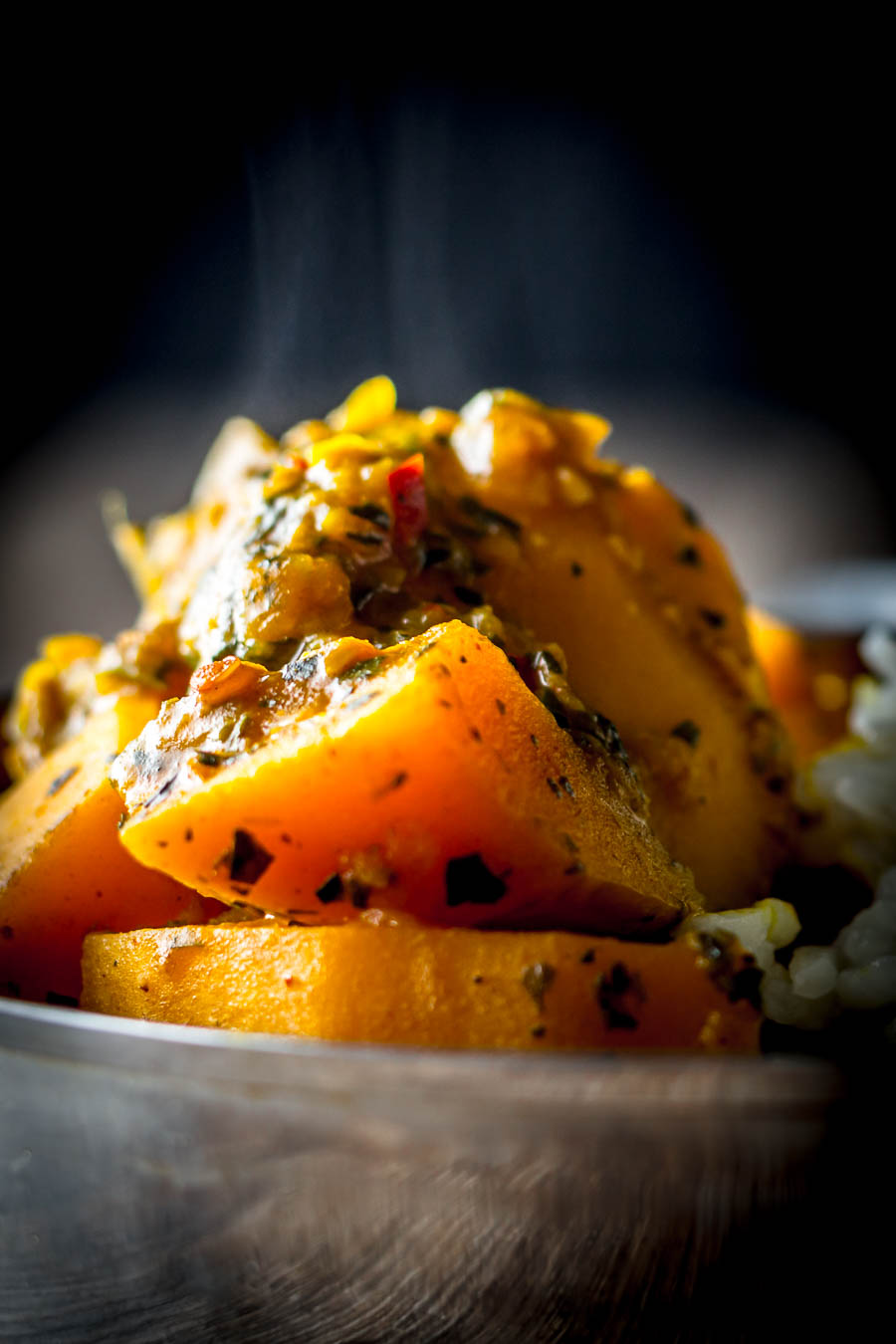 Vegetable Curry Recipes.
Meat-free recipes here on krumpli are nothing new. I am definitely a full-on omnivore, I eat everything but when it comes to vegetarian food I don't really do substitutes.
My vegetarian recipes are vegetarian because I like them that way and not because I am looking to replace the meat!
I'm particularly fond of vegetable curry recipes. The pumpkin curry recipe is a prime example of taking an ingredient that is often used as a side or filler and making it the star.
You can't spend much time here on my site without tripping over a curry recipe of some description. Vegetarian curries are always a real star, my aloo gobi, a potato and cauliflower curry is an all-time favourite of mine!
Vegetables always play well with spices and heat. Often acting like a sponge soaking up flavours whilst still retaining their character.
A classic example of this is the humble chickpea as in this Indian Chole recipe. Returning to the spud again we also have this 'saag' aloo recipe.
Whatever you do when you think curry, do not think only chicken, beef or lamb!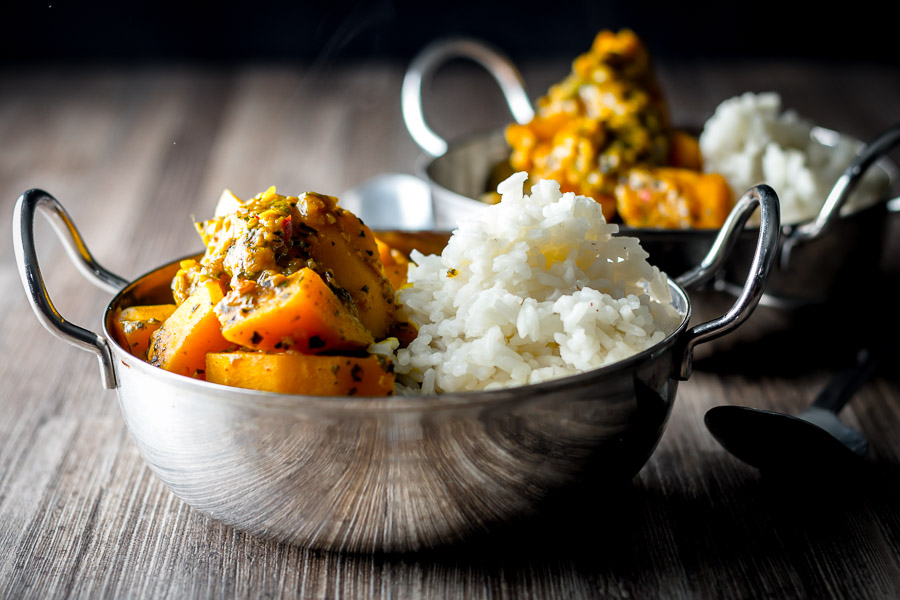 Growing Pumpkins and Squash!
After our initial first foray into pumpkin recipes with this pumpkin curry. And our subsequent experiments we decided we would plant some and see how we got on.
Let's just say we will not be needing to buy any more this year, we must have over one hundred butternut squash.
We always end up doing this with new crops because we are 'numpty' farmers. We genuinely have no idea what we are doing.
Learning from experience is our mojo, so we put things in the ground and learn from results. Consequently, gluts and droughts are nothing new to us.
One year we managed to grow nigh on half a tonne of carrots! We could not get rid of them no matter what we did.
Out of desperation not to throw stuff away we even tried carrot wine. Trust me not a thing you want to do. I will certainly will not be trying pumpkin wine either.
So enjoy this pumpkin recipe and brace yourself for at least a couple more like this pumpkin risotto over winter!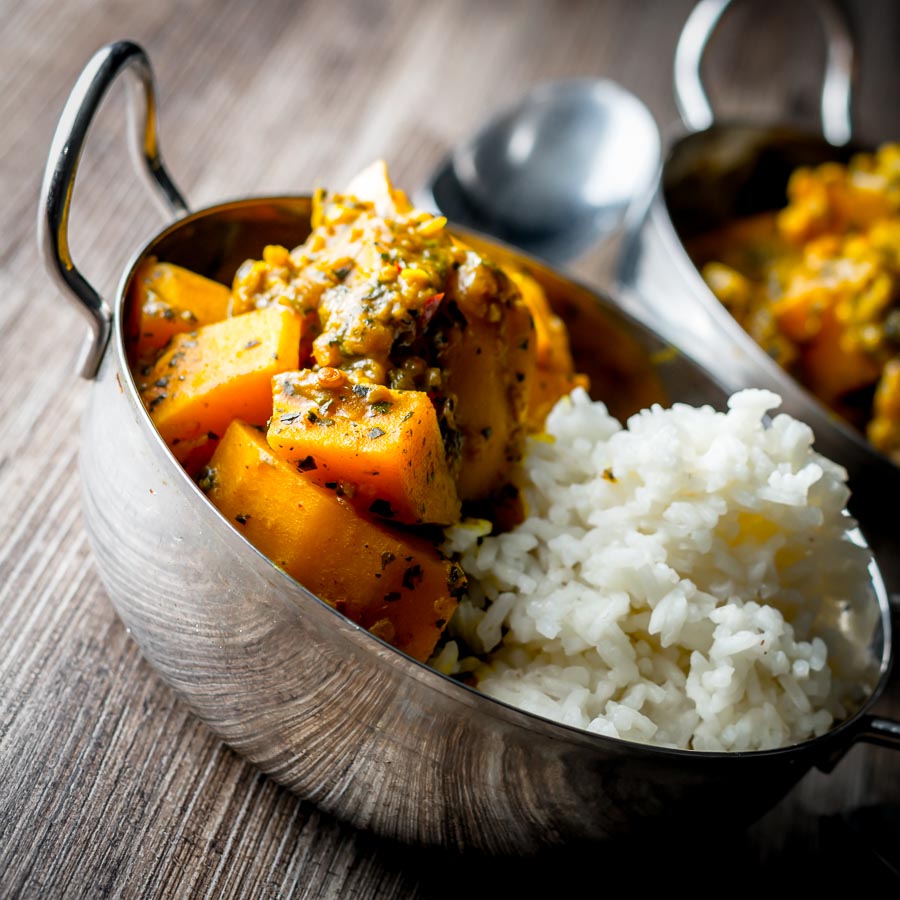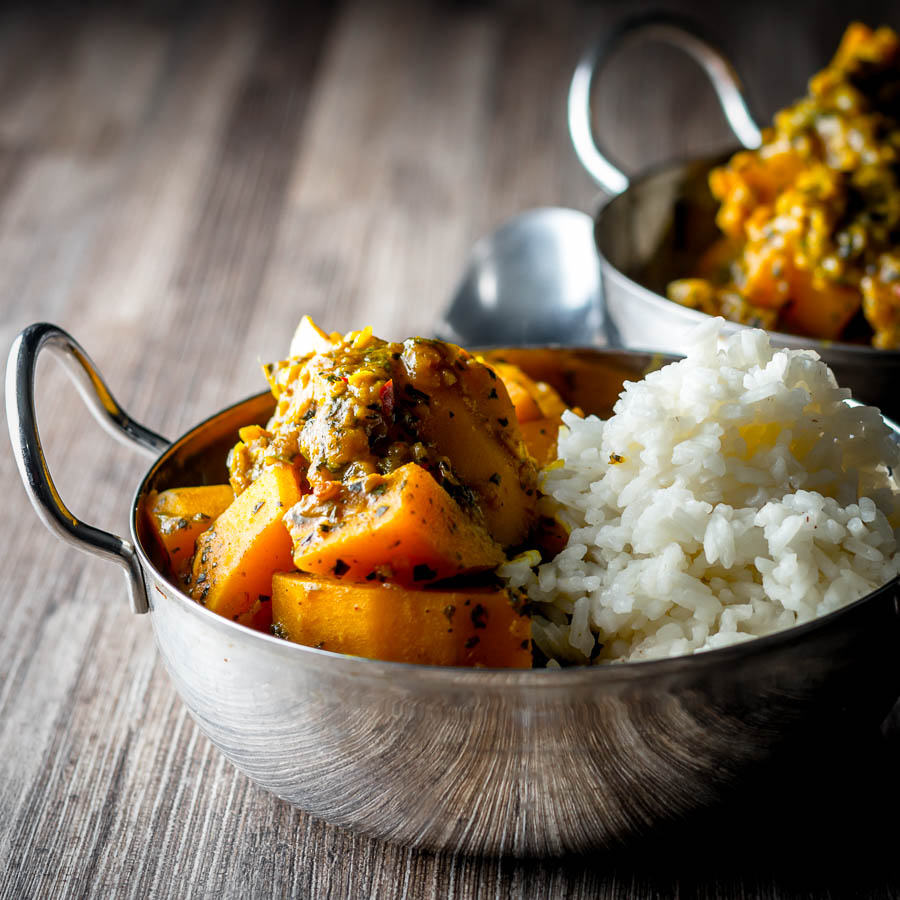 Burmese Pumpkin Curry with Tamarind
Pumpkin is the most wonderfully versatile ingredient and this pumpkin curry of Burmese influence is softened with Tamarind with a beautiful mint back note.
Ingredients
50 g Tamarind Pulp
1 Tbsp Cooking Oil, Neutral
1/2 Tsp Ground Turmeric
75 g Onion, Coarsely Grated
30 g Ginger, Finely Grated
2 Cloves Garlic, Crushed to a Paste
1/2 Chile, Deseeded and finely chopped, I used a cayenne chili
1/4 Tsp Chili Shrimp Paste, (optional)
500 g Pumpkin, Peeled, deseeded weight cut in to 25mm cubes, use a nice firm pumpkin like a butternut squash
1 Tsp Fish Sauce, (Nam Pla)
1 Tsp Mint Sauce, I make my own mint sauce which is a combination is of fresh mint, sugar and cider vinegar
Instructions
Roughly chop the Tamarind pulp and placed in a bowl with 150ml boiling water and allow to steep for 10 minutes stirring occasionally and then pass the liquid through a fine sieve reserving the liquid and discarding the pulp
Add the cooking oil to a heavy based pan over a medium heat
When the oil is up to temperature add the turmeric and stir then immediately add the garlic, ginger, chili and grated onion and cook for 3-4 minute stirring occasionally
Add the chili shrimp paste and stir to incorporate then add the pumpkin and stir to coat
Add the tamarind liquid you prepared earlier along with the fish sauce and 100ml of water then cover with a lid and cook until the pumpkin is cooked which should take about 8-12 minutes depending on the size of the pumpkin
Remove from the heat and stir in the mint sauce and check the seasoning, if you need more salt a little more fish sauce or a bit of salt, serve hot
Notes
Serve with boiled rice.
Adapted from Burma by Naomi Duguid
Nutrition Information:
Yield:

2
Serving Size:

1
Amount Per Serving:
Calories:

598
Total Fat:

25g
Saturated Fat:

6g
Trans Fat:

0g
Unsaturated Fat:

14g
Cholesterol:

67mg
Sodium:

2002mg
Carbohydrates:

74g
Fiber:

12g
Sugar:

29g
Protein:

26g
Calorific details are provided by a third-party application and are to be used as indicative figures only.