This delicious and simple pumpkin curry recipe is Burmese in origin and cooks in just 30 minutes making it a perfect midweek dinner!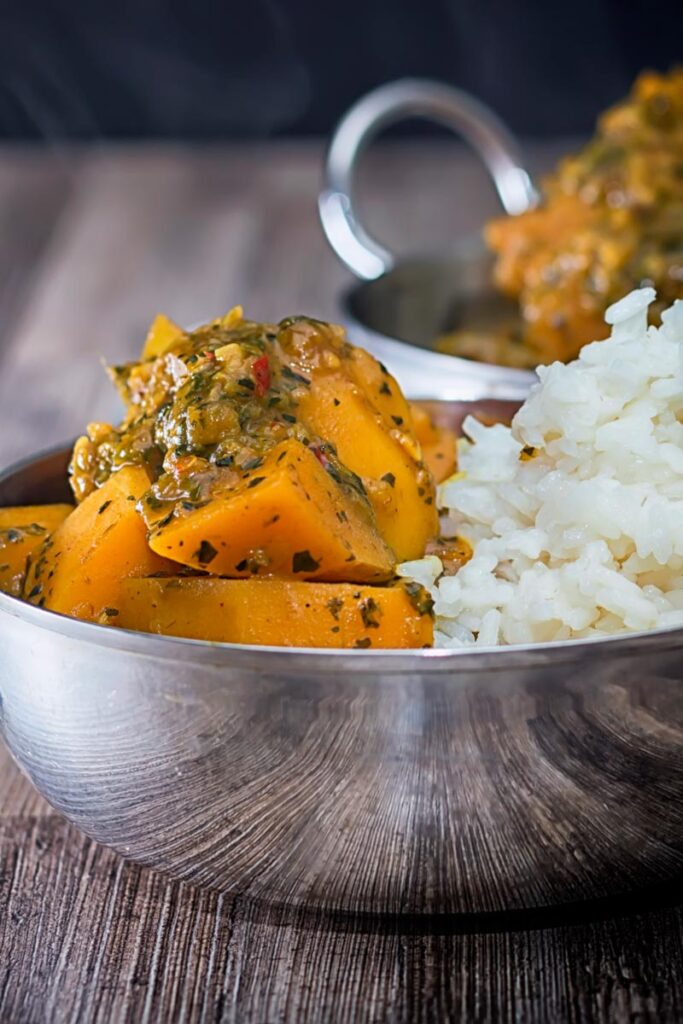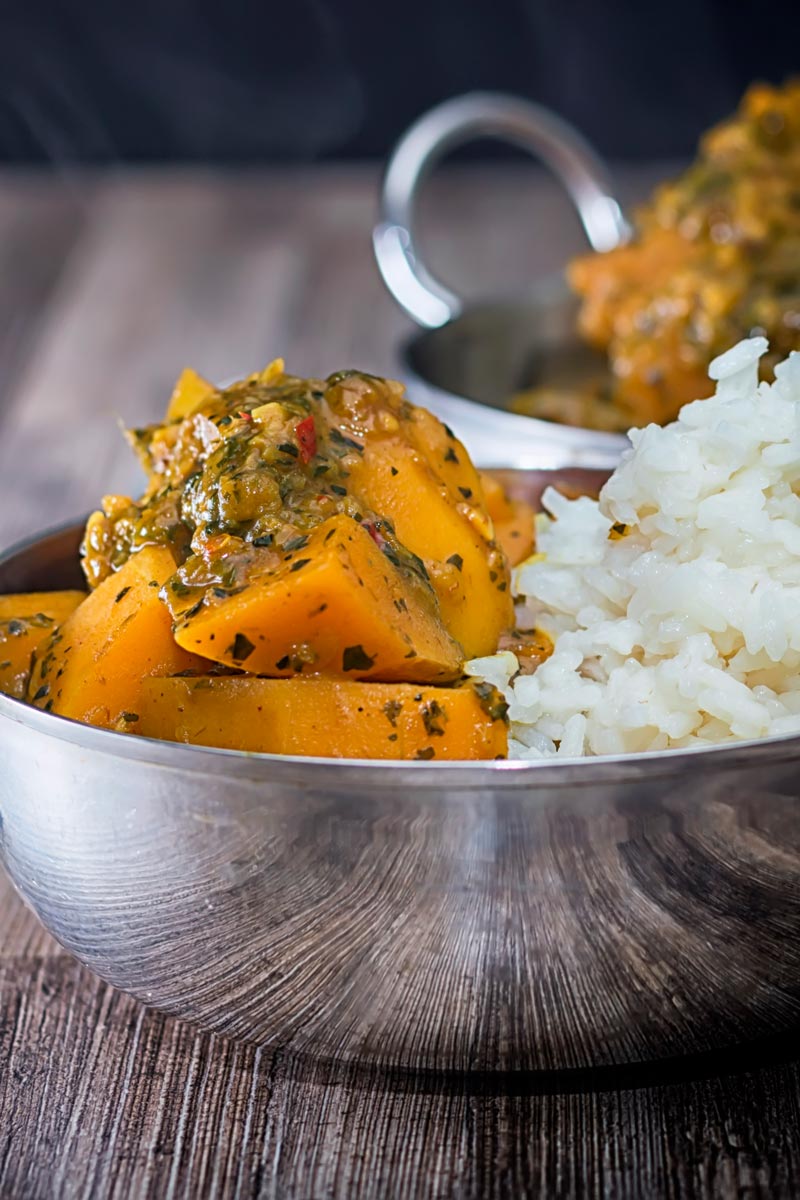 The Best Quick Squash Curry
This recipe is responsible for a new found love of all things squash and pumpkin.
Pumpkin was always something I avoided, now it is something I cook with all of the time.
This pumpkin curry recipe is very different from many of my usual curries.
Rather than relying on lots of dried spices or seeds, it relies on a simpler set of ingredients.
Inspired by a recipe from a book called Burma by Naomi Duguid it has become a regular feature on our weekly dinner menu.
It cooks in just 30 minutes & it is the dish that I get excited about when pumpkin season approaches.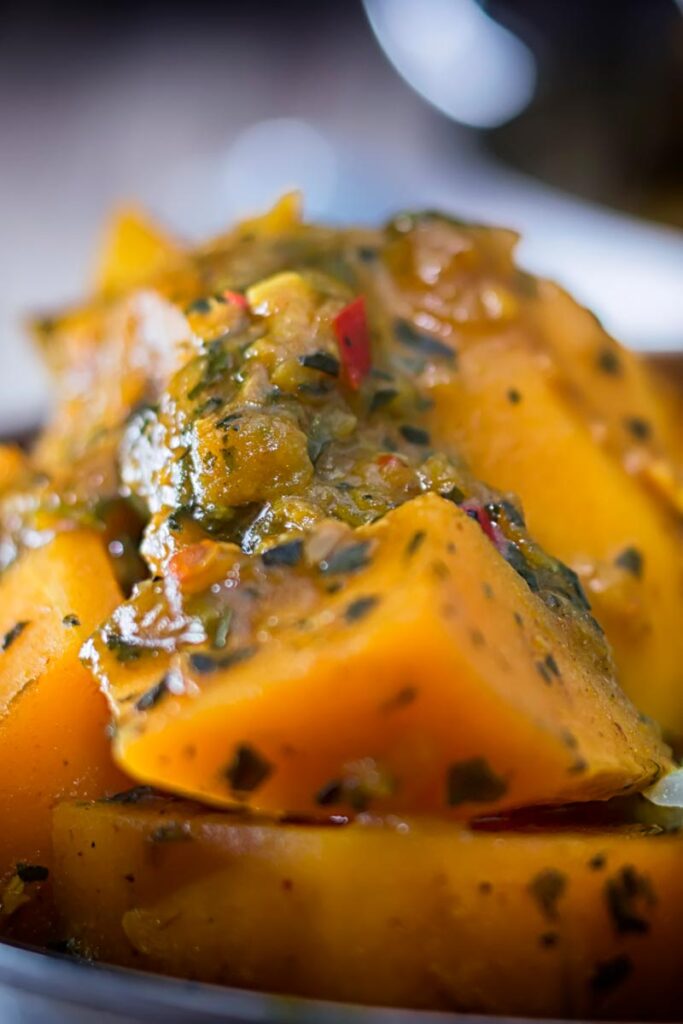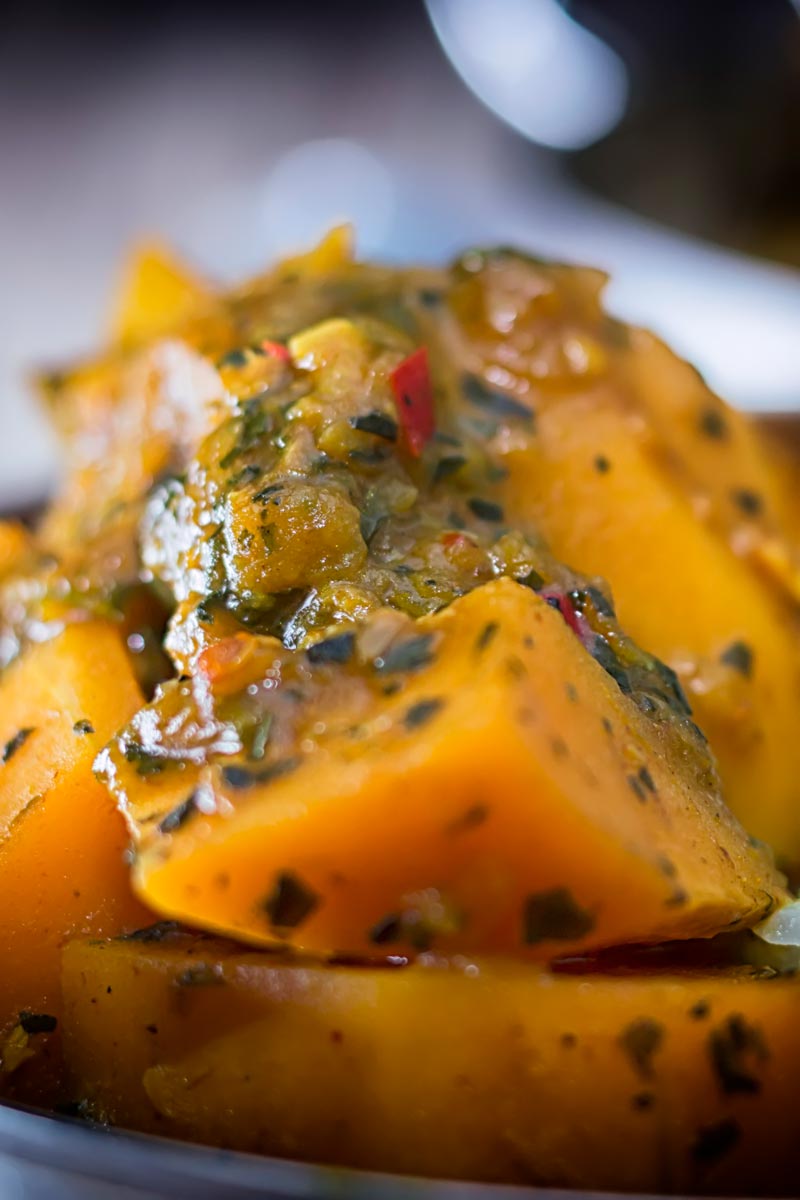 What Sort of Pumpkin to Use?
I usually make this pumpkin curry with a butternut squash. The primary reason for this is that they are on the smaller side.
As a result of this, there is not too much leftover.
I will probably get two or three meals from a butternut squash and I can not be doing with the same meal over and over!
I will usually call it squash week. Over a few days I will maybe have this, my butternut squash tagine and then possibly my butternut squash pasta.
Did I mention that this recipe costs pennies to make?
Anyway I digress, you can make this with any old squash or pumpkin.
If I am using a larger pumpkin then I will typically roast it off and make a pumpkin puree.
That forms the basis of both my pumpkin risotto recipe which is glorious!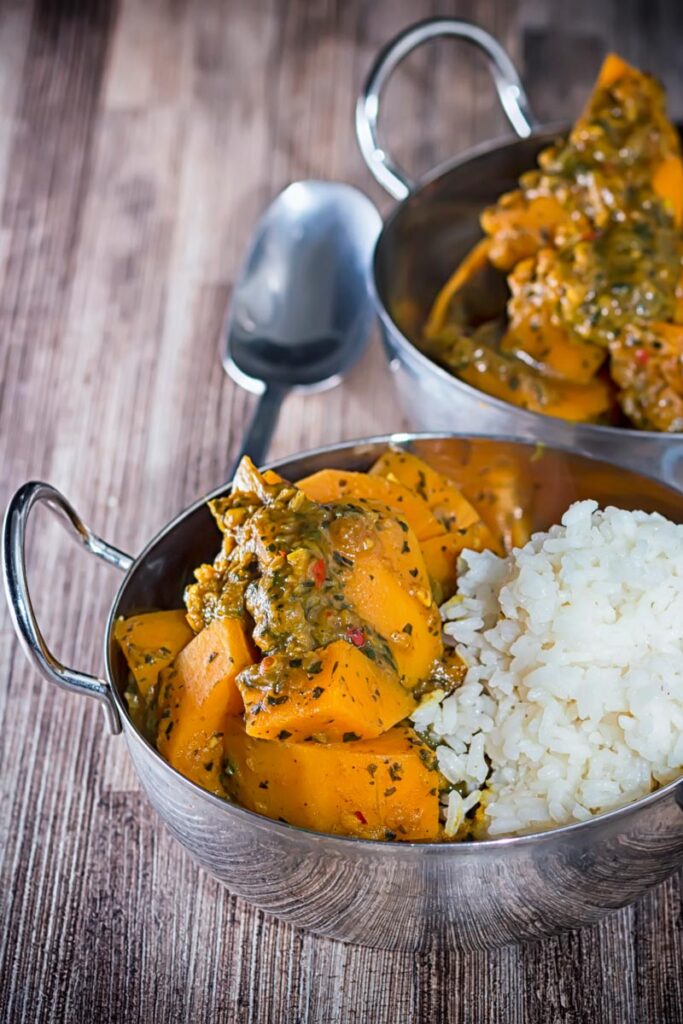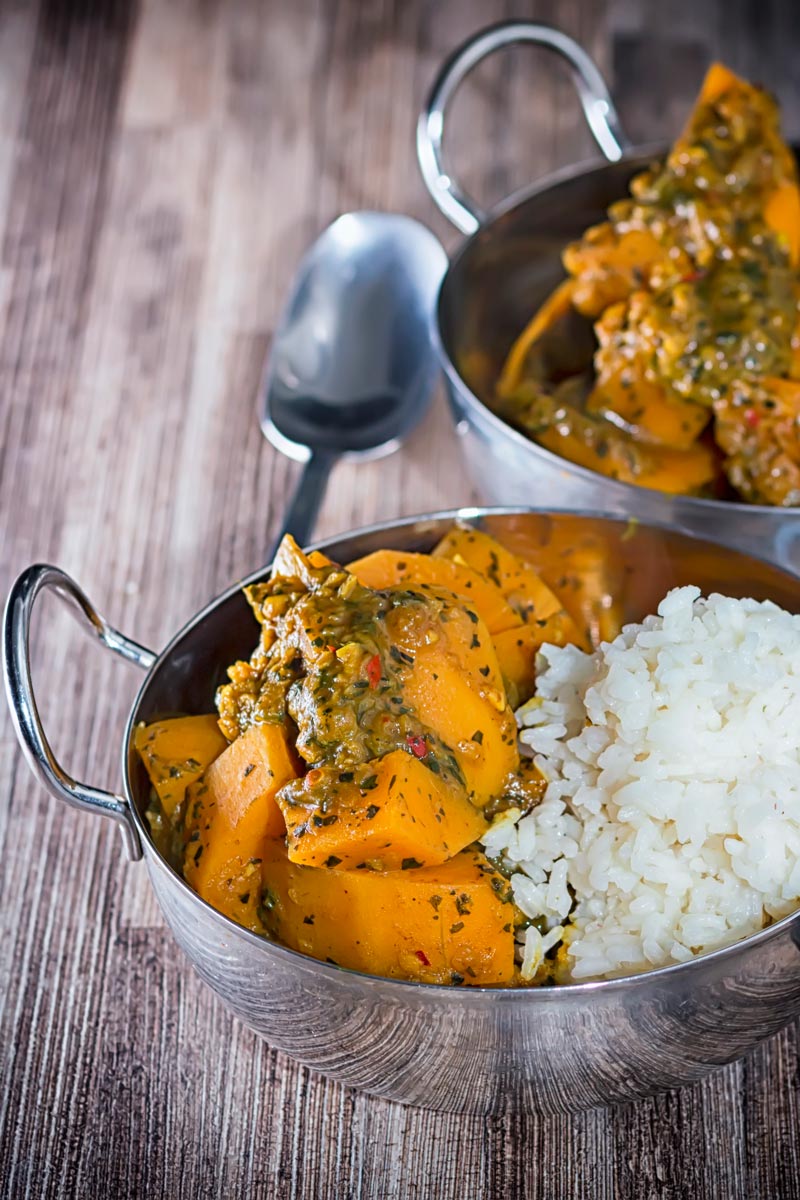 Ingredient Guide.
There is one ingredient that you may not be so familiar with in this recipe.
That is shrimp paste, you should be able to find it in any Asian supermarket.
It is essentially a mix of mashed up shrimp, that is left to ferment. Yes, that sounds awful and it smells pretty ropey, but it adds a delicious savoury intensity to any recipe.
It also gets used a lot in Thai food and features in both my Thai Red Curry Paste and Green Curry Paste.
Other than this the dish is meat free so if you wanted to go vegan you can sub the shrimp paste for fermented bean paste.
My British readers will be more than aware of mint sauce but if you are from the US then you may need a hand.
Mint sauce is a mix of mint, vinegar and sugar.
It is far from being a typical Burmese ingredient, originally the recipe calls for a type of acid, some sugar and mint. So in reality pretty analogous!
To make your own mint sauce grab a big handful of mint, add 50ml of
vinegar, 50 ml of boiling water, then salt and sugar to make it to your taste.
I like to serve this pumpkin curry with coconut rice.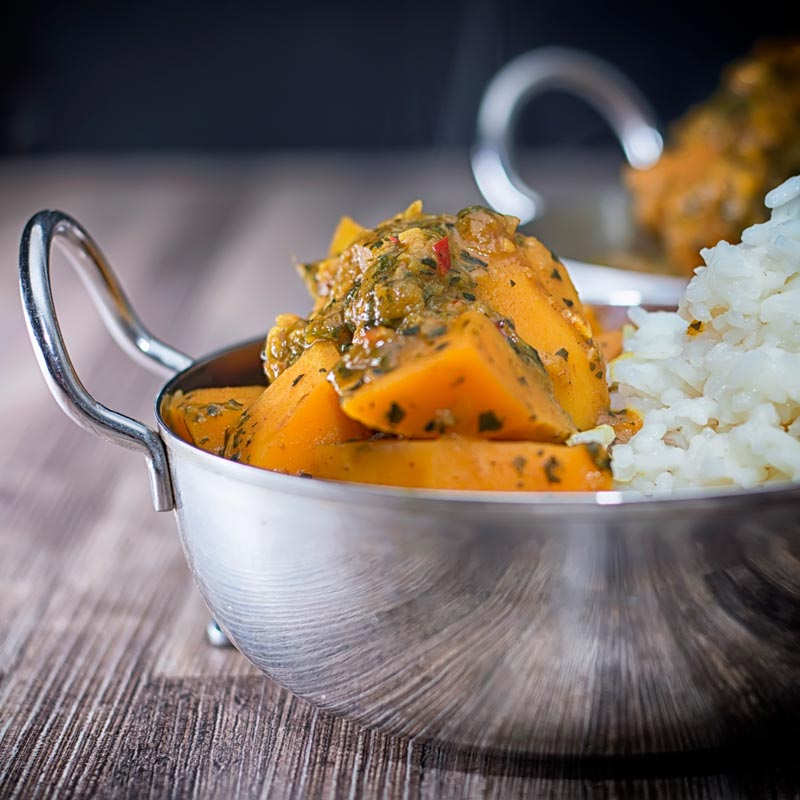 Yield:

2 Servings
Burmese Pumpkin Curry Recipe
Pumpkin is the most wonderfully versatile ingredient and this pumpkin curry of Burmese influence is softened with Tamarind with a beautiful mint back note.
Ingredients
500 g (17.5 oz) Diced Pumpkin
50 g (1.75 oz) Tamarind Pulp
1 Tbsp Cooking Oil
1/2 Tsp Ground Turmeric
75 g (2.6 oz) Onion
30 g (1 oz) Ginger
2 Cloves Garlic
1 Chilli Pepper
1 Tsp Shrimp Paste
1 Tsp Fish Sauce
1 Tbsp Mint Sauce
Instructions
Roughly chop the Tamarind pulp and placed in a bowl with 150ml boiling water.
Allow to steep for 10 minutes stirring occasionally and then pass the liquid through a fine sieve reserving the liquid and discarding the pulp.
Grate the ginger and onion, then mash the garlic cloves.
Finely chop the chilli pepper.
Add the cooking oil to a heavy based pan over a medium heat
When the oil is up to temperature add the turmeric, stir then immediately add the garlic, ginger, chilli and grated onion.
Cook for 3-4 minute stirring occasionally
Add the chilli shrimp paste and stir to incorporate then add the pumpkin and stir to coat
Add the tamarind liquid you prepared earlier along with the fish sauce and 100ml of water.
Cover with a lid and cook until the pumpkin is cooked which should take about 10-15 minutes depending on the size of the pumpkin
Remove from the heat and stir in the mint sauce and check the seasoning.
If you need more salt a little more fish sauce or a bit of salt.
Nutrition Information:
Yield:
2
Serving Size:
1
Amount Per Serving:
Calories:

514
Total Fat:

25g
Saturated Fat:

6g
Trans Fat:

0g
Unsaturated Fat:

14g
Cholesterol:

68mg
Sodium:

1996mg
Carbohydrates:

53g
Fiber:

7g
Sugar:

22g
Protein:

24g
Calorific details are provided by a third-party application and are to be used as indicative figures only.