This meatball soup manages the seemingly impossible task of managing to be both light and nutritious whilst being hearty and comforting!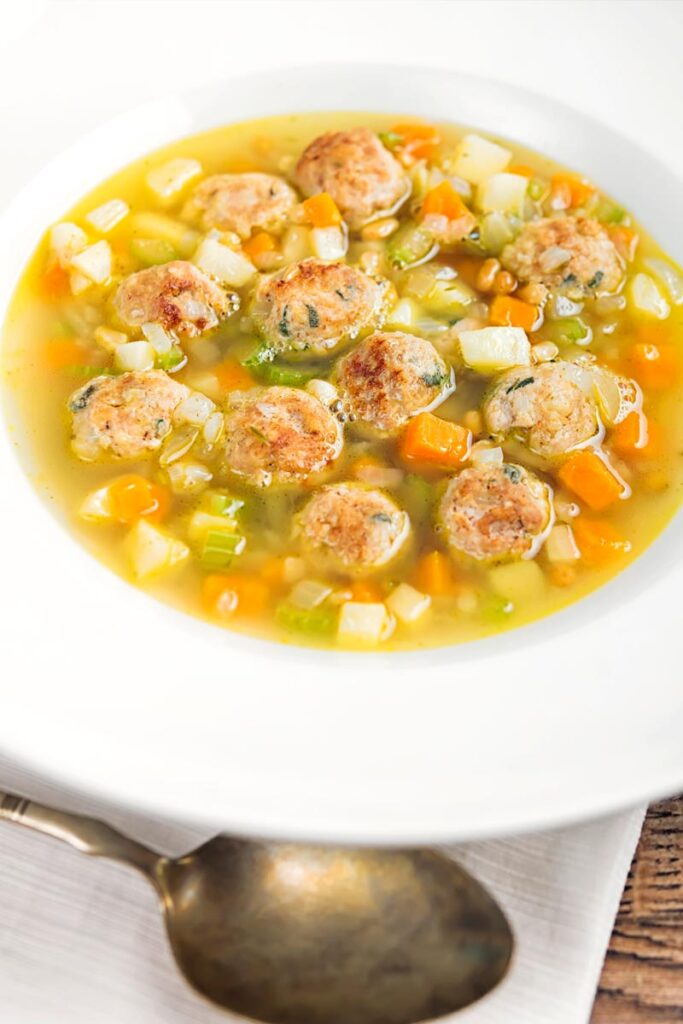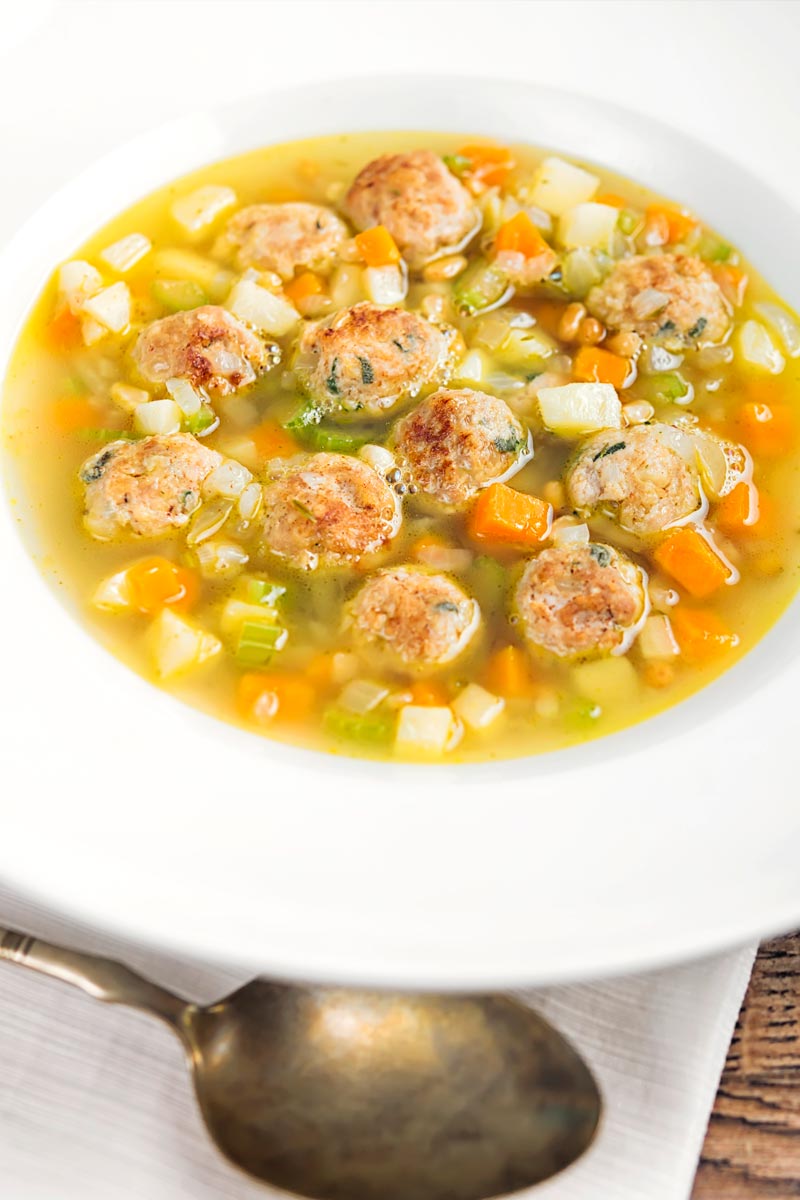 A Vegetable Rich Pork Meatball Soup!
Many of my recipes involve a smorgasbord of ingredients from around the world, this one is different. Simple root vegetables, a bit of pork and some herbs are all this recipe needs.
But you will not believe the flavour this simple recipe can squeeze out in just 45 minutes!
Whilst my food influences are diverse, the British food I grew up with is very simple.
This soup recipe relies on that simplicity much like my rabbit stew or cockaleekie soup.
The onions, parsnip and carrots give the broth a wonderful earthy sweetness that is perfect with the pork meatballs.
The pork is simply flavoured with sage and pine nuts… Do not skip the pine nuts they add so much to this recipe!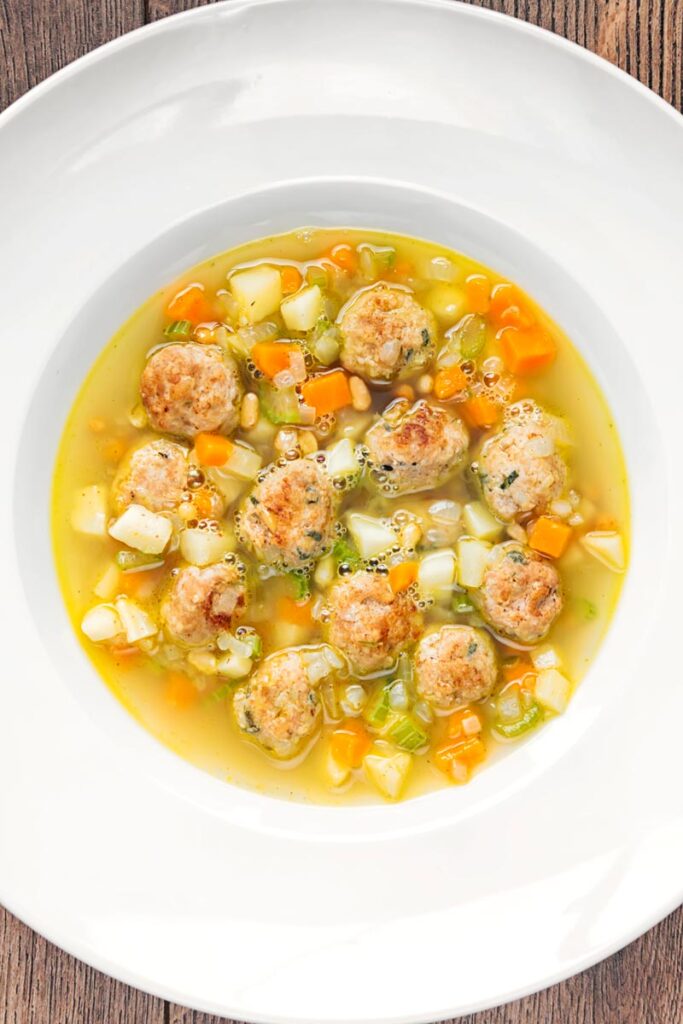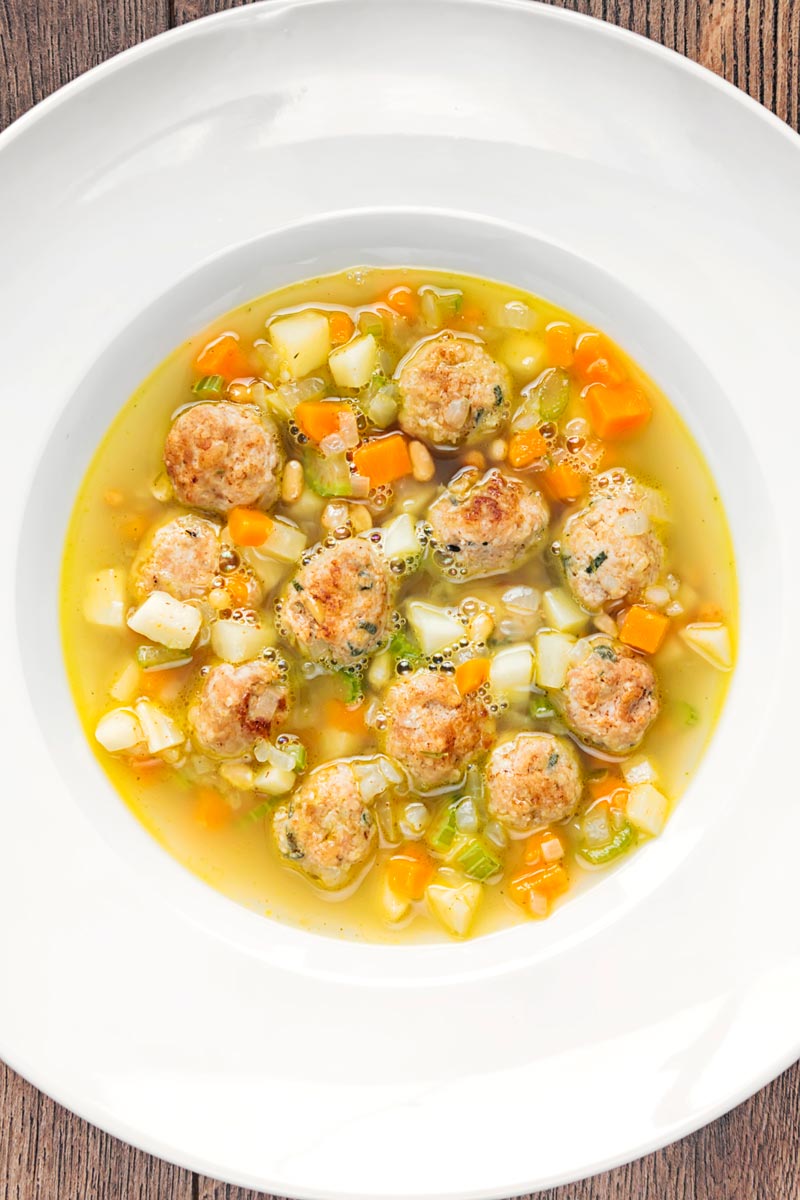 Is this Wedding Soup?
Yeah but no, but yeah… Oh heck, I don't know!
I have seen many dishes similar to this meatball soup called wedding soup.
A traditional "wedding soup" is called "minestra maritata" in Italian which translates to "married soup".
It is also in no small way, a form of Minestrone soup.
But do not get away with yourself, wedding soup is not called that because it is served at weddings.
Oh no, that would be far too obvious, it gets its name from the marriage of flavours between the greens and the meatballs in the soup.
The lack of greens means that this recipe is quite far removed from the classic Italian version.
It is however, a very British slant on the Italian American interpretation of the Italian recipe.
That last sentence is EVERYTHING that I love about food! Authenticity is a sham, designed to claim superiority.
Food grows, evolves, moves and changes, my favourite example of this is a Vindaloo curry.
It is Indian, well kinda, it is actually an Indian take on a dish the Portuguese took with them to India in the 15th century. I know it from the version of the dish that Indian migrants to Britain recreated when they landed in the UK in the 1960's.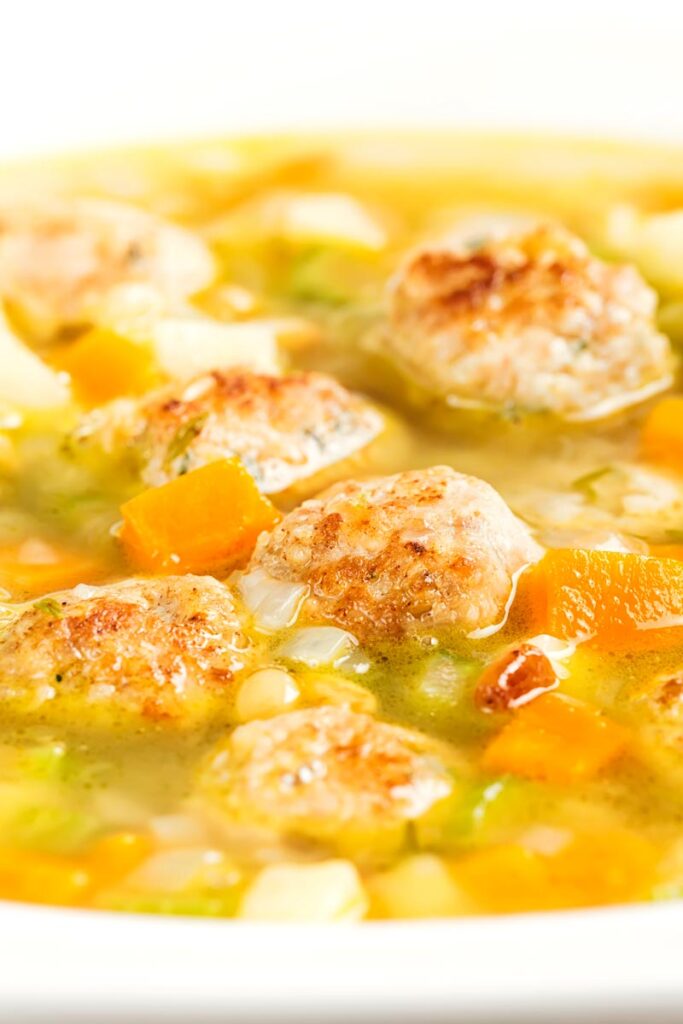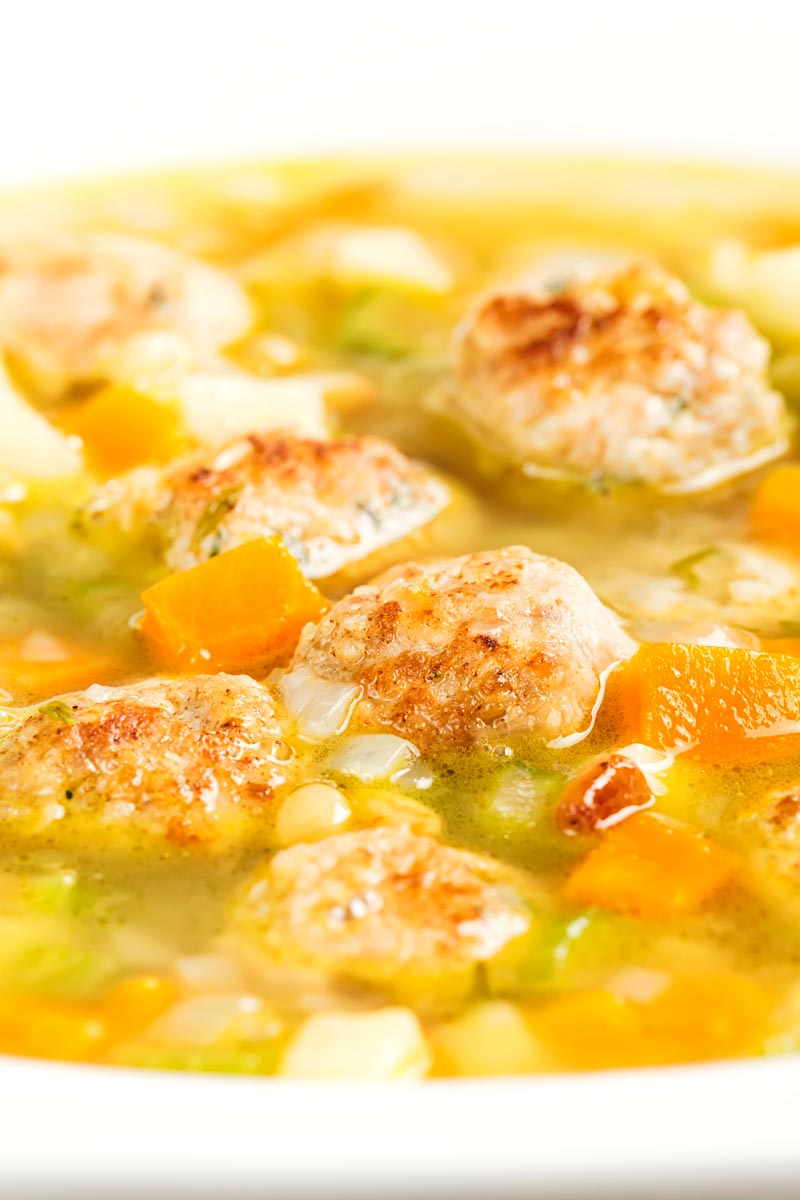 Recipe Hints and Tips.
There are a few bits and pieces to take note of in this meatball soup recipe to get it perfect.
The stock is the base of this soup and defines the flavour. As a result, use the very best vegetable stock you can get.
Still on the topic of the stock, I very much advise vegetable stock rather than chicken or pork stock.
This amps up the vegetable aspect of the soup. It is this ingredient that is fundamental in creating that balance between light and hearty.
The final "stock tip" relates to salt, all stocks vary massively in their salt content.
The most important thing a cook can do is taste and season as you go and not rely on a number in a recipe when it comes to salt.
My final tip is on the forming of meatballs for this soup.
Use wet hands, it will stop the meatballs sticking to you when you make them.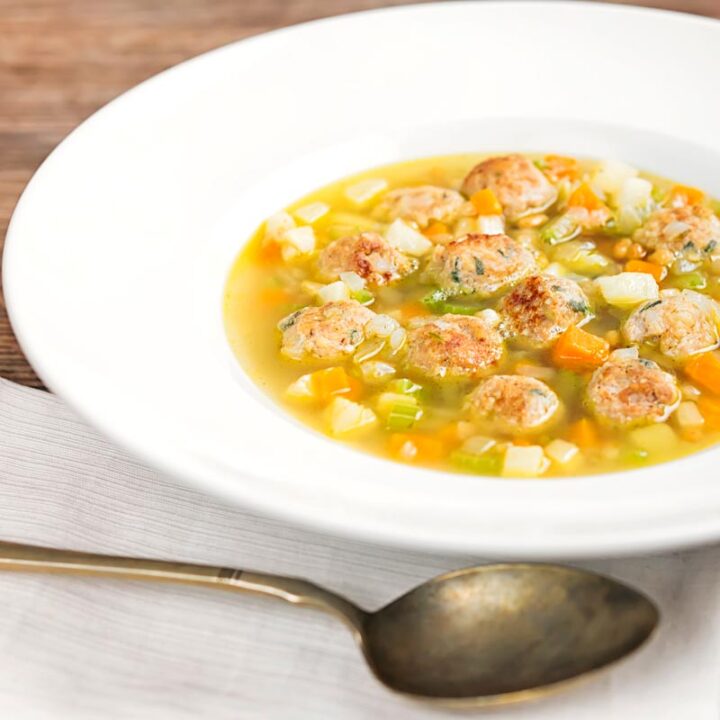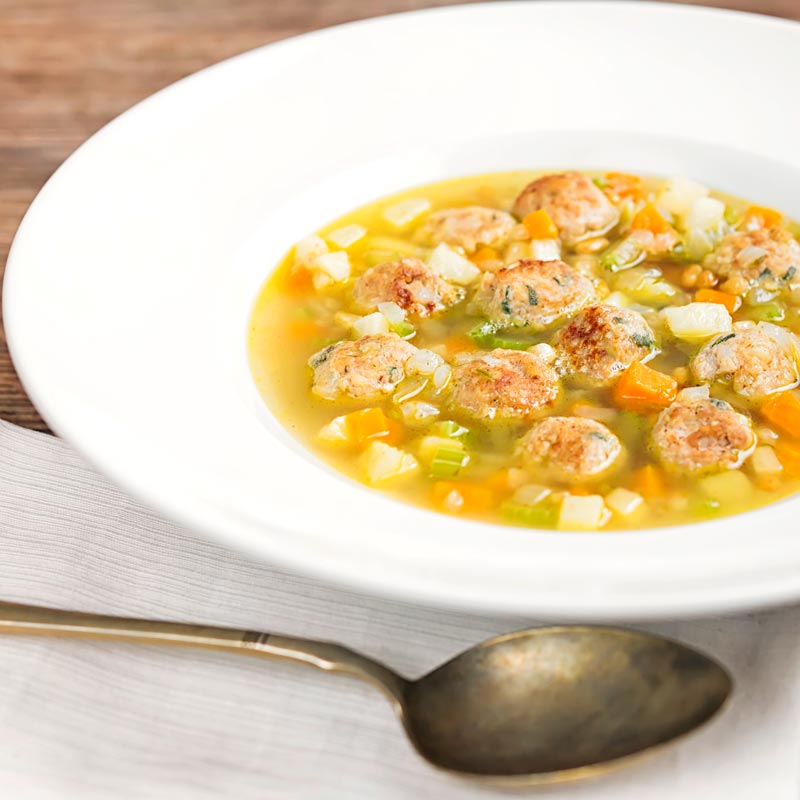 Yield:

2 Servings
Easy Hearty Meatball Soup
This simple meatball soup features a simple vegetable rich broth and delicious sage and pork meatballs. Real simple ingredients massive flavour!
Ingredients
100 g Carrot
100 g Parsnip
100 g Onion
35 g Celery
1 Tbsp Oil
500 ml Vegetable Stock
2 Sprigs Thyme
1 Bay Leaf
200 g Minced Pork Shoulder
6 Sage Leaves
1 Egg Yolk
25 g Pine Nuts
15 g Bread Crumbs
25 g Butter
Instructions
Cut the carrot, parsnip, celery and onion into a 3-5mm dice.
Heat the oil over a medium heat and add the diced carrot, parsnip, celery and carrot and cook for 10 mins.
Do not colour the vegetables, just soften.
Pour in the vegetable stock and add the thyme and bay leaf.
Taste the stock and add salt as required.
Simmer for 15 mins whilst we prepare the meatballs.
Finely slice the sage leaves and add them to the pork.
Throw in the pine nuts then season well with salt and pepper.
Add the egg yolk and breadcrumbs and bring together to form a large ball.
Using wet hands roll into meatballs approximately 2 cm in diameter. It should make approximately 2 dozen mini meatballs.
Heat a wide frying pan over a medium high heat, when hot add the butter.
When the butter begins to foam add the meatballs and fry flipping until browned on all sides.
Remove from the pan and drain the additional butter on a kitchen towel.
Drop the meatballs in the soup and cook for a further 10 minutes before serving.
Nutrition Information:
Yield:
2
Serving Size:
1
Amount Per Serving:
Calories:

678
Total Fat:

50g
Saturated Fat:

16g
Trans Fat:

0g
Unsaturated Fat:

29g
Cholesterol:

209mg
Sodium:

964mg
Carbohydrates:

28g
Fiber:

5g
Sugar:

9g
Protein:

30g
Calorific details are provided by a third-party application and are to be used as indicative figures only.