Whole baked sea bass with roasted new potatoes, bacon, peas and broad beans in white wine, a delicious and easy-to-cook complete meal.
Even if you have to clean and prepare the fish, this delicious dinner can be cooked and prepared in right around 45 minutes and less if you get prepared sea bass.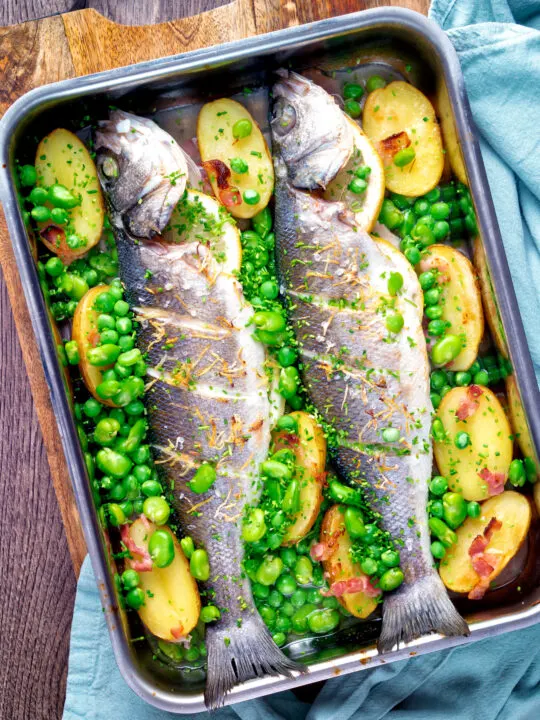 Whole Roasted Sea Bass
I adore cooking and eating fish! I don't care whether it is something like my quick and simple devilled mackerel fillets or a spicy monkfish curry.
It is something that intimidates many a home cook, particularly cooking whole fish on the bone.
But it is remarkably easy, and cooking fish on the bone reduces the chances of overcooking the fish. It also adds a boatload of flavour.
I love it and have dishes as diverse as whole tandoori fish, whole baked mackerel, campfire baked fish in foil, classic French pan-fried lemon sole meuniere and a Jamaican-influenced escovitch fish.
This whole roasted or baked sea bass feels indulgent and special but it remains light and nutritious.
It is cooked in the oven with potatoes, broad beans or fava beans as you may know them peas, bacon, lemon and white wine.
All of those wonderful ingredients come together to make a great light sauce too!
Add a simple green salad on the side and you are good to go.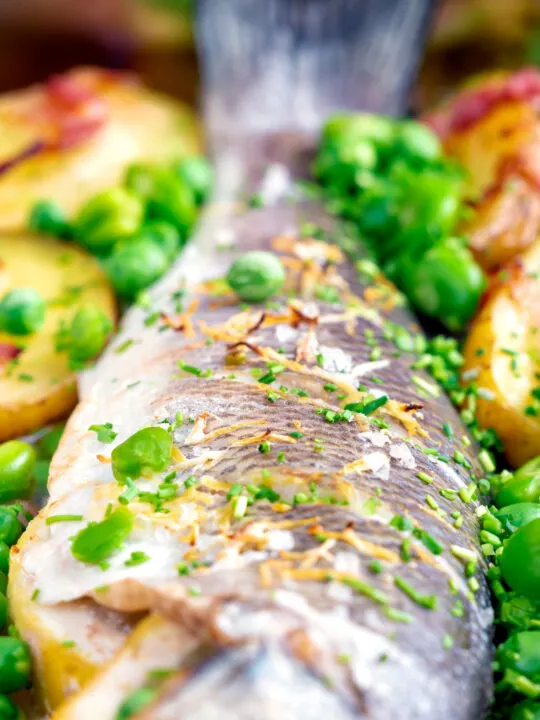 How to Clean a Round Fish
Ok, the easiest way to do this is to get your fishmonger to do it or to buy prepared fish from the supermarket.
Given the choice, I would take this option every day of the week, but sometimes you don't have the option.
Don't worry, it might be 'icky', but it is easy. It should take no more than 2-3 minutes per fish once you are used to it.
Remove Fins: Use a sharp tough pair of kitchen sheers and hack them off at the body.
Descale: You can get a tool for this but to be honest the backside of a knife works just as well. Simply rub the blunt end of the knife along the flesh starting at the tail and moving towards the head.
Remove Gills and Guts: On the side of the head you will find the gills. Follow these down to below the mouth and you will find this narrows to a triangle. Cut through this, then place your thumb and forefinger around the gills and pull firmly.
This will remove the gills and remove the guts of the fish too.
Open the Fish: Now look for a hole, literally the "A Hole" of the fish. Stick in a sharp knife and drag up the belly towards the mouth.
Clean: Once open the cavity should be largely clean. But you will need to scrape out and give it a quick wash.
This process is the same for all round fish.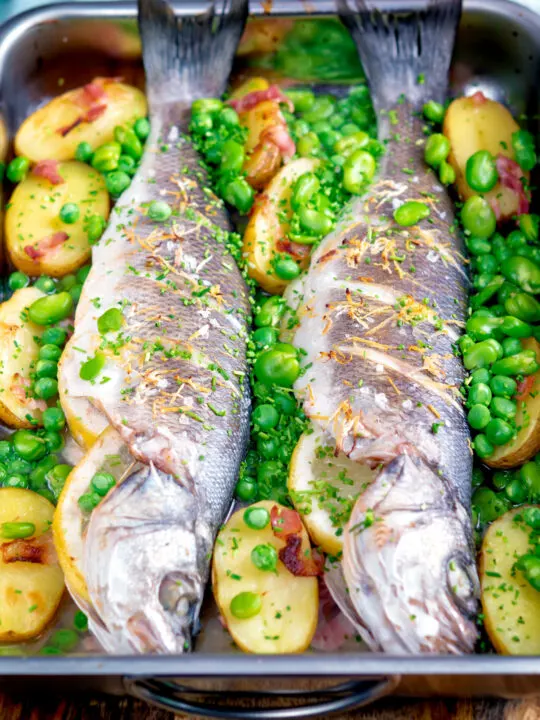 Frequently Asked Questions
Are broad beans known as anything else?
Yes, depending on where you are you will sometimes see them called fava beans.
Can I use frozen peas and broad beans?
Yes, absolutely! This is a dish that I cook all year round and I almost always use frozen legumes. Just be sure to defrost them first by running them under cold water for 3-5 minutes.
Do I have to use new or salad potatoes?
I prefer them in this recipe. But you can use larger potatoes but make sure that they are a waxy potato rather than a floury or mealy potato.
Can I use a different type of fish?
Yes, this recipe works wonderfully with trout, you can use rainbow, sea or brown trout. You could also make this with a whole mackerel.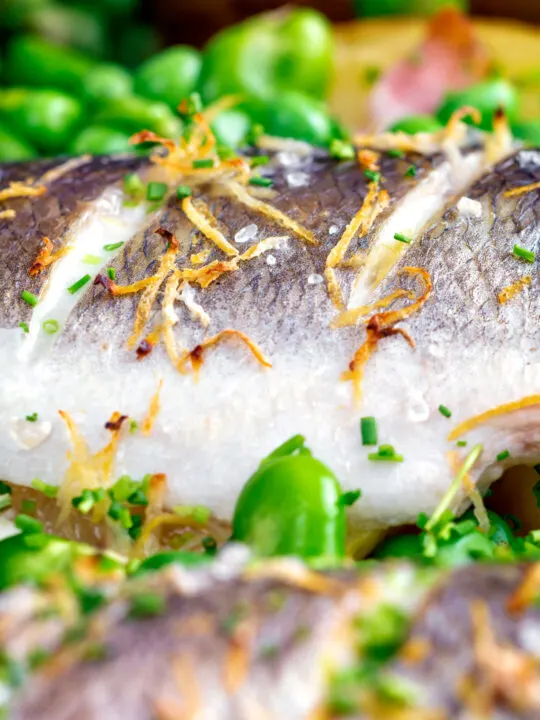 Equipment Used
I do not usually recommend specific brands of equipment unless I think that it makes a material difference to a recipe. If you have any questions feel free to ask in the comments section below the recipe.
Stovetop.
Oven.
16cm+ (6″+) Saucepan.
32cm or 13″ (minimum) baking tin.
Sharp kitchen knife.
Chopping board.
Colander or sieve.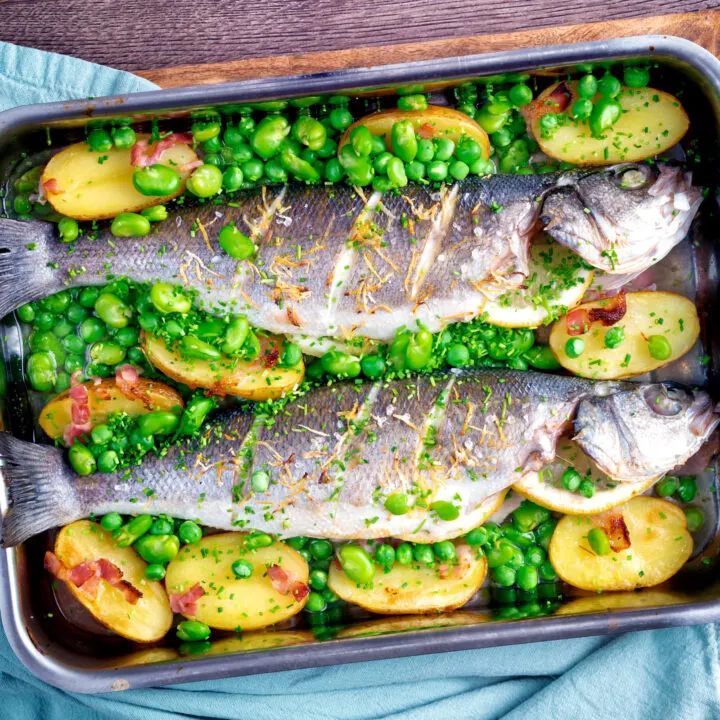 Yield:

2 Servings
Whole Baked Sea Bass Recipe with Potatoes, Broad Beans and Peas.
As far as I am concerned, the best way to cook a whole sea bass is roasted or baked in the oven. This recipe roasts the fish perfectly with new potatoes, peas and broad beans!
Ingredients
2 Whole Cleaned Sea Bass
300g (2 Cups) New or Salad Potatoes
125g (¾ Cup) Broad Beans or Fava Beans
50g (⅓ Cup) Peas
100g (4-5 Rashers) Streaky Bacon
2 Tbsp Olive Oil
250ml (1 Cup) Dry White Wine
1 Lemon
½ Tsp Salt (Plus extra for boiling potatoes)
Instructions
Bring a pan of generously salted water to a boil.
Cut the new potatoes in half so that they are bite-sized (approx 30g) and boil for 12 mins.
Cut 3 slices into the flesh on each side of each fish.
Add the oil to a roasting tin that is big enough to hold both fish.
Transfer the drained par-boiled potatoes to the baking tray and toss in the oil.
Roast in the oven for 15 mins at 200°C or 400°F.
Cut the bacon into 2-3mm thick batons across the rasher.
Zest the lemon and slice the rest of the lemon into thick slices.
Stuff the cavity of the fish with the lemon slices, then season the fish generously with the salt rubbing it into the cuts and sprinkle over the lemon zest.
Remove the potatoes from the oven and sprinkle over the bacon, then place the fish on top.
Pour the white wine into the pan, return it to the oven, and cook for 12 minutes.
If you are using frozen peas and broad beans, defrost them by running them under cold water for 5 minutes, then pop the broad beans from their leathery skins.
Add the peas and broad beans to the roasting tin and bake for a final 2-3 minutes to heat them through.
Notes
If you are cleaning your own sea bass allow 10-15 minutes if you are new to the process, and 5 if you are an old hand.

I have added some instructions in the body of the page above the recipe.
Nutrition Information:
Yield:
2
Serving Size:
2
Amount Per Serving:
Calories:

798
Total Fat:

35g
Saturated Fat:

9g
Trans Fat:

0g
Unsaturated Fat:

24g
Cholesterol:

103mg
Sodium:

1734mg
Carbohydrates:

50g
Fiber:

11g
Sugar:

9g
Protein:

52g
Calorific details are provided by a third-party application and are to be used as indicative figures only.