Alongside a whole baked sea bass, this simple traybake features new potatoes, peas, broad beans and bacon that cooks in a white wine sauce.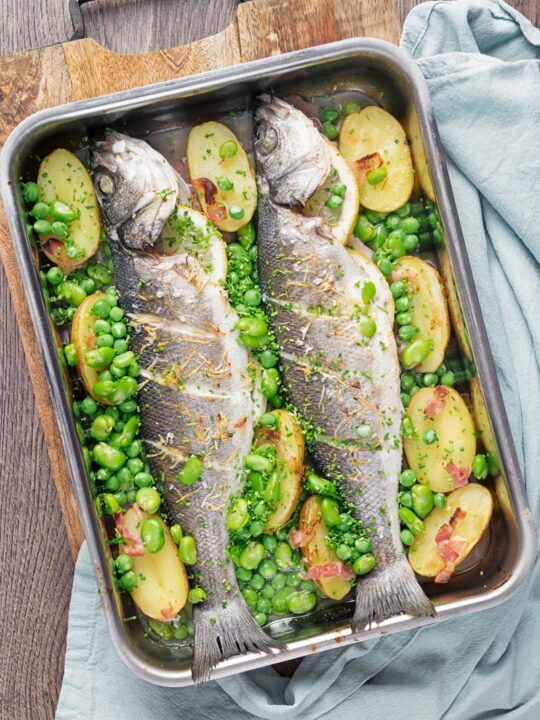 Whole Roast Sea Bass with Potatoes, Broad Beans and Peas.
I love this recipe, it is light vibrant and absolutely delicious. The very best summer ingredients feature alongside perfectly whole roasted fish.
Now there are a lot of people that have an issue with their food looking back at them… I am not one of those people!
Whether it is my whole tandoori fish, campfire baked fish in foil or my Jamaican influenced escovitch fish, I love eating and being served a whole fish.
It feels indulgent and special but not greedy and not a product of gluttony.
It is also not as difficult as people think it is, in fact cooking a whole sea bass on the bone has way more leeway than cooking fish fillets.
Here I cook them with the potatoes, broad beans or fava beans as you may know them peas, bacon, lemon and white wine.
All of those wonderful ingredients come together to make a great light sauce too!
How to Clean a Round Fish.
Ok, the easiest way to do this is to get your fishmonger to do it.
Given the choice, I would take this option every day of the week, but sometimes you don't have the option.
Don't worry, it might be 'icky', but it is easy and should take no more than 3-4 minutes per fish.
Remove Fins: Use a sharp tough pair of kitchen sheers and hack them off at the body.
Descale: You can get a tool for this but to be honest the backside of a knife works just as well. Simply rub the blunt end of the knife along the flesh starting at the tail moving towards the head.
Remove Gills and Guts: On the side of the head you will find the gills. Follow these down to below the mouth and you will find this narrows to a triangle. Cut through this, then place your thumb and forefinger around the gills and pull firmly.
This will remove the gills and remove the guts of the fish too.
Open the Fish: Now look for a hole, literally the "A Hole" of the fish, stick in a sharp knife and drag up the belly to the mouth.
Clean: Once open the cavity should be largely clean, but you will need to scrape out and give it a quick wash.
This process is almost the same for all round fish.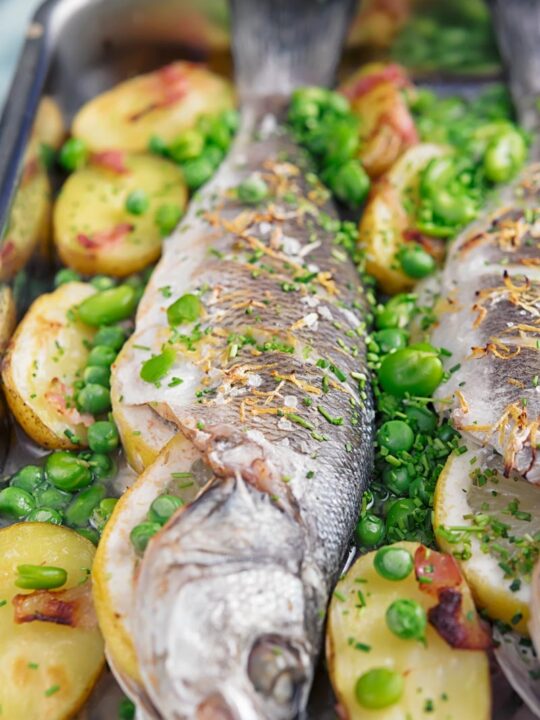 Fish Tray Bakes.
Typically tray bakes involve putting everything on a tray, seasoning and throwing in the oven.
Now, this recipe is a little more complicated than that but not greatly. All we do in addition is pod the broad beans and parboil the potatoes.
If you are lucky enough to have fresh broad beans you can find out how to deal with them in this Baked Cod fillet recipe.
Then it is just like a tray bake but we add the ingredients periodically rather than all at one time. It is the same approach that I take with my pork chop tray bake.
If you have a timer you are good to go, you even have most of a bottle of wine to keep yourself lubricated.
Finally whilst I am on the subject of wine, there is a simple rule. If you ain't prepared to drink it do not cook with it!
But as a broad suggestion use a dry white wine for this recipe.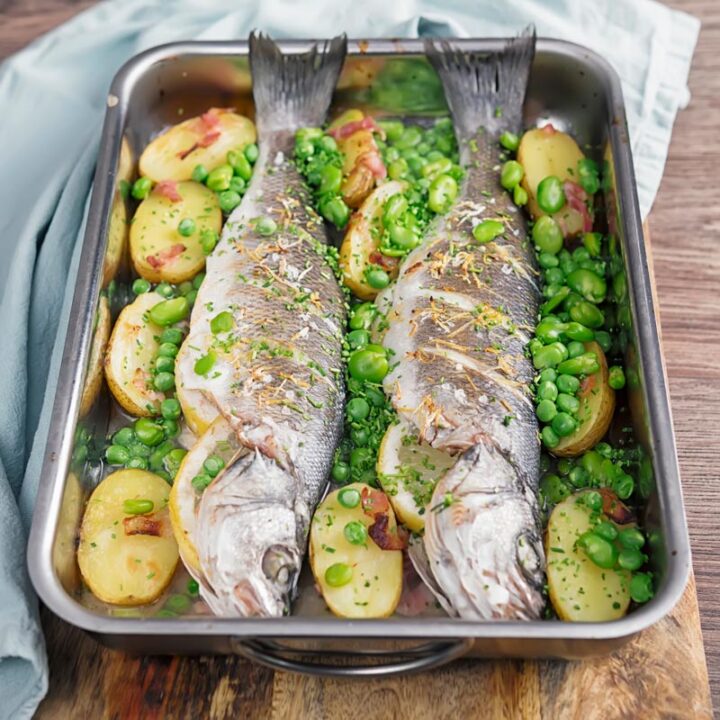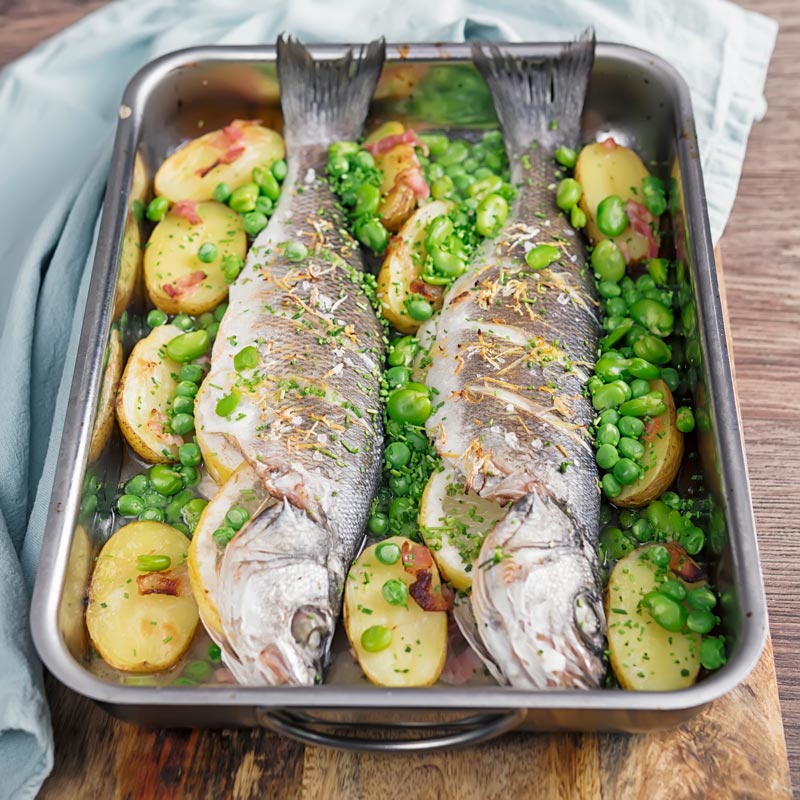 Yield:

2 Servings
Whole Baked Sea Bass Recipe with Potatoes, Broad Beans & Peas.
As far as I am concerned, the best way to cook a whole sea bass is roasted or baked in the oven. This recipe roasts the fish perfectly with new potatoes, peas and broad beans!
Ingredients
2 Whole Sea Bass
300 g (2 Cups) New Potatoes
125 g (3/4 Cup) Broad Beans (AKA Fava Beans)
50 g (1/3 Cup) Peas
100 g (1/2 Cup) Bacon
2 Tbsp Olive Oil
125 ml (1/2 Cup) White Wine
1 Lemon
Salt to taste
Instructions
Bring a pan of salted water to the boil.
Cut the new potatoes in half so that they are bite sized (approx 30g) and boil for 12 mins.
Whilst the potatoes are cooking you can clean the fish, snipping off the fins, removing the scales and the 'icky bits'.
Cut 3 slices into the flesh on each side of each fish.
Add the oil to a roasting tin that is big enough to hold both fish.
After the potatoes have had 12 mins transfer to the baking tray and toss in the oil and add a little more salt.
Do not throw away the potato water just yet.
Roast in the oven for 15 mins at 200°C or 400°F.
If your broad beans have their leathery skin on, then drop them in the potato water and cook for 2 mins.
Pop the broad beans out of their jackets.
Whilst the potatoes are roasting slice the bacon.
Zest the lemon and slice the rest of the lemon into thick slices.
Stuff the cavity of the fish with the lemon slices.
Season the fish generously with salt rubbing into the cuts and add the lemon zest.
By now our potatoes should have had 15 mins.
Remove from the oven and sprinkle over the bacon.
Nestle in the fish and squeeze over any remaining lemon juice.
Add the wine and return to the oven and cook for a further 12-15 mins.
When the fish is very nearly cooked after 12 mins or so sprinkle over the broad beans and peas.
Return to the oven and cook for 2 mins.
Serve sprinkled with lots of chives.
Nutrition Information:
Yield:
2
Serving Size:
2
Amount Per Serving:
Calories:

747
Total Fat:

34g
Saturated Fat:

9g
Trans Fat:

0g
Unsaturated Fat:

24g
Cholesterol:

103mg
Sodium:

1360mg
Carbohydrates:

52g
Fiber:

9g
Sugar:

6g
Protein:

50g
Calorific details are provided by a third-party application and are to be used as indicative figures only.