A spatchcock chicken is a perfect bird to cook on a grill, and summer is here so let's do this. This grilled spatchcock chook recipe has a glorious orange Marmalade Glaze!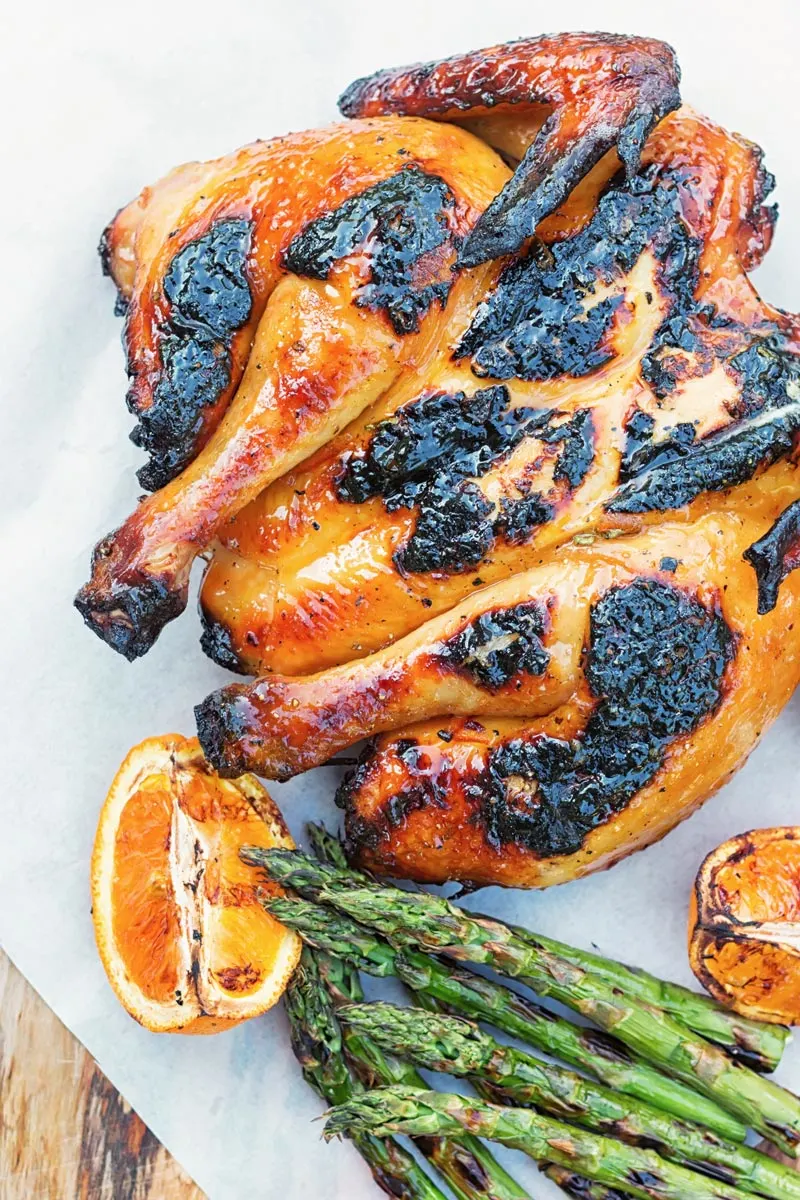 Grilled Spatchcock Chicken With Orange Marmalade Glaze.
Here we go with another grilling recipe folks, a spatchcock chicken is the perfect fodder for the grill. The orange marmalade glaze is the perfect sweet and sticky glaze for the bird too!
Parcel it up with some simply grilled asparagus which also has a great affinity with orange and you are good to go!
Orange and chicken work so well together. But they are flavours associated much more with the Chinese food, like in my carrot and ginger orange chicken.
This recipe is very much European in influence, with the sweet and bitter tones of orange marmalade singing through.
When it comes to orange marmalade use something that you like as it is the core flavour of this grilled chicken recipe.
As with many things it is difficult to find here in Hungary so I make my own, using this recipe from my mate Jo over at Every Nook and Cranny.
You really do need to marinade though, if at all possible try and keep your spatchcock chicken in the marinade overnight. Making sure you remove from the fridge so you are not putting a cold bird over hot coals.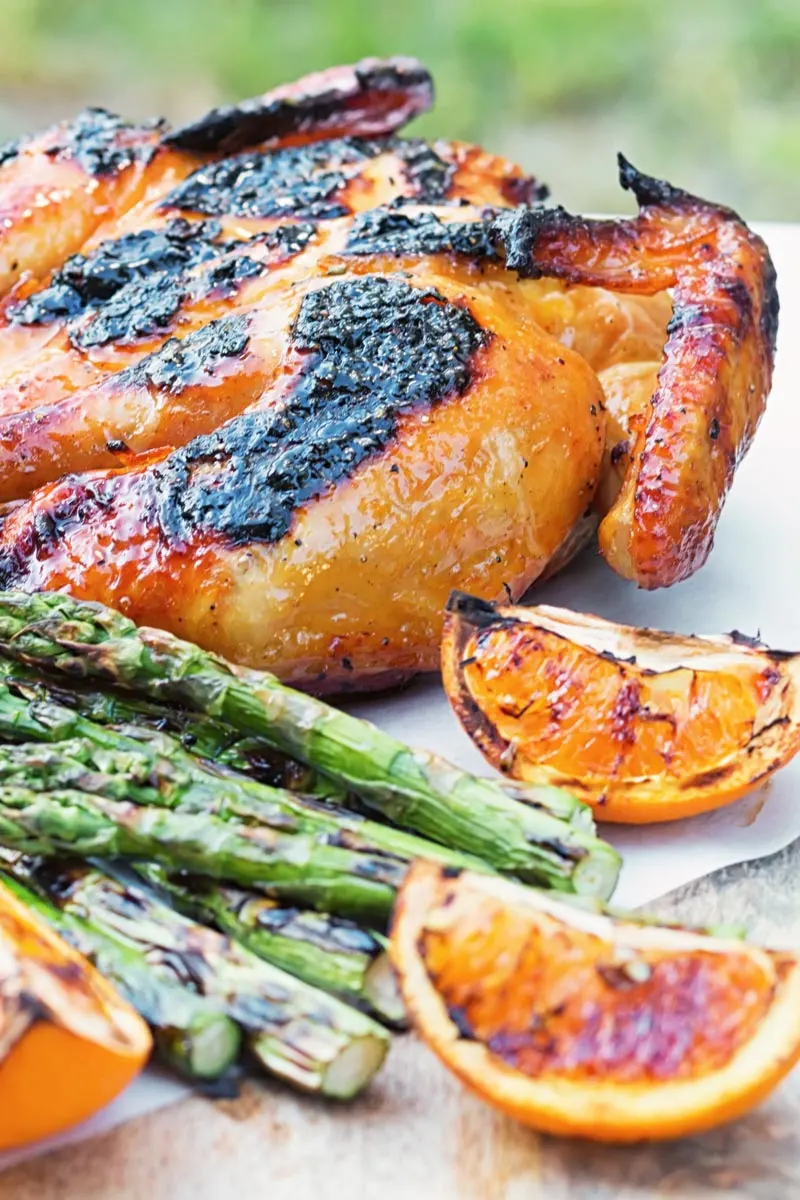 How To Spatchcock Chicken.
This really is so simple it hurts, but you do need a tool… Some good poultry shears, they are much more robust than ordinary kitchen scissors.
They will munch straight through the bones, forget trying to do this with a knife.
F

lip your bird upside down, so that the breast is on the table.
Turn the chicken so that the parsons nose, which is the little ' bump' on the base of the bird that the tail feathers attach to.
Insert your poultry shears alongside the parsons nose and snip through to the neck cavity.
Repeat process #3 on the other side of the parsons nose.
Save this part of the carcass to make your own chicken stock!
Now flip the bird over and place the ball of your hand on the breastbone and push.
Be firm and you will hear a pop, then you have your spatchcock chicken.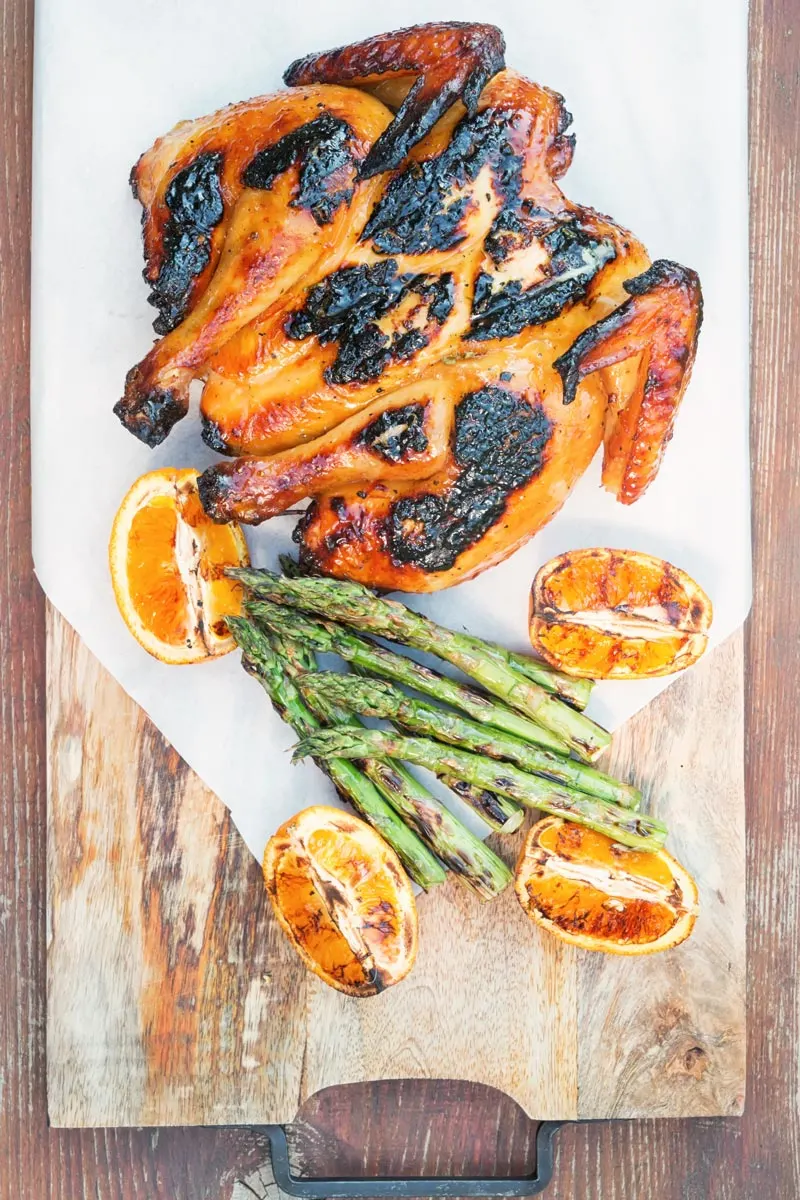 That Orange Marmalade Glaze!
You all know I am fond of a sweet glaze on grilled chicken, in fact grilled anything! Whether it is this orange marmalade glaze, my Sriracha Glazed Grilled wings or indeed my lemon pepper grilled wings.
There is just something magical that happens when you put a sweet glaze over a fierce open heat.
Don't confuse the black bits for burned, they are beautifully caramelised sugars. They have a bitter sweetness that you cannot emulate by cooking in any other way.
But because those sugars come from an orange marmalade they have that citrus back note too.
This grilled chicken recipe really does bode well if the rest of my grilling experiments go this way.
Go ahead, ditch the marmalade on your breakfast toast and do something much more interesting instead. This grilled spatchcock chicken with orange marmalade is a serious crowd pleaser!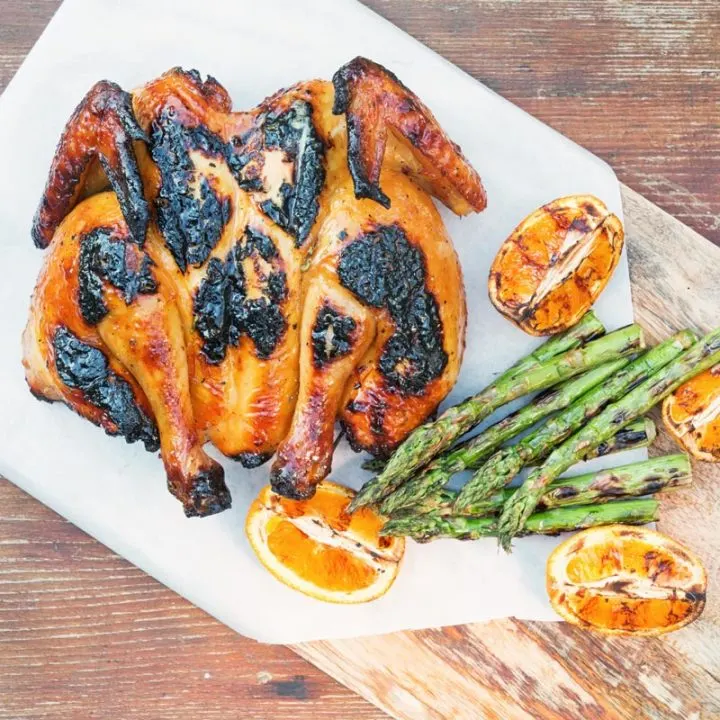 Yield:

4 Servings
Grilled Spatchcock Chicken With Orange Marmalade Glaze
A spatchcock chicken is the perfect bird to cook on a grill, and summer is here so let's do this. This grilled spatchcock chook recipe has a glorious orange Marmalade Glaze!
Ingredients
1.3kg (2.5-3lb Chicken) Whole Chicken
For the Orange Marmalade Glaze
250 g (3/4 Cup) Orange Marmalade
60 ml (1/4 cup) Whisky
1 Tbsp English Mustard
1 Tsp Dried Oregano
2 Tsp Coarse Sea Salt
Black Pepper, As much as you like
Instructions
Add all of the ingredients for the orange marmalade glaze to a pan and heat until melted then allow to cool.
Take your chicken and using a pair of kitchen shears remove the backbone.
Flip over so that it is flesh side up and firmly press down with the palm of your hand, you will hear a pop.
Place the chicken in a bag and then add the glaze and allow to steep for as long as you can (upto 24 hours).
When ready to grill light your BBQ and allow it to get to temperature, ensure you have a direct heat side and indirect heat side.
Remove the chicken from the fridge 30-40 minutes before you are ready to grill.
If you want to help the chicken keep its shape then place two skewers in a cross formation pinning the leg to the opposite breast.
Place the chicken skin side down on the direct heat section and cook until nicely coloured.
Move to the indirect heat section, skin side up.
Close the lid on your grill and cook for 35-40 minutes or until the fattest part of the chicken thigh reaches 73°C.
Baste the chicken every 5 minutes with the left over marinade.
When cooked remove and allow to rest for 5 minutes before serving.
Nutrition Information:
Yield:
4
Serving Size:
1
Amount Per Serving:
Calories:

1019
Total Fat:

45g
Saturated Fat:

12g
Trans Fat:

0g
Unsaturated Fat:

27g
Cholesterol:

286mg
Sodium:

1599mg
Carbohydrates:

56g
Fiber:

5g
Sugar:

45g
Protein:

93g