Perfect pan-fried salmon fillets must have crispy skin, achieving that is not as difficult as you may think & it takes just 6 or 7 minutes.
All you need is a nonstick pan, and a stovetop then you are ready to cook, it's really quick and it's a process that you can transfer to other fish too!
Perfectly Pan Seared Salmon Fillets with Crispy Skin
I have to confess to being a bit of a fishy fiend when it comes to my favourite things to eat. And despite having a website dedicated to countless ways of cooking "stuff" I love simplicity when it comes to fish.
Pan-frying fish is so often my choice of cooking method when I have gone out and dropped my cash on a nice piece of fish!
I have instructions and recipes for pan-fried halibut, pan-fried hake, pan-fried cod, pan-fried lemon sole and pan-fried grey mullet.
Right here we have a pan-fried or seared salmon fillet, and it incorporates many of the same techniques from my other recipes.
It's a beautifully simple and quick way of cooking, all you need is a nonstick pan, oil, butter, salt and pepper. 10 minutes later you will have a perfectly cooked salmon fillet with wonderfully crispy skin.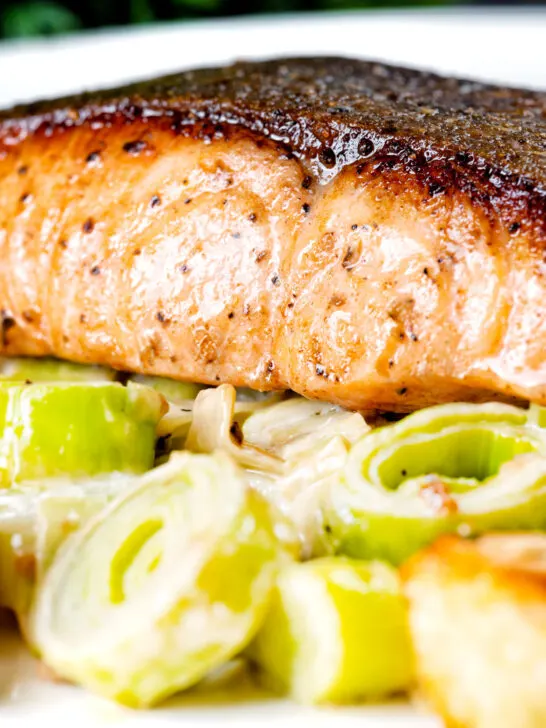 Frequently Asked Questions
How do I tell when salmon is cooked?
Honestly, salmon is cooked when you are happy to eat it and we all have different acceptable levels of "done".

The best way to learn is to use a meat thermometer. I like to cook my salmon to around 45-50°C which is around 113-125°F. This is relatively common practice and great salmon cooked in restaurants in Europe will be somewhere in this ballpark.

The USDA recommends the minimum temperature to be 145°F or 63°C. Which as far as I am concerned so over cooked that it is practically inedible.
Do I have to use the butter?
Have is a strong word, no, you could use just oil if you wish but butter adds a beautiful flavour.
Do I have to cook salmon with the fish on?
No, this process works equally well with skinless salmon. But as far as I am concerned you will be missing out on the best bit of the fish!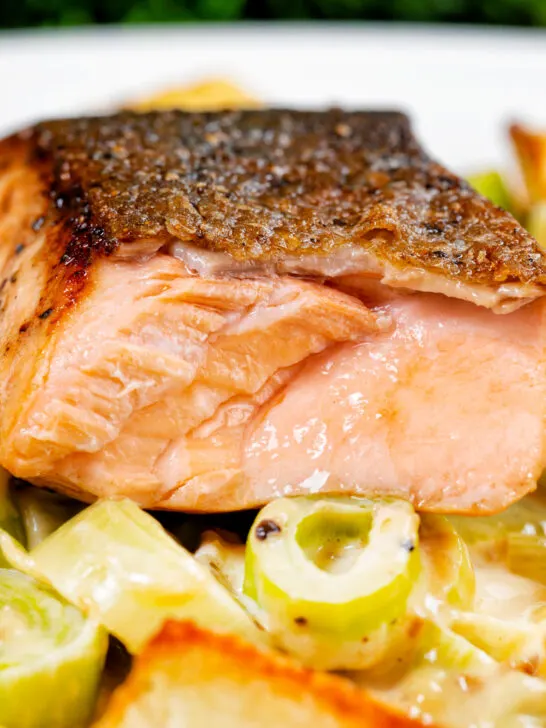 Serving Suggestions
Perfectly pan-seared salmon fillet is a gloriously versatile centrepiece for a meal, here it is pictured with creamed leeks and some roasted parmentier potatoes.
But you can go so many ways, it would be awesome with this roasted vegetable couscous but equally good with miso roasted Brussels sprouts.
You could stick with the fennel thing and even swap out the duck on this fennel and orange salad with some nice crispy salmon. On a similar note, you could serve this on a bed of my fennel and orange pasta.
Pan-seared salmon works well with a whole host of salads. Everything from my samphire salad to a good quality tomato salad would be perfect.
Adding some of my air fryer asparagus and parsley sauce on the side would also be lovely additions!
Equipment Used
I only mention brands of equipment if I think that they make a material difference to a recipe. But if you have any questions feel free to ask them in the comments section below the recipe.
Stovetop.
30cm or 12″ nonstick frying pan.
Weighing scales and measuring spoons.
Fish slice or spatula.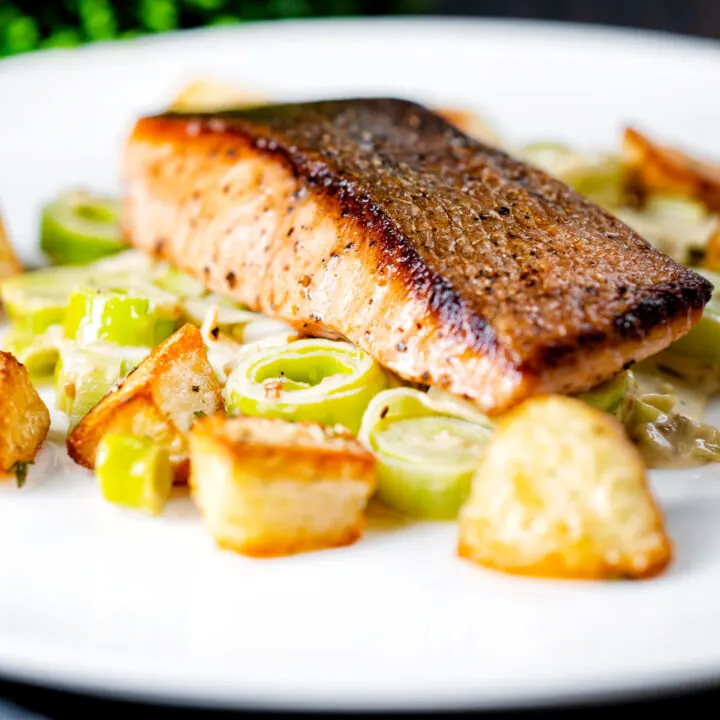 Yield:

2 Servings
How to Cook Pan Fried Salmon with Crispy Skin
Knowing how to cook a perfectly pan fried or seared salmon fillet is a wonderful skill to have, it is way easier than you think and it's a perfect star for a quick and easy meal.
Ingredients
2 Large (400g Total) Salmon Fillets
1 Tbsp Sunflower or Vegetable Oil
35g (2 Tbsp) Butter
¼-½ Tsp Salt
¼ Tsp Black Pepper
Instructions
Dry the salmon with kitchen paper and then season well with salt and pepper, I live to use coarsely ground black pepper, but that isn't for everyone!
Heat a 30cm or 12" nonstick frying pan over a fairly high heat and when it is hot add the oil and butter.
The butter should melt quickly, begin to foam and start to go golden, if it goes black it is too hot, turn down the pan.
Place the salmon in the pan skin side down and hold it flat for 20-30 seconds to prevent the skin from contracting. Cook the salmon over this high heat for a total 60-90 seconds.
Reduce the heat to medium and cook the salmon for another 90 seconds to 3 minutes depending on how much you like your salmon cooked.
Flip the salmon and cook for another minute or two (again depending on how you like your salmon cooked) basting it with the foaming butter constantly then serve immediately.
Nutrition Information:
Yield:
2
Serving Size:
1
Amount Per Serving:
Calories:

477
Total Fat:

32g
Saturated Fat:

5g
Trans Fat:

0g
Unsaturated Fat:

24g
Cholesterol:

126mg
Sodium:

413mg
Carbohydrates:

1g
Fiber:

0g
Sugar:

0g
Protein:

44g
Calorific details are provided by a third-party application and are to be used as indicative figures only.