Perfect pan seared salmon fillets must have crispy skin, achieving that is not as difficult as you may think & it takes just 6 or 7 minutes!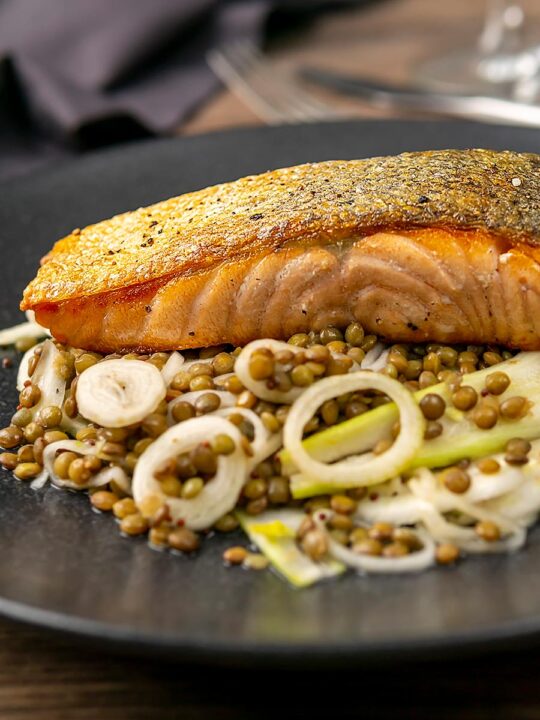 Perfect Crispy Skin Salmon Fillet.
There is a real elegance to a perfectly cooked fillet of fish and it is really easy to achieve at home.
Even complex dishes like my fancy fish curry looks impressive and has a long list of ingredients but it takes minutes to cook the fish.
There are a few things that you need to do to ensure success. The first two are technical, the final one is psychological.
We begin with the oil in the pan, you need a nice even covering a couple of millimetres deep.
You need to get the oil "pretty" hot, not smoking hot and not shimmering hot. But still hot!
The next thing that you need to do is dry the skin of the fish, this goes for any fish it does not matter if it is pan-seared bream, sea bass or salmon!
You do not need to be insanely OCD about this, just pat off any excess moisture with kitchen towel.
In fact, if you dry it too much the seasoning will not "stick" and food without seasoning is soulless.
The final "secret" is the most difficult! Patience, when you put the fish in the pan hold it down, then reduce the temperature to medium and let it sit.
Do not take a peek under a corner! Do not shake the pan! Leave it alone for 4-5 minutes, then flip and give it the final minute.
If it does not flip then it is not ready, give it another 60 seconds.
Do each of these 3 things and you will have pan seared salmon with a perfect crispy skin.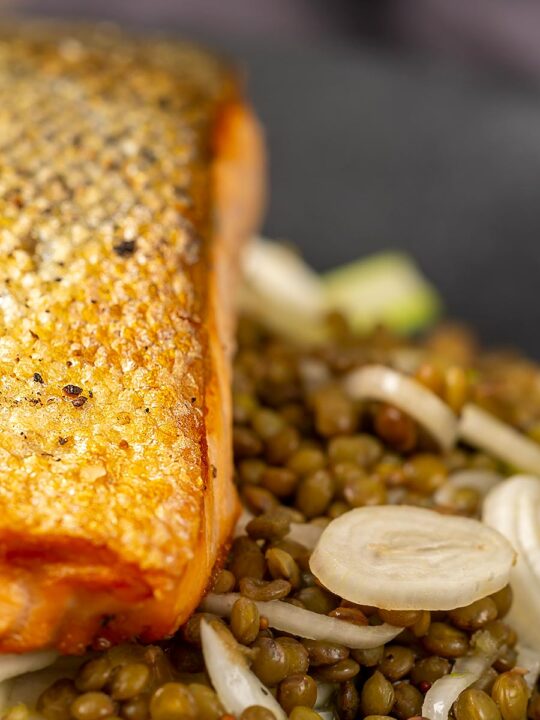 A Guide to Buying Salmon.
As with all ingredients, get the best that you can afford. But do not avoid salmon if all you can buy is farmed salmon.
It is a great ingredient, sure we would all like to eat line caught wild salmon. But let's face it we can't all afford it, I know I can not!
In reality, is also not sustainable. If all of the salmon we consumed was wild then stocks would be depleted in the blink of an eye.
So take a look at the fish and do not get distracted by labels. Trust your eyes, and if you can, your nose.
Get in nice and close if you can, if you can smell "fish" then walk away!
The next thing to look at is moisture, You want fish with a nice "sheen" to the flesh, not something that looks "matt".
Finally, the colour, don't be fooled by different shades, that is very much defined by diet.
A vibrant coral colour is just as good as a deep orange, but those colours should be zingy.
If they are pale then again walk away and go back on a day when the fish is better.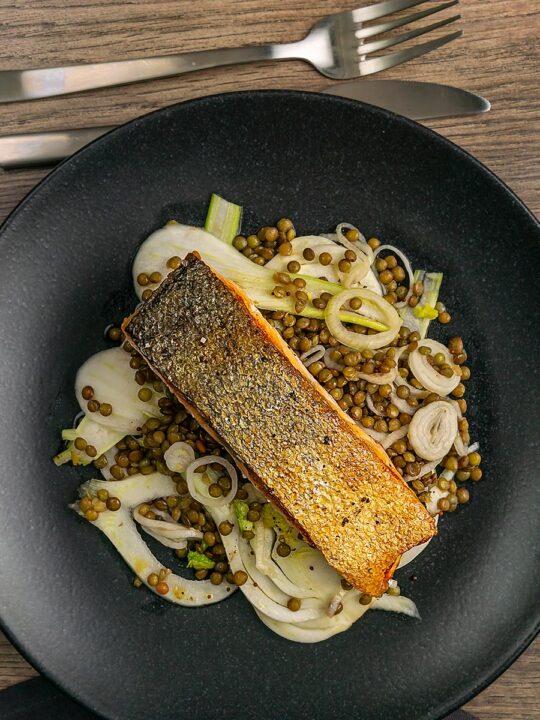 Serving Suggestions.
Perfectly pan seared salmon fillet is a gloriously versatile centre piece for a host of sides.
The images here show it served with a quick pickled fennel salad with puy lentils. I've added the instructions to make this below the recipe for cooking the fish, it is heavenly!
But you can go so many ways, it would be awesome with this roasted vegetable couscous but equally good with miso roasted Brussel sprouts or stick with a samphire salad, a classic accompaniment with fish.
You could stick with the fennel thing and even swap out the duck on this fennel and orange salad with some nice crispy salmon.
Pan-seared salmon works well with a whole host of salads, everything from cucumber salad to a good quality tomato salad would be perfect.
Adding some of my air fryer asparagus and parsley sauce on the side would also be lovely additions!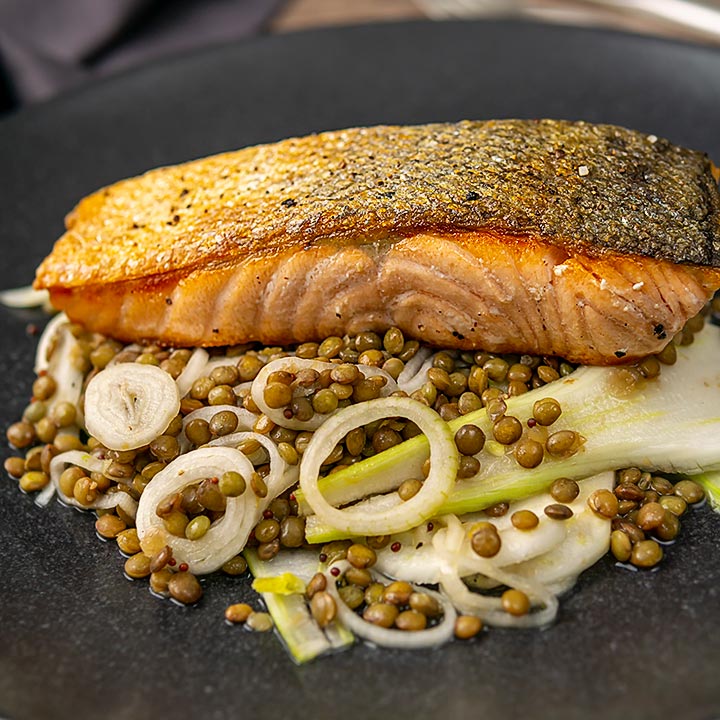 Yield:

2
Pan Seared Salmon Recipe
A perfectly pan seared salmon fillet is served on a puy lentil and pickled fennel salad for a perfect mid-week dinner.
Ingredients
400 g (14 oz) Salmon Fillets
Oil for Cooking
Salt to Taste
Pepper to Taste
Instructions
Dry the salmon with kitchen towel and then season well with salt and pepper.
Heat a pan big enough for the salmon over a high heat.
When hot add enough oil to cover the base of the pan by 1-2mm.
Place the salmon in the pan skin side down and hold it flat for 20-30 seconds to prevent the skin from contracting.
After a minute reduce the heat to medium and cook for 4-5 more minutes.
Flip the salmon and cook for a final 60 seconds.
Nutrition Information:
Yield:
2
Serving Size:
1
Amount Per Serving:
Calories:

477
Total Fat:

32g
Saturated Fat:

5g
Trans Fat:

0g
Unsaturated Fat:

24g
Cholesterol:

126mg
Sodium:

413mg
Carbohydrates:

1g
Fiber:

0g
Sugar:

0g
Protein:

44g
Calorific details are provided by a third-party application and are to be used as indicative figures only.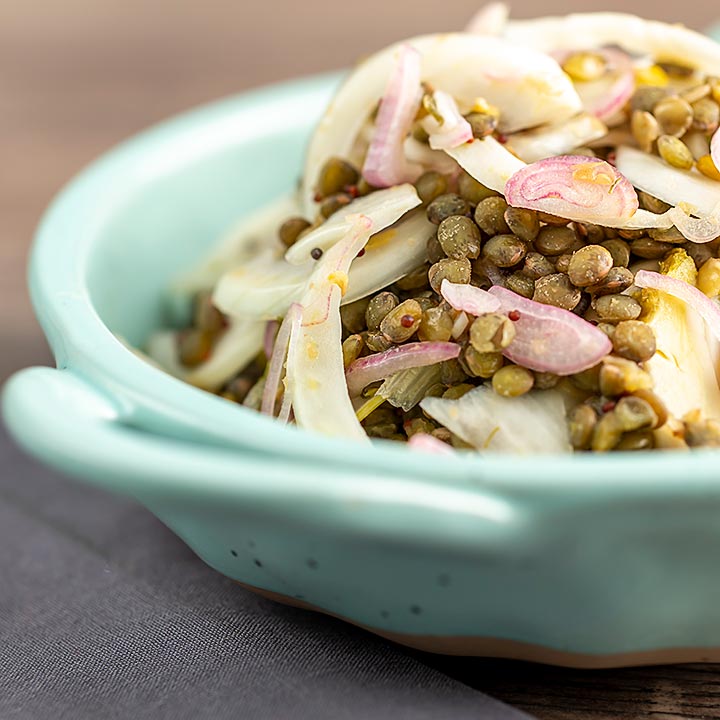 Yield:

2 Servings
Pickled Fennel Salad Recipe with Puy Lentils
Earthy lentils and the aniseed of fennel are a great match add in a but of quick pickling and you end up with this utterly fantastic pickled fennel salad.
Ingredients
1 Fennel Bulb
50 g (1.75 oz) Shallot
85 g (3 oz) Puy Lentils
75 g (2.75 oz) Onion
1 Bay Leaf
150 ml (5 fl oz) White Wine Vinegar
150 ml (5 fl oz) Water
2 Tbsp Sugar
1 Tbsp Coarse Sea Salt
6 Black Peppercorns
1 Tsp Brown Mustard Seeds
Salt, To taste
Pepper, To taste
1 Tbsp Olive Oil
Instructions
Place the white wine vinegar, water, peppercorns, mustard seeds, sugar and one tablespoon of salt in a pan and bring to the boil.
Whilst this is happening finely slice the shallot and fennel and place in a bowl.
Cut the onion in half and place in a bowl of water with the bay leaf and bring to the boil.
When the vinegar pickling mix comes to a boil remove from the heat and allow to cool for 2 minutes before pouring over the fennel and shallots. Picking out the peppercorns now avoids eating them later.
Let the fennel and shallot steep for 25 minutes.
By now the water, onion and bay leaf should be boiling, add in the puy lentils and allow to simmer for 25 minutes.
Drain the lentils and mix together with the fennel and shallot.
Season with salt and pepper, add the olive oil and then a little of the pickling liquid to taste.
Nutrition Information:
Yield:
2
Serving Size:
1
Amount Per Serving:
Calories:

241
Total Fat:

7g
Saturated Fat:

1g
Trans Fat:

0g
Unsaturated Fat:

6g
Cholesterol:

0mg
Sodium:

3842mg
Carbohydrates:

38g
Fiber:

8g
Sugar:

19g
Protein:

6g
Calorific details are provided by a third-party application and are to be used as indicative figures only.