Goat cheese stuffed Portobello mushrooms with balsamic vinegar sticky caramelised onions are a perfect light vegetarian main course or lunch.
Properly caramelising onions takes a long time but it is very easy and can be done in advance. Once the onions are caramelised this dish takes around 20 minutes to prepare and cook.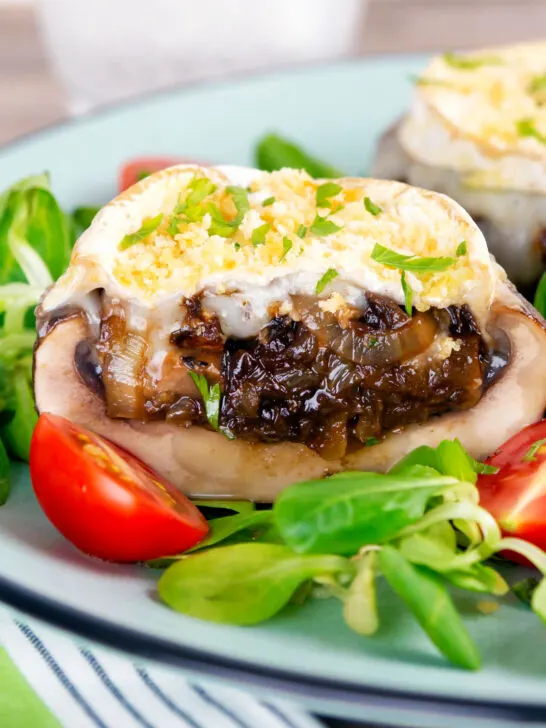 Cheese and Onion Stuffed Portobello Mushrooms
These goat cheese stuffed portobello mushrooms are a real treat. The flavours are very much influenced by the classic goats cheese and onion tart.
So think beautifully sweet caramelised onions paired with acidic salty goats cheese. Add a sprinkle of thyme and some balsamic vinegar before pilling it into a meaty portobello mushroom.
I love mushrooms, and stuffed mushrooms are a huge favourite of mine. This recipe joins a glorious brown rice and cheddar stuffed mushroom recipe, Lancashire cheese and bacon stuffed mushrooms and some wonderful minced beef stuffed mushrooms.
Portobello mushrooms are nothing more than big old field mushrooms and I use them all of the time, they are great at being the star of a meal when cooked whole or sliced.
They appear in dishes like my vegan mushroom rendang recipe and my stunning devilled mushrooms on toast.
I cook this recipe in the oven, but you could just as easily cook them on the BBQ or even the air fryer.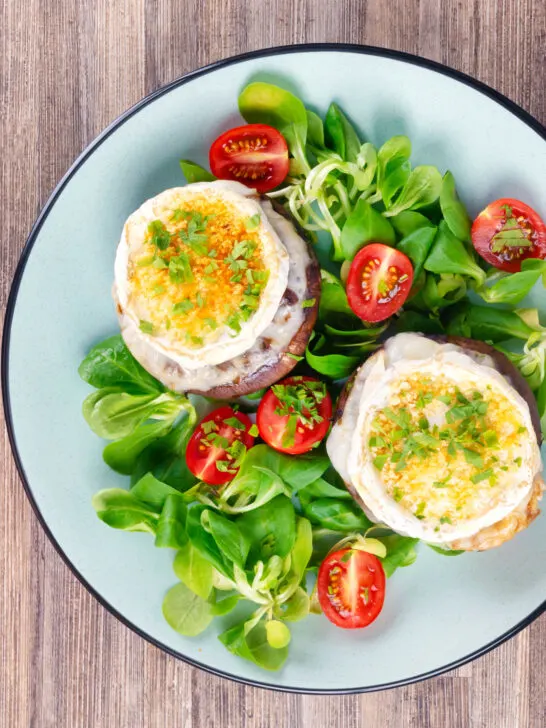 Frequently Asked Questions
Is there a shortcut to caramelising onions?
No and any "hack" that you see that claims there is, is a lie! The only way to get those sugars to develop those glorious sweet flavours is to drive off the moisture and then slowly cook them.
Can I make this in advance?
The mushrooms are best cooked fresh, they are not great when reheated. But you can get the big job done early, you can caramelise the onions up to 2-3 days in advance if you like.

You can even make a big old batch and freeze them for up to 6 months!
Can I use a different type of cheese?
This dish does work very well with both camembert and brie cheeses, but you will need to do some hunting to get something the right size.
Can I use smaller mushrooms?
Yes, this makes awesome finger food or canapé for a get-together, but be sure to serve them hot or warm. They are not great cold!
Can I cook these in an air fryer?
Yes, pop them in the air fryer and cook for 12-15 minutes at 180°C or 350°F.

You can also cook them over an indirect heat on a BBQ for 12-15 minutes, and they make a great alternative to a BBQ meat feast!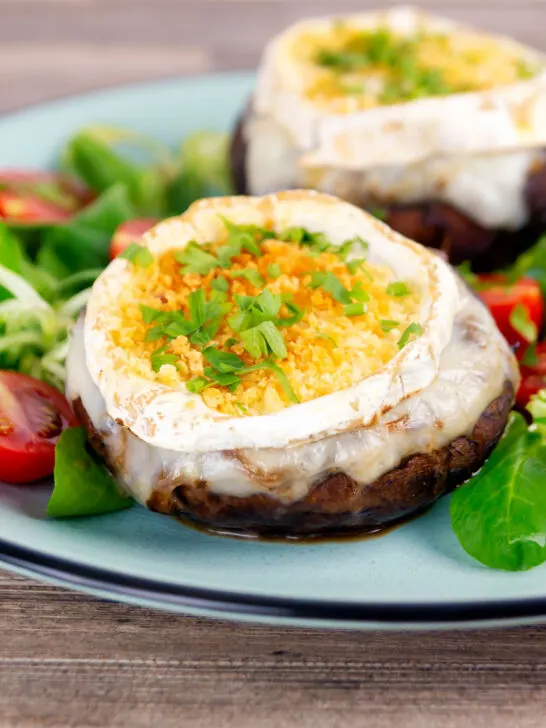 Serving Suggestions
If I am making these goat cheese stuffed mushrooms as a light meal then I will often serve them with some salad leaves and cherry tomatoes as I have here.
You could even replace the cherry tomatoes with this delicious French tomato and onion salad.
If I am making the stuffed mushrooms the star of a plate of food then I quite often add some potatoes on the side to make this a larger meal.
I am particularly fond of adding my fried new potatoes or some straw potatoes.
But you could also serve these mushrooms as a side dish, they are superb with some rump steak and would sit really well alongside my balsamic glazed duck breast.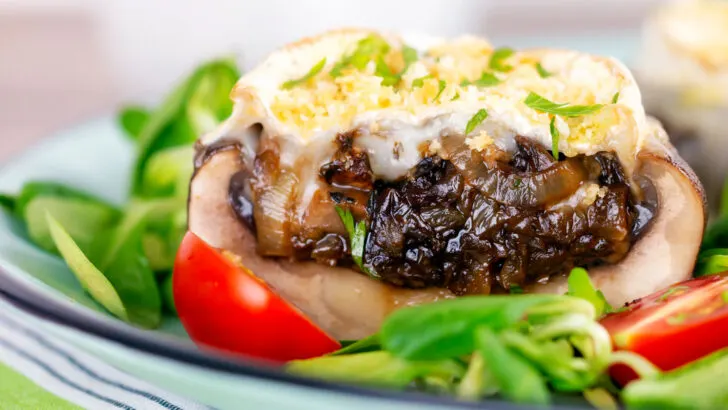 Equipment Used
I only mention brands of equipment if I think that they make a material difference to a recipe. But if you have any questions feel free to ask them in the comments section below the recipe.
Oven.
Baking tray.
Stovetop.
28cm or 11″ frying pan or skillet. Not nonstick if possible.
Stirring and filling spoons.
Kitchen knife.
Chopping board.
Weighing scales and or a combination of a measuring jug, cups and spoons.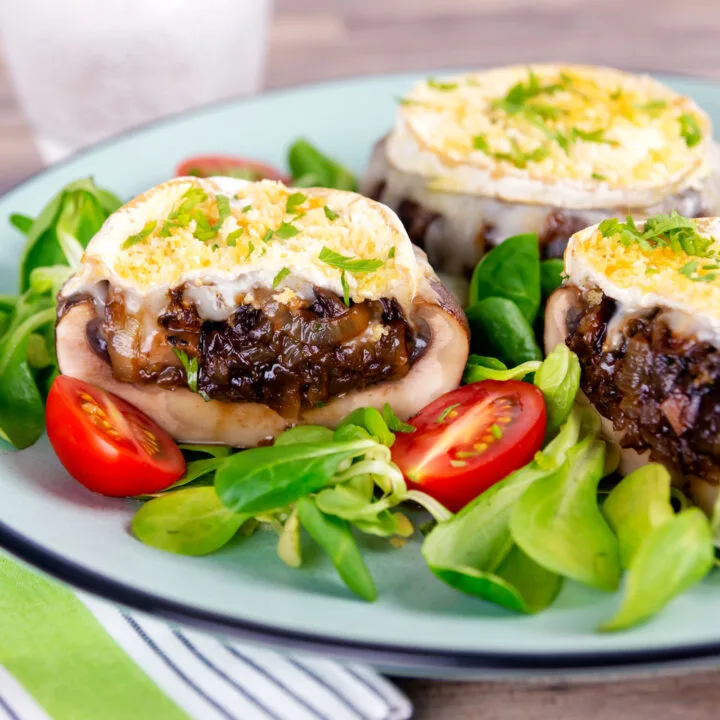 Yield:

2 Servings
Caramelised Onion and Goat Cheese Stuffed Portobello Mushrooms Recipe
Cook Time:
1 hour
20 minutes
Total Time:
1 hour
30 minutes
Stuffed portobello mushrooms that feature the flavours of a classic goat cheese and onion tart, which are then baked for a luxurious delicious lunch or light dinner.
Ingredients
4 Portobello Mushrooms
600g (2⅔ Cups) Onions
50g (3 Tbsp) Butter
2 Sprigs Fresh Thyme
50ml (3 Tbsp + 1 Tsp) Balsamic Vinegar
250g Goat Cheese, Two individual cheeses possible
10g (2 Tbsp) Breadcrumbs
1½ Tbsp Olive Oil
½ Tsp Salt
¼ Tsp Pepper
Instructions
Cut the onions in half, peel them, and then slice them into half-moon shapes about 3-4mm (⅛") thick.
Heat a 28cm or 11" frying pan (not nonstick if possible) over a medium heat and add the butter.
When the butter begins to foam add the onions and thyme and then cook for 45-60 minutes stirring every so often. If the onions colour too quickly turn down the heat. Season with half of the salt after 2-3 minutes.
After 45 minutes or in the balsamic vinegar then reduce until jammy.
Remove the stalks from the mushrooms and finely dice and add them to the onions.
Drizzle the mushrooms with the olive oil all over and then season the inside with the remaining salt and pepper.
Stuff the mushrooms with the onion and balsamic mix.
Cut the goat cheese in half and then place them on top of the mushrooms.
Sprinkle with the breadcrumbs and drizzle with a little more olive oil.
Bake for 15-20 minutes at 180°C or 350°F.
Nutrition Information:
Yield:
2
Serving Size:
1
Amount Per Serving:
Calories:

1326
Total Fat:

85g
Saturated Fat:

43g
Trans Fat:

1g
Unsaturated Fat:

35g
Cholesterol:

223mg
Sodium:

1925mg
Carbohydrates:

79g
Fiber:

8g
Sugar:

25g
Protein:

65g